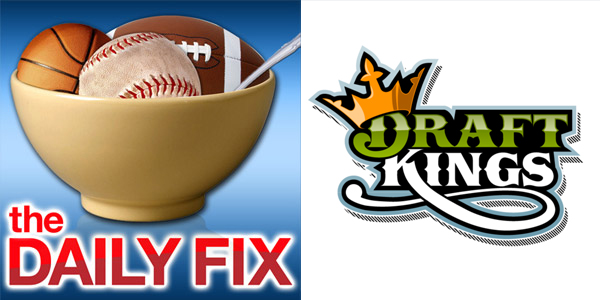 Good morning! Each Tuesday of the NFL regular season I'll provide you with several running backs who make good plays each week at DraftKings. Monday through Friday the Fix writers will provide you with a Daily Fix that covers each position, with a weekly roundup on Friday. I'll break down the running back selections into three categories: Expensive, reasonable and cheap. For the most part these will all be top running backs so I won't be listing Brian Leonard as a cheap play; it'll be more like Zac Stacy or Joique Bell.
The expensive options will usually be the top guys with good matchups who should give you good value even with their hefty price; the reasonable options are the middle-tier backs both with good matchups and average salaries that won't set you back too much; and the cheap options will usually be a player with lower upside but a good matchup and a low price. Enough of my chit-chat, let's get to the players. Scoring and other settings can be found here.
Expensive
Jamaal Charles – $9,000 vs. Tennessee – Charles is the most expensive running back by $600, but he's worth it. He's the only home-run threat on the Chiefs' offense, and his low total in touches in a game last year was 16. In that game he scored five touchdowns. The Titans defense is below average, and Charles will be fed throughout the game.
LeSean McCoy – $8,400 vs. Jacksonville – McCoy is the second priciest back this week, but he also should provide you with more than enough bang for your buck. In an ESPN Insider piece, Pro Football Focus ranked the Jags defense 31st, and I don't need to give you any stats on how awesome McCoy was last year. Pair one of Charles and McCoy with an option listed below and you should eat.
Reasonable
Frank Gore – $5,200 at Dallas – Gore will try to stave off Father Time again this season, and he couldn't ask for a better Week 1 matchup than the Cowboys. PFF ranked the Boys as the worst defense in the league for this year after they ranked last in defense DVOA in 2013, according to Football Outsiders. Gore really struggled at the end of last season, but the price and matchup are too good to pass up.
Chris Johnson – $5,100 vs. Oakland – The beauty of daily fantasy football is that you don't have to experience the agony of owning a guy like Johnson for the whole year, you can just take advantage of matchups. Johnson should see the majority of the workload for the Jets against a bottom-eight defense from a year ago. PFF says the Raiders don't have any elite or high-quality starters on their defense. For Johnson you might not get high quality production, but the quantity should be there and be enough to earn his price.
Cheap
Pierre Thomas – $5,000 at Atlanta – Thomas caught at least four passes in 13 of 16 games last year, and as the Saints' most reliable running back, he should see a workload increase from the get-go. Atlanta lost middle linebacker Sean Weatherspoon for the year, so while they did upgrade along the defensive line, they lost an important key to the defense. I think 100 total yards is the floor for Thomas in Week 1.
Fred Jackson – $4,400 at Chicago – By almost any measure Chicago was seemingly the worst defense against running backs last year. Jackson won't get all the work for the Bills, but he should see the majority of RB touches Sunday. PFF ranked Chicago's defense 30th this offseason, and the Bears should score a lot of points so Jackson should see a lot of catches – he caught seven and four in consecutive preseason games.