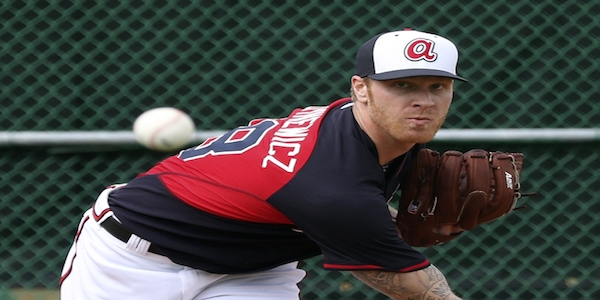 Trevor May – May debuted in Minnesota last season starting nine games to the tune of a 7.88 ERA. His FIP and xFIP were in the middle- and high-4s thanks to a ton of home runs and walks, which had been problematic to some degree in the minors. This year he's already pitched more innings than in '14, and he's improved his ERA to 5.07 but more importantly his FIP and xFIP are much better – 3.11 and 3.84, respectively. He's striking out fewer batters – 7.43 per nine – but he's also walking fewer batters, down from over 4 per nine last year to 1.63 this year and the homers have been nearly cut in half.
May's fielding-independent numbers suggest he's due for some positive regression, and there's reason to think that's true. As displayed at Brooks Baseball, May has thrown his four-seamer 25 percent less this season while upping his sinker usage 80 percent more often. That follows the pattern of fewer strikeouts and home runs and an increased ground ball rate (35 percent in '14 to 40 percent this year). His sinker gets the least amount of whiffs of his five pitches, but it's his second-best ground ball inducer. May's only usable in deep leagues, but he's showing some signs of change that are positive.
Mike Foltynewicz – Another youngster who debuted in '14, Folty made his debut as a starter on May 1 of this year and in six starts he's posted a 3.96/3.69/4.11 ERA/FIP/xFIP line with a strong 24 percent strikeout rate. Folty averages over 96 mph on his fastball, which features some extreme late movement, and he has a very nice curveball, which currently has a 15:0 strikeout-to-walk ratio in 33 at-bats in his two stints in the Majors.
Folty is pitching better than what his minor-league numbers would indicate he's capable of, at least this early in his MLB career. Per Minor League Central, his strikeout and walk rates are both better than his minor-league rates while his .99 home runs per nine rate is about what you'd expect from someone with a .73 minor-league mark. However there's reason to believe he may have changed something to create better results. He's basically forgotten his changeup and started throwing a slider about 10 percent of the time. In his time in the Majors his changeup is his worst pitch in regards to opponents' average, slugging and isolated power. In 15 at-bats this season ending in a slider Folty hasn't allowed an extra-base hit nor a walk while striking out nine batters. He's struck out at least seven batters in each of his last five starts while walking just one in each of his last three.
Jung Ho Kang – Kang is a favorite around these parts, and there's so many reasons why. One is definitely this home run from the other night. How do you say "crushed" in Korean? He's been the most valuable rookie and 19th-most valuable hitter over the past 30 days, per Fangraphs. In May Kang has started 20 of 22 Pittsburgh games and he's hit like he's a 10-year veteran: .313/.396/.488 with three homers and three steals. After starting the year hitting mostly sixth or below in the lineup he's hit fifth in each of his last 11 games – all starts.
Kang's owned in only 35 percent of Yahoo! leagues and 29 percent of ESPN leagues. He's been the fourth-best fantasy shortstop in standard ESPN leagues over the last 30 days, and he has third base eligibility, too. Even if he cools down from his torrid May pace he's still worth owning and probably starting due to the mediocre state of shortstop in fantasy baseball.
Stats courtesy of Brooks Baseball, Fangraphs and Baseball Reference