Toronto's Devon Travis has been a huge factor for the Blue Jays this season, showing the pop that they lacked last year from their second basemen. This is Travis's first season in the Toronto system after coming over from Detroit in a trade for Anthony Gose this offseason. The 24-year-old is only 5'9″, but he's shown a ton of power through the first half-month of the season. Travis is leading all rookies in isolated power (.327) and RBI (15), and he's tied for the rookie lead in home runs with four.
Look at his hit chart – courtesy of the wonderful baseballsavant – with his home runs and doubles. The two doubles that have videos for them have hit the wall and have averaged over 358 feet. So he's this close to already having six home runs – which would be tied for second in the league. These aren't little ground balls going just past the first or third baseman.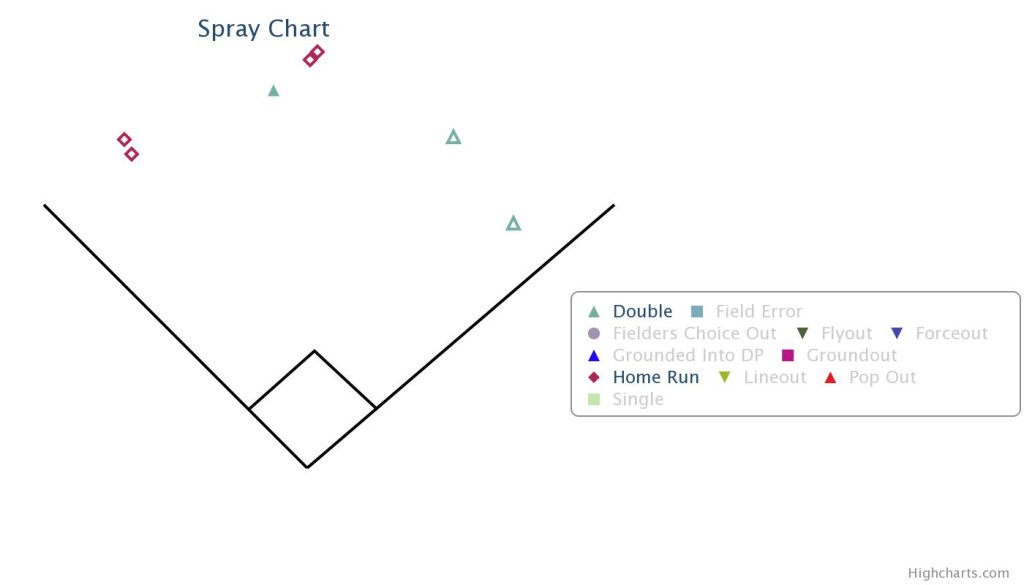 Travis started the season batting ninth, but since Jose Reyes was injured he's moved up to leadoff and the No. 2 spot in the lineup. He hasn't gone more than two games without an extra-base hit. Travis hit .298/.358/.460 in the Minors, and he actually hit for more power than I expected. His .162 isolated power mark shows that his power is fairly legit. His minor-league walk and strikeout rates were 8 and 11 percent, which backup his 7 and 12 percent 2015 rates.
Travis might finish with 15 home runs, as I do expect his power surge to cool down soon. But he should produce across the board, and especially if he keeps hitting at the top of the order he could make for a good pickup early in the season as he's still unowned in 28 percent of Yahoo! leagues.
Odubel Herrera has been one of the lone bright spots for a miserable Phillies team this season. The youngster has gone 3-for-3 in steal attempts this season, and his five doubles and two triples rank first and second, respectively, among rookies. Herrera's performing over his head right now with a .164 isolated power after not having an Iso above .098 in any of his six stops in the minors, however brief. He actually was a pretty decent hitter (.293) and on-base maven (.346) in the minors, but his line-drive rate in the minors was 15 percent and he hits too many ground balls (52 percent in the minors) to think that he can continue hitting extra-base hits at this rate. His speed is a weapon, although he only had a 74 percent success rate in the minors. He averaged 25 steals a season in the minors, and I think that's a reasonable number he could achieve this year. But I don't think he's that attractive in 12-team leagues or shallower.
Like some of you I've been enjoying the Anthony DeSclafani experience. He's owned in 58 and 74 percent of Yahoo! and ESPN leagues, respectively. The 25-year-old leads rookies in innings (21) and has done an excellent job limiting free passes (1.71 walks per nine) and home runs (0.43 home runs per nine). In his three starts he's gone at least six innings without allowing more hits than innings in any start. He's struck out at least five in each start while walking only 1.33 batters per start.
DeSclafani's continuing his minor-league performance of low walks and low home runs but with a mediocre strikeout rate. He only walked two per nine in the minors while giving up just .48 home runs per nine, but his career minor-league strikeout rate was just 7.72. So far this season his K/9 is only 6.86. His FIP, which takes into account his skill at limiting home runs, sits at 2.88, but his xFIP, which puts his home run rate at league average, is at 3.88 right now. I do think DeSclafani is more boom than bust, but I think he's more a 3.88 ERA pitcher than 2.88 guy. That's no knock on him, though. With a less-than-stellar strikeout rate, I see a lot of regression coming. His average allowed on balls in play sits at .145, and he's stranded over 95 percent of runners. I do think he can continue to excel and limit opponents due to his walk and home run abilities, but as soon as those balls in play start finding holes the shine will wear off a bit. If you're rostering him I'd try to sell high. If you can't, as the season goes on try to pick and choose whom you start him against.