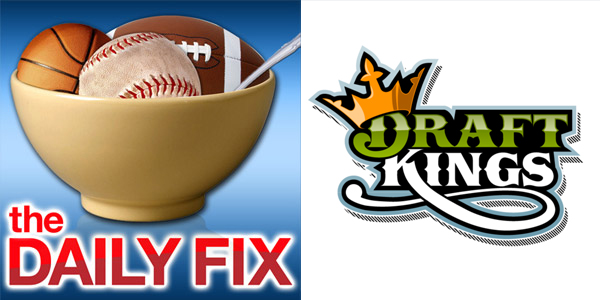 DraftKings has both an afternoon and an evening contest today; I'll be giving you my lineup for the early contest. You'll see below that I'm using a framework to pick my team, so see if you can use something similar to pick a late contest lineup.
I like to play a mix of "winner take all" type contests and contests where a higher percentage of entrants get paid (like double ups). Enter your lineup in at least one of each. Give yourself a lottery ticket, but back it up with a double up to give you a shot of at least making a small profit if you don't hit it big. As always, don't forget to get your deposit bonus here.
Starting Pitchers
I'll be honest, there isn't much of a choice here. Four of the pitchers in the early games just suck and can't be trusted  in any match up (Chen, Lannan, Capuano, Torres). Jarrod Parker and Brandon Beachy are both reasonably priced guys that I like generally, but Parker has a somewhat difficult match up against the Rangers while Beachy is hard to trust after getting destroyed in his first start back from the DL. And so the two most expensive options, Jeff Samardzija and Matt Garza, are the best options. Both guys are facing above average offensive teams, but neither is facing an elite offensive team. The conditions will be good for Samardzija; it won't be too hot, and the wind will be blowing in at 12 mph in Wrigley. Garza is the bigger risk with the wind blowing out to right at 12 mph. However, Oakland is the 7th least homer-friendly park for left=handed hitters, so that should mitigate the negative wind factor to some degree.
The Lineup
The conditions for scoring in the early games are best in New York and Philadelphia. It's not going to be all that hot unfortunately, but the wind will be blowing out to right field in double digit miles per hour in both games . So I want to focus on hitters in those two games primarily. Specifically, we want to focus on left-handers in those games because the wind is blowing out the way they pull the ball. Even more specifically, we want to focus on Philadelphia and Kansas City lefties because they have the platoon advantage over the opposing team's starting pitcher. We'll also consider Met and Brave righties since they also have the platoon advantage. As mentioned, the wind is also blowing out in Oakland. I won't pick any Oakland hitters since I'm rolling with Garza, but Texas lefties will also be in consideration.
So to recap, at each position we're following this framework and looking for hitters in this order:
Philadelphia and Kansas City left-handers

Texas left-handers
Atlanta and New York right-handers
C: Evan Gattis, Atlanta Braves, Bats: R, $4,200 – The Philadelphia and Kansas City catchers, Carlos Ruiz and Salvador Perez, are right-handed. A.J. Pierzynski is a left-hander, but with a day game after a night game, there's a chance Texas may go with the hot-hitting Geovany Soto today. So I'm going with Gattis. If you check the lineups closer to game time and see Pierzynski in there, go with him because he is about $500 cheaper.
1B: Eric Hosmer, Kansas City Royals, Bats: L, $3,900 – If Ryan Howard were healthy, it would have been tough to choose between Hosmer and Howard. But without Howard the Phils don't have a left-handed 1B to even consider.
2B: Chase Utley, Philadelphia Phillies, Bats: L, $4,800 – I wish Utley wasn't the most expensive 2B option today, but he fits what we're looking for. We'll see if we can't find a cheap option at another position to save us some money.
3B: Mike Moustakas, Kansas City Royals, Bats: L, $3,900 – If we had more money, I might ignore our framework and skip the KC lefty in order to take the Atlanta and New York righties, David Wright and Chris Johnson. But they're the most expensive options at the position, so Moustakas it is.
SS: Jimmy Rollins, Philadelphia Phillies, Bats: S, $4,100 – Rollins is better hitting from the left-side, so he fits our framework.
OF: David Loughn, Kansas City Royals, Bats: L, $3,400 – The Royals outfield is crowded. They're facing a right-handed starter so the starting three should be Lough, Dyson and Alex Gordon. I'm really hoping Lough is in the lineup since he's got such a low price.
OF: Leonys Martin, Texas Rangers, Bats: L, $3,800 – This price is too low for a guy who leads off for a good offense and who also has a fair amount of speed to go along with a little pop.
At this point it's obvious that we don't have enough money. With one roster slot left to fill, we only have $2,400. So we have to go back and cut some cost somewhere. The obvious choice is to replace Gattis with Pierzynski. That frees up $500, let's hope A.J. is at least the DH today. At first base we can save $100 by replacing Hosmer with Mitch Moreland. Moreland is a step down in our framework, but he still fits it. And finally we're going to take two steps down in our framework at second base by replacing Utley with Dan Uggla who costs $3,600.
That gives us $4,200 to spend on the final outfield slot. Jarrod Dyson ($3,800), the Kansas City left-hander fits the top tier of our framework. But if we move down to the second tier of our framework, we can take Texas left-hander, David Murphy ($3,700). That $100 difference between the two is huge because going with Murphy gives us $500 left over and allows us to upgrade back to Gattis over Pierzynski. So when it's all said and done, here's what my early contest DraftKings lineup looks like…