Below we've got a discussion of the starting pitching situation as well as the best hitters to use for Tuesday's 14-game evening slate on DraftKings.
Pitcher Rankings
After the jump we'll take a look at each of my top 10 projected pitchers for the evening.
1. Chris Sale – $13,800
Yeah. Sale is 9-0 with a 1.58 ERA, but he hasn't been nearly as good as it seems. He's lost a noticeable amount of his velocity and his swinging strike rate and thus his strikeout rate have dropped as well. He's got a .197 BABIP, and no matter how good he is at limiting hard contact, that BABIP is going to rise. His career rate is 90 points higher if there's any question about that. More of his fortune has come against right-handed hitters, which is obviously the group of hitters he's less dominant against.
His matchup with Cleveland tonight is above average but not one of the best matchups of the night (and Cleveland might actually make for an intriguing contrarian stack), so I'll be passing on him at $13,800. Yes, he has the highest projection of the day, but I'd need him to be priced in the low 12K range to be in on him.
2. Jeff Samardzija – $11,700
It's hard to argue with anyone facing the Padres, especially in a West Coast stadium. San Diego is tied for the third highest strikeout rate and has the lowest wRC+ today against pitchers of the particular handedness they'll be facing. Samardzija himself has regained some of the swinging strikes and strikeouts he lost last year, which isn't a surprise given that those losses last year didn't stem from a loss in velocity. He has allowed two earned runs or less in five of his last six starts and has allowed more than three earned runs in a start just once this season. Any lingering distrust of him you have from last year can be set aside.
3. Stephen Strasburg – $13,400
Like Sale, Strasburg is overpriced, but if I were going to overpay for a starter, this would be the guy. His strikeout rate is over 30 percent, and his xFIP is a tad lower than his 2.80 ERA. The matchup with the Mets isn't great as they're seven percent better than average vs. RHP. But they strikeout a tad more than average, and in just his last start Strasburg struck out 10 Mets while allowing one run. Again, he's over-priced, but overpay for him instead of Sale if you're going to spend.
4. David Price – $8,900
Price's positive regression to the mean is in full effect as he has 17 strikeouts compared to just two walks in his last two starts in which he has allowed only three runs in 14 innings of work. But his price tag hasn't quite caught back up to his performance. His xFIP and SIERA are both sub-3.00 thanks to incredible strikeout and walk rates, so the good starts should keep on coming. He's got a great matchup against Colorado who has been below average vs. LHP and is tied with the Padres for the third highest strikeout rate of the day. Price may well be the best option on the board.
5. Matt Harvey – $7,500
Like Price, Harvey has seen his salary tumble from where it was at the beginning of the season. But unlike Price, Harvey hasn't rebounded yet. Yet that rebound could be coming at any time. Fangraphs' Eno Sarris wrote an excellent piece this week detailing the fact that there really isn't all that much wrong with Harvey. Click on over for your convincing, but I'm convinced better days are ahead. When the better days come around, there's going to be value to be had. It makes plenty of sense to bet on that value tonight, especially in GPPs.
6. Julio Teheran – $9,400
Teheran is working on a six-start streak where he has allowed two runs or fewer, but I'm not buying it for one second. He's long been a guy who struggles mightily with lefties (4.55 career xFIP vs. LHH), and he's been extremely fortunate against lefties so far this season. Despite walking more lefties than he has struck out, lefties are hitting just .232 against Teheran, but that's only because their BABIP is a measly .224. His xFIP is a woeful 6.08 vs. LHH, and that's going to come back and bite him in the ass sooner rather than later. The lefties on the roster for Milwaukee are Jonathan Villar (switch), Scooter Gennett, Kirk Nieuwenhuis, Alex Presly and Ramon Flores.
7. Francisco Liriano – $8,500
Liriano has a bad matchup against Arizona who has the third best wRC+ of the day and a low strikeout rate. He also may be pitching hurt. Pass.
8. Justin Verlander – $11,000
Verlander has a good matchup with the Phillies, but there's absolutely no reason to pay 11K for a pitcher with an xFIP over 4.00. Also pass.
9. Michael Wacha – $6,500
If you're really looking for a value option, here you go. After a good start to the year, Wacha has failed to make it past the fourth inning in each of his last two starts. For the season, his ERA is a touch over 4.00, and his xFIP is only a bit below 4.00.
He hasn't really lost velocity. He's down from where he was last year but only back to his 2014 velocity which was enough velocity for him to be more than fine. The real red flags are fewer swinging strikes, fewer first pitch strikes and fewer swings induced on pitches out of the zone. So yeah, something is definitely off here. But bad luck has also played a part as his BABIP is up, despite there not being a huge change in the quality of contact he allows, and his strand rate is down, despite the fact that he's not allowing more home runs. Better days should be ahead, but temper expectations and think mid-threes not low-threes for his ERA.
His matchup is unquestionably bad tonight against the Cubs, but at this price he could be worth a gamble. I said the same about Adam Wainwright yesterday. While that didn't totally work out, it certainly could have gone worse. Plus, Wacha isn't struggling nearly as much as Wainwright has been, yet Wacha is only $500 more expensive than Wainwright was yesterday.
10. Nathan Karns – $8,800
Karns' price is a bit too high and there's not enough strikeout upside in his matchup with Oakland. Pass.
Hitting Options
View a cleaner version of the chart below in this Google Sheet.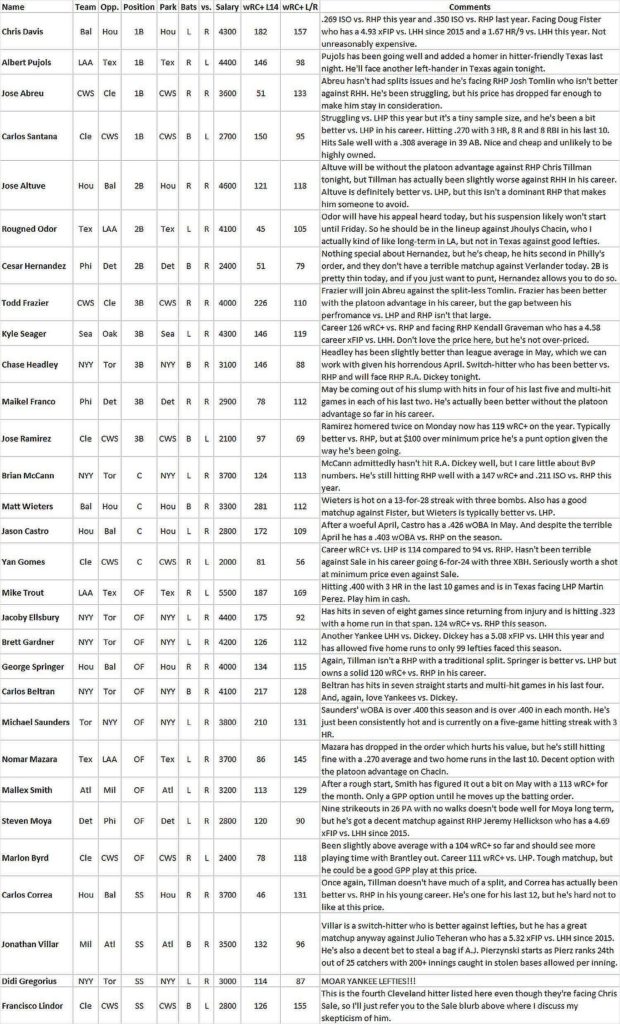 Stack Options
Astros – Jose Altuve, George Springer, Carlos Correa
Indians – Franciso Lindor, Mike Napoli, Jose Ramirez, Yan Gomes, Marlon Byrd
Yankees – Jacoby Ellsbury, Brett Gardner, Carlos Beltran, Brian McCann, Mark Teixeira