Welcome back to the Daily Fix here at the Fantasy Fix. And welcome to DraftKings. For those who aren't yet Daily Fantasy baseball players at DraftKings head over there via this link and join. They will double your initial deposit up to $600.
I'm going to focus on the later games today – the contest starts at 7:05pm eastern – giving my east coast and west coast friends equal time.
Follow me on Twitter with any changes as lineups roll in.
DraftKings gives you $50,000 to draft eight hitters (one at each position)and two pitchers. DraftKings features the following scoring settings for its daily fantasy baseball games:
DraftKings Team of the Day
Pitchers
There were two starters that jumped out at me right from the start, so we're going that route. They may have a tough time picking up a win as they are backed by anemic offenses, but they have outstanding matchups. There are couple of others who have a solid chance of bringing value and offer a good bit of salary relief.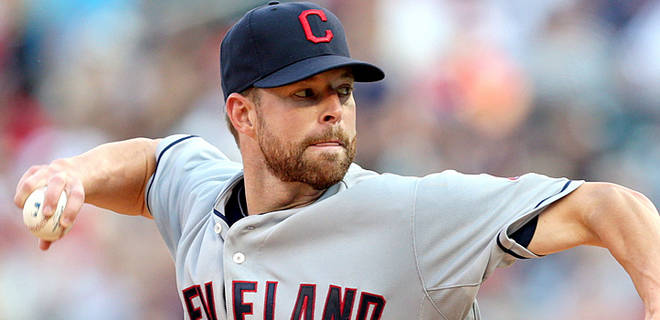 Corey Kluber | RHP | Indians | $9,000 – Kluber gets a Royals team that doesn't strike out much (15.1% against right handed pitching) and is middle of the road (17th at .308 wOBA against righties). However, Kluber has an excellent record against most of the Royals' assumed starters.
Tyson Ross | RHP | Padres |$9,300 – Watch the weather report here as the winds have been whipping around Wrigley this week. If the weather checks out, then Ross faces a squad that isn't very good against right-handed pitching (.291 wOBA and 21.9% K rate on the season). Ross has been stellar over his last three starts striking out 21 batters in 20 innings.
Alternative: If you want to go a bit cheaper, Matt Garza ($7,700) has a very nice matchup against a Mets team that struggles against righties (.298 wOBA and 20.5% K rate). Digging even deeper, Wei-Yin Chen ($6,200) faces the Mariners "offense" that has a .291 wOBA (29th in MLB) and a 21.9% K rate against lefties. Moreover, the Mariners offense has struggled to score more than three runs per game throughout most of July.
Catcher
Yan Gomes | Indians | $4,200 – Gomes has a .413 wOBA against lefties this year and got bumped all the way up the third in the order the last time out against a left handed starter. Gomes also has seven hits in his last 13 at bats so he's been pretty warm as of late. Gomes former catching mate Carlos Santana ($4,600) is another option and could slot at 3B as well.
First baseman
Adam Dunn | $3,900 – Dunn carries a .231 ISO and .372 wOBA against righties into the game against Hughes. If you don't want to pay for his friend Jose Abreu ($5,200), Dunn makes a reasonable play.
Second baseman
Kyle Seager | Mariners | $4,300 – Seager is eligible at second or third, but we'll slot him here as second base is a little bit dry today. Seager is a great hitter at home (.460 wOBA) and is a reasonable hitter against lefties (.311 wOBA). He faces Chen who isn't the best starter on the planet (or the Orioles or perhaps even in his own family). Scooter Gennett ($3,800) would be an option, but he's injured and shouldn't be in the lineup.
Third baseman
Conor Gillaspie | $4,300 – Gillaspie has been quite the find for the White Sox this year and has absolutely crushed right handed pitching this year (.420 wOBA, .180 ISO) and gets Phil Hughes who has been known to give up HRs from time to time).
Shortstop
Alexei Ramirez | $3,900 – There isn't a ton at SS today, so we'll go with Ramriez who has poor numbers against Phil Hughes (3 for 17), but has hit righties well this year (.317 wOBA). If you want to keep stacking Twins, Danny Santana ($3,400) has been cold since coming off the DL, but should bat leadoff and get opportunities against Hector Noesi.
Outfielder
Seth Smith | $4,100 – I'd like to get more Padres into my lineup, but they just don't elicit a lot of confidence. However, Smith has been a consistent performer against righties (.396 wOBA) and gets the struggling Edwin Jackson.  Jake Goebbert ($2,200) makes a great punt play here as he's been in the lineup pretty regularly as of late and is just above minimum salary.
Ryan Raburn | $3,100 – Raburn has been batting fifth against lefties recently for the Indians. For his career, he's been a lefty killer (.346 wOBA), but hasn't been quite that this season (.254 wOBA). If you want to pay for an Cleveland outfield, Michael Brantley ($5,000) is the play with his .349 wOBA against lefties this year.
Garrett Jones | $3,600 – Jones has eligibility at first and the outfield so he could fit in a couple of spots. Jones gets a spot on my roster based on his record (9 for 21 with 1 HR and a 1.173 OPS).
Stacking options
The Indians against the Twins and the Padres against the Cubs make great contrarian stacks as they are both subpar offenses, but have solid matchups. The Twins also have a great matchup, but their offense has been stagnant.
Here's what my lineup looks like right now before lineups come in.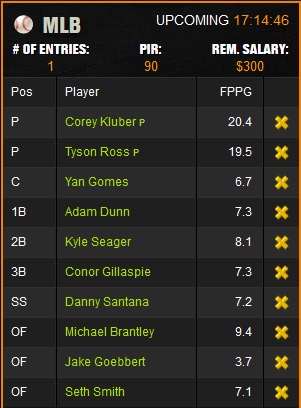 Good luck on DraftStreet today!