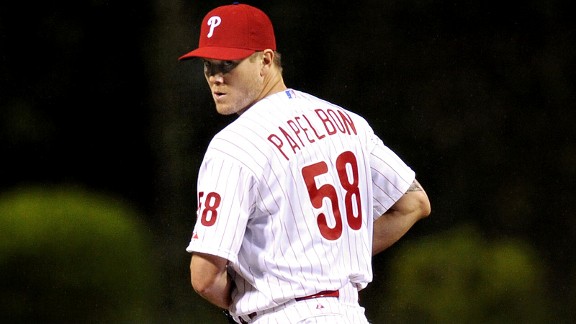 Welcome back to The Fantasy Fix's Closer Report for Week 15. I'm a couple of days late this week as I was closing out my vacation so please pardon the delay. We are heading into the All-Star break with a lot of stable bullpens, a few trouble spots that have been so for weeks (or even the entire year in some cases) and perhaps a trade in Philadelphia.  Follow along to see where we are today.
Remember, we've moved the Fantasy Fix Closer Report Chart to its full time home right here.
As always, feel free to ask a question in the comments below or shoot me a note on Twitter.
Arizona Diamondbacks
I feel like I write this every week. Addison Reed is still the Diamondbacks' closer. Yes, I know it makes little sense (other than Reed is getting paid to close and the D'backs traded for him last offseason). Keep running Reed out there until Kirk Gibson says no mas!
As usual, I close with another gratuitous mention of Brad Ziegler as the Reed handcuff.
Chicago White Sox
Fear not, White Sox fans, Matt Lindstrom is back on the recovery trail. And now he hopes to get back onto the mound by early August. I think that timetable is a bit aggressive based on the injury suffered. The good news for Lindstrom owners is that there isn't a lot keeping him from the closer's role in the White Sox bullpen. Zach Putnam is still at the head of the line for me, but it's just not worth chasing saves in this pen right now. There isn't a clear cut leader and I do not understand Robin Ventura's usage patterns.
Los Angeles Angels
Joe Smith continues to put distance between himself and any other challengers to the throne. He's a bonafide top 10 closer right now.
Milwaukee Brewers
On Wednesday, Jim Henderson moved his rehab assignment to AA. He has only walked one in 6 and 2 /3 innings pitched in his rehab so control hasn't been an issue (and is what I key on for rehabbing pitchers more than almost any other stat). He should be back soon after the All-Star break. Francisco Rodriguez has struggled a bit over the last month and more so over the last couple of weeks. He's been getting away with a ridiculous LOB% (100%) over the last month – that can't continue and his peripherals will catch up with reality. Henderson is a solid stash for those desperate for saves.
Pittsburgh Pirates
Ernesto Frieri has recorded 12 outs in his short time in Pittsburgh. He's allowed 11 men to reach base during that time. He's not in the closer picture at the moment. He shouldn't be on your roster at the moment. I've slide Jared Hughes on to the board this week. He's been one of the more effective Pirates' relievers over the last month (2.03 ERA, 2.53 FIP, 3.48 xFIP, 3.44 SIERA) and he does it by keeping the ball on the ground (52.6% GB rate for the last month, 62.5% for the season) but, doesn't strike a lot of guys out (14.3% K% over the last month, 12.4% for the season). He's a name to be aware of, but can be safely kept on the waiver wire.
Philadelphia Phillies
Jonathan Papelbon has said it would be a "no-brainer" to waive his no trade clause to move to a winning team. And with his solid season, he might just draw a suitor or two (as long as the Phils are willing to eat a good chunk of his remaining salary). He's due the remainder of his $13M this year, $13M next year and a vesting option for 2016 that vests with 55 games finished in 2015 or 100 games finished in 2014-2015. He's finished 30 games so far this year and he's averaged just over 57 games finished from 2011 to 2013) so there is a chance he hits that vesting option.
What other options exist in the Phils pen should Papelbon be traded?
Antonio Bastardo is listed as the handcuff option in our chart, but the rumblings out of Philadelphia lead me to believe that if Papelbon is dealt, Bastardo might stick as the setup guy and one of Jake Diekman or Ken Giles would slot into the closer's role. Diekman's issues have been walks (10.3% BB rate this year) and righties (.332 wOBA against while he has a .202 wOBA against lefties) while Giles has shown well all round. I think Giles gets the first nod if Papelbon is dealt and I've updated the closer's chart to reflect Giles superior skills so far this year at the major league level.
San Francisco Giants
Santiago Casilla continues to cement his hold on the closer's role as Sergio Romo continues to muddle along. Romo has been OK this month (four clean appearances out of five, but the "dirty" one was a blow up in a third of an inning).
Tampa Bay Rays
Grant Balfour, Kirby Yates, and Joel Peralta all struggled this week and gave up games. Jake McGee continues to be the most consistent reliever in the pen (picked up another save on Sunday after coming back off paternity leave).
Meanwhile, Brad Boxberger has snuck into the committee conversation and is a dark horse to get into higher leverage situations in the future.  Boxberger's K% is up to a ridiculous 38.1% and his BB% has dropped for the third season in a row to 8.6%. His LOB% is above league average (94%), but he's been bitten by the HR bug a bit more than he should (22.2%). His fastball is up 1.5 mph from last year and he's getting more people to chase out of the zone (35.4% O-Swing rate). He should be on your radar.
Definitions
2014 Closer – The current closer
Handcuff Option – This is the guy who I believe will step into the closer role if the current closer loses his job.
Other Option – Another arm in the pen who could close if the manager chooses to go a different route. And to clarify – this may be the lefty specialist who steps in for match up saves along the way.
Dark Horse Option – If all hell breaks loose in the pen, this guy could get a shot this year.
2015 Closer – This guy should be in the closer's role on Opening Day 2014.
And if you are looking for the chart, we've moved it to its permanent home right here. Updates will be made daily so be sure to check back each day to see any movement.
Thanks as always for reading.