It's been a big week in the Daily Fantasy world with the acquisition of DraftStreet by DraftKings. With that transaction brings some change and we'll be providing tips on DraftKings golf games for the rest of the season. This week, we head across the pond for the Open Championship (we Yanks call it the British Open) at Royal Liverpool Golf Club in picturesque Hoylake, England. Also, I've put the scoring at the end of this column so you can see some of the differences here at DraftKings.
And check out the big contest this week, PGA $20K Mini Royal Golf Champ with $20,000 to the 1st place finisher.
And if you want to try out the PGA Daily game for free, check out The PGA $2K Player Appreciation Freeroll with $150 to 1st place and no entry fee!
Tour Stop
The Open Championship returns to Hoylake, England at the Hoylake golf course at the Royal Liverpool Golf Club.  Hoylake plays at 7,312 yards (that's 6,686 meters) and is a par 72 track. The course hosted the Open back in 2006, but prior to that it last hosted in 1967.
So, there isn't a lot of course history to go on. Moreover, the course back in 2006 was baked to a crisp and wind was no factor. That won't be the case this year as there has been enough rain to lush up the rough and weather is expected to be a factor later in the week. The course also hosted the 2000 British Amateur tournament a fact which will come into play later in the column.
It's a major. It's a tough track where hazards are punitive. I want the best of best and I want players who stay out of trouble because once you are in a trap, no amount of scrambling skill will get you out unscathed.
Field
It's a major field so we've got just about everyone who is anyone here this week as 48 of the top 50 in the Overall World Golf Rankings are here this week. We are only missing Steve Stricker (who withdrew to put David Hearn in the field) and Charles Howell III who just doesn't play well on these courses.
2013 Tournament Results
We have a few charts below showing the results from last year's Open Championship as well as the 2006 Open Championship and last week's Scottish Open. And I'll probably give more sway to the recent Scottish Open than I would the 2006 Open results with the significant differences in course conditions between now and 2006.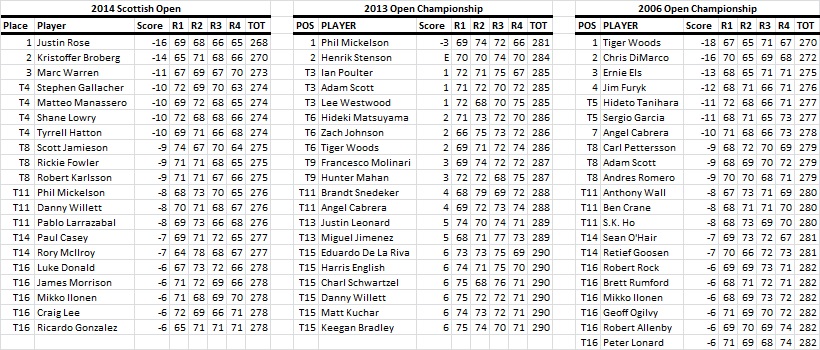 Let's look at a few options this week.
DraftKingsExpert Picks

Kristoffer Broberg | $6,100 – Who? Exactly. Broberg finished as the runner up last week to eventual winner Justin Rose at the Scottish Open. He closed out the week with a 66 to finish two shots behind Rose. The Swede also finished third at the Irish Open in late June and he's priced attractively.
Angel Cabrera | $7,600 – If it's a major, I always consider Cabrera (even if he's missed the cut at both majors this year). The veteran golfer seems to "get up" for majors. He finished seventh here in 2006 and was tied for 13th at the Open Championship last year.  He's also coming off a win at the Greenbrier.
Rickie Fowler | $9,200 – Fowler has been up and down this year, but when he's been up he's been way up. He's got top five finishes in the season's first two majors. He also finished in a tie for eighth at the Scottish Open last week.
Stephen Gallacher | $7,800 – Gallacher has made three of four Open Championship cuts including a tie for 21 st last year. He tied for fourth at the Scottish last week, but did miss the cut at the Irish Open.
Mikko Ilonen | $8,000 – Remember when I said you'd care about the 2000 British Amateur Championship. Well, here is why you'll care. Ilonen was the winner of that 2000 championship on this course.  But that was 14 years ago, who cares about that now? Ilonen won the Irish Open in late Juen and is coming off a tie for 16th place in last week's Scottish Open.
Pablo Larrazábal | $6,500 – Larrazábal has a win and four top 15 finishes on the European Tour in 2014. He finished in a tie for 11th last week at the Scottish Open and has made three of four cuts in his time at the Open Championship.
Graeme McDowell | $9,600 – McDowell is links-golf player with cuts made in five of his last six links course plays. He won his last time out at the Alstom French Open so even though his record doesn't look great, a little deeper analysis shows he should be a man for this course.  
Adam Scott | $10,800 – Scott is a major player. He's finished in the top three each of the last two Open Championships. He had a top 10 in 2006 at Hoylake. He was also tied for ninth at the US Open this year and tied for 14th at the Masters. Get your major player in for the major.
As for other high end options, I'd stay away from Rory McIlroy ($10,700) and his Friday fade problem.  I'd also skip out on Tiger Woods ($10,300). I want him to show me something. I'd also want to stay away from Ian Poulter ($8,900) and his wrist injury that doesn't sound like an injury, but worries me nevertheless.
But wouldn't argue with you if you wanted to leave Scott on the bench and go with Henrik Stenson ($10,400), Martin Kaymer ($10,500), Justin Rose ($10,600), or Sergio Garcia ($10,100) in that order.
Tom Watson | $4,600 – If you really want to go cheap, you can go with ole Tom Watson. He doesn't have a chance to win (though he did finish second in 2009). He missed the cut last year, but he's made the cut in three of out of his last five treks to the Open Championship. He did pick up a tie for 35th at the Greenbrier in early July so he has played some competitive golf recently.
Danny Willett | $6,500 – Willett is another player with a solid finish at the Scottish Open (tied for 11th), solid finish at the Irish Open (tied for third) and was tied for 15th at the Open last year.
Check out my lineup as it sits right now.
I may end up swapping Cabrera out for Gallacher or Willett, but we'll see where the winds blow.
Good luck this week! Head over to DraftKings to choose your squad for this week.
DraftKings Scoring
Roster size: 6 Golfers
POINT SCORING
Golfers on each team will accumulate points as follows:
Per Hole Scoring

Double Eagle (DBL EAG): +20 PTs
Eagle (EAG): +8 PTs
Birdie (BIR): +3 PTs
Par (PAR): +0.5 PTs
Bogey (BOG): -0.5 PTs
Double Bogey (DBL BOG): -1 PT
Worse than Double Bogey (WORSE DBL BOG): -1 PT

Tournament Finish Scoring

1st: 30 PTs
2nd: 20 PTs
3rd: 18 PTs
4th: 16 PTs
5th: 14 PTs
6th: 12 PTs
7th: 10 PTs
8th: 9 PTs
9th: 8 PTs
10th: 7 PTs
11th–15th: 6 PTs
16th–20th: 5 PTs
21st–25th: 4 PTs
26th–30th: 3 PTs
31st–40th: 2 PTs
41st-50th: 1 PTs

Streaks and Bonuses

Streak of 3 Birdies of Better (MAX 1 Per Round) (3+ BIR STRK): +3 PTs
Bogey Free Round (BOG FREE RD): +3 PTs
All 4 Rounds Under 70 Strokes (ALL 4 RDS UND 70): +5 PTs
Hole in One (HOLE IN ONE): +10 PTs
Scoring Notes: Ties for a finishing position will not reduce or average down points. For example, if 2 golfers tie for 3rd place, each will receive the 18 fantasy points for the 3rd place finish result. Playoff Holes will not count towards final scoring, with the exception of the "finishing position" scoring. For example, the golfer who wins the tournament will receive the sole award of 1st place points, but will not accrue points for their scoring result in the individual playoff holes.
Player Lock Notes: All golfers lock at the time the first golfer tees off on day 1 of an event.
Full rules are located here for DraftKings golf.