We are still in Hawaii this week for the Sony Open. And it's time for a full field event. Our friends at DraftKings continue to roll out some fantastic contests. I'm here to help you win some dough.
It's a great week to check out DraftKings as they have some top notch contests. And it's a great way to try out DraftKings' PGA games as every player makes the cut this week. You don't have to sweat the cut line.
Come on over and take a look.
Tour Stop
This week's tour stop is the Sony Open in Hawaii at the Waialae Country Club. The Waialae Country Club Championship Golf Course measures 7,044 yards and plays at a par 70 for the tour pros. As with last week's tournament, trade winds can play into the match, and the putting surface and fairways are bermudagrass.
And that's where the similarities end. This is a tough course with narrow fairways and punitive rough. There are still birdies to be made because the course is short, but if you get in trouble here you can bogey your way to a weekend off.
Waialae has hosted this tournament since 1965 and the course went through its latest round of renovations in 1999, so we have an excellent historical record to rely on.
The weather looks like it will be pleasant again this week with nothing in the way of wind to worry anyone. There is some chance for rain Friday and Saturday, but it won't likely cause any issues. Check back Wednesday to see if wind comes into play.
Scorecard breakdown: It's the familiar par-70 breakdown with 4 par 3s, 12 par 4s and 2 par 5s. Three of the par 3s are between 175 and 200 yards
Field
We have 22 of the 32 players from last week staying in Hawaii so the field will be solid if not spectacular. This will also be the introduction to a number of the Web.com graduates who you might not know unless you were playing DFS late in 2015.
The full field can be found here.
Also, thanks to GolfOdds.com for the odds this week. If you'd like to see a second set of odds, check out the Betting Zone's odds here – just click on this week's tournament on the left hand pane.
Past Tournament Results
The tournament has been played in Waialae since 1965 so historical records won't be an issues. The course underwent major renovations in 1999 but hasn't changed significantly since. So, we will be able to rely on history this week.
Jimmy Walker comes in having won back to back Sony Opens. Can he three-peat? Well, the last golfer to win a PGA tournament in three straight years was Steve Stricker at the John Deere Classic between 2009 and 2011.
If you look back on the leaderboards, you'll see a lot of the same names peppering the leaderboards. This tournament (more than almost any other) has guys who play well here year in and year out.
We will also consider results at Hyundai Tournament of Champions which is also held in Hawaii under similar conditions.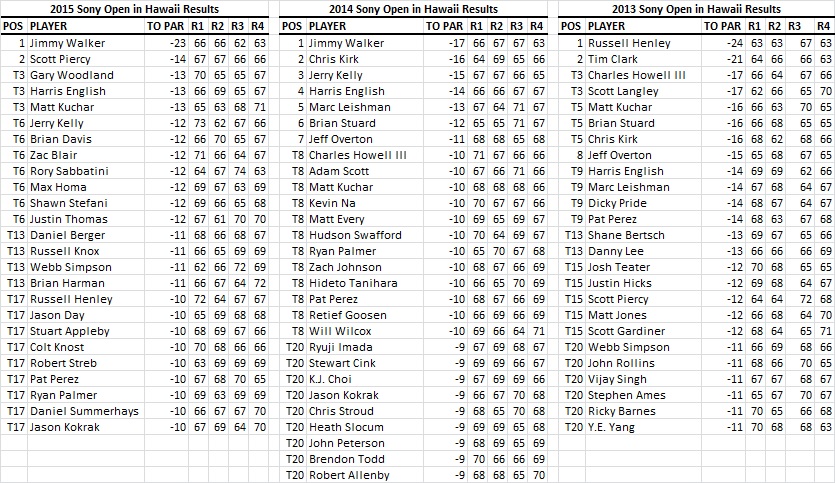 Statistical Review
It's a short course. It's a tough course. Scoring chances are there for the taking. Danger lurks around nearly every corner.
We are still using 2015 stats at this point, though we'll take a look at 2016 stats as well for those players who have played significant rounds.
Par 4 Birdie or Better (BOB4) – There are 12 par 4s, so in volume alone you know you'll need to score well on them. Moreover, as we look back at the leaderboards over the last few years, we see that par 4 scoring is imperative to be able to finish in the top 20. To put it another way, everyone SHOULD score on the par 5s. The par 4s are where the top golfers will separate from the field.
GIR Percentage < 125 yards (GIR125) – For many of these players, it will be a short iron into the green on a lot of these holes. And the approach will likely be from 75 to 125 yards away.
Bogey Avoidance (BA) – I know it seems silly – of course you want to avoid bogeys. But on this course, you want to make pars – you need to stay out of trouble. We don't have a lot of par 5s lurking to save you from making a mess of a par 4 (or par 3).
I also always examine Strokes Gained: Putting (SG:P) and Strokes Gained: Tee to Green (SG:T2G) every week.
DraftKings Expert Picks
Jimmy Walker | $12,200 – He's won back to back years here. Not much else to say. If you think he can three-peat, then roster him. He's certainly worth a spot in a few lineups, but I won't be heavy on him.
Adam Scott | $12,000 – Scott has done well (when he's played) at the Sony Open. He last played in 2014 and finished T8. For Scott, it always comes down to putting. He's just not consistent enough for me to roster in a ton of spots. He's the biggest name in the field and being the second most expensive player offers some value.
Kevin Kisner | $11,700 – I was off Kisner last week and it hurt me, though he did fade on the weekend. And I'm going to continue to fade him as his record here is awful. He hasn't made a cut in four trips to the Sony.
Matt Kuchar | $11,500 – Kuch strikes me as the safest play at $11,000 and above and will likely be a mainstay in my cash game lineups. He's played here four times in the last five years and his worst finish was T8. I'll take that.
Zach Johnson | $11,300 – Johnson won here in 2009, but since then he's finished T54, MC, T8 and T64. Not so great. And given his struggles last week at Kapalua, I'll stay away except in a couple of GPPs.
Brandt Snedeker | $10,900 – Snedeker served me well last week, and I'm going to stay with him this week. The only issue for Sneds is that he hasn't played here since 2008 and his best finish is T68. Snedeker fits the course nicely with an excellent profile. And if the putter keeps working like it did last week, look out. He's going to be a core player for me this week.
Justin Thomas | $10,800 – Thomas finished T6 here in his debut at the Sony last year. And for that reason (and because he's a hot, young player), he's going to be over owned. His profile fits, but I'm not going to be on this train this week. I'll have him in some lineups, but not as many as you might think.
Kevin Na | $10,600 – Na has made seven cuts in 10 trips here, but his results have been a bit all over the place. His results since 2008 are: T4, T5, T52, T20, MC, MC, T8 and T64 (last year). Na profiles nicely and ended 2015 with two second place finishes and a third. He's an excellent option this week.
Marc Leishman | $10,500 – Leishman has played well here (there is a theme here I think) as he's made all six cuts in this six trips to the Sony. He has two top ten finishes and two other top 20s. He picked up the win at the Nedback Golf Challenge in South Africa in his last start.
Russell Henley | $10,300 – Henley won in 2013. He's since finished T51 and T17 (last year). He fits the course nicely (with his only blemish from last year a 113rd place finish in SG:T2G). So, you have to respect his two top 20 finishes in three trips, but I won't have Henley everywhere.
Harris English | $10,200 – It's all about history here for English. He's finished in the top 10 each of the last three years. I don't need anything else to recommend him this week.
Graeme McDowell | $10,100 – He was $8,500 last week and he !%&$@%$ the bed. So, now he's $10,100? No thanks.
Russell Knox | $9,800 – Knox's game works here (48th in BOB4, 29th in GIR<125, 10th in bogey avoidance, 23rd in SG:T2G and 119th in SG:P). Knox missed the cut in his first three tries at the Sony, then finished T13 last year. He played extensively to close out 2015 and picked up a WIN (WGC-HSBC) and T2 (OHL Classic) in back to back weeks in early November. Perhaps he's figured out the course? I think so.
Charles Howell III | $9,700 – CH3 is another safe play as he's made the cut in 14 of 14 starts at the Sony Open though he "stumbled" to a T26 last year ending his run of three straight top 10 finishes. He's an experienced bermudagrass player and should be able to make it to 15 cuts made in a row this week.
Daniel Berger | $9,600 – Berger made his initial foray to the Sony Open last year and finished T13. Not too shabby. And he played relatively well to start the season with two top 20 finishes in three starts. But, his profile doesn't seem to fit and for some reason I'm just off him this week.
Chris Kirk | $9,400 – Kirk has done well at this course in the past and based on his poor showing last week at Kapalua I think he'll be low-owned. And as you can see, his issues weren't the new clubs, it was the putter. He's made the cut in all five trips to the Sony Open with two top ten finishes. He's a sneaky elite play at the bottom of the high priced players.
Emiliano Grillo | $9,300 – Grillo played everywhere last season making 23 of 26 cuts all around the world on the European, PGA, and Web.com tours. He closed the Web.com Tour with a win and opened the PGA Tour season at the Frys.
Danny Lee | $9,100 – Danny Lee's record here looks nearly the same as Russell Knox's (three missed cuts and a T13 in four trips though his T13 was in 2013, not last year). Lee started off solid last week but struggled on the weekend. His profile is similar to Colt Knost and William McGirt and you can get that for much less.
Will Wilcox | $9,000 – The man, the myth, the legend. As you'll see throughout the year, Wilcox always seems to profile well no matter the course. And this week is no exception. He made his only appearance here two years ago and finished T8. He's the highest rated golfer on my list when looking only at 2015 statistical profiles.
The range from $7,500 to $8,900 is….odd. I don't have a great feeling about a lot of these guys, so balanced lineups could be tough to put together.
Ryan Palmer | $8,900 – Palmer has made seven of 10 cuts at the Sony Open and has two top 10 finishes including two years ago. He also won here in 2010. That's a solid history even if the profile doesn't quite work.
Patton Kizzire | $8,800 – I like Kizzire a lot this week, but it's going to be tough to pay up for him at $8,800. But, don't be fooled. He's an excellent golfer. He finished second in BOB4 and third in Bogey Avoidance on the Web.com Tour last year. That profile works. It's his debut so don't expect too much, but make sure you have him in a couple of lineups.
Luke Donald | $8,700 – Donald has made six of eight cuts here, but has only one top 10 finish. At this salary range, I'd rather have better course history to roster a guy.
Keegan Bradley | $8,600 – Bradley has started this season well with two top 20 finishes in four starts including a T8 at the OHL Classic. He hasn't played here since 2013, but did finish T13 in 2012. He's got some skills that should work here (15th in GIR<125 and 14th in SG:T2G).
Scott Piercy | $8,500 – Piercy hurt a lot of gamers last week so he makes a nice contrarian play. He's been in the top 25 in three of the last four years with a solo second last year so he should be a solid GPP option.
Gary Woodland | $8,400 – Woodland finished T3 last year which came out of just about nowhere. He didn't look great last year, but he did finish T23 in his last time out at the WGC-HSBC in China. I don't see a reason to roster him.
Tony Finau | $8,300 – Playing Finau this week is counting on him learning from his mistakes. He's missed the cut the first two times he's played here. But, experience is key and he's got a couple of looks at the course. He finished last season at 21st in BOB4 and 36th in SG:T2G so he can make it work.
Francesco Molinari | $8,100 – Molinari made his debut here and finished T37 which is nice for a first timer. And even though he doesn't score well on par 4s (128th in BOB4) and he can't putt (151st SG:P), the rest of his profile checks out. He finished 2015 fifth in GIR<125, 17th in BA, and 18th in SG:T2G. He's played twice in November 2015 and finished T17 and T4 so he closed out 2015 solidly.
Jason Dufner | $7,900 – Dufner is five of seven in cuts made, but doesn't have a top ten finish. His best finish was a T13 in 2007. He has some tools in his toolbox that could provide him with some advantages – 40th in BOB4, 33rd in GIR<125 and 16th in SG:T2G. For Dufner, he can succeed if he can be just an average putter. So, he's a GPP option as he could flame out or hit the top 20.
William McGirt | $7,800 – McGirt ended 2015 playing well with back to back top 10 finishes. His profile works (with the exception of his poor showing in BOB4). He's played here four times and made the cut three times.
Webb Simpson | $7,700 – Simpson has a solid record here making all six cuts in his six trips and has one top 10 finish (in his 2009 debut). He's played twice in the last three years and finished top 20 both times. He finished last year at seventh SG:T2G and 32nd in Bogey Avoidance so part of the profile works.
Graham DeLaet | $7,600 – I never trust DaLaet. You can if you want, but I'm warning you.
David Lingmerth | $7,600 – Lingmerth played last week at the Hyundai TOC and finished a solid (for him) T15. He ended 2015 with a T9 at the Australian PGA Championship. He should be a solid option in cash games this week.
Padraig Harrington | $7,500 – Harrington makes his debut here so I'm not enamored with his chances this week. But, he did finish T6 in his debut last week at Kapalua. Hmmm….I'm not sure lightning can strike twice.
Peter Malnati | $7,500 – Malnati played quite well in his debut at Kapalua last week and he's got the added bonus this week of actually playing here before. He finished 15th in BOB4 last year on the Web.com Tour so he should be able to continue on his solid run of form.
Jerry Kelly | $7,400 – He's made 14 of 17 cuts and finished in the top 10 eight times at the Sony Open. He comes in with back to back top 10 finishes at the Sony. He's made three straight cuts coming into the tourney. Do you need anything more than that to roster him everywhere?
Boo Weekley | $7,400 – Weekley is six for nine in cuts made here, but only has one top 10 finish back in 2009. He's got a couple of things in his profile that should work – 31st in GIR<125 and 29th in SG:T2G. He's also nine for nine at the RBC Heritage – another seaside course.
Harold Varner III | $7,300 – He's one of the new guys on Tour and I expected him to be down in the $6000s. But, he's not and that just means we'll have to work a bit harder to get him into our lineup. He finished T2 at the Australian PGA Championship in early December. He also fired the second lowest round of the tournament. He finished T5 at the OHL Classic – another "seaside" course. His ownership levels will be in the low single digits and I dig it.
Steve Stricker | $7,200 – Stricker is back here for the first time since 2012. And he's had a ton of success here with nine of 10 cuts made and five top 10 finishes. His run from 2007 to 2012 included four top 10s in that six start run. He's playing a limited schedule now, but he'll make an interesting GPP play.
Fabian Gomez | $7,200 – Gomez has made three cuts in three trips to the Sony. He's never finished higher than T67. He performed quite nicely at the Hyundai last week (T6). And he won on the PGA Tour LatinoAmerica near the end of 2015.
Brendon Todd | $7,200 – Todd is four for four in cuts made here and has two top 20 finishes in those four starts. He's started the season off poorly making only one of five cuts. Pass.
Daniel Summerhays | $7,100 – Four for five in cuts made here with his best finish last year – a T17. His profile works pretty well and he's a cash game option.
Johnson Wagner | $7,100 – Wagner won here in 2012. He missed the three cuts leading up to that win. And the three cuts since. Pass.
David Hearn | $7,000 – Hearn's profile works – he scores similarly to Danny Lee and William McGirt. He's made five cuts in five trips to the Sony, but has only one top 10 to show for it and not much else. He's worth a slot or two on some rosters.
Steven Bowditch | $7,000 – Bowditch is like a light switch without a dimmer. He's either on or off. And he was fully on last week finishing T10 at Kapalua. He's made four of five cuts, but never finished better than T34. So, will the good or bad 'Brow show up?
Cameron Smith | $7,000 – If you've ever read any of my golf columns, you know that I have a man-crush on Smith. I think I wrote last year that if he were an American, he'd be hyped nearly as much as Jordan Spieth. But, I digress. He scores well on par 4s. He's Australian (which will help with playing in the wind) and he comes in off a fifth at the Australian PGA Championship in early December.
Zac Blair | $6,700 – Blair debuted here with a T6 last year. Huh…pretty nice. He finished 11th in SG:P and 16th in Bogey Avoidance last year so he could repeat his work.
Sean O'Hair | $6,600 – O'Hair's work on par 4s means he's always in consideration for par-70 courses. He finished ninth last year in BOB4 and had some success here in the past (T2 in 2012). He showed flashes of the old O'Hair at times last year so he's worth a shot in some lineups.
Rory Sabbatini | $6,500 – Sabbatini's profile works here as he finished 2015 at 17th place in BOB4, 49th in GIR<125, 36th in BA, 39th in SG:T2G and 134th SG:P. So, the putter could be an issue, but the rest checks out. He's played here 17 times and made the cut 12 of those times. His finished T6 last year and had a bit of a revival all around last year.
Pat Perez | $6,500 – Course meet horse. He's finished in the top 20 each of the last three years and eight of the 14 times he's started here. He's a steal at $6,500.
Jeff Overton | $6,500 – Overton has three top 20 finishes in the last five years here at the Sony Open. And he finished T6 at the RSM the last time he teed it up. Interesting. No one will be on him as they'll stick with Pat Perez for the same price.
James Hahn | $6,500 – Hahn has improved in each trip to the Sony – from T67, to T46, to T26 last year. And he really struggled last week at Kapalua, but had a sixth place finish at the CIMB Classic to close out 2015.
Jamie Lovemark | $6,400 – Lovemark finished fourth in BOB4 last year on the Web.com Tour which will work nicely here this week. Lovemark has played here twice and missed the cut each time, but at least he's seen the course before.
Shawn Stefani | $6,400 – Stefani finished T6 last year. And he finished last year 29th in BOB4, 69th in BA, 42nd in SG:T2G and 88th in SG:P. And he did finish T25 at the OHL Classic. Maybe there is something there.
Spencer Levin | $6,300 – Levin is seven for seven in cuts made, but hasn't finished inside the top 20. He had three top 25 finishes in the wraparound season, though he missed the cut his last time out at the RSM Classic in late November.
Jim Herman | $6,300 – Herman has some nice measurables (fifth in GIR<125, 15th in Bogey Avoidance, 52nd in SG:T2G) which means he could do well here. He's never finished better than T57 in four trips to the Sony.
Hudson Swafford | $6,300 – Swafford is like Will Wilcox in a lot of ways. He always seems to have the stats that fit the course no matter where we're playing each week. And he did finish T8 here two years ago, though he missed the cut last year.
Stewart Cink | $6,100 – Cink's profile works here – 59th in BOB4, first in GIR<125, 31st in BA, 56th in SG:T2G and 81st in SG:P. He's made the cut three of the last four years with his best finish at T20.
Mark Wilson | $6,100 – Wilson won here in 2011, but hasn't done too much since (best finish T51). He's had success at other "seaside" courses so he could seemingly turn it on at any time. It's a high risk play.
Mark Hubbard | $5,900 – Hubbard finished T60 here last year in his debut. He's made eight straight cuts over the Web.com and PGA Tour and had his best PGA Tour finish with a T18 at the RSM Classic. He could be a safe option down here.
Yusaku Miyazato | $5,800 – My favorite part of the Japan Tour player profile is that they provide you the player's blood type. I guess just in case there is a need for an emergency blood transfusion. Miyazato has had a solid season on the Japan Tour including a win at the Dunlop Phoenix beating the likes of Hideki Matsuyama, Will Wilcox and Danny Lee. He's played here seven times and made the cut three times, but not since 2008.
Colt Knost | $5,800 – Knost has finished in the top 25 in two of his last three trips to the Sony Open. His statistical profile also works well and he usually keeps the ball in the fairway. I like him even in cash games this week.
Troy Merritt | $5,800 – Merritt struggled out of the gate last week, but closed out nicely over the last three rounds at 14 under. That's quite a nice run. He also finished T30 last year here after missing cuts in his two prior appearances. He debuted here in 2010 with a T20. He's an option in stars and scrubs lineups.
Tom Hoge | $5,700 – Hoge finished 24th in BOB4 last year and that's worth something this week, especially at this price. He finished T71 last year here in his debut.
Brian Gay | $5,700 – Want a longshot with a chance to come in? Take Gay. He hasn't played on Tour in 16 months due to a hand injury, but his record here is great as he's made 13 of 15 cuts and finished in the top 10 three times.
Hiroshi Iwata | $5,700 – Iwata finished ahead of Jordan Spieth and just behind Hideki Matsuyama at the 2014 Dunlop Phoenix firing a final round 63. So, he won't be intimated by any players in this field. He also led the Japan Tour in birdies per round last year and third in number of rounds per eagle so he can score. He missed the cut here last year in his debut.
Michael Kim | $5,700 – Kim finished 16th in BOB4 and fourth in Bogey Avoidance on the Web.com Tour. He makes his debut here so I'm not going to go crazy with him, but he should be able to make some noise.
Dawie Van Der Walt | $5,700 – I really like van der Walt this week based on his work on the Web.com Tour where he shows up on all of the scoring leaderboards. He'll be a good number of my lineups including a few cash games.
Bronson Burgoon | $5,600 – Burgoon finished 19th in BOB4 on the Web.com Tour so he can score when needed. He makes his debut here this week.
Henrik Norlander | $5,600 – Norlander played here in 2013 and finished T41. At this price point, that's enough to recommend him.
Stuart Appleby | $5,500 – Appleby is 10 for 13 in cuts made here with four top 10 finishes. He finished T17 here last year and his last top 10 was in 2006.
Rob Oppenheim | $5,400 – Oppenheim finished ninth in BOB4 on the Web.com Tour last year. And no one will be on him and he finished T18 in birdie average overall. He did his scoring on par 3s and par4s last year and that's great for a par 70 course. If you want to own a couple of the big guys, Oppenheim is a nice play.
Good luck this week! Head over to DraftKings to choose your squad for this week.
DraftKings Scoring
Roster size: 6 Golfers
POINT SCORING
Golfers on each team will accumulate points as follows:
Per Hole Scoring

Double Eagle (DBL EAG): +20 PTs
Eagle (EAG): +8 PTs
Birdie (BIR): +3 PTs
Par (PAR): +0.5 PTs
Bogey (BOG): -0.5 PTs
Double Bogey (DBL BOG): -1 PT
Worse than Double Bogey (WORSE DBL BOG): -1 PT

Tournament Finish Scoring

1st: 30 PTs
2nd: 20 PTs
3rd: 18 PTs
4th: 16 PTs
5th: 14 PTs
6th: 12 PTs
7th: 10 PTs
8th: 9 PTs
9th: 8 PTs
10th: 7 PTs
11th–15th: 6 PTs
16th–20th: 5 PTs
21st–25th: 4 PTs
26th–30th: 3 PTs
31st–40th: 2 PTs
41st-50th: 1 PTs

Streaks and Bonuses

Streak of 3 Birdies of Better (MAX 1 Per Round) (3+ BIR STRK): +3 PTs
Bogey Free Round (BOG FREE RD): +3 PTs
All 4 Rounds Under 70 Strokes (ALL 4 RDS UND 70): +5 PTs
Hole in One (HOLE IN ONE): +10 PTs
Scoring Notes: Ties for a finishing position will not reduce or average down points. For example, if 2 golfers tie for 3rd place, each will receive the 18 fantasy points for the 3rd place finish result. Playoff Holes will not count towards final scoring, with the exception of the "finishing position" scoring. For example, the golfer who wins the tournament will receive the sole award of 1st place points, but will not accrue points for their scoring result in the individual playoff holes.
Player Lock Notes: All golfers lock at the time the first golfer tees off on day 1 of an event.
Full rules are located here for DraftKings Daily Fantasy golf.