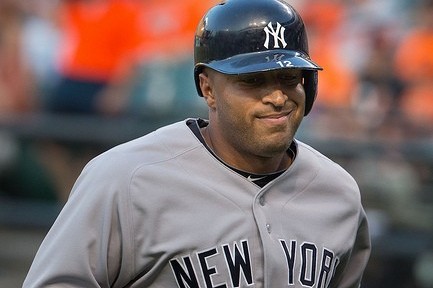 It's the Week 11 edition of fantasy baseball 3×3, where we're throwing in the towel on Rickie Weeks, snagging Gerrit Cole, and riding the lightning with Yasiel Puig.
3 TO CUT
Vernon Wells | New York Yankees | OF
I'm not sure what exactly happened or who is to blame, but it appears that somebody or something has reminded Vernon Wells that he is, in fact, Vernon Wells.
After hitting an even .300 and slugging six home runs in 24 March and April games, Wells flirted with the Mendoza line and hit just four homers in the following 34 games. In sum, he's been exactly the player we should have expected him to be.
In 262 plate appearances with Los Angeles last season, Wells slashed .230/.279/.403.
Through his first 235 plate appearances as a Yankee, Wells has slashed .241/.285/.409.
What we saw from Wells in April wasn't a return to glory, it was nothing more than a garden variety hot streak.
Yes, I know his BABIP is terrible, but positive regression ain't walking through that door. His current .243 mark is actually the best he's posted in the last three seasons. Wells is a fly ball hitter with average (at best) power; those types of hitters can't be expected to finish with a league average BABIP. Wells' career average is .278, but he hasn't posted a single season mark better than that since 2009.
Come to think of it, maybe I should be calling for negative BABIP regression here…
You've probably missed your window to get anything in a trade for Wells; the smart move now is to dump him for anything you can find on the wire.
I'd drop/trade him for: Garrett Jones, Brandon Moss, Chris Carter
Marcell Ozuna | Miami Marlins | OF
Marcell Ozuna has played more than three times more games in the major leagues (35), than he's played in the minors above A-ball (10). It's not his fault that the Marlins decided to rush him, but color me skeptical at the prospect of a hitter with so little experience in the high minors maintaining his current .331/.371/.472 slash line.
Sure, he's been successful, but he hasn't been successful in the way that we expected him to be. For a prospect who had been touted for a singular transcendent skill, that's a big red flag.
Ozuna posted consistently strong power numbers during his time in the minors, slugging more than 20 home runs on three separate occasions. So far this season, his .139 ISO ranks 58th and his 2.9% HR/FB rate ranks 90th among outfielders with at least 140 plate appearances.
His value has come mostly from a great batting average; that won't hang around long once his .423 BABIP fades; Ozuna hit just .266 for the High-A Jupiter Hammerheads last season.
Ozuna may very well be a solid major leaguer in the future, but right now, he's excelling on luck and struggling to tap into his one plus-plus offensive skill. His ownership is on the rise, especially in ESPN leagues, making him a fantastic sell-high candidate.
I'd drop/trade him for: Justin Ruggiano, Brandon Moss, Colby Rasmus
Rickie Weeks | Milwaukee Brewers | 2B
Rickie Weeks seems like he should be able to hit for a decent batting average. He has good speed: he's swiped at least 15 bases in five of the seven seasons in which he's logged at least 400 plate appearances. He has a batted ball profile well-adapted for that speed: at least 64% of his batted batted balls have been grounders or line drives in three of his last four seasons.
Yet here we are, nearly two weeks into June, and Weeks is hitting .199.
Weeks just doesn't make enough contact, and when he does put the ball in play, he doesn't do it with much authority. His strikeout rate is on a three-year upward trend, plateauing at his current career-worst mark of 28.9%. His HR/FB is on a five-year downward trend, slipping to just 10.5% this season.
He's not 2010 Rickie Weeks, and he won't be again. He may still go 20/20 this season (he came up only four steals short last year), but you'll have to stomach a .225 batting average to get those homers and steals. Unless your team can afford to take that hit, let Weeks be somebody else's problem.
I'd trade/drop him for: Neil Walker, Nick Franklin, Omar Infante
3 TO CATCH
Gerrit Cole | Pittsburgh Pirates | SP
The Pittsburgh Pirates have confirmed that top prospect Gerrit Cole will make his MLB debut on Tuesday night against the San Francisco Giants.
Cole hasn't exactly been blowing hitters away in the minors; his 6.22 K/9, 3.71 BB/9, and 3.99 FIP in AAA this season are his worst marks at any minor league level, but this recommendation is based on potential, not results.
There aren't many starters who possess the Verlanderian ability to touch 100 mph, and Cole is one of them. For that fact alone, he deserves your attention.
On top of that, his chances of holding down a rotation spot over the long term are just as good, if not better, than any of the other top pitching prospects who've been called up recently. MLBDepthCharts only lists four pitchers in Pittsburgh's current rotation (although James McDonald is currently on a rehab assignment), and based on Cole's innings from last season, he should have at least 80 innings or so left in the tank, even if the Pirates choose to impose a cap on his workload.
Clint Hurdle and Neal Huntington have been non-committal about Cole's chances to stay up with the big club, but I'm all in. This team is good enough to win now and Cole is absolutely one of the best five starting pitchers in the organization.
To pick him up, I'd drop: Bronson Arroyo, Wade Miley, Jeff Locke
Cameron Maybin | San Diego Padres | OF
Last season, Cameron Maybin began a positive trend plate discipline, dropping his strikeout rate below 20% and his swinging strike rate into single digits for the first time in his career. His fantasy numbers didn't exactly come along for the ride, but it was an altogether productive step in his development.
A wrist injury derailed his 2013, but after an excellent rehab stint in which he slashed .323/.447.645 with three homers in nine games, Maybin is back starting in centerfield for the Padres.
Through his first 50 plate appearances in San Diego this season (both before and after the injury), Maybin has continued to improve his control of the strike zone. He's swinging less often than ever before, especially on pitches outside the zone. He's waiting to pounce on pitches he can handle, evidenced by a five point jump in his line drive rate.
All of this means that Maybin's OBP should settle in a good 15-20 points better than his career average of .312. More times on base means more chances to steal, and Maybin will run; he's already swiped four bags in the four games since his return.
To pick him up, I'd drop: Adam Eaton, Ben Revere, Michael Brantley
Brandon Beachy | Atlanta Braves | SP
As of Sunday afternoon, the Atlanta Braves were the only team in baseball whose projected five-man rotation has started every game this season. It's quite an impressive intersection of durability and luck, but one that almost certainly won't last.
Brandon Beachy was excellent in his penultimate rehab start on Saturday, whiffing eight, allowing only seven baserunners, and throwing 94 pitches without incident. His velocity has been strong throughout his rehab; things are clicking along right on schedule for a mid-June return.
The Braves haven't shared their plan for integrating Beachy back into the rotation, and there's no clear candidate for demotion, but neither manager Fredi Gonzalez nor GM Frank Wren have intimated that there's any chance that Beachy would be the one headed to the bullpen.
There's always risk in rostering a player who hasn't completely proven to be all the way back from injury, but the potential reward with Beachy makes him ownable in any league. When Beachy set his career high for big league innings in 2011, his 10.74 K/9 led all MLB starters with a least 140 innings pitched.
To pick him up, I'd drop: Jeremy Hellickson, Wandy Rodriguez, Jeff Locke
3 TO KEEP
Jon Jay | St. Louis Cardinals | OF
There's a good reason that strong batting average performers typically don't make it to the waiver wire. Banking above average production in that category allows an owner the flexibility mine the wire for cheap power and speed, both of which often come attached to an unsavory batting average.
John Jay is one of the former set of players. His .283 BABIP doesn't seem like a prime target for positive regression, that is, until you consider than in his three previous big league seasons, Jay has never finished with a BABIP lower than .340. Across all levels, he's never posted a batting average lower than .281 in a single season in which he's he's logged 250 plate appearances.
He's not going to hit .245 all season.
Batting average is one of the most volatile statistics in baseball, but even so, projecting Jay to hit .300 the rest of the way is a pretty sure bet. He'll almost assuredly perform well enough over the rest of the season to balance out the troubles of other flawed but productive players, perhaps even ones that were suggested in this very column (ahem, Cameron Maybin).
I wouldn't trade/drop him for: Marcell Ozuna, Vernon Wells, Ichiro Suzuki
Alcides Escobar | Kansas City Royals | SS
Courtesy of Texas Leaguers, Alcides Escobar's April spray chart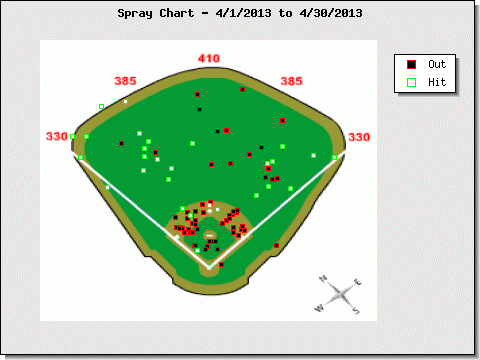 Now, his May/June spray chart.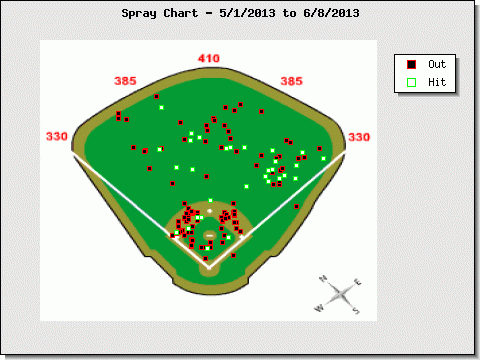 When April expired, Escobar stopped pulling the ball for power. All of the doubles (and occasional home runs) to left field dried up, but clearly, he wasn't going to hit for big power all season. The really weird thing is that as he's hit the ball more up the middle and the opposite way, his batting average has actually gotten worse.
It's an odd trend, and one I don't expect to continue. Escobar's line drive rate on batted balls to the opposite field is nearly 30%, yet his BABIP to right field is only .292.
As that number comes up, his batting average will settle in around .275. He'll keep running and end up as a fringe top 12 fantasy shortstop.
I wouldn't trade/drop him for: Brandon Crawford, Erick Aybar, Didi Gregorius
Yasiel Puig | Los Angeles Dodgers | OF
The sample size with Yasiel Puig is far too small to learn anything I could really hang my hat on, but damn, has he been impressive. Through seven major league games, he's hit four home runs, driven in 10, and racked up 0.7 fWAR.
He also did this.
I don't believe it either, Vin.
Of course he's not this good, but even through just a half dozen games or so, it's pretty clear that he belongs in the big leagues.
If you own him, you probably got him cheap, and you've probably already turned a profit.
So ride the wave. In the end, we all play fantasy sports because it's fun, and I can't think of any player who's as much fun to own right now as Yasiel Puig.
I wouldn't trade/drop him for: Dexter Fowler, Domonic Brown, Austin Jackson
Follow me on Twitter @gerardowrites