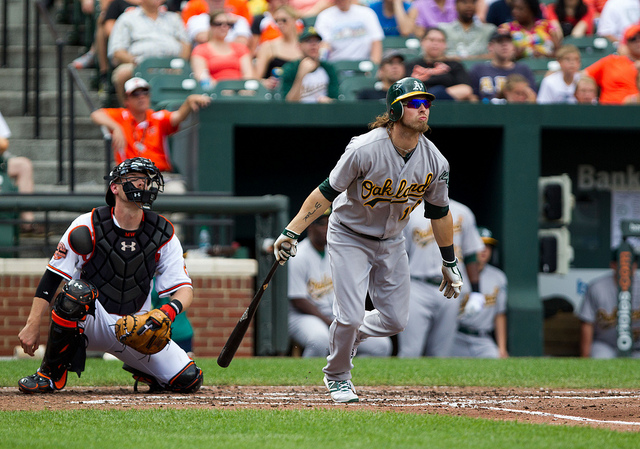 It's the Week 15 edition of fantasy baseball 3×3, where we're dumping Ichiro, preaching patience with Doug Fister, and stroking Josh Reddick's luxurious beard like a Bond villain's cat.
There are plenty of waiver wire columns out there that provide an exhaustive list of the most added players in fantasy leagues. This isn't one of them. Here, we'll run down a few lesser-known, lesser-considered, or at least lesser-owned players, with perspective on who deserves a pick up, who deserves a bus ticket, and who deserves a hug and a warm cup of tea.
Let's get to it.
3 TO CATCH
Josh Reddick | Oakland A's | OF
In keeping with the traditions of his team, Josh Reddick is emblematic of a market inefficiency in fantasy baseball: The post-injury in-season sleeper, or PIISS.
Aw crap, can I get a do-over on that acronym? Maybe, "in-season post-injury sleeper"? Nevermind. What's important is that this phenomenon is real, and it can work to your advantage.
Reddick came into the season as a player deemed almost universally worthy of mixed league ownership, got off to a bad start, and then got hurt. While was good enough to be owned when healthy, most of his owners (probably correctly) chose to drop him after his injury, rather than spend a DL slot on a non-elite player.
Nothing in that process is wrong, but once Reddick was dropped, he was forgotten. His combination of poor performance and missed time sunk his fantasy ranking (his full season ranking is 718 in one of my Yahoo! leagues) and expelled him from watch lists and FAAB bids. He's not a big enough deal to make SportsCenter, so when he returned, nobody noticed. So there he sits, like a kid whose parents both thought the other one was picking him up from soccer practice.
Poor Josh.
He's not any less talented than he was at the beginning of the season. His situation really isn't any different at all. If anything, it might actually be better; the A's offense has been surprisingly strong so far.
Since his return, Reddick has greatly improved his plate discipline and see his BABIP regress to just slightly above league average after a terribly unlucky start. His power hasn't quite come back, but I think his home run and double on Sunday afternoon are a sign of things to come. Reddick is a fantastic buy low in AL-only and a great add in deeper mixed leagues.
To pick him up, I'd drop: Jayson Werth, Alfonso Soriano, Andre Ethier
Hector Santiago | Chicago White Sox | SP/RP
Over the last month, only six starters have a better K/9 than Hector Santiago's 10.24. His ERA won't stack up quite as well, but if the last month is any indication, it won't hurt you much either. His low ground ball rate worries me a bit, but he's got the overpowering stuff necessary to limit the damage of any home runs he allows. If you have an opportunity to make up a few points in Ks, he's a great add.
The biggest question for Santiago is whether he'll keep his rotation slot over the long term. The White Sox aren't going anywhere this season, which would seem to dictate that a promising 25-year old should get the benefit of the doubt, but it still seems likely that he'll will be the odd man out when Jake Peavy returns from his injury. Santiago has successful experience in the bullpen, something that can't be said for any other White Sox starter. I'd argue that his bullpen experience shouldn't override the fact that Dylan Axelrod has been the fifth-worst starter in baseball this season, but I guess that's beside the point. The most favorable outcome would be a trade of Peavy before the July 31st deadline, clearing space for Santiago and Axelrod to peacefully coexist. That's not guaranteed, but it's not exactly unlikely either.
If you're not convinced, consider this: HE THROWS A SCREWBALL!!!!
To pick him up, I'd drop: Barry Zito, Jeremy Guthrie, Phil Hughes
Brian Dozier | Minnesota Twins | 2B/SS
Brian Dozier's HR/FB rate has jumped from 6.3% to 10.1% without any other change in his batted ball profile, but it's backed up by a corresponding jump in average fly ball distance, from 262 feet in 2012 to 277 feet this season.
Unlike his power, Dozier's speed is pacing right on track with last year. That's just fine, he should end up with at least 15, maybe 20 steals with a full slate of at bats this season.
He won't help your batting average, but with a walk rate approaching 10% and a new home in the leadoff spot in the Twins order, he'll score plenty of runs.
It's tough to find any power from a middle infield slot, and although Dozier's not perfect, he's one of the better power options available and one that's largely been ignored by fantasy owners. He's available in 87% of Yahoo! leagues.
To pick him up, I'd drop: Rickie Weeks, Zack Cozart, Jurickson Profar.
3 TO CUT
Ichiro Suzuki | New York Yankees | OF
Though he hasn't been close to his former self in recent years, Ichiro Suzuki still has some name value. The name "Ichiro" still connotes and .300 batting average and above average speed and run scoring.
Ichiro is (or, more accurately, was) one of the best slap hitters baseball has ever seen. He's excelled by making tons of contact, spraying the ball all over and through the infield, and legging out hits through a combination of great speed and a swing that gives him a half-step head start toward first base. Whether to the infield or the outfield, ground ball singles were his bread and butter.
So far this season, Ichiro's looked more like dry toast. He's still getting the head start, but the grounders that formerly found a hole or arrived in the first baseman's glove a beat late are now being turned into outs.
In 2010, the last time Ichiro hit .300, his batting average on grounders was .299. In 2009, when he hit .352, it was .353. This season, it's .246. And it's not BABIP luck. Last season, it was .247. Without many walks to balance out his slumping batting average, Ichiro's struggles on grounders have sagged his OBP to just .316.
On the rarer occasion that Ichiro does find himself on base, he's not running as often. In 551 plate appearances since joining the Yankees, he has a total of 26 steals. Even if he's able to stay healthy and accumulate 600-plus plate appearances this season, I don't give him shot at the 30 swipes that used to be his routine.
Any positive connotations around his run-scoring, and more so the Yankee offense, are just plain wrong. For the season, the Yankees' team wOBA is .299, 25th in baseball. Cut the time period to just the last 30 days and that number sinks to .277, the second-worst in MLB. If Ichiro was on the Houston Astros, the only team with a worse offense over the last month, I seriously doubt he'd be owned in 82% of ESPN leagues.
Just for fun, let's stack Ichiro up against the Astros' current starting outfield.
Surprisingly even, eh? Free agent pick-ups always depend on team needs, but in a vacuum, I might rather have Chris Carter.
Connotations tend to endure longer than the facts that support them, and that can work to your advantage. If you own Ichiro, it's time to cash in on whatever name value he has left.
I'd trade/drop him for: Ben Revere, Alfonso Soriano, Leonys Martin
A.J. Griffin | Oakland A's | SP
A.J. Griffin is a fly ball pitcher and while there's nothing inherently wrong with that, it does raise his degree of difficulty a bit. Allowing more fly balls means allowing more chances at home runs, which in turn means a greater risk of runs scoring each time a hitter puts the ball in play. The most successful fly ball pitchers mitigate this risk with an overpowering arsenal the prevents the ball from being put into play as often, thus limiting the amount of balls put in play.
So far this season, 14 qualified starters have allowed a fly ball rate greater than 40%. Of those 14, only five have an ERA lower than 3.50. One of those five is Travis Wood, a pitcher in whom I have an exceptionally small amount of faith. The other four (Max Scherzer, Shelby Miller, Matt Moore, and Mike Minor) are, not coincidentally, the leaders of the group in strikeouts, all boasting strikeout rates better than 22% and fastballs averaging at least 90 miles-per-hour. In fact, since the start of 2011, Jered Weaver is the only pitcher to have allowed a fly ball rate of 40% or higher and held an ERA under 3.50 while not possessing either a 90-plus mph fastball or a 22%-plus strikeout rate.
It seems that success as a fly ball pitcher requires overpowering stuff, stuff that A.J. Griffin simply doesn't have; his strikeout and swinging strike rates are both below league average.
Griffin survives by pitching in the best possible environment for his style, but that can only take him so far. He's a mediocre pitcher. His recent bump in fantasy ownership signals an opportunity for his owners to sell.
I'd trade/drop him for: Eric Stults, Dillon Gee, Wei-Yin Chen
Chris Tillman | Baltimore Orioles | SP
Usually, I'm a sucker for a post-hype breakout player, especially a pitcher. Oftentimes, the reason for the "post" part wasn't the player's fault – talent is still talent, even when it's delayed by bad luck or injury.
On the surface, Chris Tillman seems like a perfect candidate. He was hailed as a top pitching prospect, struggled in his first few trips to the big leagues, but seems to be finding his groove. His 2013 season has been a microcosm of that storyline; after a rough start, Tillman rebounded to post a 2.68 ERA in June. As much as I'd love to buy in (sooo pretty), I can't do it. Tillman's results look better, but he's never quite conquered the longball demons that have long been the root of his struggles.
With nobody on, Tillman surrenders more than two homers per nine innings with a 17.5% HR/FB rate that ranks as the 12th-worst among qualified starters. With men on base, Tillman's HR/FB rate drops to only 10%, which ranks 43rd in baseball, tied (oddly) with Cliff Lee and Matt Harvey.
It'd be really easy to write the "bear down" narrative here, but I ain't buying it. Tillman's strikeout rate increases slightly with men on, but his walk rate increases even more. He allows a marginally lower fly ball rate, but most of the decrease is made up by an increase in line drive rate. He's not a better pitcher with men on, he's just a luckier one. He's a sell high in any and every format.
I'd trade/drop him for: Kyle Lohse, Ricky Nolasco, Corey Kluber
3 TO KEEP
Doug Fister | Detroit Tigers | SP
Doug Fister has been a disaster lately.  He's allowed an even six earned runs in three of his last four starts. He's struck out more than four batters just once in his last seven outings. He's won once since mid-May.
Still, his full season ERA estimators look fine; Fister's 3.30 FIP is actually a bitter better than last year's mark. His strikeouts are down a bit, but he's cut his walk rate to a career-low 4.1%.
Fister's crappy ERA is mostly due to bad luck with runners in scoring position. With nobody on, his groundball rate is 52.7% and he's allowed a .297 BABIP. When runners advance to scoring position, Fister ups his groundball rate to 62.1%, but allows a .384 BABIP.
There's some increase to be expected as infielders reposition to hold runners on base, but almost 90 points is a bit ridiculous. As that number regresses, Fister will fight his way out of more jams in into more quality starts and wins.
Buy low if you can, and if you've got Fister on your roster, stay the course.
I wouldn't trade/drop him for: Jeff Locke, Travis Wood, Mike Leake
Rajai Davis | Toronto Blue Jays | OF
It's never been a question of talent with Rajai Davis, only a question of playing time. We know exactly what he's going to bring to the table; he makes a ton of contact, and runs (very successfully) at every opportunity. Every time he's come to the plate more than 400 times in a single season, he's stolen at least 40 bases.
With that in mind, I'm happy to report that Davis has started each of the Blue Jays' last 13 games, stealing eight bases in that span. Melky Cabrera is both injured and terrible; I'm not worried at all about Davis maintaining his position in the lineup. Given 200 plate appearances over the rest of the season, he can easily swipe 25 more.
I wouldn't trade/drop him for: Melky Cabrera, Ichiro Suzuki, Alcides Escobar
Adam Eaton | Arizona Diamondbacks | OF
See above: Reddick, Josh.
Adam Eaton has now fully recovered from the elbow injury that stalled his rehab; he's expected to move up to Triple-A Reno this week, with a major league return set for after the All-Star break.
Eaton heads back into a crowded outfield, but one that isn't particularly intimidating. Eaton was tagged for the centerfield job heading into the season, and he's still probably the team's best defensive option there. To keep him out of the lineup, one of his teammates would have to significantly out-hit Eaton's expected production on offense.
By wOBA and wRC+, the Diamondbacks non-Gerardo Parra outfielders have been mediocre at the plate; neither A.J. Pollock, Jason Kubel, or Cody has posted a wOBA better than .310 or a wRC+ above 90. Eaton posted a .355 wOBA and a 117 wRC+ in limited time last season and was projected for .349 and 117, respectively, heading into the year. He'll be the D'backs' second-best outfielder the moment he returns, with a great chance to chip in 10-15 steals the rest of the way.
If his previous owner was impatient, now's the time to pounce.
I wouldn't trade/drop him for: Ichiro Suzuki, Jayson Werth, Melky Cabrera
Follow me on Twitter @gerardowrites and thanks as always to FanGraphs, Brooks Baseball, and Baseball Heat Maps for the data.