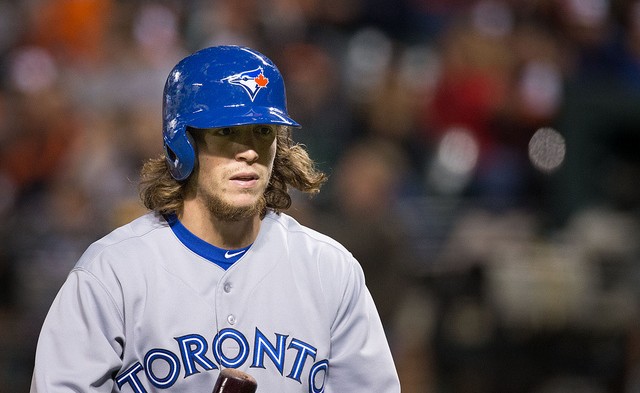 The finish line is in sight for the Week 25 edition of fantasy baseball 3×3, where we're giving up on R.A. Dickey and Lance Lynn, finding Will Middlebrooks' silver lining, and grabbing Colby Rasmus by his luxurious tangled mane.
There are plenty of waiver wire columns out there that provide an exhaustive list of the most added players in fantasy leagues. This isn't one of them. Here, we'll run down a few lesser-known, lesser-considered, or lesser-owned players, with perspective on who deserves a your attention, who deserves your patience, and who deserves to go straight to bed without dessert.
3 TO CATCH
Colby Rasmus returned from the disabled list playing like his hair was on fire, which for him, is a real danger.
Rasmus has socked home runs in each of his first two games back, a welcome sight after he managed only three total homers during a fully healthy July. Of course, in true Rasmusian style, his June featured a week in which he hit four homers, including three on consecutive days. He's a streaky hitter by nature, and as much I try not to put too much stock in short term hot streaks, I'll jump on whatever I can get at this point in the season, especially with a relatively established hitter like Rasmus.
He may be streaky, but there's no questioning his power; Rasmus' average fly ball distance is nearly 285 feet, a couple of feet better than Domonic Brown, Alex Gordon, and Mike Trout.
Rasmus is feeling it right now, and he couldn't have picked a better time; the Blue Jays' remaining schedule is terrifically hitter-friendly. Every single park he'll play in yields homers at an above-average rate.
To pick him up, I'd drop: Junior Lake, Evan Gattis, Carlos Gonzalez
If you're looking to make up a couple of roto points in wins, there's no better pickup this week than Rick Porcello. Porcello has two starts this week, both at home Detroit. Despite it's spacious dimensions, Comerica Park actually plays as a bit of a hitter's yard; no offense in baseball is better at home than the Tigers. They'll welcome the Seattle Mariners and Chicago White Sox; the Mariners are below average offensively on the road, the Sox are downright awful.
Porcello has certainly taken a step forward in his development this season, but his results have been up-and-down. His sinker hasn't had much in its ballast tanks lately, as evidenced by the rising fly ball rate on his primary pitch.
Porcello has yielded four homers in his last three starts on the road, but Comerica Park's deep fences have suppressed the impact at home; Porcello has surrendered only three long balls in his last six home starts.
At this point in the season, schedule and surroundings are just as important as skill; Porcello is an add in all formats.
To pick him up, I'd drop: Ryan Dempster, Paul Maholm, Roy Halladay
Charlie Blackmon is a walking contradiction. His MLB stat line shows a lefty who hits better against same-handed pitchers and a hitter who hits for more power away from Coors Field. Pretty backwards, right?
Wait, what did you think I was talking about?
In any case, I don't trust the contradictions in Blackmon's numbers; he's had only 422 plate appearances spread out over three big league seasons. I'll trust the fact that he's mashed right-handed pitching in the minor leagues, as well as the fact that just about every other hitter gets better when he climbs up to Coors Field. He's also been a bit BABIP unlucky both at home and against righties; his plate discipline has actually been significantly better in home games against RHPs than it's been in any other situation.
As you may have guessed by now, this week's schedule features plenty of opportunities for Blackmon to hit against right-handed pitching at home. The Rocks are scheduled to face RHPs in six of their seven games this week. In deeper leagues, Blackmon is a good candidate to run into one and/or swipe a bag or two this week.
To pick him up, I'd drop: Dustin Ackley, Avisail Garcia, Adam Eaton
3 TO CUT
At home, Lance Lynn is everything you hope he could be. He whiffs nearly a batter per inning, limits baserunners and hardly ever yields home runs. He earns every bit of his solid 3.00 ERA and stellar 2.83 FIP.
Outside of St. Louis, his ERA is a disastrous 5.59. Lynn allows home runs nearly four times as often on the road as he does at home; hitters slug .436 against him on the road versus only .337 at home. He's faced almost exactly the same number of batters both inside and outside of Busch Stadium, but Lynn has allowed more hits, doubles, and homers in his road starts. He's allowed four earned runs or more in 13 starts this season, ten of those 13 starts came on the road.
Of course, by now you won't be surprised to read that Lance Lynn's two starts this week will not only be on the road, but will be in Colorado and Milwaukee, which rank as best and tenth-best run-scoring environments, respectively, according to ESPN Park Factors.
I'd drop him for: Gerrit Cole, Dillon Gee, Rick Porcello
R.A. Dickey has given his fantasy owners much less than they expected this season but just enough to keep him owned in more than 85% in leagues in both Yahoo! and ESPN formats. Every time it looks like he's completely lost it, he pulls us back in with a few decent starts. He hasn't been particularly good in his last two starts, but don't expect a rebound soon.
While Dickey's knuckleball velocity is starting to catch up to last year's mark, it's more due to a lowering of his release point than to any big change in mechanics or increase in strength. The knuckler is coming in harder, but it's not fooling anybody.
When the knuckler isn't dancing, Dickey might as well be tossing batting practice. He's ranks second-worst among starters in home runs allowed, he's allowed an average of one homer per start in his last 15 outings, and he's surrendered at least one dinger in 13 of his last 17 starts.
In his next two starts, Dickey has the pleasure of facing the New York Yankees and Boston Red Sox, two of only seven teams to average at least one homer per day over the last month. He's faced Boston and New York four times so far this season, allowing a total of six homers and 15 earned runs.
I'd drop him for: Gerrit Cole, Dillon Gee, A.J. Griffin
I really liked Adam Eaton heading into the year, but ever since an elbow injury postponed his season, things just haven't been working out. As much as I'd love to see him end the season strong, it doesn't look likely.
Aside from three games next week against the Colorado Rockies, the Arizona Diamondbacks' slate is absolutely brutal the rest of the way. They start the week at home against the Dodgers; Eaton will stare down Hyun-Jin Ryu, Zack Greinke, Clayton Kershaw, and Ricky Nolasco on consecutive nights. Then, following a short trip to Colorado, the D'Backs will head out for a four-game set in San Diego, where cool sea air and distance fences have conspired for crush hitters' dreams since 2004.
I do believe that Eaton will eventually prove himself to be a good player, but this just isn't his year.
I'd drop him for: Angel Pagan, Rajai Davis, Jarrod Dyson
3 TO KEEP
Guys, we talked about this.
Aside from a predictably rocky outing against the Detroit Tigers, Griffin has been very good since his appearance in 3×3 a couple of weeks ago. In his last three starts (20 innings), he's allowed six runs, striking out 24 against only three walks. His groundball rates have been predictably microscopic, but those sorts of things aren't really a big concern in parks like Oakland and Minnesota. His success has certainly been driven as much by favorable surroundings as it has by anything Griffin has done differently, but lucky for you, dear reader, those favorable surroundings aren't going anywhere.
Griffin has two starts this week, and both will take place amid the sprawling meadows of O.co Coliseum. He's still available in more than 30% of Yahoo! and ESPN leagues, but he shouldn't be for long.
I wouldn't drop him for: Ricky Nolasco, Lance Lynn, Yovani Gallardo
Will Middlebrooks is very good at hitting home runs. He isn't particularly good at anything else that happens on a baseball diamond, but at this point in the fantasy season, that doesn't really matter. Middlebrooks is a very good power hitter and nine of his remaining 11 games come against the Orioles and Blue Jays, the two most homer-prone pitching staffs in baseball. Unfortunately, not all of his matchups are quite that perfect.
Oh, who am I kidding? The other two games are in Colorado.
I wouldn't drop him for: Alex Rodriguez, Chase Headley, Todd Frazier
Domonic Brown returned to the Philadelphia Phillies lineup on Sunday afternoon. The Phillies have nothing to play for at this point in the season and Brown is clearly their offensive cornerstone for the future. I'm loathe to put much trust in Ruben Amaro's capacity for logical reasoning, but considering Brown's value to his team, I'm assuming that his return to the lineup, given those circumstances, means that he's fully healthy and will play the rest of the season.
A healthy Domonic Brown is among the best power hitters in the National League, yet his ownership has sunk below 60% in ESPN leagues. If you have him, hang on. If he was dropped in your league, add him immediately.
I wouldn't drop him for: Colby Rasmus, Nick Swisher, Christian Yelich