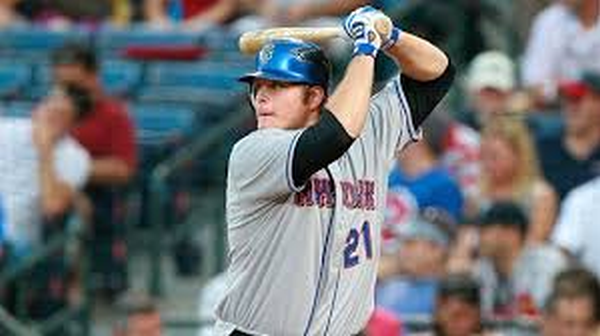 Sometimes changes happen within the season that end up effecting a player's fantasy value. Usually, it involves an injury or a trade and that ends up opening a spot for someone else. Other times, it is a player that is expected to make an impact that does not. We see two of these cases at first base when it comes to Lucas Duda and Adam Dunn. Duda became the everyday first basemen in New York when the Mets traded Ike Davis to the Pirates. Dunn kept his designated hitter spot despite the addition of Jose Abreu. Paul Konerko has been buried on the bench.
Both players have made the most of the opportunity and now should be considered for waiver claims. Duda is owned by nine percent of Yahoo owners while 39 percent own Dunn. Both players have seen a steady increase of owners from the beginning of the season. Dunn has always been a significant power threat, but batting averages suffer. Duda has been a part-time player and mostly an outfielder, but the move to first base might increase his offensive production. Most players perform better when they can focus on one position.
A lack of opportunity is one thing. Both players were overlooked on draft day because they were expected to be part-time players. Yet, they are also flawed players. Duda has had trouble hitting for power up to this point in his career. Dunn has had trouble hitting for average. If you could find some way to combine the two you would probably have a pretty good fantasy first baseman. As it stands, you will need to choose what you are in desperate need of. (Numbers as of April 26th)
AVG            HR            Runs            RBI             SB            BB
Adam Dunn              .265                5                  11                11                1               14
Lucas Duda               .254                4                  11                10                1               6
For the moment, Dunn has a higher average than Duda, but that likely isn't going to last if past performance is any indication. Dunn last hit .260 or better in 2010 and last hit above .260 in 2009. So, it isn't likely that he will do that again. Meanwhile, Duda has struggled as well, but did hit .292 in 2011. So, we can expect him to hit better than Dunn in the average department. Some leagues add in an on base percentage component. In those leagues, Dunn is usually the better bet and that is true again this season.
When we look simply at the basic stats we might be inclined to favor Dunn, but there are a couple of other points to consider. For one, Duda has produced these numbers in fewer plate appearances, but he should be the primary first baseman moving forward. Dunn must contend with Konerko at some point. If he ever slumps then Konerko might get another opportunity.
SO%               BB%             OSwing             Contact            BABIP
Dunn                29.8                  16.7                   17.2                    71.2                .333
Duda                26.7                    8.0                   28.3                   74.8               .302
Based purely on batting average on balls in play (BABIP), Lucas Duda would be the best bet going forward. One of the things you have to consider when dumpster diving is what the player is likely to do moving forward. Dunn is playing a little over his head in the batting average department and that is likely because of his BABIP. If he finishes the season around .310 then it means he will probably have a .290 to .300 BABIP from here on out. Now, we are looking at a .220 to .230 batting average from the get go.
Lucas Duda is sitting right around the league average in BABIP and he's doing that with a better contact rate and lower strikeout rate. So, we can expect him to do more moving forward in every category except home runs. When you add in walks and OBP it becomes a more difficult decision, but we can settle all ties with the batted ball statistics.
LD%            GB%            FB%             HR/FB              ISO
Dunn                    20.5               36.4             43.2               26.3                 .265
Duda                     14.9               34.0             51.1                16.7                  .194
These numbers put both of these players in a whole new light. It is amazing that Lucas Duda has a BABIP as high as he does. His line drive rate is among the lowest I've ever seen. Of course, we haven't even gotten out of April yet, so this is likely to change. As that rate goes up then we will see some more success. Overall, Adam Dunn is a more valuable baseball player, but you have to ask yourself who is going to do better from here on out. That just might be Lucas Duda.