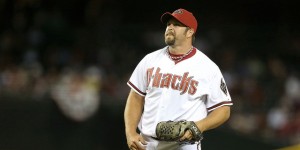 This off-season has been quite a doozy.  So much so, even the reliever market has been a bit zany.  Billy Beane of the Oakland A's decided to trade for and pay closer Jim Johnson eight figures, then mere hours later, traded for reliever Luke Gregerson, who is arguably the better pitcher of the two.  The Washington Nationals then called up Billy and acquired left-hander Jerry Blevins for too interesting of a prospect.  And the Arizona Diamondbacks traded one of their top five (although flawed) prospects for closer Addison Reed.  There were plenty of other reliever thrills as well, but out all of the bullpen madness, the most surprising may be the Tampa Bay Rays trading for Heath Bell and $5.5 million of his salary.
Heath Bell wasn't all that great last season, but he actually wasn't too terrible either.  His fastball is still there at 93.1 MPH and he showed his best strikeout percentage since 2010 (25.1%).  His 5.6% walk rate was a career best, as he walked 2.19 per nine.  There are also some other positives going on with Bell.
| | | | | | | | | |
| --- | --- | --- | --- | --- | --- | --- | --- | --- |
| Year | O-Swing% | Z-Swing% | Swing% | O-Contact% | Z-Contact% | Contact% | Zone% | |
| 2010 | 26.8 % | 56.4 % | 41.2 % | 49.4 % | 85.5 % | 73.4 % | 48.6 % | 10.6% |
| 2011 | 31.3 % | 59.0 % | 45.1 % | 65.5 % | 89.7 % | 81.2 % | 49.8 % | 8.3% |
| 2012 | 27.6 % | 63.1 % | 45.8 % | 65.2 % | 91.3 % | 83.6 % | 51.2 % | 7.3% |
| 2013 | 29.8 % | 61.8 % | 45.6 % | 62.1 % | 88.1 % | 79.5 % | 49.5 % | 9.2% |
It's good to see Bell's swinging strike percentage bounce back to a respectable rate, which in turn helped his contact percentage.  In terms of what the Rays think, here is what the team's executive vice president Andrew Friedman had to say about Bell:
His stuff is virtually as good as when he was a dominant closer with the Padres (2009-11).  He missed a lot of bats last year.  He commanded the ball better than he had in previous years.  He's just got a lot of things in place that give him a chance to be really good, and it's about trying to sync them all up.
That sounds quite nice, but Bell does have his warts.  If he didn't, this article wouldn't need to exist.  He had a major homerun problem last season, giving up 1.64 dingers per nine, placing him 10th among pitchers who threw at least 60 innings in 2013.  And his 18.5 HR/FB% places him 5th among that list as well.  The good news is that he isn't giving up a ton of flyballs, and he gave up only .71 homers per nine in 2012.  His career isn't riddled with homer problems, so maybe this is more of a blip than a trend. 
He also gave up too many hits and achieved a high BABIP for the second straight season.  His line drive rate could have been lower the last two seasons, but it hasn't been outrageously high.  His left-on-base percentage (82.7%) was very high in comparison to his career norms, so that is a bit concerning.  The good news is that Bell is moving from Chase Field to Tropicana Field, which, despite what the 2013 park factors suggest, has been a better suppressor of homeruns and hits in the past.  The projected Tampa Bay defense should also be an improvement over what the Arizona Diamondbacks would have given Bell, which again, can only help.
Overall, if Bell ends up the closer, there are appears to be enough hope, that the righty may not actually crush the ratios of fantasy owners.   But where does he fit in with the Rays? 
Fernando Rodney is gone, so Bell's competition for saves in 2014 appears to be Joel Peralta, Jake McGee, Juan Carlos Oviedo, Alex Torres, and Kirby Yates.  The first three you are quite familiar with by now.  Peralta has been a reliable set-up man for the last several seasons and Jake McGee is a hard throwing lefty who is all fastball.  Oviedo, formerly known as Leo Nunez, has been working his way back from Tommy John surgery.  As for the other two…
Torres is a fastball/changeup lefty who got a chance to be an important part of the Rays' pen in 2013.  Although Torres only walked a shade over three batters per nine last season, his past control has been a concern to say the least.  You don't have to look much further than the 26-year-old's 2012 season when he walked a ridiculous 8.22 batters per nine in 69 Triple-A innings.  It will be interesting to see if the left-hander can continue making progress with his control.  Kirby Yates is a right-hander that has yet to throw a pitch in the majors, but he was added to the 40-man roster and will have a chance to be a key part of the Rays' bullpen in 2014.  He throws hard, but has trouble with command.  However, the 26-year-old improved upon that issue last season at Triple-A, and since he struck out over 37.4% of the hitters too, Yates has earned our attention.
So, where does that leave us?  Well, Oviedo will likely be brought along slowly following T.J. surgery, and Yates has never thrown a pitch in the big leagues, which leaves us with left-handers Torres and McGee as having the best stuff to get the job done.  We know lefties tend to get overlooked at times by managers for the closer role, but would Joe Maddon do the same?
Last season, Maddon had the chance to make a closer change and did not.  Rodney was struggling during April and May, but he didn't give McGee the chance to close.  Of course, McGee was struggling during this time as well and Torres wasn't very much involved, so perhaps this scenario doesn't tell us much.  So what about righty Joel Peralta?
Peralta appeared to be doing just fine in the early months, and had only two bumpy months in June and September.  Other than that, he was very reliable.  When Rodney was struggling, Peralta was a name to watch on the waiver wire, and was already picked up in some blood for saves leagues, but Peralta ended the year with only one save. 
In the end, Maddon stuck with his veteran closer who has been there before.  Interestingly enough, Heath Bell is a veteran closer who has been there before.
This means we finally solved the riddle, right?  Not quite.  There is one key element that changes everything.  And that key element is money.  Bell has a $9 million vesting option that will kick in for 2015 if he finishes 55 games.  The Rays are a small market team, but they are also in line to win now, so it will be interesting to see how this all shakes out.  Paying $9 million to a 37-year-old mediocre relief pitcher doesn't sound like something the Rays will want to do.  But perhaps they will deal Bell at the trade deadline or decide to get crafty and manage Bell in a way that doesn't allow him to finish 55 games.  And who knows, maybe there's a chance the Rays aren't concerned about the option at all. 
If I was drafting today, I would select Bell first out of all the options in this bullpen.  There seems to be enough signs which point to Bell as getting the first crack in the closer's role.  The Rays did trade for him and decide to pay $5.5 million for his services, after all.  The only issue, besides actual performance, is that vesting option.  Unfortunately, this situation may not become completely clear until the last week of spring training.  As frustrating as the closer game can be, saves are a big part of our fantasy lives.  And since we refuse pay a premium for closers, we have to look at every alternative…and yes, that even means keeping tabs on Heath Bell.