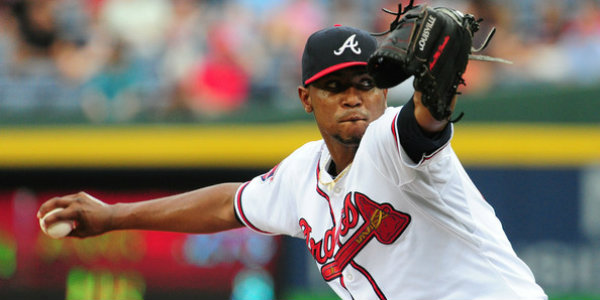 Preseason rankings are always fun. And futile. Everything a ranker thinks he know, seems to go out the window soon after the first pitch of the season is thrown. Sure, any ranker will get some right. And they'll undoubtedly get some wrong that seem stupid in retrospect. As humans we see what we wish to see. Oh, this guy has a platoon split? He'll get it figured out. This dude chases a bunch? Maybe he won't this year because he looked little more patient over his last 150 plate appearances last season.
Some of those thoughts panned out. Others didn't. So, with that, here are a few that I whiffed on, and a few I pegged somewhat correctly.
Whiffs
Wilin Rosario – preseason rank: #2 catcher; end-of-season rank: 12
Holy hell. He was awful. I had/have given up on him ever having decent plate discipline. I didn't, however, expect him to not even hit 15 home runs. Nor did I expect him to be utterly useless away from home and versus right handed pitching. He's kind of young, so he has a chance to bounce back, but it appears as if Rosario might be a platoon bat going forward and on the short side of one at that.
Aaron Hill – preseason rank: #5 second baseman; end-of-season rank: 28
Hear me out: from 2011 – 2013, Hill amassed 71 home runs (seventh among qualified second basemen), 38 stolen bases (15th), 269 runs (10th), and 255 RBI (9th). I bought in to the total package. And his ballpark. And his supposed spot at the top of a decent lineup. It didn't work out. Hill battled injuries, saw his power decrease, and saw the lineup around him fall apart time and time again.
This was a classic case of me seeing what I wanted to see. I'm an Aaron Hill fan, and I was expecting something close to his 2012/2013 numbers. And I was woefully wrong. To make matters worse, I ranked Jose Altuve behind him. But in my defense, I'm not sure anyone predicted Altuve to become an absolute fantasy monster.
Jean Segura – preseason rank: #5 shortstop; end-of-season rank: 18
Looking back, Segura's ranking was a perfect storm of terrible: shortstop is a weak position, and speed has been on the decline for quite some time. Segura definitely had a limited ceiling, but his floor also seemed decently high, considering his wheels.
Warning signs were there. I didn't completely ignore them, but I probably should have weighted his poor performance down the stretch in 2013 a little more. He was a groundball machine, and that didn't change this season. His speed seemed to wane a little, but that could have been a byproduct of not reaching base as much.
Luckily, I didn't actually own any shares of Segura. Essentially, I adopted it a "if I don't get one of Tulo-Ramirez-Desmond I'm waiting on shortstop" strategy. It ended up working out okay, but Segura still broke many hearts.
Hits
Julio Teheran – preseason rank: #20 starting pitcher; end-of-season rank: 14
Teheran's 2013 campaign was good, but his peripherals foreshadowed a little regression. I decided to rank him the other way, though, betting on his minor league track record and room for strikeout growth. He rewarded me by posting an ERA well under 3.00 in over 220 innings. His strikeouts basically stayed the same, but his raw number went up thanks to the extra innings. His walks stayed low. And he "won" 14 games, a respectable amount, even though I don't care for the stat.
Christian Yelich – preseason rank: #40 outfielder; end-of-season rank: 26
Yes, I'm counting this as a win because I was higher on him than most people. I won't go into much detail here, because I did so a little while ago. Check that piece out. TL;DR: he's an across the board asset, providing value everywhere.
Jonathan Lucroy – preseason rank: #4 catcher; end-of-season rank: 2
Maybe this is cheating, but oh well. I was a huge believer in Lucroy, ranking him higher than anyone at The Fix. Basically, I was betting on Lucroy coming to the plate more because skills haven't been an issue. If not for a broken hand, Lucroy would have had his career year not long ago. Lucroy did manage to stay on the field and set the record for the most doubles in a season by catcher in the process. He's also a decent candidate for MVP once you include his added value behind the dish.
***
All in all, it was a decent year. I missed on some picks. And I hit on some, most notably Corey Kluber, but I wasn't the only one on that train, so it seems weird to take credit for it. I won two out of the four leagues I did this season, and won a little money in the process. No money came from DFS, though. God, I'm so bad at that.
I'll begin looking towards 2015 soon, which will be interesting considering how many Known Commodities had rough seasons. Evan Longoria, David Wright, and Joey Votto are all going to be polarizing players next year. Chris Davis, too, maybe. Everyone should be sold on Carlos Gomez now. And, of course, Bryce Harper will be an interesting person because he has to break out soon, right?
See ya soon.