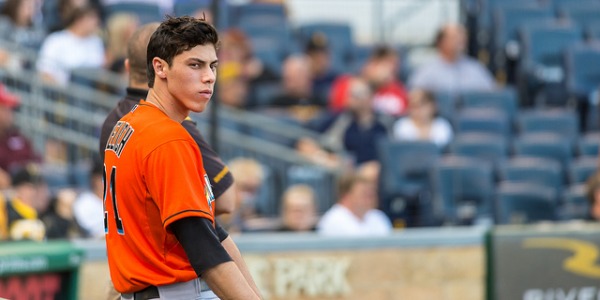 Welcome to the twelfth week of the Fix DL Report. Each week I (@Rich_Migs) will cover significant fantasy baseball injuries. As the season continues, the report will address some of the most recent injuries and their fantasy implications.
OUT FOR THE SEASON: Patrick Corbin, Brandon Beachy, Kris Medlen, Jarrod Parker, Cory Luebke, Bruce Rondon, Bobby Parnell, Jameson Taillon, Avisail Garcia, Matt Moore, Maicer Izturis, Ivan Nova, A.J. Griffin, Jose Fernandez, Martin Perez, Prince Fielder, Chris Withrow, Matt Wieters

PLAYERS TO WATCH (Not on DL/DL Updates): Adam Wainwright (elbow), Hector Rondon (elbow), Michael Brantley (head/neck), Jorge De La Rosa (back), Denard Span (back), Brett Cecil (groin), R.A. Dickey (groin), Adam Lind (foot), Hisashi Iwakuma (neck), Angel Pagan (back), Carlos Gomez (back), Erick Aybar (hip), Salvador Perez (calf), Torii Hunter (hamstring), Jose Altuve (hand), Justin Turner (calf)
Wainwright will miss a start, but has no ligament damage. If he misses only a couple of starts, owners will be relieved.

Rondon seems to have avoided the disabled list, but Neil Ramirez should still be cuffed.

Brantley injured himself on a slide. The hope is that this won't derail his breakout season.
Is this it? This is it. Bronson Arroyo has landed on the disabled list for the first time in his 15 years. Arroyo isn't a fantasy star, but this sort of tidbit wraps up what has been a season filled with injuries into a neat little package. Matt Wieters is done for the year and another young player with promise goes down. No one is safe.
Here is week eleven's DL report. I will be doing my best to avoid too much repetition each week, so be sure to refer back to the past DL reports to keep track of all the injuries. Let's take a look at some of the key fantasy players on the disabled list entering the week.
Week Twelve:

 
| | | | |
| --- | --- | --- | --- |
| Pitchers | Injury | Expected Return | Fantasy Implications |
| Bronson Arroyo (SP) | Elbow | Early July | MRI results wait, but the belief is that Arroyo may need to miss a handful of starts. This was his first time on the DL. This season. |
| Francisco Liriano (SP) | Oblique | Early July | Maybe the time off will help Liriano. Walks and dingers are a bad combination. |
| | | | |
| --- | --- | --- | --- |
| Hitters | Injury | Expected Return | Fantasy Implications |
| Christian Yelich (OF) | Back | Early July | Yelich has a lower back injury, but it isn't seen as serious. The young outfielder is on his way to a nice fantasy season. Jake Marisnick has been called up and should be given a look in NL-only leagues. |
| Wilson Ramos (C) | Hamstring | Early July | The hammy injury isn't seen as serious, but Ramos's disappointing fantasy season continues. |
| Emilio Bonifacio (IF/OF) | Oblique | July | Bonifacio has done okay for fantasy owners in deeper leagues so far in 2014, but he may be out for several weeks with an oblique strain. As usual, oblique strains are tricky. |
| Trevor Plouffe (3B) | Oblique | July | Plouffe's fantasy relevancy continues to dwindle, as his 24 bombs in 2012 are very much in the rear view mirror. Like Bonifacio, Plouffe will likely need several weeks to get well. |
| Aaron Hicks (OF) | Shoulder | July | When Hicks returns, he may be out of a job. Some were hoping Hicks could rebound from a disappointing rookie season, but his chances seem to be up. Danny Santana will likely take over in centerfield. He has speed with some pop, so he should be considered as an add in most leagues. Just don't expect him to be amazing. |
| Justin Smoak (1B) | Quad | Late June | Smoak is hurt. Smoak is not too good at baseball on the Major League level. It is likely that Smoak is not on your fantasy roster. |
| Michael Saunders (OF) | Shoulder | Late June | Saunders has been okay as a deep roster play. The MRI came up clean and he should be back in late June. |