In the Week 14 edition of fantasy baseball 3×3, we're refusing to trade Jeff Samardzija, flipping Pedro Alvarez, and giving Jake McGee the title he deserves.
There are plenty of waiver wire columns out there that provide an exhaustive list of the most added players in fantasy leagues. This isn't one of them. Here, we'll run down a few lesser-known, lesser-considered, or lesser-owned players, with perspective on who deserves a your attention, who deserves your patience, and who deserves to go straight to bed without dessert.
Any questions, thoughts, Belgian national team scouting reports? Hit me in the comments or on Twitter.
3 TO CATCH
Players to be picked up; available in most standard leagues.
Jake McGee | Tampa Bay Rays | RP
As a longtime admirer of Sean Doolittle, I couldn't be happier to see a Doolittle clone moving toward the closer's role in Tampa Bay. Jake McGee ranks second among all relievers in FB%, bringing his 95-plus mph heat almost 95% of the time. His fastball doesn't get quite as many swings as Doolittle's, but his fastball whiff rate compares favorably with the best closers in the game. He's pitched in 38 games this season and has allowed more than one baserunner just five times.
Unquestionably, McGee has the stuff of an elite closer.
And he seems to have the stomach for the role as well. McGee has been dynamite in high leverage situations, posting a 1.29 FIP, striking out 13 of the 40 batters he's faced, and stranding almost 90% of the inherited runners.
And forget any question of platoon splits for the lefty. McGee has obliterated right-handed hitters this season, holding them to a .177 wOBA that would make Nick Punto blush.
At this point, only Joe Maddon stands in the way of McGee becoming the closer, and I don't know that he has any other useable options. Grant Balfour was formally fired a few weeks ago. Juan Carlos Oviedo, the other "proven closer" on the roster, has been scored upon in three of his last six outings. Joel Peralta was excellent in a save opportunity against the Astros, but followed that up by getting hammered in Baltimore.
McGee, on the other hand, has converted back-to-back save chances and hasn't allowed a run since June 5. The fact that Maddon won't name a closer might mean that McGee finishes the year with 15 saves instead of 25, but those 15 saves still have a ton of value, especially attached to his elite peripherals.
To pick him up, I'd drop: LaTroy Hawkins, Cody Allen, Jenrry Mejia
I've written in the past about how much I like using Z-Contact% as an evaluator for pitchers. It cements evaluations of pitchers with overwhelming stuff, but also helps to confirm whether a crafty pitcher is able to keep hitters guessing without always relying on them to chase pitches out of the zone. Matt Shoemaker certainly falls into the second bucket, and he's proven more than capable of keeping the opposition off balance, posting an excellent 83.6% Z-Contact rate in his 54 innings this season. That's nearly four percentage points below league average; it would rank eleventh-best in baseball if he had enough innings to qualify. It's better than successful soft-tossers like Jordan Zimmermann, Johnny Cueto, and Ian Kennedy, but not quite better than his teammate, Jered Weaver, who leads the league in the category.
I think "a poor man's Jered Weaver" is actually a pretty apt description for Shoemaker.
On second thought, I think it sells him a bit short. Let's call him "has a steady job but still hasn't quite paid off all of his student loans… man's Jered Weaver".
Yes. That feels right.
Anyway, Shoemaker has pitched well enough to generate a very solid 23.3% strikeout rate and 5.3% walk rate, both of which are significantly better than league average. Those rates seem likely to stay positive, especially given Shoemaker's placement on this list that Eno Sarris wrote up at FanGraphs last week. I can't generate the same level of satisfaction from his 4.50 ERA, however. It's been tripped up by an elevated BABIP and a borderline ridiculous home run rate.
Yes, I'm aware that Shoemaker struggled with the longball earlier in his career, but such is the life of a fly ball pitcher in the PCL. He doesn't have to deal with high elevations and desert-dry air anymore. Instead, he'll pitch most of his games in Angel Stadium, which, along with fellow AL West parks Safeco Field and O.co Coliseum, consistently ranks as one of the best yards in baseball at surpressing home runs. Just ask Weaver's career 3.25 ERA if that makes a difference.
Going forward, I don't think Shoemaker's ERA can quite reach the level of his 3.09 xFIP, but he's certainly capable of maintaining something in the mid-to-high threes, along with very good strikeout and walk rates. He's a good buy in most deeper or AL-only formats.
To pick him up, I'd drop: Ubaldo Jimenez, Mike Leake, Jake Peavy
Zach Putnam | Chicago White Sox | RP
The White Sox bullpen is a friggin' mess, but Zach Putnam looks to be the best candidate to emerge with something like a full-time closer's job. Jake Petricka is pitching above and beyond his peripherals, Daniel Webb is doing his best Ebby Calvin Nuke LaLoosh impression, Javy Guerra's "proven closer" tag smells like it's well past its sell by date, and Ronald Belisario has stacked up volumes of evidence that he's incapable of the job. It doesn't take much to be the best of that bad lot. Putnam might not be anything more than that, but hey, saves are saves.
And I do think Putnam's a little bit more than just an emergency fill-in. He doesn't have the overwhelming velocity that typically accompanies the closer tag, but he definitely has the capability to post a closer-like strikeout rate. His fastball, cutter, and sinker are all unremarkable, but in total, he only throws hard stuff about 40% of the time. It's a bit backward, but for Putnam, it works.
It works because it means that he's throwing his changeup (or splitter, depending on who you ask) more often that just about any pitcher in baseball. It's an excellent pitch, generating a 54% swing rate, better than a 40% whiff rate and a 70% ground ball rate. He rarely throws anything else when he's ahead in the count, but predictable as it is, opposing batters haven't been able to solve it. He's held hitters to just a .241 slugging percentage against his change/split.
Robin Ventura seems committed to a committee approach, but for most managers, somebody tends to eventually emerge from that committee to win the job outright; we've already seen that happen with Doolittle and Chad Qualls this season. This situation isn't nearly as easy to navigate as those were, but if you're chasing saves, Putnam gives you the best chance to come out on top.
To pick him up, I'd drop: Tommy Hunter, Rex Brothers, Tyler Clippard
3 TO CUT
Players to be traded or dropped, depending on the depth of your league.
Pedro Alvarez | Pittsburgh Pirates | 3B
I can't believe I'm writing this, but I think Pedro Alvarez would be better off if he struck out more. He's cut his strikeout rate by more than five percentage points, mostly be making more contact with pitches outside the zone.
Alvarez has succeeded in the past by prioritizing quality contact over quantity of contact. There are positives to this season's more refined approach (better batting average and OBP), but this version of him just doesn't feel right. His HR/FB rate has dropped by more than ten percentage points from 2013 and 2012; his average fly ball distance is still elite, but it's down about ten feet from last season.
His HR/FB rate is going to bounce back (it already started to with his bomb on Sunday afternoon), but I don't know that it'll bounce all the way back. Alvarez hasn't developed a hole in his swing, per se, but it does look like there's a bit of a soft spot showing up in his power production. Check out his career ISO on pitches down and in:
And now this year's model:
In the past, when Alvarez took a hack at a pitch down an in, he either crushed it or missed it completely. He's not seeing substantially more pitches in that area this season, nor is he swinging at them substantially more often, but he's making a lot more contact and doing a lot less damage.
It shows up in his batted ball spray charts as well.
While it's encouraging to see him staying on the ball and driving it out to center field, a great power hitter makes his living off of hammering the ball to the pull field, and Alvarez just isn't doing that with the kind of frequency he has in the past. It's especially concerning that he's struggling to turn on fastballs, cutters, and sliders inside.
This might just mean that he'll hit 11 or 12 second-half homers rather than 16 or 17, but that's a monumental difference in tightly contested roto leagues, especially from a player who really doesn't contribute much value beyond his power.
Dropping Alvarez is a consideration only in the shallowest of leagues, but now's a great time to start thinking about a trade.
I'd trade/drop him for: Todd Frazier, Aramis Ramirez, Ryan Zimmerman
Danny Duffy | Kansas City Royals | SP
Danny Duffy is succeeding by pitching to contact. The strikeouts that marked his climb through the minor leagues have vanished. He's traded an extremely poor Z-Contact rate for an excellent 2.69 ERA and 1.07 WHIP. He's finding the strike zone with much greater regularity, relatively. His walk rate can no longer be described as "hopelessly deplorable", it's progressed to become just "significantly below average".
Duffy is a fly ball pitcher in a great park for his approach, but he really hasn't used the full extent of Kauffman Stadium's dimensions. He's has kept the ball close; his 14% infield fly ball rate would rank just outside the top ten among starters if he had enough innings to qualify. It's a terrific profile, especially considering that when hitters do get a hold of one, Duffy has an excellent defensive outfield behind him. All that will allow him to keep a lower than average BABIP, but no outfield is good enough to sustain the .213 mark Duffy's had so far as a starter.
Regression in his BABIP will hurt a bit, but it's the home run ball that'll likely be Duffy's ultimate undoing. He hasn't just been lucky (his current 5.8% HR/FB rate is just over half the league average), he's been lucky in the right situations. Duffy has pitched the equivalent of 25.2 innings with men on base and allowed a 48.4% fly ball rate. Yet he's allowed only one home run in those situations. His teammate James Shields has pitched about twice as many innings with runners on. He's allowed nine home runs.
With below average rates for both strikeouts and walks, I just don't trust Duffy's ability to pitch out of trouble. With so many men on base and so many balls in the air, there's just too much risk of a blow up.
I'd trade/drop him for: Carlos Martinez, Roenis Elias, Marcus Stroman
Jason Grilli | Los Angeles Angels | RP
At 37 years old, Jason Grilli shouldn't be prominently featured in any organization's future. Coming off of an oblique strain this year and a torn flexor tendon last year and sporting a strikeout rate nearly 15 percentage points below his peak, I'm not sure he can be counted on to play a positive role in any organization's present either. Although the Los Angeles Angels gave up a quality pitcher to acquire him, I can't see Grilli entrenching himself as their ninth-inning solution.
Grilli's fantasy trade value isn't much right now, but once he's unseated by Joe Smith as the Angels closer (which may happen before Grilli ever actually gets a shot to close), it'll be just about zero. His situation reminds be of the famous quote often attributed to Abraham Lincoln:
"Better to not pitch and be thought a shaky closer than to pitch the ninth inning and remove all doubt"
That's how it goes, right?
Anyway, regardless of whether Mike Scioscia chooses to give Grilli a shot to close or not, Smith will be the closer long term. Scioscia has already shown trust in him, and by just about every possible measure, Smith has been the better pitcher this season. In high-leverage situations, the canyon between Grilli and Smith yawns even wider.
If you can get anything for Grilli, make the move now. If Smith is available, I'd have no qualms at all about dropping Grilli to pick him up.
I'd trade/drop him for: Joe Smith, Ernesto Frieri, Chad Qualls
3 TO KEEP
Players to hold or trade for; owned in most standard leagues
Jeff Samardzija | Chicago Cubs | SP
First, let's just get the obvious concerns out of the way. There's no reason for fantasy owners to be discouraged by Jeff Samardzija's 5.45 ERA in June. In just about every other category, this has been his best month of the year. His strikeout rate has leapt above 26% without any notable uptick in walk rate. He's generated grounders on nearly two-thirds of balls in play, though his BABIP has rudely risen to .391 this month. All that will even out. As the most second-most sought after trade chip on the market, Samardzija is certainly passing his audition.
And that brings us to the slightly less obvious concern. What if he gets traded to the American League? How will he adjust once he has to pitch against lineups that actually have nine hitters?
He'll be fine. He's already spent his entire career pitching in a hitter's park against the best-hitting division in the NL. Since 2012, when Samardzija became a regular in the Cubs rotation, the NL Central has more top 20 offenses than any other National Leage division, by wRC+. It's the only NL division with two offenses that rank in the top ten. The Cardinals (fourth), Brewers (eighth), Pirates (16th), and Red (19th) outnumber the top 20 offenses from every other division except the AL East. The only thing preventing it from being a really elite offensive division is Samardzija's Cubs, who ranked second-last in baseball in wRC+ and somehow limited Samardzija (and his 2.83 ERA) to only two wins in 17 starts this season.
Surely, there will be some adjustments to be made if he moves to the American League, but Samardzija isn't going to crumble under the challenge of facing great offenses.
I wouldn't trade/drop him for: Gio Gonzalez, Gerrit Cole, Scott Kazmir
After a sizzling May in which he scraped his ceiling with a .327/.407/.490 slash line, Xander Bogaerts has plummeted to a .140/.182/.258 line in June. He's managed only 5 extra base hits in 99 plate appearances and has seen his previously excellent walk rate sink to only 3.0%.
Pitchers are attacking him with the same plan as they've always used, but Bogaerts' formerly refined approach seems to be devolving before our eyes. Somewhat inexplicably, he's begun to swing (and subsequently miss) at breaking balls significantly more often than he had earlier in the season. When he does make contact, he's lost the ability to elevate anything other than a fastball.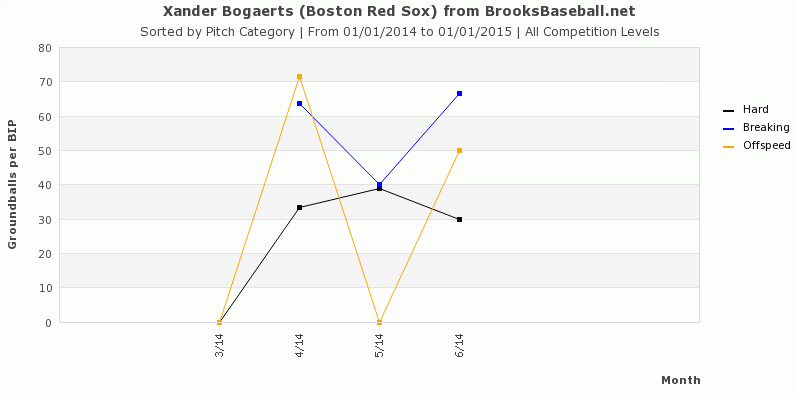 After posting BABIPs of .364 and .421 in April and May, respectively, Bogaerts' BABIP has dropped to .156 this month. But as much as the data would like to convince me, I just can't believe that he instantaneously forgot how to hit. It's too weird.
More than likely, this cold streak is the result of an inconsistent development curve and plain old bad luck. Hang on to Bogaerts, he'll recover soon.
I wouldn't trade/drop him for: J.J. Hardy, Asdrubal Cabrera, Jhonny Peralta
After arriving to much fanfare, Andrew Heaney's first two starts have been a bit disappointing. Despite a very favorable .207 BABIP (.000 with men in scoring position), he's taken the loss in both outings, including a start in which he was tagged for five runs by the punchless Phillies.
Heaney's fanfare was well earned, but it's not as though he arrived free of questions of doubt. Our own Landon Jones smartly asked whether Heaney's minor league strikeout rates could translate to the big leagues. For a pitcher with an abundance of guile and polish, but without overpowering stuff, it's fair to wonder. Theatricality and deception are powerful agents to the uninitiated, but can Heaney's smoke and mirrors fool major league hitters?
In short, yep.
Despite an unimpressive 6.55 K/9, Heaney has already established that he can miss bats. His 35.9% chase rate and 13.4% swinging strike rate would both rank in the top five among all starting pitchers, if Heaney had enough innings to qualify. He's well on his way to establishing himself as a strikeout artist; the numbers will come with time.
His curveball, in particular, has proven to be completely untouchable.
Hitters offer at the bender 57% of the time. They come up empty on more than 60% of those swings. The only pitcher in baseball who can come close to matching those rates is James Paxton; we've drooled over him in this space before.
Superficial results aside, Heaney is really, really good. He's going to give up some runs, but his strikeout rate is in line for a significant increase.
I wouldn't trade/drop him for: Drew Smyly, Jose Quintana, Chris Tillman