In the Week 16 edition of fantasy baseball 3×3, we're evolving Jarrod Dyson, evaluating Henderson Alvarez, and evangelizing for Jesse Hahn.
There are plenty of waiver wire columns out there that provide an exhaustive list of the most added players in fantasy leagues. This isn't one of them. Here, we'll run down a few lesser-known, lesser-considered, or lesser-owned players, with perspective on who deserves a your attention, who deserves your patience, and who deserves to go straight to bed without dessert.
Any questions, thoughts, second half predictions?? Hit me in the comments or on Twitter.
3 TO CATCH
Players to be picked up; available in most standard leagues
Jarrod Dyson | Kansas City Royals | OF
I really like it when limited players steer into the skid, when they accept, understand, and embrace their limitations. For instance, I like that Chris Carter unabashedly swings for the fences. I like that he hits leads the major leagues in fly ball rate and ranks fifth in HR/FB rate. And I love that he doesn't seem to care that ranks second in swinging strike rate. He knows he can't hit for average, so he makes damn sure he's never going to get cheated.
Chris Carter couldn't be further from Jarrod Dyson, stylistically speaking, but I do think Dyson is starting to learn a similar lesson.
He'll never win a home run derby, but he steals bases as well as anybody in baseball. Dyson is 17-for-21 this season after going 36-for-40 last year. All he needs to put that speed in play is a regular spot in the lineup and a decent OBP, and he's well on his way to both this season.
Dyson has radically improved his approach at the plate, taking full advantage of his wheels by posting the lowest strikeout rate of his career and the fourth-highest ground ball rate in baseball. He's reaped the rewards to the tune of a career-best .293 batting average. It's nearly 30 points better than his previous career high, but I think he can maintain it. Dyson has really evolved as a hitter this season; he'd never combined this batted ball profile with this kind of excellent contact rate before. With both going strong, he's absolutely capable of maintaining a BABIP around .340 and an average near .300.
Now, about that playing time. The Royals are so desperate for outfielders…
How desperate are they?
The Royals are so desperate for outfielders that they let Raul Ibanez do this.
Dyson has been a regular since mid-July. With only the punchless Nori Aoki as a challenger, I don't think his place in the outfield is in jeopardy, even when Alex Gordon comes back.
To pick him up, I'd drop: Denard Span, Eric Young, Drew Stubbs
Jimmy Nelson | Milwaukee Brewers | SP
I'm not sure what Jimmy Nelson did to get on the luck dragons' bad side, but man, as if facing the smoldering St. Louis Cardinals wasn't enough to raise the degree of difficulty in his second major league start, the young righty just couldn't catch a break on balls in play.
The Cardinals scored their first run on a Jhonny Peralta blooper. Scooter Gennett extended the inning by booting a grounder from Oscar Taveras, then couldn't quite reach a chopper that scored two more. In the following inning, Nelson surrendered two more runs on a two-out 385-foot fly ball from Kolten Wong that would have cleared the fence in exactly zero other ballparks. Nelson settled down a bit after that, but most of the damage to his ERA and fantasy reputation had already been done.
It's certainly disheartening, but this sort of thing happens from time to time. My concern with Nelson has always been whether he could continue to post elite strikeout numbers (and manageable walk rates) against big league hitters and while he wasn't at his best against the Cardinals, he still managed to whiff five batters in 4.1 innings and post a better than average swinging strike rate, without walking himself into huge trouble. His inability to throw strike one hurts, but who could blame the kid for showing some frustration; I don't expect that he'll have to pitch through quite so much traffic on a regular basis.
Nelson isn't a fantasy savior, but he's a very good source of strikeouts and one that has a chance to stay in the starting rotation for a while. Neither you, savvy fantasy owner, nor the Brewers should be dissuaded by one unfortunate outing. Nelson is a great target in deeper mixed leagues and a must-own in NL-only.
To pick him up, I'd drop: Justin Masterson, Marco Estrada, Aaron Harang
The Chicago Cubs just planned to give their fans a quick peek at the future when they called up Arismendy Alcantara to stand in while Darwin Barney went on paternity leave, then Alcantara proceeded to slash .389/.400/.611 in his first four big league games. Sure, it's a tiny sample, but it's everything you could hope for and more from a 22-year old who was touted as a big time prospect before the season and spent the first half of his summer obliterating Triple-A pitching. It might not be on schedule, but Alcantara is on the brink of elbowing his way into an everyday job.
The Cubs have already shown that they have no interest in holding on to assets that can't help them in the long term; if Barney is the Opening Day second baseman for the 2016 Cubs, send a search party for Theo Epstein. He's almost certainly been Celtic Prided by a group of overzealous Cardinal fans. In the present day version of that movie, I imagine Daniel Stern and Dan Aykroyd sending flurries of lineup-changing texts while Epstein wriggles around in a folding chair surrounded by duct tape.
Alcantara might end up being sent down anyway, but the potential he offers if he stays up makes him worth a look in deeper mixed leagues.
To pick him up, I'd drop: Josh Harrison, Scooter Gennett, Brad Miller
3 TO CUT
Players to be traded or dropped, depending on the depth of your league
Henderson Alvarez is having a spectacular season. He fully deserved to be added to the National League All-Star team (though the fact that Stephen Strasburg hasn't been added as one of the injury replacements is a freaking joke) and I hope he does well if he pitches in the ASG. He's an excellent pitcher, but with the tenth-worst strikeout rate in baseball, he just doesn't have much fantasy value for me. His low K-rate not only limits the fantasy categories in which Alvarez can contribute, it hurts his ability to maintain production in ERA and WHIP. Ground balls and low walks are great, and Alvarez has been great at delivering them so far, but there are some situations in which you'd really rather not allow the ball to be put in play.
Alvarez maintains almost identical batted ball rates regardless of whether anybody's on base, yet his BABIP with men in scoring position is 60 points lower than with the bases empty and his home run rate drops by almost half in those situations. At the same time, his walk rate nearly doubles with a duck or two on the pond. When things start to even out, his current 2.63 ERA will slide closer and closer to his projections in the 3.80 range. Consistently preventing runs without even an average strikeout rate is just a really rare feat. So far this season, Alvarez and Mark Buehrle are the only pitchers in baseball to feature both an ERA under 3.00 and a strikeout rate under 5.5 per nine innings. In the last 20 years, only 12 pitchers have held that line for a full season; nobody's done it since 2010.
I'd trade/drop him for: Jose Quintana, Phil Hughes, Marcus Stroman
Martin Prado | Arizona Diamondbacks | 2B/3B/OF
Much like Alvarez, Martin Prado is an excellent real life player whose fantasy contributions tend to be overstated. Prado has Swiss army eligibility and makes a ton of contact, but his skillset doesn't provide above average upside in either power, speed, or run production. He's hit better than .300 in three of his six full big league seasons and that'd generally be good enough on its own, but batting average is a fickle beast. A slight uptick in strikeout rate and a relatively modest drop off in power (Prado's 14 doubles put him on pace for his fewest ever in a full season) has sunk his batting average to .269. If he's not hitting .300 (he's done it only once since 2010), he's not helping your fantasy team.
Prado has produced double-digit home runs and steals together in only one season. He's never hit more than 15 homers, he's stolen more than five bases only once, he's driven in more than 70 RBI only once, and he's scored more than 80 runs just twice.
He's fine as a filler player in deeper leagues, but at both second, third, and outfield, there are a glut of higher upside options available to help you make headway in one or two specific categories. If you're winning your league and just need to maintain, fine, you can hold on to Prado. But if you need to make a second-half charge, there's likely a better fit for your needs on the waiver wire.
I'd trade/drop him for: Aaron Hill, Xander Bogaerts, Marcell Ozuna
Kurt Suzuki is a catcher closing in on 1,000 games played at the major league level. Three months shy of his 31st birthday, he's probably a bit past his athletic prime, especially considering the several thousand hours he's spent crouched behind the plate. He's a valuable veteran for the Twins, but he's valuable in a gritty, immeasurable way. Kirk Gibson would fall madly in love with him.
This is not the time for a career year, yet he's one of only two full time catchers to hold a .300 batting average at the All-Star break. His .309 mark would be a career high, but, in a fact that should surprise precisely nobody, his .327 BABIP screams for negative regression.
Suzuki hasn't hit better than .240 since 2010 (when he hit .242) and in that time, hasn't had a BABIP higher than .269, which is nearly 60 points below his current figure. When his batting average dissolves, there's nothing of value left. Suzuki has below average power, even for a catcher, and hits eighth in a weak Minnesota lineup.
I'd trade/drop him for: Stephen Vogt, Mike Zunino, Travis D'Arnaud
3 TO KEEP
Players to hold or trade for; owned in most standard leagues
Jesse Hahn | San Diego Padres | SP
Over the last month, the only pitchers to miss bats more often in the strike zone the Jesse Hahn were Max Scherzer, Chris Sale, and Clayton Kershaw. He's more than this year's version of Kevin Correia or Eric Stults. With a strikeout rate approaching 30% and a swinging strike rate more than two percentage points above league average, Hahn is for realsies.
He features a wide breadth of offerings and mixes his pitches well, but Hahn relies mostly on three pitches: his sinker, curveball, and four seam fastball.
The sinker and curveball are fantastic. Both pitches rate well above average when it comes to generating whiffs. The curve allows more fly balls than I'd prefer, but Petco helps to limit the damage there. The sinker is elite; Hahn is one of only six starters to coax swings on more than 40% of his sinkers and misses on more than 20% of those swings.
The four seamer isn't quite as effective, but it can be a weapon when Hahn learns to fully harness its potential. It has good life at 92 miles-per-hour, but that life carries it out of the strike zone more than half the time. It's pretty obvious to hitters: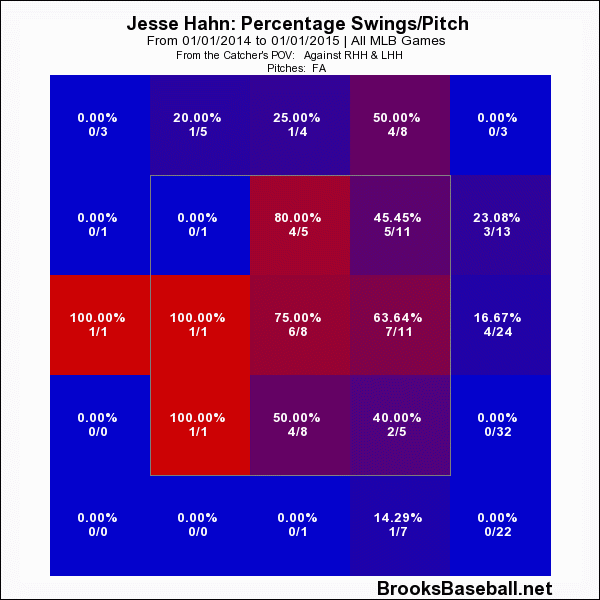 Though they see it well enough to lay off when it's outside the strike zone, opposing hitters really struggle to square up Hahn's heater when they do take a cut. His 53% foul/swing rate ranks sixth in baseball among pitchers who've thrown at least 100 four seamers. As he develops a better handle on his four seamer, both Hahn's strikeout and walk rates should benefit, as he'll be able to use the fastball to get ahead in counts and set up the curve.
With an arsenal slipperier than a greased watermelon and a sprawling home ballpark, Hahn has the ingredients to far exceed his conservative ROS projections. He likely won't be able to make more than 10 starts or so in the second half, but he's definitely worth keeping until the Padres shut him down.
I wouldn't trade/drop him for: Alfredo Simon, Shelby Miller, Mark Buehrle
Cody Allen | Cleveland Indians | RP
I didn't think it would happen. I thought John Axford's high heat and luxurious moustache would eventually win back Terry Francona's heart. Or that Francona would at least do what he said he would do.
But I was wrong. John Axford isn't walking through that door, mostly because Cody Allen has stacked up a mountain of chairs, bookcases, and whatever else he can find to seal it shut.
Allen has been magnificent as Cleveland's closer, Francona said as much when he all but gave him the "closer" title weeks ago. Over his last 19 outings, Allen in ten-for-ten in save chances. He's allowed only two earned runs in that span, struck out almost 40% of opposing batters, and issued just six walks in 19.1 innings. He didn't allow a single baserunner in 13 of those appearances, eight of which were squeaky clean saves. His 0.93 is surely unsustainable, but that 2.04 FIP ain't too shabby.
I wouldn't trade/drop him for: LaTroy Hawkins, Zach Britton, Joe Smith
Sergio Romo | San Francisco Giants | RP
You'd think everything I just wrote about Cody Allen would've stuck around for at least another paragraph or two, but here I am recommending patience for another deposed closer.
Sergio Romo is a different kind of case though; he has a track record on being one of baseball's best. Across 2012 and 2013, he maintained a 2.18 ERA, 1.82 FIP, 26% strikeout rate, and 4.7% walk rate. That's the profile of a very good closer. And that's what Romo's been for most of this season, save for one two-week stretch in which he blew three saves and allowed nine runs in five outings. It was bad, but all things considered, it wasn't that bad. Even in the darkest timeline, Romo still whiffed a batter per inning and had a somewhat respectable 4.30 xFIP. And Romo has been brilliant in this last two outings. He's faced eight batters and allowed only one hit while striking out five. It's the kind of run that can start to repair a manager's faith, especially when the replacement closer seems primed for a tough stretch of his own.
Santiago Casilla has been brilliant lately, but he hasn't overpowered opposing hitters with strikeouts, he's just somehow been able to limit any damage on balls in play. Casilla hasn't allowed a hit since May 18. I don't care how well he's pitching; that can't possibly continue. At some point, those balls in play are going to start falling for hits. We know it can happen to Casilla, he gave up six hits in 3.1 innings right before he embarked on this miracle run.
This recommendation isn't based on Bruce Bochy's loyalties, it's based on the fact that Romo is just a better pitcher than Casilla. Casilla has battled wildness in the past and doesn't have the strikeout stuff to bail himself out of trouble. Romo stuff good enough to win the job back and enough closing experience to keep himself right on Casilla's heels. Keep an eye on the news as Casilla settles in, but it's too early to completely cut bait on Romo.
I wouldn't trade/drop him for: Jason Grilli, Ernesto Frieri, Hector Rondon