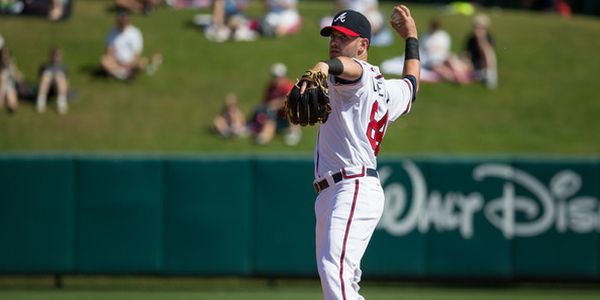 This week of free agent options is an eclectic bunch headlined by two pitchers who are quite different. They're joined by a prospect infielder that should get his first taste of big league joe soon, an outfielder that brings a healthy blend of power and speed, and another that has conquered the minor leagues and, if his wrist is willing, is nearly ready to take another crack at translating his production to the majors. The AL-only pick this week is a powerful man that was recently traded from the National League to the Junior Circuit, but he didn't have to leave the state of California. A rehabbing reliever that's due to be activated from the disabled list on Tuesday gets the nod for the National League.
Dallas Keuchel, SP/RP, Houston Astros
Ownership: ESPN: 10.7% Yahoo!: 29% CBS: 76%
Hat tip to Eno Sarris of FanGraphs for driving the Keuchel bandwagon for some time now, all I ask is that someone scooch over and make room for me. By the look of his ESPN and Yahoo! ownership, there is plenty of room to take a seat, but savvy fantasy gamers won't continue to snooze through Keuchel's excellent peripheral stats forever and now is the time to grab him if he's available.
The Astros southpaw leads all qualified starting pitchers in groundball percentage at a whopping 65.1 percent. That's quite an attention grabbing stat, but it's not the only good one in Keuchel's goody bag. The lefty also ranks in the top-25 in walk rate with a mark of 5.2 percent (tied for 22nd best in the majors). His ability to limit free passes and coax worm burners at an exceptionally high rate are enough to earn him deep league ownership, but his strikeout rate isn't a turd in the punch bowl, and that makes him a fine option in all the but the shallowest of leagues.
Keuchel has struck out 22.2 percent of the batters he has faced this year, and to put that in perspective FanGraphs has the league average at 20.5 percent. He's not racking up strikeouts by smoke and mirrors either. Keuchel has a swinging strike percentage of 11.5 percent (9.3 percent is the league average). The 26-year old starter is getting ahead of batters and getting them to fish out of the zone, and when that doesn't work, he's going back in the strike zone to induce a groundball. It's a heck of a combination. Wins will be hard to come by backed by an Astros offense that ranks near the bottom of the league in runs scored, but that's about the only fly in the ointment for Keuchel.
Trevor Bauer, SP, Cleveland Indians
Ownership: ESPN: 6.3%, Yahoo!: 29%, CBS: 73%
Get excited, folks. It's just about Bauer time again. The UCLA product is ready to step into Danny Salazar's rotation spot for a start on Tuesday against the Tigers. I wouldn't advise sticking him into lineups to face a very talented Tigers lineup in most leagues, but Bauer will now have a chance to build on a brilliant spot start against the Padres earlier in the year and what has been a great start to the year at the Triple-A level.
There are a couple of reasons why I think Bauer will find sustainable success in the Show this time after faltering in previous shots. The first reason is a huge reduction in free passes. He has issued no more than three walks in any of his seven starts in Columbus and he walked just two batters in his lone big league start. The result is a minor league walk rate of 7.7 percent. Less wildness hasn't hurt his ability to pile up strikeouts either. Bauer is has struck out just a little less than a quarter of the minor league batters he's faced this year (24.2 percent strikeout rate in Triple-A).
The second reason for my optimism is a huge uptick in velocity from Bauer. The beauty of his start against the Padres earlier this year was that it produced some PITCHf/x data. Brooks Baseball had Bauer's average fourseam fastball velocity at 96.55 mph in that start up almost three miles-per-hour from his previous stints in the majors. The rest of his arsenal was also super charged with a little extra oomph, too, and that type of premium velocity lends itself well to him missing bats in the bigs. The former top-5 pick in the MLB Amateur Draft needs to be universally owned because his upside is through the roof.
Tommy La Stella, 2B, Atlanta Braves
Ownership: ESPN: 0.0% Yahoo!: 1% CBS: 6%
I very nearly opted to use La Stella as my NL-only pick, but the dearth of middle infield options in even large mixed leagues swayed me to highlight him with the mixed league options. The Braves second base prospect has never been a high ranking prospect at most reputable outlets because he plays a non-premium defensive position at an average rate, and beyond hitting for average and commanding the strike zone, doesn't bring a ton to the table. Thankfully, in the world of fake baseball that high average has value, and his carrying tool (i.e. his bat) is all we care about.
Dan Uggla has officially played himself out of the Braves starting lineup, and to be quite frank, he's completely wasting a roster spot and should be designated for assignment. Of course that's easy for me to say since I don't owe him another $20-plus million. Point being, the Braves, who are in a tight division race in the National League East, have La Stella just about ready to provide an upgrade over the misfits they have manning the keystone presently. Unlike some prospects on other teams, the Braves can probably afford to promote him now even at the cost of an extra year of arbitration (if he were to achieve Super Two status) because La Stella isn't a blue chip prospect that will command a huge salary.
The left-handed hitting second baseman has a .281/.370/.331 triple slash line with more walks, 20, than strikeouts, 13, through 39 games at the Triple-A level. I don't need to tell you that a .331 slugging and .050 ISO are poor, but he's done a better job of stinging the ball in the past and has a great understanding of the strike zone and high contact approach that lend themselves well to easing the transition to the game's highest level, the majors. Armchair, or boxscore, scouting prospects can be very dangerous, so it's important to note that former Astros and Mariners scout, and current writer for MLB.com's prospect coverage, Bernie Pleskoff gushed about La Stella's bat back in November of last year. La Stella can be ignored in shallow and medium sized mixed leagues, but he should be added by middle infield needy owners in large mixed leagues with moderately sized benches and NL-only owners with a bench spot to work with.
A.J. Pollock, OF, Arizona Diamondbacks
Ownership: ESPN: 16.6%, Yahoo!: 26%, CBS: 37%
I loathe player comps, but Pollock is doing a pretty nifty 2011 Peter Bourjos impersonation, only he's doing a little better than the former Angels outfielder did that year. That said, Pollock brings the same mix of surprising double digit homer power and 20-plus stolen base upside to the table. A lengthy disabled list stint for Mark Trumbo has thrust Pollock into an everyday role in the Diamondbacks outfield, and he's thriving.
At the end of the day on Sunday Pollock's three hit game brought his season line to .315/.364/.546 with five homers and six steals in seven attempts. His .371 BABIP is unsustainable, but because he's fleet of foot, he's a strong bet to best the league average this year of .298. There is a limit to how much he'll best the league average by, though, if he doesn't start hitting a few more line drives. Pollock has a poor 12.2 percent line drive rate, but because it takes around two season's worth of batted balls for line drive rate to stabilize, we're better off looking at his 17.4 percent line drive rate for his career when trying to project going forward. That's still not a strong line drive rate, and paired with a contact rate that is more than two percent below the league average this year, we can expect Pollock's average to drop below .300. I'd guess he'll hit somewhere between .275-.285 the rest of the year. Not too shabby for a guy with a realistic shot at 10-12 homers and 22-25 stolen bases at season's end.
Oswaldo Arcia, OF, Minnesota Twins
Ownership: ESPN: 0.4%, Yahoo!: 2% CBS: 18%
Arcia isn't the across the board stat sheet stuffer that Pollock is, but all the guy is done is hit at an elite level in the minors. The young Twins outfielder has hit .328/.398/.557 in 299 plate appearances at the Double-A level and .309/.409/.569 in 215 plate appearances at the Triple-A level in his minor league career. Scouting reports, back when he was a prospect, painted the picture of a hitter with an above average hit too and above average power, and the numbers in the minors backed those reports. It hasn't been smooth sailing in the Show, though.
The second year big leaguer has 397 plate appearances in the majors and he's struck out in 31.0 percent of them and hit just .244/.297/.420. He's been an aggressive free swinger, but on the positive side of things, he has clubbed 14 homers. Arcia is raking in the minors this year, and as long as he doesn't have a setback with his wrist, he's expected to rejoin the parent club in time for the Twins' next homestand according to StarTribune writer La Velle E. Neal III. That timetable would put Arcia back on the Twins active roster next Monday, May 26. There is enough to like about Arcia for me to endorse stashing him in as shallow of leagues as medium mixers using five outfielders, and obviously he should be scooped up in any deeper leagues than that.
AL-Only Pick
Kyle Blanks, 1B/OF, Oakland Athletics
Ownership: ESPN: 0.1%, Yahoo!: 0%, CBS: 2%
When a player is expected to serve on the short side of a platoon, that news is usually not met with a joyous reaction. However, when that player was toiling in the minors and on the bench of his former club, it's a step in the right direction. Blanks had fallen out of the Padres plans, and Billy Beane felt it a worthwhile gamble to bring his big boy pop to Oakland for a pittance. I've long wanted to see Blanks stay healthy and get an extended look with in the majors, but injuries and ineffectiveness in his prior chances to shine have prevented that from happening.
Blanks will face left-handed pitchers and platoon at designated hitter and first base most likely for the time being. However, Blanks has some corner outfield experience and he's surprisingly nimble for a guy of his stature (that's not to say he's a good fielder, but he's not a statue). His versatility makes him a candidate to pick up some at-bats against right-handed pitchers along the way, and it makes him a candidate to fill in at multiple positions should the injury bug bite a member of the A's starting lineup. Power is tough to come by, and there are enough avenues to possible playing time for Blanks that I'd advocate grabbing him in large AL-only leagues.
NL-Only Pick
Jason Motte, RP, St. Louis Cardinals
Ownership: ESPN: 1.6%, Yahoo!: 6%, CBS: 13%
Motte will be activated from the disabled list when the Cardinals resume play on Tuesday, and while manager Mike Matheny has indicated he'd like to ease him back into late leverage situations, he's flat out stated that he won't have a problem using him in any situation if necessary. The catcher turned reliever is back to hitting the mid-90s with his heater, and he'll be joining the Cardinals bullpen at a somewhat dubious time.
Trevor Rosenthal blew his second save of the season on Sunday, and he has not been the same dominating late inning force of the last one-plus seasons. Rosenthal is still striking out batters at a high rate, and his heater is still sizzling, but his control has been bad. The Cardinals closer has walked 14.4 percent of the batters he's faced this season. Matheny isn't going to pull the plug on Rosenthal right this second, nor should he, but the presence of Motte should lessen his leash significantly. Motte was a fantastic closer in his lone year with the gig, and in 260 big league innings he's proven himself to be a great relief pitcher. If he's truly back to pre-injury form, he'll be an asset as a ratio booster in NL-only leagues and large mixed leagues, and Motte will have the added benefit of possibly stumbling into saves if Rosenthal's dicey control doesn't improve.