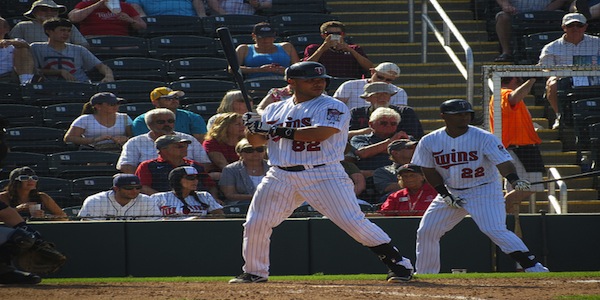 A couple of my preseason favorites have gotten off to a strong start, and both are highlighted among this week's top options available in some leagues. They are joined by a pair of first basemen that mutually benefit from a trade made last week. The AL-only and NL-only options touted today include a starting pitcher that is thriving in a relief role and an outfielder that appears to have moved up the depth chart.
Martin Perez, SP, Texas Rangers
Ownership: ESPN: 51.9%, Yahoo!: 48%, CBS: 82%

Perez is a pitcher I was very much enamored with entering the season, as my Fantasy Pros ranking compared to my peers would suggest, and I wrote in-depth about why I liked him in the starting pitcher rankings I posted here in March. It's still really early in the season, so I'm trying to claim the high ranking as a success just yet, but he's off to a promising start and his ownership has risen as a result. He should be owned nearly universally, though, so even with the rise there are leagues in which he is still available and shouldn't be.
The 23-year old southpaw has posted goose eggs in the runs column in his last two starts spanning 17 innings, including his first career shutout on Friday against the White Sox. His money pitch remains his changeup, and Baseball Prospectus' PITCHf/x leaderboard has him ranked 14th out of 47 qualified pitchers in whiff/swing percentage using a 50 pitch minimum. When batters aren't whiffing on the pitch, they're often pounding the ball into the ground. It's a really good pitch, but the biggest question many had about Perez entering the year is whether he'd get enough of out his breaking pitches to take a step forward this year.
The jury is still out, but it looks like his curveball has improved this year, and he's using it more often than last season. Only 40 pitchers have thrown 50 curveballs this year according to Baseball Prospectus' PITCHf/x data, and Perez comes up just a bit short of that threshold having thrown 38. His whiff/swing percentage on the pitch is 33.3 percent, which if he reached the 50 pitch plateau, would put him tied for 12th with Chris Tillman. That's not too shabby, and it gives him a breaking weapon to use against hitters, even if he is still using his less impressive slider a wee bit more than the curveball.
The rest of Perez's profile looks good to me, too. His walk rate is down even further this year and sits at 2.12 BB/9, and FanGraphs has his groundball rate all the way up to 57.1 percent. The young southpaw hasn't been in the strike zone as often this year, but he's fooled hitters into expanding their zone and chasing more pitches out of the strike zone. His first pitch strike rate is down a little bit this year, but it's less than one percent below the league average, so that looks fine to me as well. There is a lot to like about Perez, including being backed by a very good Rangers offense, and there is no reason he should be available in any 12-team mixed leagues or larger leagues.
Josmil Pinto, C, Minnesota Twins
Ownership: ESPN: 0.7%, Yahoo!: 3%, CBS: 24%
Despite the presence of Kurt Suzuki, Pinto continues to find himself penciled into the Twins lineup regularly. The young backstop has started in 13 of the Twins 18 games this season and appeared once as a pinch hitter. The best part, arguably, is that the bulk of his playing time has come as the club's designated hitter (eight starts at designated hitter and five at catcher), and that reduces the risk of injury a great deal.
Pinto's bat is his calling card, and it has been strong this year, literally. In 56 plate appearances he has swatted four homers and has a loud .302 ISO. The 25-year old has also been very patient, working 13 unintentional walks. His increased willingness to take walks helped his stock explode at the Double-A level last year, and seeing it carryover to the biggest stage is good news for sustained success. Furthermore, his high walk rate boosts his value in leagues that use on-base percentage.
Contrary to his numbers thus far, Pinto isn't a low average all-or-nothing slugger. His batting average will rise from where it sits now at .233, but he'll need to hit more line drives in order for that to be the case. I don't expect it to approach the .300-plus mark he tallied at three stops last year, but adding 30-plus points to his batting average is attainable. He falls a little short of warranting ownership in single catcher 12-team mixed leagues, but he should be owned in all two catcher formats and any deeper single catcher leagues.
Ike Davis, 1B, Pittsburgh Pirates
Ownership: ESPN: 0.7%, Yahoo!: 8%, CBS: 23%
The first base mess in Queens has been resolved with the club dealing Davis to the Pirates. Davis will now serve on the heavy side of a first base platoon, facing right-handed pitchers, with Gaby Sanchez. Swapping Citi Field for PNC Park isn't a desirable change of home venues since StatCorner has the left-handed batter home park factor at Citi Field over the last three years at 102, with 100 being neutral, and PNC Park's mark is 78 over the same time frame. The uptick in playing time that comes with shedding the rotating door in New York helps more than make up for the park factor difference, though.
The former first round pick has 1,114 plate appearances against right-handed pitchers in his big league career and he's hit a respectable .257/.358/.471. His work in 2012 against right-handed pitchers indicates there is value hiding in his bat when things are clicking. That season he had 406 plate appearances against righties and whacked 24 homers while hitting .253/.345/.523.
Last year was a dreadful season for Davis, and that's likely a big part of the reason the Mets were willing to move him. That said, he showed signs of turning things around in the second-half of the season after he returned from a minor league demotion. In 138 plate appearances in the second-half of the 2013 season he hit 11 doubles, four homers, and posted a 32-to-28 walk-to-strikeout ratio with a .286 batting average.
In his most recent start for the Pirates the team slotted him into their cleanup spot, but Pedro Alvarez had the day off, and Davis will slot lower than that in the lineup. My best guess is that the club will slot him sixth, splitting up lefties Alvarez and Davis with a right-handed batter in the fifth spot in the lineup. Davis should be rostered in some 12-team mixed leagues that use a corner infield spot, and all deeper leagues. His value is capped due to the fact he'll sit against left-handed pitchers, but being shielded from lefties isn't necessarily a bad thing since he's so terrible against southpaws. Davis isn't a top-20 first basemen, but in leagues that allow daily lineup changes where he can be shuffled in and out of a lineup depending on the handedness of the pitcher the Pirates are facing, he has modest value.
Lucas Duda, 1B/OF, New York Mets
Ownership: ESPN: 4.7%, Yahoo!: 6%, CBS: 26%
Duda joined Davis as a big winner when the Mets decided to unclog their log jam at first base. In some ways, Duda is like Davis. Both are left-handed batters who are better against right-handed pitchers, and both are patient hitters that see their value get a boost in leagues that use on-base percentage. They are different, though, even if they reside in the same tier of first basemen.
Duda has never gotten the extended playing time that Davis was awarded. The current Mets' first baseman's season high in plate appearances is just 459. His single-season high in homers is only 15, a mark he reached twice, once last year in 384 plate appearances, and once in 2012 when he set his career high in plate appearances.
Because he hasn't gotten extended playing time, it's tough to peg exactly what Duda is. Is he a guy that should be used strictly in a platoon? Probably, but not definitely. He does have a poor .222/.297/.337 slash line against southpaws, but it has come in just 351 plate appearances. The Mets also lack an established lefty masher in the mold of the man Davis is sharing time with in Pittsburgh, Gaby Sanchez. The Mets answer to Sanchez is Josh Satin, a 29-year old with little power that had just 28 plate appearances in the majors prior to totaling 221 last year. What this all means is that Duda might get some cracks at southpaws, but glancing over Duda's splits at Baseball-Reference (which includes his minor league work) leaves me feeling like he ultimately fail against them and end up in a strict platoon.
A high strikeout rate, over 26 percent since 2012, is going to limit Duda's batting average. He's a career .247 hitter, and that's a decent base line for projection give or take a few points of average. Duda isn't a base stealing threat, with just three in his career, and he's hit sixth in the Mets lineup in his last three starts, so run production upside isn't huge. I'd rather take a flyer on Davis than Duda, but Duda gets a boost with outfield eligibility, and he's rosterable in NL-only leagues and large mixed leagues (think 14 teams or bigger).
AL-Only Pick
Danny Duffy, SP, Kansas City Royals
Ownership: ESPN: 0.0%, Yahoo!: 1%, CBS: 5%
Duffy entered spring training in a competition with Yordano Ventura for the fifth starter spot in the Royals rotation, and he lost. The club optioned him to the minors so that he could continue to stay stretched out and work as a starter, but injuries to Tim Collins and Francisley Bueno left the parent club's bullpen without a southpaw, and they recalled him after just one start for Triple-A Omaha to serve as a left-handed reliever.
Duffy has been outstanding in three relief appearances that have spanned 6.1 innings. He's yet to allow a run while giving up three hits, two walks, and striking out nine. The southpaw's already electric fastballs are playing up in bursts out of the bullpen, averaging 96.54 mph on his fourseam fastball and 95.34 mph on his sinker according to Brooks Baseball. He's also streamlined his repertoire, throwing mostly fastballs and curveballs, ditching his slider entirely, and throwing his changeup just 3.85 percent of the time.
The Royals have voiced that they still view Duffy as a starter, but when manager Ned Yost was asked whether or not he'd be removed from the bullpen when Collins and Bueno return from the disabled list, he "scoffed" at the idea. For now, it looks like Duffy is a reliever. As a non-closing reliever Duffy's value is limited to leagues that count holds, and leagues with limited player pools, such as AL-only formats, where ratio boosting relievers have value. He looks like a legitimate asset as a ratio booster and a guy that can pile up strikeouts while not eating up innings, which is great in roto leagues with a low innings caps.
NL-Only Pick
Jon Jay, OF, St. Louis Cardinals
Ownership: 0.6%, Yahoo!: 4%, CBS: 7%
A trade that sent David Freese to the Angels netted the Cardinals center fielder Peter Bourjos in the offseason. The superb defensive center fielder forced Jay to a fourth outfielder gig, but a slow start from the former Angel has opened the door to more playing time for the incumbent starter from the 2013 National League Champion Cardinals. Jay has started six of the Cardinals last eight games including Monday night's contest.
The University of Miami product is a career .293/.356/.402 hitter. Batting average is easily his greatest fantasy contribution. Jay doesn't hit for much power, 10 homers is his single-season high, or steal many bases, 19 is his single-season high, but he's a great glue guy that isn't a total dud in either category. He's a left-handed batter that struggled against southpaws last year, but is roughly a league average (97 wRC+) hitter against them in his career, and with the right-handed Bourjos owning a better line against right-handed pitchers than lefties, a platoon in center field doesn't make much sense.
Stud prospect Oscar Taveras will hit his way into the outfield mix sometime this summer, but in the interim, Jay looks like a regular in the Cardinals outfield with Bourjos falling out of favor quickly. Jay should be owned in NL-only leagues and large mixed leagues starting five outfielders.