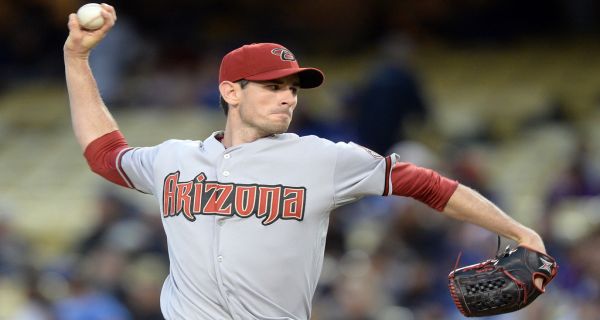 Thirty-year old starting pitchers aren't supposed to be throwing the hardest they've ever thrown in their career, but one is this year and he's a player that I suggest more gamers roster. He's joined by a Cubs reliever that appears to be settling into the closer gig. Changing gears to the hitting side of things, a couple of prospects get shout outs as well as a pair of all-or-nothing slugging third basemen and a veteran second baseman.
Brandon McCarthy, SP, Arizona Diamondbacks
Ownership: ESPN: 1.8%, Yahoo!: 6% CBS: 18%
The 30-year old McCarthy is an anomaly in more than one way this year. He's a pitcher who has a dramatic spike in his strikeout rate that deviates from his career norm (21.3 percent strikeout rate this year versus 16.0 percent for his career). That would seem awfully flukey if something else hadn't changed dramatically with McCarthy, but it looks legitimate, due in large part, to a huge velocity spike.
Every spring there is chatter of player's being in the best shape of their life and coming into camp feeling great after working hard in the offseason. Most of this talk rightfully elicits eye rolls, but McCarthy worked hard on gaining muscle mass so that he wouldn't wear down, as he told Eno Sarris of FanGraphs earlier this year, and it looks like that extra positive weight is the reason for the extra ticks on his fourseam fastball and sinker. His sinker velocity is up more than 2.5 mph this year according to the PITCHf/x data available at Brooks Baseball.
Speaking of McCarthy's sinker, he's using it more often this year at the expense of his cutter. His sinker is a real good offering, too, and among the 34 pitchers that Baseball Prospectus credits with throwing 200 or more sinkers, McCarthy ranks seventh in whiff/swing percentage at 17.37 percent. An added benefit of using the sinker more, quite obviously, is a surge in groundball rate from 48.2 percent last year to 54.7 percent this year.
The Diamondbacks' hurler is coming off his best two starts of the season, totaling 14 innings in which he's allowed 10 hits and two earned runs with two walks and 18 strikeouts. He's not going to remain a secret much longer, and McCarthy needs to be owned in all large mixed leagues and NL-only leagues, and a smattering of medium sized mixers.
Hector Rondon, RP, Chicago Cubs
Ownership: ESPN: 25.2%, Yahoo!: 38%, CBS: 30%
Rondon has yet to officially be named the club's closer, but he's recorded a save in the last two Cubs' save opportunities and is clearly the arm to own in that bullpen. The right-handed pitcher battled injuries early in his career, but he settled in as a member of the Cubs bullpen last year, albeit not a very good one. The 26-year old is enjoying a full blown breakout this year, and the biggest change is that he's getting ahead of hitters at a much better rate this year.
FanGraphs credited Rondon with a 53.7 percent first strike rate last year (60.3 percent was the league average in 2013), and that rate is way up to 65.0 percent this season (59.8 percent is the league average). Getting ahead of more batters has helped the young reliever walk fewer batters, 10.3 percent walk rate in 2013 versus a 6.7 percent this year, while also striking a higher percentage of batters out, 18.2 percent in 2013 and 26.7 percent this year. Add in that his groundball rate is up to 50.0 percent, and you've got a reliever that is capable of sustainable ninth inning success. It's still possible that Arodys Vizcaino or Kyuji Fujikawa eventually challenge him for closing duties this summer, but for the time being Rondon needs to be owned universally.
C.J. Cron, 1B, Los Angeles Angels
Ownership: ESPN: 0.8%, Yahoo!: 4%, CBS: 18%
Cron isn't a blue chip prospect in the mold of a Byron Buxton, Carlos Correa, or Javier Baez, but he is a bat first prospect that has been up for a couple of games. He has played first base in both games with Albert Pujols slotting at designated hitter, and he's hit fifth in one contest and seventh in the other. His run production numbers will be tied to where he hits in the lineup, so seeing him bat fifth in one of his games played is encouraging.
The best tool in Cron's skill-set is his raw power. Jason Parks of Baseball Prospectus put an eight, the highest score possible using the two-to-eight scouting scale, on his raw power in his Angels preseason top-10 prospect list. Parks graded Cron's hit tool as below average, but J.J. Cooper of Baseball America described him as a "high average, low on-base percentage slugger," in his write-up for Cron for Baseball America's Angels' top-10 when discussing his future profile. The former first round pick's raw power only resulted in 14 homers in 565 plate appearances at the Double-A level last year, but he's tapped into more of it in the hitter friendly Triple-A Pacific Coast League this year smashing six taters in 122 plate appearances before his promotion.
Cron doesn't walk much, but he makes up for that to a certain extent by rarely striking out. If he can keep his strikeout rate low when facing big league pitching while continuing to tap into his raw power, he'll be a very interesting player in fantasy leagues. I'm skeptical the transition will be smooth, but he's recorded multiple hits in his first two games and is a gamble that is well worthwhile in large mixed leagues that use a corner infielder and AL-only leagues. Those in smaller mixers can take a longer wait and see approach with him.
Mark Reynolds, 1B/3B, Milwaukee Brewers
Ownership: ESPN: 6.8%, Yahoo!: 13%, CBS: 26%
Reynolds is what he is, a thumper with a monstrous strikeout rate that makes him a batting average liability. The dual corner eligible infielder has hit 20 or more homers in six straight seasons, and he's well on his way to making it seven straight seasons with seven taters out of the gate this year. He's hitting .229, which is right in line with his .233 career mark, but the important thing is that he's getting nearly everyday playing time.
Reynolds has ceded some playing time here and there to Lyle Overbay, but he's the primary first baseman and one capable of making waves in the homer category. While he's not the fleetest of foot, the 30-year old infielder has reached double digits in steals in a season twice in his career (2008 and 2009), and he's already stolen two bases in two chances this year, so it's possible he'll snag a few more bags before season's end. The risk is that his contact troubles lead to an extended slump that derail his playing time, but the Brewers don't have anyone waiting in the wings to claim his job should he falter, so the leash has some length to it for Reynolds. Not that his power needs any help, but playing in homer friendly Miller Park is a boon for the slugger. Reynolds should be owned in all large mixed leagues using a corner infielder and all NL-only leagues, and owners in need of power in medium sized mixers that can take on his poor average can give him a look.
Oscar Taveras, OF, St. Louis Cardinals
Ownership: ESPN: 4.0%, Yahoo!: 24%, CBS: 54%
The most exciting young hitter in the minors is Taveras. He isn't a potential star in the stolen base category, but his excellent hitting skills make him a potential star in the other four standard hitting categories. Taveras has raked at every stop along the minor league ladder hitting .321/.380/.572 in Double-A and .304/.347/.475 at the Triple-A level. The silly stats are supported by gushing scouting reports, and he unanimously considered a top-five prospect in baseball.
June is looming, and the wave of prospect call-ups will come shortly after the calendar flips from May. The Cardinals may not wait that long to promote Taveras, though. The offense needs a jolt in the arm, and entering play Sunday night they ranked 26th in runs scored. The team has already called up fellow outfield prospect Randal Grichuk to play center field in the hopes he'd help their efforts in righting the offensive woes, but Taveras is far and away a better hitter and prospect than the former Angel. The biggest question is whether Taveras can man center field adequately. He has experience playing in center field, and while his long-term home is in an outfield corner, he has played four games in center field this season, and 92 games there last year. Owners in leagues of all sizes that have a bench spot to work with would be wise to jump on Taveras now in advance of a promotion, because once he is called up, good luck beating others to the wire or acquiring his services for cheap.
AL-Only Pick
Ian Stewart, 3B, Los Angeles Angels
Ownership: ESPN: 0%, Yahoo!: 1%, CBS: 2%
Teammate, and fellow featured player in today's article, C.J. Cron, could have easily gotten the nod for the AL-only pick, but he didn't because I expect his ownership to rise quickly and he is more likely to be mixed league relevant than Stewart. The once highly regarded prospect has contact troubles, but Stewart's power has never come into question. A broken middle finger has forced David Freese to the 15-day disabled list, and that opens the door to continued playing time for Stewart.
Stewart has struck out in a staggering 43.1 percent of his 58 plate appearances this year, but he's also smacked two homers and added a pair of doubles and a pair of triples. The 29-year old has always struck out a lot, but his 27.8 percent strikeout rate in his career suggests he can throttle down his present rate a wee bit. If he's able to cut his strikeout rate down closer to his career mark, Stewart should be capable of hitting in the .220-.230 range, and with above average home run power, that's enough to make him AL-only relevant.
NL-Only Pick
Mark Ellis, 2B, St. Louis Cardinals
Ownership: ESPN: 0.0%, Yahoo!: 1%, CBS: 2%
The starting job at second base belonged to Kolten Wong when the Cardinals broke camp, but he struggled, and Ellis' activation from the disabled list awarded the club the opportunity to send Wong down to Triple-A to straighten himself out. Wong is hitting .310/.355/.345 in 29 at-bats for Triple-A Memphis, so his stay in the minors might not last long, but in his absence Ellis makes for a usable NL-only option at the keystone position.
The 36-year old second baseman hit .270 in 480 plate appearances for the Dodgers, and he's a .265 hitter in his career, so expecting him to hit somewhere in that range is reasonable. He has hit between five and seven homers a year over the last four years, which isn't much, but it's better than a bagel. Ellis rounds out his statistical contributions with modest speed, having stolen nine bases in 10 chances the last two years combined, but he did swipe 14 back in 2011 so there might be a tiny bit more upside there, but I wouldn't hold my breath since the Cardinals ranked 29th in stolen bases last year and only attempted to steal 67 times. Ellis isn't a player to get excited about, but his playing time puts him in position to be a fringe option in NL-only leagues at second base and a starter at middle infield.