Fantasy baseball players will have to wade through the dealings of a fantastically busy MLB offseason as they prepare for their 2015 drafts. Here, I'll run down the impact and outlook for 30ish of the top players who changed teams over the winter.
Get your CTRL+Fs ready!
The Crown Jewels
Max Scherzer | Washington Nationals | SP
Scherzer has every reason to smile. Not only did he snag a seven-year, $210 million contract in his first try at free agency, he gets to move from a waning Detroit Tigers squad in an uber-competitive AL Central to a loaded Washington Nationals team poised to stroll through the weak National League East division. The Mets are improving, but remain an offensive mess, the Braves are bottoming out, and the Phillies just lost to the University of Tampa. Things couldn't have worked out much better for 'ole Max.
Scherzer is still very much in his prime. He finished fourth in baseball with a 27.9% strikeout rate last season. He ranks among the top 20 starters in whiffs per swing for both his fastball and slider, and that's not including the near-30% whiff rate he gets on his excellent changeup. Oh, and he's adding a cutter.
After Clayton Kershaw, there's no pitcher I'd rather have.
After Coors Field, there's no place better for power hitters than Toronto's Rogers Centre, where Josh Donaldson will henceforth play his home games, immediately following Jose Bautista and Edwin Encarnacion in the batting order. Donaldson has yet to reach the power heights of his new teammates, but there's no doubt he belongs beside them. Last season, his average fly ball distance of better than 290 feet outpaced both of Toronto's sluggers.
The power will be there, his batting average ought to perk up a bit after a rough BABIP year in 2014, and his RBI total should surpass the century mark with Encarnacion and Bautista getting on in front of him. Donaldson will be the best fantasy commodity at third base since Miguel Cabrera moved across the diamond full-time. That's incredibly significant in a season where third base is a middle-heavy position. Donaldson and Anthony Rendon (who's also eligible at second base) are really the only super-premium options available at the hot corner. Given the gap between him and his contemporaries, there's no reason that Donaldson should make it out of the second round.
The Studs
After enduring a season as one of the few bright lights left on a sinking ship in Boston, Lester moves to what he can only hope won't turn out to be a similar situation in Chicago. Neither the pressure cooker that comes with being the savior for a tortured franchise, nor the media scrutiny of major market figures to set him off course. That's fantastic news for his prospective fantasy owners; Lester found a pretty excellent pattern last season.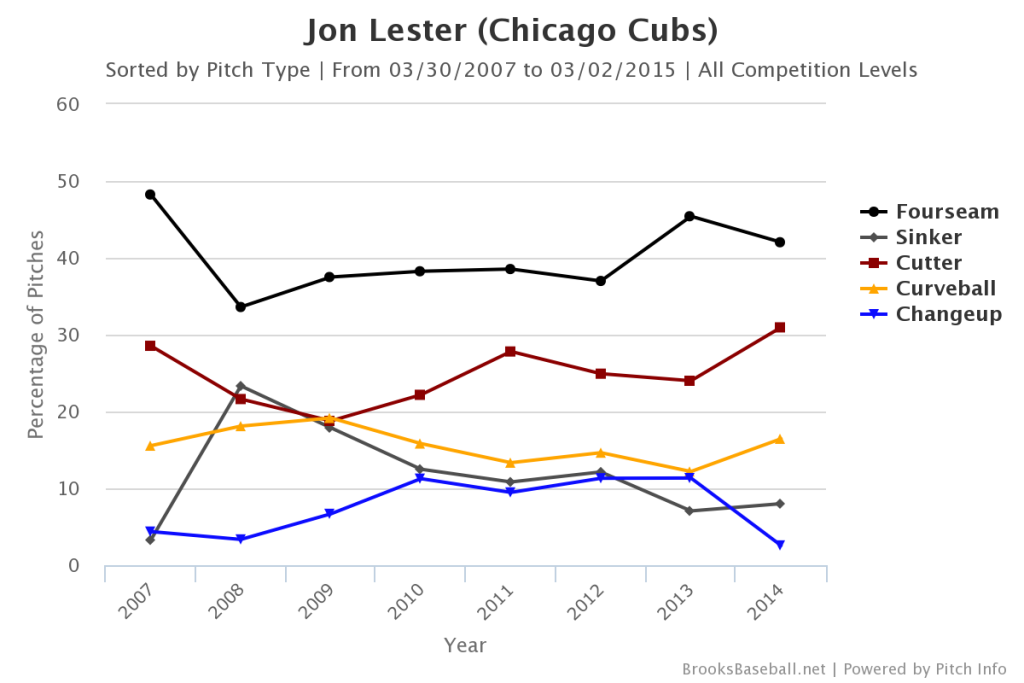 His strikeout rate rebounded to 24.9% last season, his best mark since 2010. He did it by continuing to increase the use of his cutter, scrapping the sinker, and trading changeups for curveballs. The curve, in particular, was devastating last season. Among lefty starters, only Cole Hamels and James Paxton posted better whiff rates on Uncle Charlie.
Everything about Ramirez' move to Boston will revolve around the Green Monster. He'll have to adjust to playing defense in its shadow, but he seems athletically equipped to excel in that role. He'll have to get used to hitting off and over it, but I don't expect that to be all that much of a challenge either, given his recent power distribution.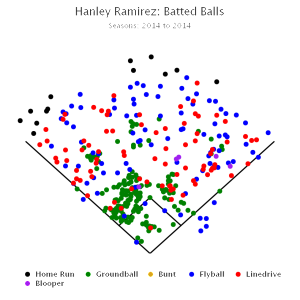 He'll almost certainly outperform last year's disappointing home run total; he only popped 13 dingers in his last season as a Dodger, but his 35 doubles were his most since 2009. At least a few of the deep fly balls that couldn't escape Chavez Ravine last season will find the parking lot in Boston.
Let me preface this by writing that I mean it as a tremendous compliment, but it's really hard for me to write an interesting paragraph about James Shields. Sure, I could spend days digging through Brooks and maybe find some earth-shattering nugget, but in an overview format like this, there's just not much to say. The same could be said for a pitcher moving to San Diego. In short: it's good. So let's keep the rest of this blurb brief.
Shields is a horse. He will pitch 200 innings, rack up 150-plus strikeouts, double digit wins, and ratios that'll do a whole lot more good than harm. End transmission.
The Young'uns
Grandal's park factor situation improves only marginally with a move to Los Angeles, but being surrounded by real live big league hitters can only help his offensive development. The biggest question with him will be playing time. Grandal isn't a hotshot prospect anymore, but I'd guess that the Dodgers will want to give the centerpiece of the Matt Kemp trade a real shot to win the everyday catcher's job. No question, A.J. Ellis is a superior receiver, but with the brutal season he had at the plate last year, he doesn't have a strong case for consistent playing time. Maybe Ellis slides into a smaller role as Kershaw's personal catcher; LA won't need much offense when he's on the mound anyway.
Grandal and Eovaldi are similar cases for me. Both have flashed massive talent in spurts, but neither has an impressive career stat line. Eovaldi doesn't land in quite as favorable a situation, though his ability to limit fly balls throughout his career should lessen any negative impact of moving to Yankee Stadium. He does, however, get to work with a new set of pitching coaches. His fastball has been one of the heaviest and hardest in the majors over the past couple of seasons; somebody is eventually going to figure out how to help Eovaldi turn that asset into an above average strikeout rate. He's going to be a really nice value in AL-Only formats this season.
Dee Gordon | Miami Marlins | 2B
Gordon snuck over to Eovaldi's former stomping grounds amid a flurry of Dodgers activity. It's definitely a downgrade to his supporting cast, but aside from his run-scoring totals, I don't expect much to change from what his fantasy prospects would have been had he stayed in LA. Gordon can BABIP his way to a decent average in Miami and he's as good a bet as anybody to steal 50 bags, but I can't see a vintage Vince Coleman season coming unless Gordon learns how to take a walk. His 1.6% walk rate in the second half of 2014 tells me he's not exactly studying up on it.
Jason Heyward  | St. Louis Cardinals | OF
Maybe Heyward just missed his window. Maybe he'll never recover that little speck of fantasy greatness we got in 2012. Maybe, but that's not what I'm betting on. I'm betting on one of the best organizations in baseball getting the most it possibly can out of a 25-year old in a contract year.
Mike Petriello examined his power potential in depth and while it's becoming clearer and clearer that Heyward's 2012 season isn't walking through that door, 15-plus homers, 15-plus steals with solid run production and a positive batting average isn't anything to sneeze at. The last couple of seasons have contributed to some drafter fatigue around Heyward; there aren't many better values that can be had after the seventh or eighth round.
Wil Myers | San Diego Padres | OF
Myers hasn't hit for much power yet as a big leaguer. Going on that fact alone, his move to San Diego would seem a death sentence for his development. But let's not forget that Myers is still only a few months past his 24th birthday. And let's not forget that he posted ISOs of .388, .250, and .234 in his last three prolonged minor league stints. Finally, let's not forget that he was hampered in both of his first two tours of the big leagues. I'll admit that Petco Park will bite a couple of home runs off of what Myers' projection would have been in a vacuum, but are we sure that initial projection shouldn't be closer to 30 than 20? And does his move to the weaker National League take back a couple of the home runs stolen by his move to a tougher ball park?
With Upton and Kemp flanking him in the Padres outfield, Myers has flown a little bit under the radar; he's going 51st among outfielders and 190th overall. At that point in the draft, there aren't many players left with as much upside as he offers.
Miller was awful for much of last season. A lucky BABIP bandaged his fantasy numbers, but a trend toward more hard contact coupled with a rapidly sinking strikeout rate and just as rapidly rising walk rate is really scary for a pitcher who still isn't old enough to legally rent a car. The scariest part is the flawed decision-making behind it. As last season wound down, Miller stopped relying as much on his excellent fastball, trading heaters for more curveballs.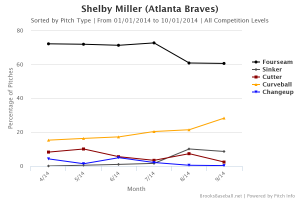 His curve has long-term potential, but it was two standard deviations below average last season in terms of generating whiffs and grounders. His fastball wasn't great either, but it was at least slightly above average.
I can't say whether the way to fix Miller's issues is more fastballs, better curveballs, or something else altogether, and I'm not wild about his value this season, but I do know that a move to a new pitching coach probably can't make things worse. Right?
"Red Sox ace, Rick Porcello" is a very confusing sentence that I imagine many Boston-area beat writers will find themselves typing and quickly deleting this spring. Porcello is the nominal number one in Beantown, but hasn't really earned that designation. I'm extremely intrigued to see how he handles that pressure-packed label after spending the first six years of his career as the weakest link in one of the strongest rotations in baseball.
His ability to induce grounders will prove handy in Fenway, but it'll be his strikeout skills that'll ultimately determine his fantasy value. Porcello has whiff-worthy stuff, he just can't seem to consistently get a feel for his breaker and changeup. When those are on, he's great, but even in his career-best 2014 season, he wasn't able to maintain the effectiveness of all of his offspeed offerings from start-to-start.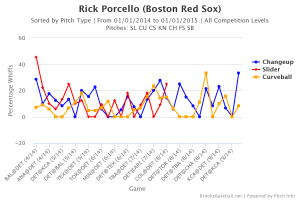 Porcello and Lawrie belong in this category based on their ages, but both seem like they've been stuck in a rut in recent years. Much like Porcello has flashed the occasional strikeout rate improvement, but never fully realized his potential in Detroit, Lawrie dazzled us with a spectacular short season debut, but hasn't reached anything close to that level since. It seems odd to say this about pair of players who've just recently reached their mid-twenties, but I think a change of scenery might be just what both of them need.
The Dependables
There's been plenty of fanfare around the Panda's cross-coast move to Boston and the accompanying contract, especially in comparison to what the Red Sox' chief rival are paying their newly acquired third baseman. In actual baseball terms, there's certainly an argument to be made that Chase Headley provides more long term value than Sandoval, but in fantasy terms, Steamer can quickly lay that debate to rest.

Sandoval has delivered remarkably consistent value as a San Francisco Giant, despite a limited offense and a limiting home ballpark. He hasn't ever flashed much more than average power from the left side, but has managed solid power numbers as a right-handed hitter, despite playing in the second-worst home run ball park for righties. It seems odd to position a park shadowed by ancient, looming tin bulkhead as a friendlier environment than bleachers featuring an oversized cartoon mitt and a legion of fans sporting cuddly panda beanies, but Fenway will undoubtedly prove to be a much cozier home environment for Sandoval. Boston's home park has only been slightly kinder than average to right-handed power, but even that is a significant upgrade.
Justin Upton can't claim that kind of positive park factor shift, but he's not the type to be constrained by any ball park anyway, no matter how unfavorable the dimensions may be. Upton has finished among the top 15 in batted ball distance in two of the last four seasons, per Baseball Heat Maps data. I don't think he'll ever quite reach the potential he flashed as a Diamondback, but he'll be a solid power producer just the same. This diagram doesn't take factor in the extra drag created by the heavy seaside air in Petco Park, but prospective Upton owners can take heart in the fact that not one of his 2014 homers would have failed to clear the confines of his new home.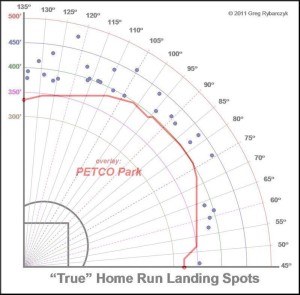 Comerica Park ought to be a slight upgrade for Cespedes, but I expect it'll only even things out in terms of his production. While he burst onto the national scene with one of the most epic power displays of all time back in 2013…
He did get a bit lucky last season. Cespedes was among the best in baseball last season at muscling hits just over the wall; only Jose Abreu hit more homers that qualified as "Just Enoughs" in 2014, according to ESPN's Home Run Tracker. But Cespedes will be fine this season; any distance-related regression should be mitigated by his cozier new digs.
Samardzija may also have reason to fear the wrath of his new home, though he's only moved across town. U.S. Cellular Field is an unkind place for pitchers, but Samardzija's been unknowingly preparing himself for this move since 2010; his groundball rate has been on the rise in every season since then, peaking at 50.2% last year. He'll experience a slight spike in ERA as a result of spending a full season facing lineups with nine professional hitters, but I really do believe that he turned a corner last season. I can think of only one reason for concern around the Pale Hose rotation: whether The Shark will steal Cy Young votes from his chronically underappreciated co-ace, Chris Sale.
The story is much the same for Samardzija's new teammate. Robertson was consistently excellent as the Yankees' closer and should continue to be just that as a member of the White Sox. Robertson has solid groundball rates for a hard-throwing reliever; those will serve him well in a ball park that's almost as homer-friendly as Yankee Stadium.
Mat Latos | Miami Marlins | SP
Latos struggled coming off of knee surgery last season, but I think a fresh start in Miami is just what he needs. His swinging strike rate dropped below 10% for the first time in his career last season, likely due to a consistent decline in vertical break on his slider, which has historically been his best bat-misser.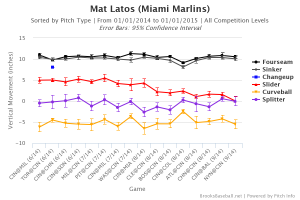 I'm going to chalk that up to fatigue from an injury that didn't allow him to properly prepare his body for the grind of a long season and say that he'll bounce back this year.
Ben Zobrist | Oakland A's | 2B/SS/OF
Ben Zobrist has made as much of a geographic move as anybody, but he's just going to keep doing Ben Zobrist things wherever he is. Has there ever been a player who makes as much sense on his new team as Zobrist on the A's?
The Sneaky Values
Among heavy sinker-ballers, only Justin Masterson and David Price missed more bats with their primary pitch than McCarthy. Of course, any comparisons diverge greatly from here. Price complements his sinker with a complete arsenal that can rival anybody not named Kershaw. Masterson complements his with a devastating slider and a paralyzing (and completely justified) fear of anything left-handed.
It's too optimistic to really compare McCarthy to Price, but last season's performance proved any Masterson comps to be misguided. McCarthy actually struck out lefties more often than righties, using a combination of breaking balls and a surprisingly effective four-seamer to keep opposite-handed hitters off balance. He hasn't found a feel for the changeup that many righties use to defeat opposing lefty batters, but he was so consistently good against them last season, I'm not sure he needs it. Add that to the fact that post-renaissance McCarthy will finally get to pitch in a favorable park after having to sweat out the last two seasons in Arizona and New York, and I'm totally buying Steamer's breakout prediction.
Donaldson is by far the most heralded addition to the Blue Jays, but the move to Toronto might benefit Martin as much as anyone. Mike Podhorzer pointed out his park-related underperformance back in January, it's not really much more complicated than that. Rogers Centre is going to be very kind to Martin, though Steamer doesn't seem to agree, projecting only 16 homers for his debut season in Toronto. That's a bit pessimistic for me; I wouldn't be surprised at all to see him crack 20 bombs this season.
Adam LaRoche | Chicago White Sox | 1B
LaRoche is in a similar situation as a lower-level addition to a White Sox squad that's undergone quite a facelift this offseason. He'll also benefit from a positive park factor shift, which should help in offsetting any regression from a lucky 2014 in which he popped 13 "Just Enough" home runs. As always, he won't contribute more than cheap power, but he remains a solid source for that.
Evan Gattis | Houston Astros | C/OF
It apparently only took one phone call from the Houston front office to turn Oso Blanco from a lovable (but limited) fan favorite in Atlanta to a critical franchise cornerstone for the 'Stros. Of all of the major players that changed teams this offseason, none is more confounding for fantasy owners than Evan Gattis.
The argument around Gattis really comes down to how good you think his aim is. If he can continue to hammer the ball to the pull field, he'll have Crawford Box season ticket holders stuffing their mantles with enough souvenirs to reach Steamer's lofty projection of 29 home runs. Checking out his spray chart since the start of 2013, I'd say things look promising.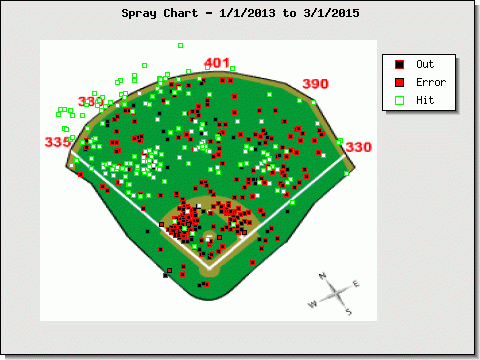 Sporting a 42.6% strikeout rate and 0.80 WHIP, Miller was unquestionably one of the best relievers in baseball last season. I think he can expect something close to that level of production again this year, but how much you should pay for him on draft day will largely depend on his ability to wrestle something close to a full-time closer role away from his equally overwhelming teammate, Dellin Betances. The two enter the spring in open competition.
Both pitchers dominate hitters from both sides of the plate. Neither has much closing experience, but both are unflappable in high leverage situations. On skill alone, there's no clear favorite, but I'm leaning toward Miller because of financial considerations. The Yanks have already handed him a massive contract, while Betances is still subject to the arbitration process, a process that tends to depend heavily on antiquated stats like saves. Joe Girardi seems a bit too old school not to name a full-time closer; I expect that financial advantage to tilt the scales ever so slightly in favor of Miller. When that decision is made official, it'll make Miller a top ten fantasy reliever.
Hahn was terrific in 12 starts in San Diego last season, riding a consistent sinker and an outstanding curveball to a 3.07 ERA and a 22.9% strikeout rate. Steamer isn't so optimistic about Hahn this season, but I can't quite figure out why. He'll remain in a pitchers park in Oakland and will be flanked by a cadre of excellent defenders. The strikeout rate might dip a bit, but he'll still post a sub-4.00 ERA and rack up double-digit wins.
I can see a similar path for Santana, who returns to the AL Central after thoroughly enjoying his first trip through the National League. Changing leagues will dock his numbers a bit, but Target Field should help to assuage his homer issues and keep his ERA down. The strikeouts might dip slightly, but the adjustments he's made to his pitch mix over the last couple of seasons (more sinkers and changeups, fewer four-seamers) support an increasing swinging strike rate that peaked at 11.7% last season and will likely remain in double-digits in 2015.
The Underwhelmers
Kendrick is a solid real-life player, but I'm not really sure what the industry sees in him as a fantasy commodity. I can confidently say that he'll hit better than .280, but what else is there to be excited about? He won't have a ton of opportunities to create runs hitting in the bottom half of the Dodgers' kiddie pool-deep lineup and he hasn't produced double-digit homers and steals in the same season since 2011.
He's fine if you need a reliable player to eat up some plate appearances in NL-Only formats, but in shallower mixed leagues, I'd much rather take a flyer on a higher upside asset later on in the draft. Setting team construction aside, I'd much rather take a shot with Lawrie, Javier Baez, or Jedd Gyorko than spend a higher pick for Kendrick's golden mediocrity.
Matt Kemp | San Diego Padres | OF
I'm approaching Kemp, Kendrick's almost-teammate, with similar logic this season. I don't think he's going to had a bad year, necessarily, but I'm not sure that we've all collectively reset his ceiling low enough. His 2011 season was historic, but we've now seen three full seasons since in which Kemp has failed to even approach any of the sky high benchmarks he set that year. It's nice to read things like this about the possibility of his power finally returning after the rash of injuries, but aside from that power, what's he going to contribute? He doesn't run anymore, his run production likely won't get much better, and don't count on him hitting .280 again.
Since Petco Park opened in 2004, there have been exactly 317 player seasons in which a National League hitter qualified for the batting title and logged a batting average of .285 or better. Only nine of those seasons belong to the Padres. Adrian Gonzalez and Brian Giles are the only Padres to hit .300 since the team moved to its current home. We're certainly all aware of the impact that Petco has on power, but let's not ignore the fact that it crushes batting average just as effectively.
Kemp is currently ranked as a the 20th best outfielder in the FantasyPros ECR rankings; I'd much rather have the players ranked 23rd (Heyward) and 24th (Christian Yelich). I just can't justify taking a guy who doesn't have an elite skill and really doesn't have much upside to outperform what we've seen in the recent past, especially when that player is moving to the worst hitter's park in the game.
Nelson Cruz | Seattle Mariners | OF
Cruz finished third in baseball in "No Doubt" home runs last season, tied with Bautista and Giancarlo Stanton. The power he displayed last season is unquestionable, but will it be the same after his cross country trip to Seattle?
Cruz has always been a significantly better hitter at home than on the road (.380 career home wOBA vs. .332 career away wOBA), likely due to the fact that he's spent his entire career playing his home games in either Texas or Baltimore, two of the most favorable hitter's parks in the league.
There's no way that he's hitting 40 home runs again this season. Not even because he's not a great power hitter, but because that sort of thing just doesn't happen at Safeco Field. It's been more than five years since any Mariner has managed even 30 home runs in a season; Russell Branyan was the last to do it when he cranked 31 back in 2009. Over the same time span, Cruz' former club, the Baltimore Orioles, hosted seven individual seasons of 30 homers or more.
Without the limitless power ceiling he displayed last season, I'm not too interested. Neither Steamer nor ZiPS is particularly rosy on him, and I'm inclined to agree.
Alex Rios | Kansas City Royals | OF
Jeff Francoeur, part deux? Rios was once a valued commodity both in real and fantasy terms, but he's never developed the necessary discipline to succeed into the twilight of his career; his fantasy value is disintegrating as his natural tools begin to fade. I realize that he's not too far removed from a 40-steal season, but that effort marked only the third time in his eleven-year career that he'd surpassed even 25 swipes. I don't see that kind of basepath aggression coming back in his age-34 season. In the last decade, only four players have posted a 30-plus steal season after turning 34. Aside from the speed, there's really not anything left to like.
Rios, like Cruz, has never spent extended time outside of a favorable hitting environment and has exaggerated home/road splits. Last season, Rios slashed .279/.304/.403 in 67 games on the road.
Norris is a nice player who had a great year in Oakland, but there was already some regression coming and his move to San Diego will only exacerbate the impact. It's hard to maintain anything close to double-digit home run production for a player whose average batted ball distance ranked behind punchless middle infielders like Darwin Barney, Tommy La Stella, and Joe Panik last season.
Normally, I'd write something positive about the power potential of a player who's moving to the White Sox, but Cabrera is coming off a run of hitting only 19 home runs in a season and a half of time in Rogers Centre, one of the few parks that actually benefits hitters more than U.S. Cellular Field. He stopped running completely as a Blue Jay and still hasn't learned to take a walk.
The White Sox will take a huge leap forward as a team this season, but fantasy owners can expect more of the same from the Melk Man.