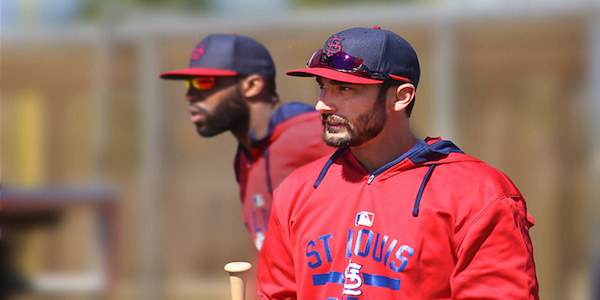 Offseason Overview
The St. Louis Cardinals made the NLCS for the fourth straight season in 2014, but for the third year in a row the Cards ended their season by losing three consecutive playoff games. If failing to reach the World Series wasn't heartbreaking enough for the team, just over a week after losing to the San Francisco Giants, Oscar Taveras died in a drunk driving accident in the Dominican Republic. Undeniably their top prospect, his loss will be felt both as a player and a person as the organization emotionally copes with his untimely death moving forward. Right field was a position of weakness last year for the Redbirds even with Taveras and general manager John Mozeliak addressed the need by trading Shelby Miller and Tyrell Jenkins to the Atlanta Braves for Jason Heyward and Jordan Walden in a blockbuster of a deal.
While the team lost fan favorite Jason Motte and All-Star Pat Neshek, they added Matt Belisle for the bullpen and Mark Reynolds as a power bat off the bench. With much of their core intact from a season ago and a few key additions to help bolster the lineup and bullpen, the Cardinals will look to return to the postseason for the fifth year in a row.
Top Draft Picks (Studs)
When healthy, Adam Wainwright is a bonafide ace in both reality and fantasy. In his ninth MLB season last year, Waino finished third in NL Cy Young voting as he posted a career-best 2.38 ERA and 1.03 WHIP. The concern with drafting him now is he's coming off offseason elbow surgery and is also dealing with a an abdominal strain that will sideline him a few days. Opening Day is still in play if he has no setbacks, but drafting him this year is more risky than usual due to the aforementioned issues. With that being said, Wainwright is a top-10 starter if he proves to be healthy. Drafting him means paying a steep price though based on his 40.8 ADP while other pitchers who possess his upside are going later.
Considered to be the best defensive right fielder in all of baseball, Heyward is also being counted on to provide a much needed infusion of power and speed to the Cardinals lineup. Although he hit a career-low 11 homers last year for the Braves, he did manage to swipe 20 bases and score 74 runs over 149 games. Let's not forget, Heyward is only two seasons removed from hitting 27 homers and he possesses 20-20 potential. J-Hey described how he felt like he had to alter his approach and thus limited his power potential to bat leadoff for the Braves, but Cardinals manager Mike Matheny is planning to bat him second or third. He'll be in a much better lineup compared to last year so barring injury he'll likely see an uptick in runs and RBI chances. The Birds on the Bat typically get the most out of their players and seeing that he's only 25 and has room to improve, his reasonable 81.2 ADP makes him a fine OF2 target.
Matt Holliday may not be a sexy pick at this stage of his career, but if you want an extremely high-floor outfielder who doesn't have an outrageous ADP (82.7), he may be your man. Holliday is a beacon of consistency as he has five straight years of 20+ homers, nine straight years of 83+ runs, and has at least 88 RBI in eight of his last nine seasons. Yeah, he hit a career-low .272 last year, but considering he's a career .308 hitter and had hit between .286-.353 over his last 10 seasons, I'm willing to bet on a healthy rebound in that category. If your OF1 pick was on the risky side, Holliday is a solid target as a safe OF2.
High Upside (Sleepers)
Don't let his stature fool you because Kolten Wong possesses a lot of pop in his bat. In only 113 regular season games in 2014, the rookie second baseman impressed as he hit 12 homers and stole 20 bases over 402 at-bats. Including the postseason, Wong hit 15 homers while going 21-for-25 on stolen base chances. Slated for an everyday role at the keystone in 2015, the 24-year-old is poised to take another step forward. Although he hit only .249 last year, Wong had never hit below .287 in the minors so we can likely pencil him in for an improvement in that area. While he may not possess 20-20 upside, 15-25 is achievable if he manages to avoid any trips to the disabled list. As of now it looks like Wong will be hitting seventh which will lower his run total, but there is always a chance he could be moved atop the Cardinals lineup due to injuries or ineffectiveness which would be a boon to his fantasy value. His 125.8 ADP puts him as an 11th-round pick in standard 12-team formats, and his upside makes him especially attractive at this price considering he should be a top-10 option at second.
Matt Carpenter is now only eligible at third base, which dampers his fantasy outlook a bit, but he can still be valuable for owners who draft him and use his strengths to their advantage. He has scored 126 and 99 runs the last two years and his 225 runs led MLB during that span. Projected to hit leadoff once again for the Cardinals this year, another season of 100+ runs is well within reach. Additionally, Carpenter is a career .293 hitter and although he hit a career-low .272 last season, I feel comfortable projecting him to hit somewhere between .280-.300. If you happen to play in OBP leagues, Carpenter gains a lot of value as he owns a healthy .379 OBP in his career. His lack of home runs and RBI will be hard to stomach from a power-needy position in third base, but he only costs a 10th-round pick based on his 113.3 ADP so there is room for profit.
Michael Wacha is the definition of a risk-or-reward pick this year as he works his way back to full strength after a stress reaction in his right shoulder limited him to 19 starts a season ago. There is no denying the 23-year-old is extremely talented and has the potential to be even better as evidenced by his 3.04 ERA, 1.16 WHIP, and 159/52 K/BB ratio through his first 171 2/3 innings in his MLB career. Considering his pedigree, I'm willing to take a chance on the uber-talented Texas A&M product as his 144.7 ADP makes him a 13th-round pick in a standard 12-teamer. Target Wacha as a SP3 with SP2 upside, but if you can get him as your SP4 you should be doing cartwheels.
High Downside (Busts)
While Matt Adams had a decent year at the dish in 2014, his best attribute is his power and he underwhelmed in that area as he hit only 15 homers over 527 at-bats after homering 17 times in 296 at-bats in 2013. While his .288 average was an unexpected bonus for owners of the big fella, owners likely would have sacrificed some points in average for more bombs. Even though he has a 151.5 ADP, you likely won't be finding him on any of my fantasy squads to his glaring deficiencies. The 26-year-old is a career .197 hitter against southpaws and is seemingly allergic to drawing walks as he only has 54 of them in 973 plate appearances. Furthermore, the Cardinals signed Mark Reynolds as an option to spell Adams against tough lefties and the idea of a platoon is somewhat nauseating in regards to his fantasy prospects. He makes for a better option as a corner infielder than your primary first baseman.
While Lance Lynn deserves all the credit in the world for his career-best season in 2014 where he posted career-lows in ERA (2.74) and WHIP (1.26), one can't help but be skeptical considering his pedigree and advanced stats. His 3.35 FIP indicates his ERA was rather lucky. Prior to 2014, his previous career-lows for those statistics were a 3.78 ERA and 1.31 WHIP. While wins are unpredictable, Lynn has 15+ wins the last three seasons even though his numbers over the first two seasons weren't especially impressive. The right-hander has derived a lot of his fantasy value from the wins though he's been consistent in that area so far, you can't just bank on 15+ wins from him. His 78.1% LOB rate was the 15th-best mark in MLB while his .290 BABIP was rather low for him. In other words, he's unlikely to sustain those rates and his ERA and WHIP will likely suffer as a result. Lynn is a SP3 target but I'd be more comfortable with him as a SP4 on my squad. Lynn has a 123.8 ADP and some pitchers that I'd rather take after that are Hyun-Jin Ryu, Garrett Richards, Anibal Sanchez, and Marcus Stroman to name a few.
Closer Situation
Trevor Rosenthal entered 2014 with a career 2.70 ERA and 1.01 WHIP so it was quite perplexing to see him struggle so mightily with his command last year as his career-worst marks of a 3.20 ERA and 1.41 WHIP took a toll on his fantasy value. Considering his command had never been an issue before last year, he'll likely drastically improve upon his mark from last year. Besides, Rosenthal still managed to convert 45 saves, trailing only Craig Kimbrel in all of MLB, so he was still plenty valuable. Not to mention he struck out 87 batters over his 70.1 innings pitched. He sports a 96.8 ADP and the only closers I'd rank over him are Kimbrel, Aroldis Chapman, Greg Holland, and Dellin Betances.
Impact Minor Leaguers
Marco Gonzales will be battling Carlos Martinez for the fifth rotation spot, and even if he fails to make the rotation outright out of camp, he'll likely start the year in the bullpen with the chance to become a starter if injury of effectiveness comes into play. While Gonzales will likely be a key cog in whatever role the Cardinals decide to place him in, he likely won't be a great option in fantasy this year.
Stephen Piscotty continued his ascendence through the Cardinals minor league system as he slashed .288/.355/.406 slash line with Triple-A Memphis last season. He uses all parts of the field in his approach at the plate and has some gap-to-gap power as evidenced by him churning out 40+ extra base hits the last two years. While he likely will be called up at some point in 2015 towards the latter stages of the season, he likely won't find much playing time available with Holliday, Heyward, and Jon Jay patrolling the outfield.
Surprising Stat
Jhonny Peralta hit 21 homers and 75 RBI as the Cardinals starting shortstop last year and both marks were good enough to place as second-best in MLB at his position. Even so, fantasy owners don't seem to be giving Peralta a whole lot of respect this year based on his 202.7 ADP. He would be quite the value as a 17th-round pick.
Thanks to FanGraphs, FantasyPros, Yahoo, and ESPN for providing the statistical information. Be sure to comment below with any questions or comments concerning the article. You can follow me on Twitter @MattMoczy and I'm more than willing to answer any questions.