In the Week 13 edition of fantasy baseball 3×3, we're giving Jon Singleton a second chance, staying the course with Eduardo Rodriguez, and waving goodbye to last week's version of Marco Estrada.
There are plenty of waiver wire columns out there that provide an exhaustive list of the most added players in fantasy leagues. This isn't one of them. Here, we'll run down a few of the most interesting players for fantasy owners, with perspective on who deserves your attention, who deserves your patience, and who deserves to go straight to bed without dessert.
Any questions, thoughts? Hit me in the comments or on Twitter.
3 TO CATCH
Players to be picked up; available in most standard leagues
Jon Singleton | Houston Astros | 1B
Once again, Jon Singleton has earned a call up by obliterating Triple-A pitching, this time feasting to the tune of a .280/.387/.553 slash line in 313 plate appearances. In an even more encouraging development, he was able to reign in his strikeouts, cutting his K-rate down to 20.1%. Singleton hadn't posted a strikeout rate better than that in a sample of at least 200 plate appearances since his first appearance in A-ball, back in 2009. All things are pointing toward a successful stint in the major leagues.
Accept that big 'ole elephant in the room. The one that's telling us he's seen this movie before. And he's right.
Just last season, Singleton rode an early .267/.397/.544 Triple-A slash line to a major league call up. And that moment was the highlight of his year. His .168/.285/.335 MLB slash line made him one of the worst players in the big leagues, but it was likely his 37.0% strikeout rate that got him sent him back to Fresno to open 2015.
So why am I buying now?
The circumstances surrounding his call-up make me feel like the Astros believe that Singleton has turned it around. They really don't need him right now; both Evan Gattis and Chris Carter have stabilized after rough starts, so there's really not a hole at either first base or DH, the only two positions that Singleton can credibly play. Unless Jeff Luhnow and A.J. Hinch didn't expect him to help the team right away, there's no reason to call him up. As they've shown with their aggressive call-ups of pitching prospects Vincent Velasquez and Lance McCullers after dominant runs in Double-A (and their insistence on keeping the inconsistent Mark Appel in the minors), the Astros are emptying every chamber in their Colt .45 in an effort to win now. First place teams don't call up projects, they call up reinforcements. Both Singleton and Luhnow are saying all the right things.
And Singleton's already proven to have fantasy-relevant skills that play at the MLB level. Though the strikeouts declawed his overall line last season, Singleton did prove that he can hit for power against the best pitching the world has to offer. He maintained an impressive 15.9% HR/FB rate along with an average fly ball distance that ranked 35th in baseball at just shy of 295 feet, per Baseball HeatMaps.
A whole bunch of fantasy owners have a bad taste in their mouths from Singleton's rookie season; use that to your advantage to get him on the cheap. He's a great target for power-hungry owners in deeper mixed formats and a spectacular trade target in AL-only leagues.
To pick him up, I'd drop: Wilin Rosario, Billy Butler, Ryan Howard
Roberto Osuna locked down his second save of the season on Sunday, and might have locked down the closer role in Toronto for the foreseeable future.
The 20-year old rookie has not only been dominant (13.4% swinging strike rate, 29.9% strikeout rate), he's been consistent. Osuna has taken the mound 33 times this season; he's posted a FIP higher than 4.00 in only six of those outings. He does it by relying on an electric, slippery fastball that can miss bats (or at least the sweet spots of bats) inside the strike zone, limiting opponents to a .177 batting average with very little power. That sets up two fantastic secondary pitches; both his slider and changeup have whiff/swing rates higher than 40%, per Brooks Baseball.
He flashed that full arsenal on Sunday, facing five batters in his four-out save, fanning two and stranding one. He entered the game after Steve Delabar, who was rumored to be next in line for saves for the Jays, surrendered a double to the fledgling Elvis Andrus and walked Robinson Chirinos, putting the tying runs on base. Osuna strolled in and casually doused the fire, whiffing formerly formidable Shin-Soo Choo on three pitches.
It's an uncommon way to get a save in today's game, but one that perfectly defines the role that Osuna will likely occupy for this team. He's not a traditional one-inning guy; Osuna will likely be converted to a starter sometime in the next couple of seasons. For now, that means he gives John Gibbons the flexibility to use him when he's needed most, rather than only when the save stat would dictate.
And that might get frustrating. He might pitch a couple of high-stress innings on a Friday and not be called upon in the ninth if the Jays have a three-run lead on Sunday. Don't freak out if that happens. Because you, John Gibbons, and anybody else with access to YouTube and Brooks Baseball know that Osuna is the best he's got in the bullpen.
To pick him up, I'd drop: John Axford, Jake McGee, Fernando Rodney
Michael Taylor has tantalized us before, rumbling through the minors last season on his way to… a grand total of 43 major league plate appearances. He was the breakout star of Washington's system, but didn't really get much of a chance to prove himself as a big leaguer. He's gotten that chance this season and actually been quite productive, though fantasy owners at large haven't seemed to notice. Now that he's got something close to a full-time job, it's time to put the spotlight on him. The only things standing in the way of Taylor's continued presence in the lineup are Jayson Werth's brittle bones and rickety joints. Werth's body has already betrayed him twice this season; it seems that side of the door has swung wide open for Taylor.
Even if/when Werth comes back, Taylor probably should be playing centerfield on an everyday basis; his defensive value has far outpaced what Span has accomplished this season.
In any case, he's at least earned semi-regular playing time. And with his skill set, Taylor really doesn't need much more than that to add value to a fantasy team.
Taylor struggles to make contact, but when he connects, he does damage. His 31.5% hard-hit rate would rank 25th among outfielders if he had enough plate appearances to qualify. He'd be tied with Mookie Betts and just a tick ahead of A.J. Pollock in those rankings, which brings up a couple of fitting comparisons when projecting out over the rest of the season, at least in the power/speed categories.

Of course, Pollock and Betts are both miles ahead of Taylor when it comes to batting average, and FanGraphs Depth Charts doesn't expect Taylor to keep up in terms of playing time, but if he's able to stay in the lineup for the rest of the season, Taylor will be every bit their equal when it comes to power and speed. The poor batting average hurts, but that kind of power/speed combo is still extremely valuable.
To pick him up, I'd drop: Anthony Gose, Rusney Castillo, Austin Jackson
3 TO CUT
Players to be traded or dropped, depending on the depth of your league
Marco Estrada | Toronto Blue Jays | SP
With apologies to Max Scherzer, no starting pitcher has been more impressive over the past couple of weeks than Marco Estrada. Over his last two starts, he's allowed just seven baserunners and one run, while striking out 16 in 15.2 innings. It's an incredible run, but not one that he'll be able to maintain much longer.
We've got a good deal of data on Estrada as a major league pitcher, and for fantasy purposes that data indicates that he'll get you some strikeouts, but won't help your ERA or WHIP much. Certainly, it's possible that he's changed his approach or learned a new technique as a part of his transition to a new organization, but there's not a ton of evidence of that in his stat line. His strikeout rate, walk rate, plate discipline numbers, and batted ball rates are all right in line with his career averages, with one notable exception: his HR/FB rate has dropped to a career low 8.5%. In fact, both his curveball and changeup have suddenly become bat-silencing dynamos.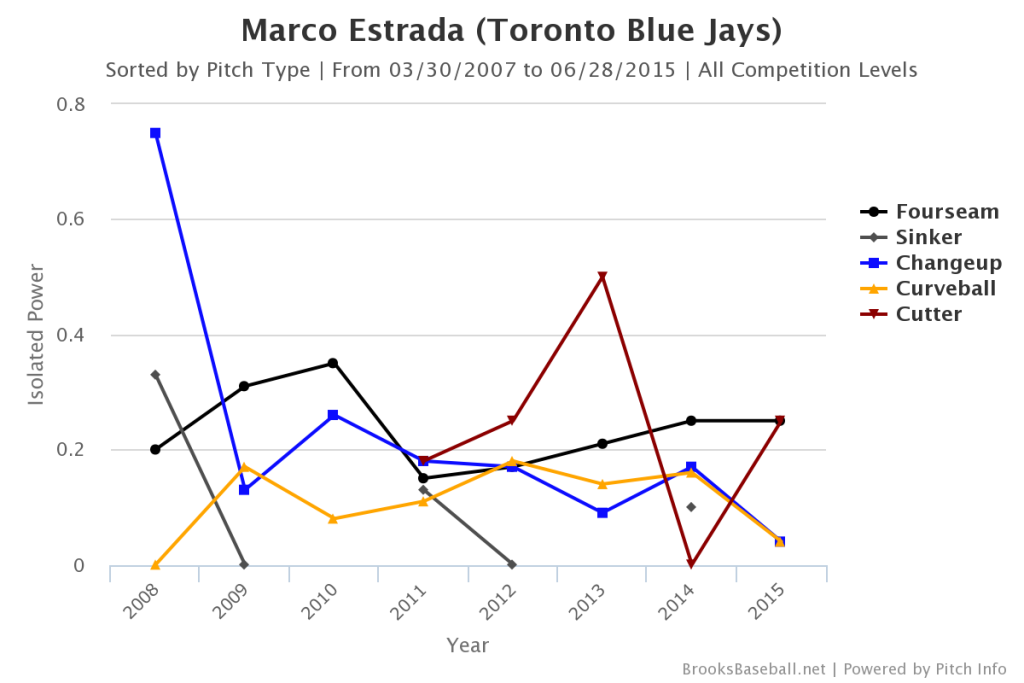 He is throwing his changeup more often, but neither the change nor the curve has shown a significant improvement in terms of movement. And historically, neither has been particularly effective at limiting power. The changeup, especially, has been a double-edged sword. It's been a very good pitch when it comes to generating whiffs, but almost as bad as his fastball when it comes to allowing power. More than likely, this dip in power is just an aberration.
Estrada deserves a ton of credit for putting up the numbers he has over his past couple of starts, but for somebody looking for a pitcher to help their team going forward, he's just not a great option. The minor changes he's made in approach just aren't enough to justify the huge gains in production over the last week. If you've got him now, enjoy the value he's provided and trade him as soon as possible. You may not be able to get a ton for him on his own, but he's a perfect player to throw in as a sweetener in a multi-player deal; a guy who makes your offering seem much more appealing, but is actually very easy to replace.
I'd trade/drop him for: Rubby de la Rosa, Ivan Nova, Vincent Velasquez
Alex Rios | Kansas City Royals | OF
Alex Rios isn't a tough hitter to figure out. Over the last few seasons, he's done almost all of his damage against pitches on the middle-inner area of the plate, mostly up in the strike zone.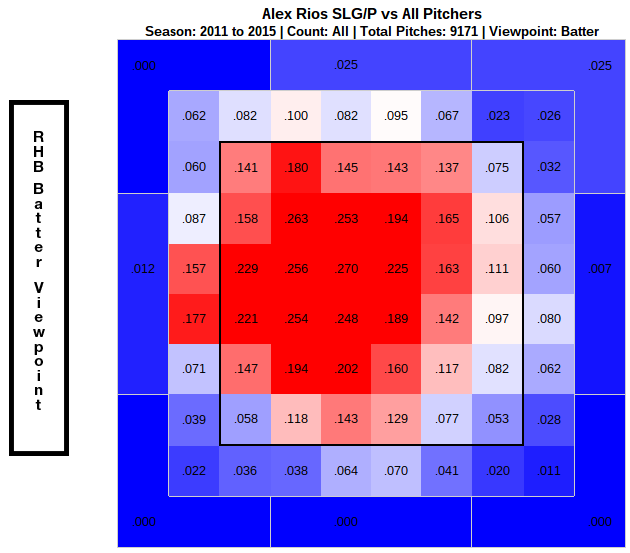 Maybe it's because that's all he's looking for, maybe it's because he doesn't have the strength to muscle outside pitches the other way. There's no clear trend in his batted ball data, but certainly, pitchers are aware of his hot zone. Last season, when he managed only four home runs, it was because he saw an exceptionally low number of pitches he could drive.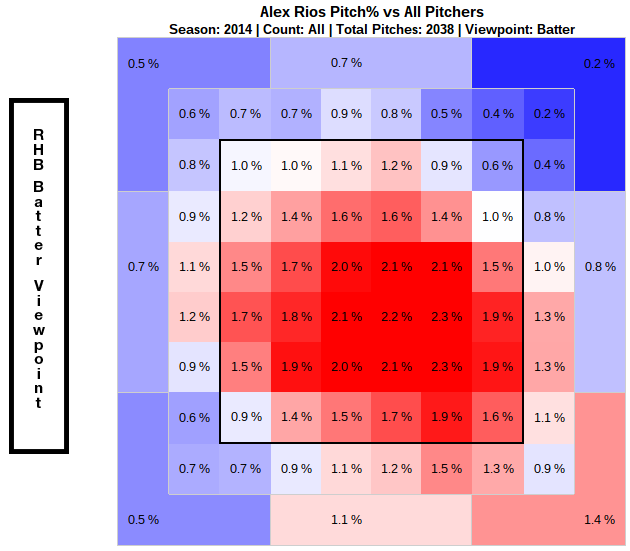 Compare that to back in 2012, when Rios popped 25 home runs with the White Sox.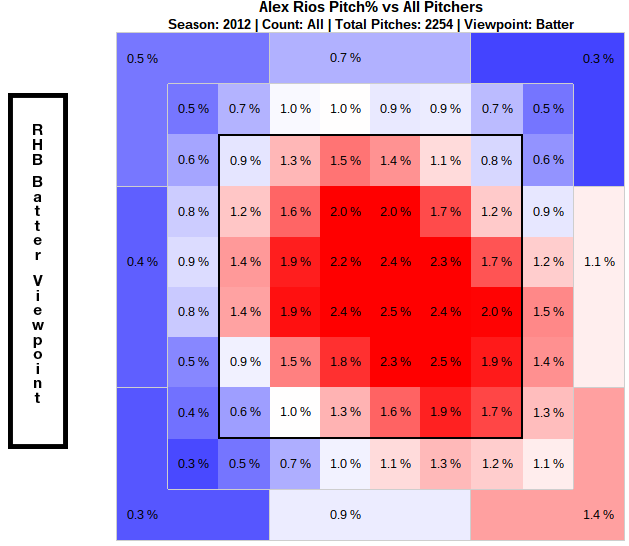 Certainly, park factors played a role in his power production, but he also saw a few more pitches in the middle of the zone, pitches he was capable to hitting with power. He's not only in a worse park for power production this season, but he's seeing an even more extreme distribution of pitches down and away.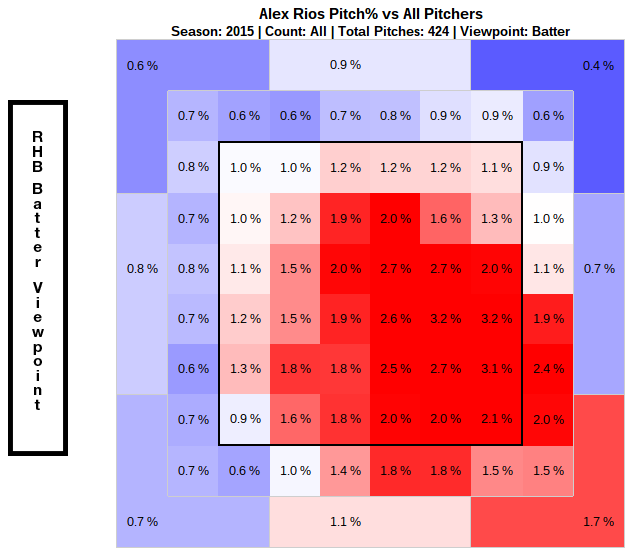 Until he proves that he can do something against those pitches, that's all he's going to see, and if Rios continues to struggle, the Royals have plenty of other options. Shifting Jarrod Dyson into center and sliding Lorenzo Cain into Rios' spot in right makes the already incredible Kansas City defense even better. Or if Ned Yost would prefer to have Dyson as a late-inning weapon off his bench, Paulo Orlando has already proven more than capable of credibly impersonating Rios' current production on offense, without the painful defensive side effects.
Rios is non-essential to the Royals and non-essential in just about any fantasy format.
I'd trade/drop him for: Randal Grichuk, Logan Morrison, Chris Young
Brett Cecil | Toronto Blue Jays | RP
I'm often the guy who hangs on to a displaced closer for a couple of extra weeks, knowing there's a good shot he'll regain the job after whoever takes over for him (a pitcher who wasn't determined to be good enough to close in the first place) blows up even worse than he did.
Fantasy owners, like real-life managers, are often a bit too reactionary when it comes to closer situations. A couple of blown saves in a short span of time doesn't override everything else we know about a pitcher's skill set; even being publicly removed from the ninth inning isn't a death knell for a reliever's fantasy value. Blue Jays manager John Gibbons hasn't completely dismissed the idea that Brett Cecil could regain the closer role in Toronto, but I'm pretty much ready to slam the door on that suggestion.
Cecil won the job on the back of a breakout 2014, but he hasn't maintained the huge gains he made in strikeout rate, swinging strike rate, or chase rate. His soaring HR/FB rate will come back to earth a bit, but even then, Cecil isn't a dominant pitcher, certainly not somebody who'll look more impressive than a pitcher like Roberto Osuna.
I'm fine with dropping Cecil just about everywhere.
I'd trade/drop him for: Kevin Siegrist, Tony Watson, Ken Giles
3 TO KEEP
Players to hold or trade for; owned in most standard leagues
Eduardo Rodriguez | Boston Red Sox | SP
We talked about Eduardo Rodriguez a couple of weeks ago, and since then, just about everything has gone wrong. He's given up at least six runs in two of his last three starts, failing to make it through the fifth inning in either outing. After keeping his ERA under 1.00 through his first three major league starts, it's ballooned to 4.33. All of a sudden, Rodriguez is looking like another flash in the pan.
This is what happens when you deal in small sample sizes. Don't let it throw you. All in all, he's only 35 innings into his big league career, he's striking out 22.1% of batters, walking just 7.6%, and maintaining a solid 3.50 FIP. His home run rate in manageable and his groundball rate is solid. And individually, all of his pitches grade out exceptionally well.
Nothing to be worried about.
I wouldn't trade/drop him for: Clay Buchholz, Chris Heston, Drew Hutchison
Justin Turner | Los Angeles Dodgers | IF
It's incredibly surprising to see somebody like Justin Turner starting at a premium position for the richest team in baseball, but here we are.
After a mostly unremarkable first 1200-ish plate appearances in the big leagues, Turner has suddenly turned into a monstrous power hitter. He's nearly doubled his career average ISO, peaking to a .264 clip this season that outpaces established hot corner sluggers like Josh Donaldson, Kris Bryant, and Manny Machado. And it doesn't seem unsustainable; Turner ranks tenth in baseball with an average fly ball distance of 310 feet, per Baseball HeatMaps. There's certainly reason to be skeptical of any 30-year old player unlocking a new outstanding skill, but in Turner's case, there just aren't many holes to poke. Per ESPN's Home Run Tracker, he's spraying the ball all over the bleachers and usually getting it a few rows deep; nine of his eleven homers have travelled at least 400 feet.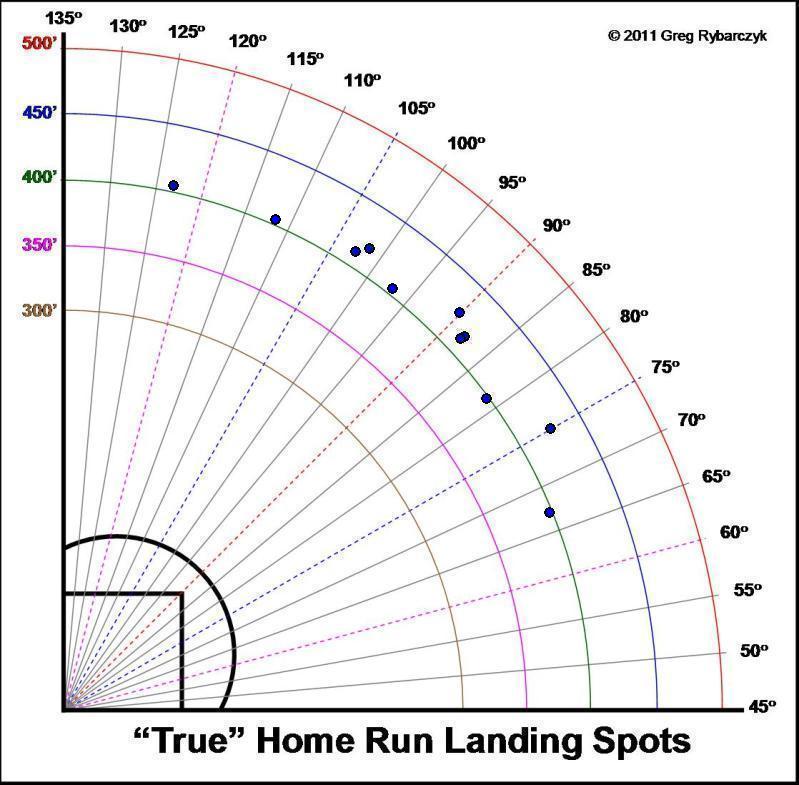 Corey Seager looms long term, but right now, he'd probably be a bigger upgrade over Jimmy Rollins and shortstop than he'd be over Turner at third. And with the way Turner's settled in as a productive middle-of-the-order bat, I expect he'll have to decline a bit (or be traded) before the Dodgers seriously consider giving their top prospect the call.
For now, Turner looks primed to remain in overdrive.
Nailed it.
I wouldn't trade/drop him for: Josh Harrison, Mike Moustakas, Yasmany Tomas
I certainly don't fancy myself a scout, but I was a little bit excited that I got the chance to see Mike Bolsinger in person last week. I hadn't quite been able to figure him out from stats and video alone; I wanted to draw my own conclusions on whether or not this out-of-nowhere pitcher was for real.
I came away very impressed. He wasn't exactly testing the limits of the radar gun, but his slider, curveball, and changeup consistently fooled the Cubs' better hitters. He carved up Anthony Rizzo a couple of times and Kris Bryant once; only Addison Russell really tagged him.
And upon further review, the data seems to back up the initial results of my eye test. His slider is a reliable whiff generator and his fastball actually grades out better than I expected. As for solving the mystery of how he does this without elite velocity, Eno Sarris solved that riddle over at FanGraphs a few days ago.
Bolsinger looks like the real deal. He's a solid starter and ownable in everything down to ten-team mixers.
I wouldn't trade/drop him for: Chris Young, Jaime Garcia, Matt Shoemaker