In the Week 21 edition of fantasy baseball 3×3, we're appreciating Carlos Rodon, understanding Starling Marte, and running away from Ubaldo Jimenez.
There are plenty of waiver wire columns out there that provide an exhaustive list of the most added players in fantasy leagues. This isn't one of them. Here, we'll run down a few of the most interesting players for fantasy owners, with perspective on who deserves your attention, who deserves your patience, and who deserves to go straight to bed without dessert.
Any questions, thoughts? Hit me in the comments or on Twitter.
3 TO CATCH
Players to be picked up; available in most standard leagues
Carlos Rodon | Chicago White Sox | SP
According to FanGraphs Depth Charts, Chris Sale, Clayton Kershaw, Danny Salazar, and Stephen Strasburg are the only starting pitchers projected to post a higher K/9 over the balance of the season than Carlos Rodon. Yet Rodon is available in about two-thirds of Yahoo! leagues.
I get it, he's been erratic and he struggles with command, but Rodon's stuff is consistently overwhelming; he's posted a double-digit swinging strike rate in 12 of his 18 starts this season and the whiff/swing rate on his slider has never dipped below 20% in a single start.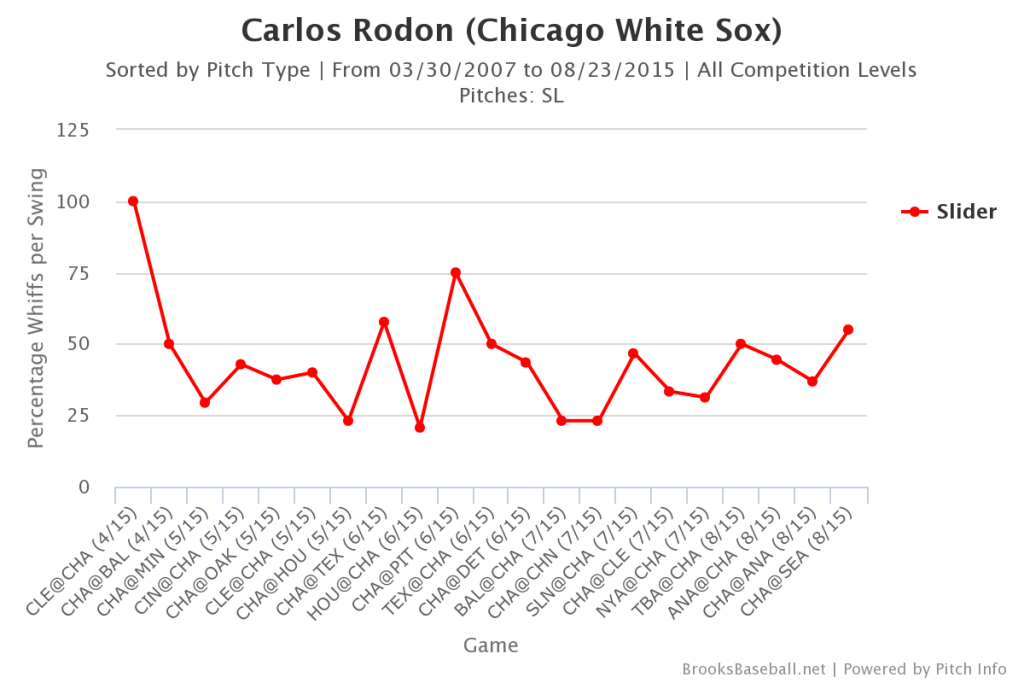 That slider makes him untouchable against lefties, and his developing changeup is starting to threaten righties as well.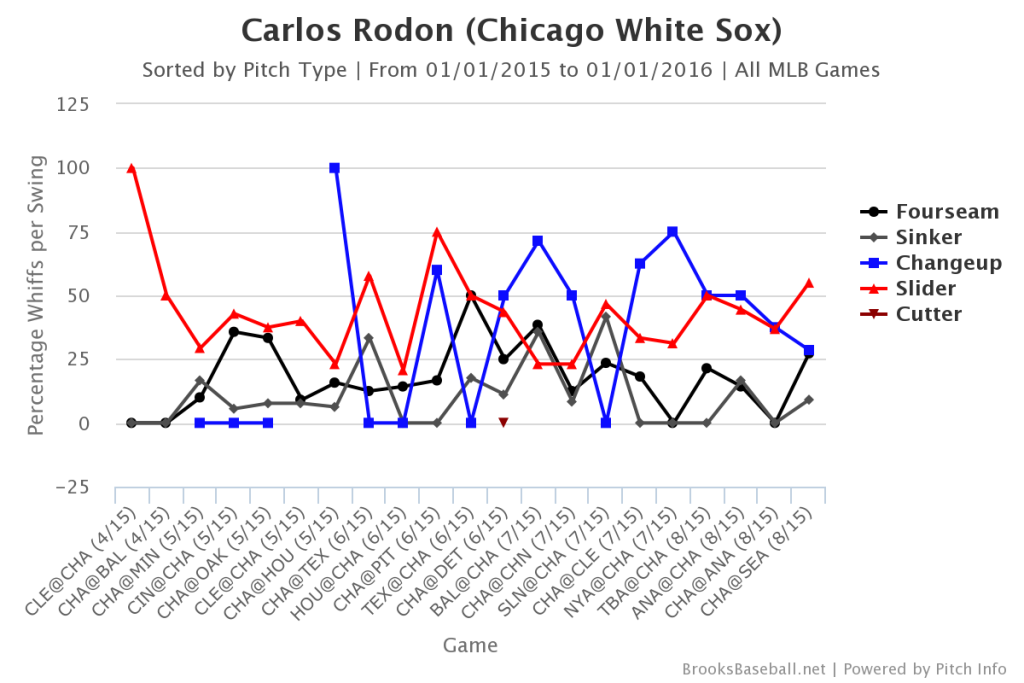 The change has been BABIP'd to death over the last six weeks or so, but it held righties to a .125 slugging percentage over the first three months of the season, per Brooks Baseball. And the slider plays against right-handers too, holding them to a .177 batting average and .133 ISO, despite a healthy .315 BABIP.
Rodon has the ability to be one of the better fantasy pitchers in the game down the stretch, there's no reason he ought to be some widely available.
To pick him up, I'd drop: Chris Bassitt, Nathan Eovaldi, Yovani Gallardo
Michael A. Taylor | Washington Nationals | OF
Questions about playing time are likely the reason that Michael Taylor remains available in over 80% of Yahoo! leagues. With Jayson Werth back in the everyday lineup and Denard Span rehabbing in the minor leagues, it seems like his days as a major league regular may be numbered. But before the season, it seemed like the Nationals would be the best team in baseball, and we all saw how that turned out…
Sorry, that was uncalled for, I'm just bitter because I'm coming to grips with the fact that my Tigers are officially out of it this season.
Anyway, it's time to set those assumptions aside. With the Nationals' backs pressed firmly against the wall, they can't afford to keep one of their most productive bats out of the lineup down the stretch. And despite the fact that he began this season as a backup, that's exactly what Taylor's been. His 2.2 fWAR ranks second among Nationals position players, trailing only Bryce Harper. Over the last month, Taylor leads all Nationals regulars (including Harper) in homers, steals, and slugging percentage. And this isn't just lucky streak; Taylor's reigned in his strikeout rate a bit and continued to BABIP around .330, which seems perfectly sustainable given his excellent speed and relatively low fly ball rate.
Werth has been a disaster since returning from injury and though Span was the team's nominal center fielder to begin the season, Taylor's hitting doesn't look like it's slowing down anytime soon and he's a better defender than both of the two returning veterans. With the abject failure of a playoff-less season starting the Nats in the face, I can't imagine how Matt Williams could rationalize taking Taylor's bat and glove out of his lineup. Span might return to the lineup when he's healthy, but I'd bet it'll be at the expense of Werth, rather than Taylor.
Looking to the last few weeks of the season, there's no widely available player who offers the power/speed threat that Taylor can bring. He should be owned in all leagues.
To pick him up, I'd drop: Jackie Bradley, Jr., Austin Jackson, Rusney Castillo
Nate Karns | Tampa Bay Rays | SP
Over the last month, Nate Karns ranks 12th in baseball with a 27.0% strikeout rate and owns the fourth-lowest Z-Swing rate in the league. Nobody, with the possible exception of Brewers rookie Taylor Jungmann, has converted passing glances into strikeouts more effectively than Karns. Unfortunately, he's also been tagged for an average a 2.00 HR/9 during that stretch, with a 22.2% HR/FB rate that ranks among the worst in baseball. Karns has produced some fantasy value with his strikeouts, but it's largely been cancelled out by an inability to keep the ball in the ballpark.
However, based on where he's allowing those home runs, I do think this trend is reversible. Karns has allowed solid contact in his recent starts, but he's largely focused that contact on center field, where it's least likely to hurt him. According to ESPN's Home Run Tracker, four of the five home runs he's allowed in August have had a spray angle between 83 and 88 degrees, which is just a tick off of dead center field.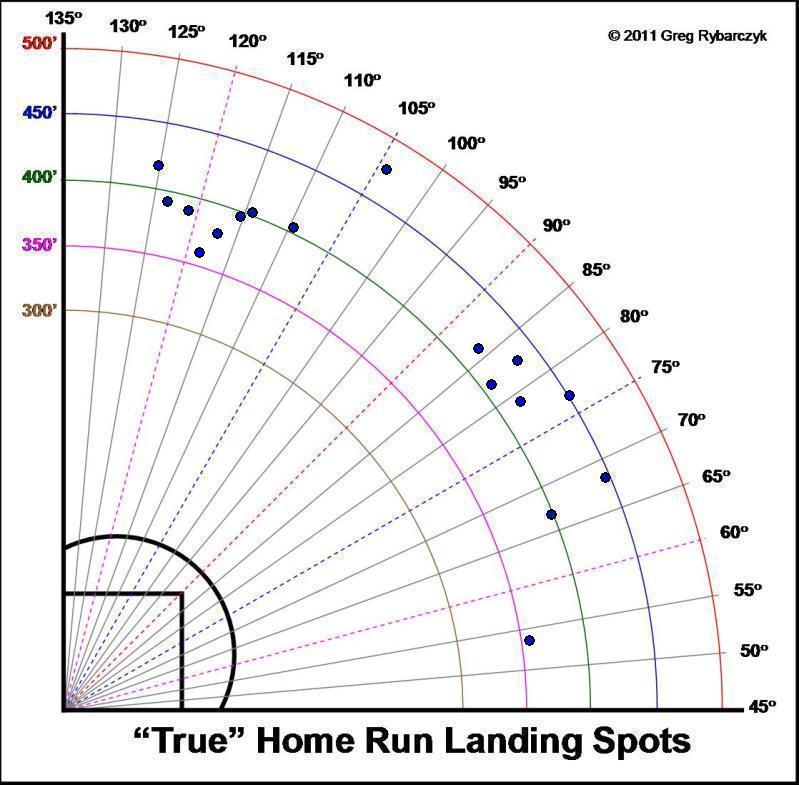 Unsurprisingly, four of those five August home runs have qualified as "Just Enough", because it's really hard to hit a ball out to dead center. Now, guiding fly balls to a certain area of the field isn't easy and certainly isn't a perfect strategy for a pitcher, but Karns' spray chart does show a bit of consistent clustering of fly balls to deep center.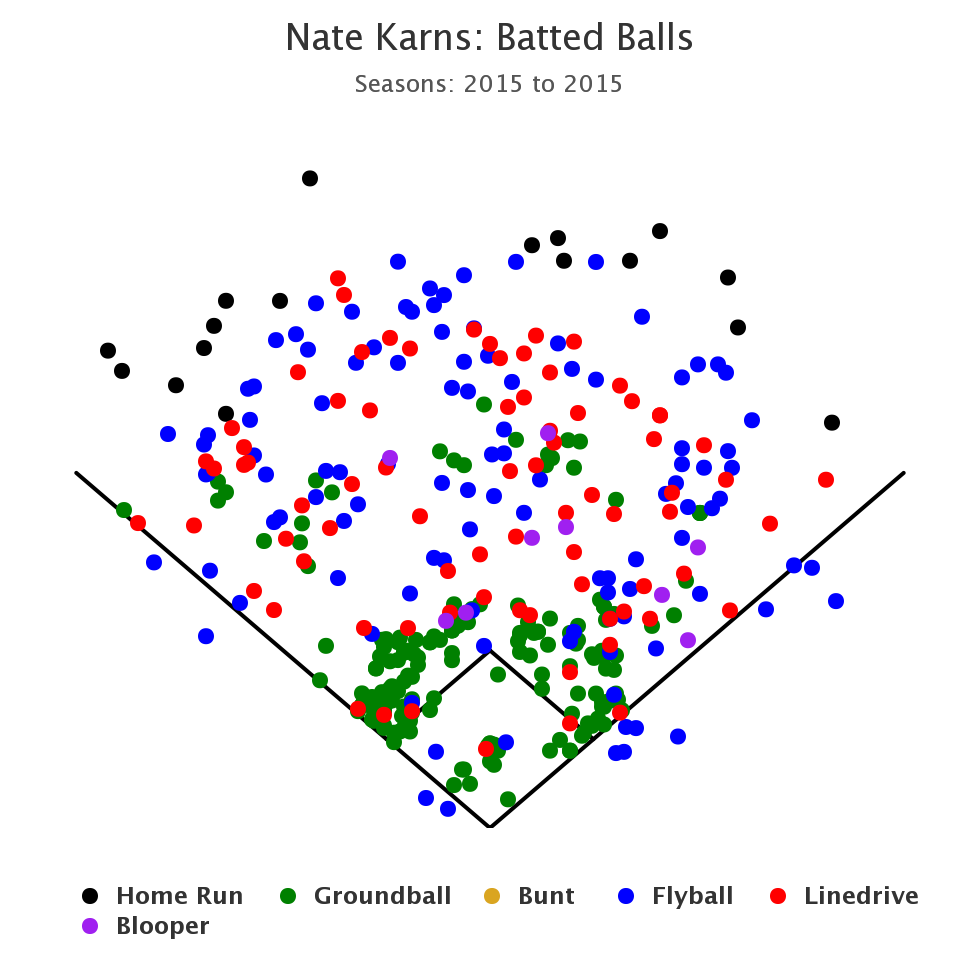 Whether he's able to do this on purpose or not is tough to discern, but it does serve to illustrate just how unlucky he's been lately. Karns is still worth a look in deeper formats.
To pick him up, I'd drop: Ervin Santana, Marco Estrada, Jered Weaver
3 TO CUT
Players to be traded or dropped, depending on the depth of your league
Ubaldo Jimenez | Baltimore Orioles | SP
Though I've never been a fan of the post-dominant fastball version of Ubaldo Jimenez, I can somewhat rationally understand why he's owned in over half of fantasy leagues. Though his overall numbers (3.97 ERA) aren't overly impressive, he's undeniably capable of moments of brilliance. Jimenez has logged eight starts of at least seven innings allowing two or fewer runs this season, posting at least six strikeouts in seven of those eight outings. Just to provide a point of comparison, that's three more such starts than Alex Wood, who pulls in a few slots ahead of Jimenez in the ERA standings.
Unfortunately, in order to get to an ERA near 4.00 alongside those electric performances, there have to be a few shorts in the wiring. Jimenez has balanced those moments of brilliance with just as many moments of incompetence; he's allowed at least four earned runs in six starts, mostly against some of the better offenses in the game. Just in the last couple of weeks, the Tigers tuned him up twice (for seven earned on July 17 and six earned on August 2) and Jimenez allowed seven runs to the Yankees while recording only seven outs.
It's not good news, then, that Jimenez' next four starts will be at Kansas City, at Texas, at Toronto, and at Yankee Stadium. The Royals, Yankees, and Blue Jays all rank among the top nine offenses in baseball for the season by wRC+. The Rangers grade out as about an average on the whole, but nobody wants to pitch in Arlington in August, especially with hitters like Shin-Soo Choo and Mitch Moreland heating up lately.
Jimenez may still be capable of a few brilliant moments, but I'd be extremely surprised if any of those moments occur over the next couple of weeks. For at least that stretch, there's almost certainly a better option on your waiver wire.
I'd trade/drop him for: Lance McCullers, Raisel Iglesias, Aaron Nola
Jarrod Dyson | Kansas City Royals | OF
Things are not lining up for 'ole Jarrod Dyson. Alex Gordon is on his way back, Ben Zobrist has slashed .342/.424/.570 since arriving in Kansas City, and Ned Yost appears staunchly (and irrationally) committed to keeping Omar Infante and Alex Rios in his everyday lineup. To be fair, Yost has publicly stated that Infante and Rios' spots could be up-for-grabs when Gordon returns, but it's clear that both players will continue to get a hefty benefit of the doubt. If two-thirds of a season of below replacement level production (-01. fWAR for Rios, -0.9 fWAR for Infante) isn't enough to prove a player doesn't deserve a starting spot, I can't imagine what either player could do over the next few weeks to radically change Yost's mind.
So while I'll continue to sing Dyson's praises as one of the elite base stealers in the game, I can't see how he's going to win enough playing time to be a valuable fantasy contributor down the stretch. FanGraphs Depth Charts agrees, dropping Dyson from the ranks of the top projected thieves over the rest of the season.
He may still have a role to play in AL-only formats, but in mixed leagues, Dyson is droppable.
I'd trade/drop him for: Rajai Davis, Billy Burns, Delino DeShields
Chris Carter | Houston Astros | 1B/OF
Much like Dyson, I can't question Chris Carter's talent, but given the circumstances surrounding him right now, I also can't logically expect that he'll have enough opportunity to generate significant fantasy value.
Carter has continued to do Chris Carter things this season, hitting .182 and striking out more than 30% of the time while hitting fly balls more than 50% of the time and finding the seats as often as anybody. He has 17 home runs in just 391 plate appearances, despite a slight dip in HR/FB rate. I'd expect that rate to regress back to his career averages, but with Carter's playing time in question going forward, I don't expect that regression will matter much for his fantasy owners.
Ever since Jed Lowrie has returned to man third base, Carter's path to playing time has been blocked at every turn. At first base, Luis Valbuena now offers a productive lefty platoon partner with a .234 ISO against right-handed pitching this season. At DH, Evan Gattis does everything Carter does, just better. In the outfield, Carter is blocked by excellent defenders across the board, and with elite bats at premium defensive positions like second base and shortstop, Houston can afford to prioritize defense in the outfield.
The Astros just don't need him. Carter has played first just five times in the last two weeks and hasn't beaten out Gattis for a start at DH since August 9. And this is only going to get worse when George Springer gets back.
Carter is droppable everywhere.
I'd trade/drop him for: Mike Napoli, Ryan Howard, Ben Paulsen
3 TO KEEP
Players to hold or trade for; owned in most standard leagues
Starling Marte | Pittsburgh Pirates | OF
Starling Marte has already begun to emerge from the funk that made me want to write about him in the first place, hammering a mammoth home run on Tuesday…
And following up with a walk-off blast on Saturday.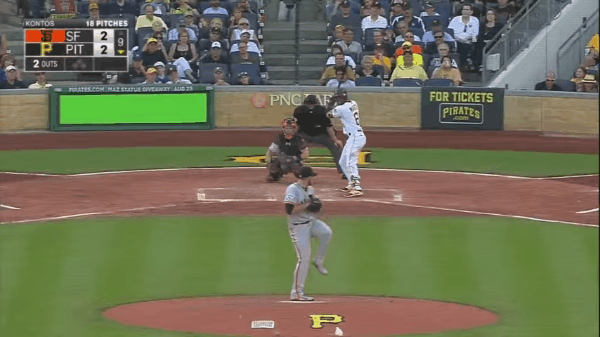 So I can't write exactly what I wanted to, but oh well. I can still point out that even with those two home runs, Marte's still seen his HR/FB rate drop by more than 75% to just 7.7% in  the second half, despite the fact that he ranks 20th in baseball in average fly ball distance, per Baseball Heat Maps. Last week's outburst shed a bit of light on Marte's dormant power, but don't expect it to stop now. His fly ball rate is up in the second half and though his average fly ball distance has sagged a bit since the All-Star break, it's perked up lately, which could lead to even greater power production down the stretch.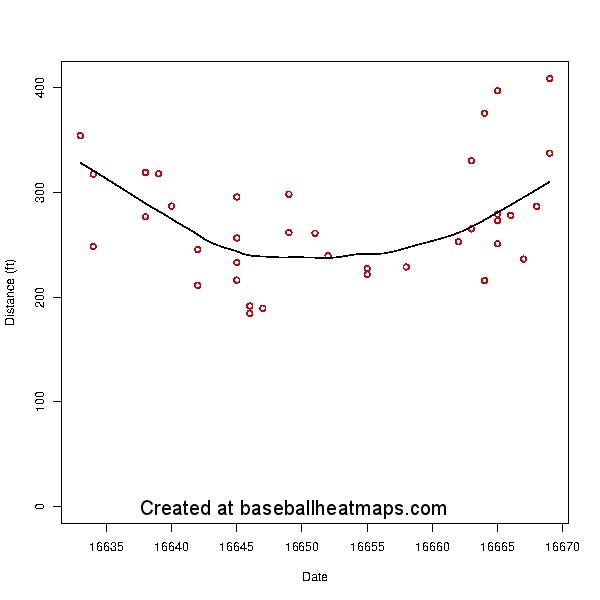 Over the rest of the season, FanGraphs Depth Charts projects Marte to be among the best fantasy outfielders in terms of combined power/speed production. Only three outfielders are projected to swipe at least seven bags and slug at least four home runs: Charlie Blackmon, Jacoby Ellsbury, and Marte. And Marte is projected to lead that group in batting average, runs, and runs batted in.
I wouldn't trade/drop him for: Yoenis Cespedes, Justin Upton, Ryan Braun
Alcides Escobar has been stuck in a BABIP-driven rough patch lately. Despite the fact that he continues to make a ton of contact and largely keep the ball on the ground, he's slashed .222/.270/.261 in the second half, riding a horrible .243 BABIP. It's not as though the complete lack of power is a big disappointment, but in order for Escobar to make any fantasy contributions, you'd think he'd have to hit better than this.
And that's where this situation gets weird. Because aside from the poor batting average, Escobar's fantasy contributions have actually been quite solid lately.
After stealing five bases in eight attempts in 317 plate appearances in the first half, Escobar has already swiped seven bags in nine tries in just 153 second half plate appearances. He's run nine times out of the 39 times he's been on first base in the second half, after running just eight times out of 87 trips to first in the first half.
I honestly have no idea why he stopped running earlier in the season, but I love that this more aggressive Escobar has returned. The second half pace may seem unsustainable relative to what he'd done earlier in the season, but it's really just a return to normalcy. In fact, it's actually slightly less aggressive than he was for all of last season. In the second half, Escobar's taken off in 23% of his trips to first base. In 2014, he ran 25% of the time (37 attempts in 147 trips to first base).
I wouldn't trade/drop him for: Elvis Andrus, Alexei Ramirez, Jimmy Rollins
I cannot understand why Roberto Osuna is not universally owned. By fWAR, he's been the ninth-most valuable reliever in baseball, ahead of elite fantasy arms like Andrew Miller, Craig Kimbrel, and Mark Melancon. He strikes out more than a batter per inning and allows fewer than a baserunner per inning. He sits consistently around 95 miles-per-hour with his fastball and pairs it with a knockout slider that's gotten better and better as the season's gone on.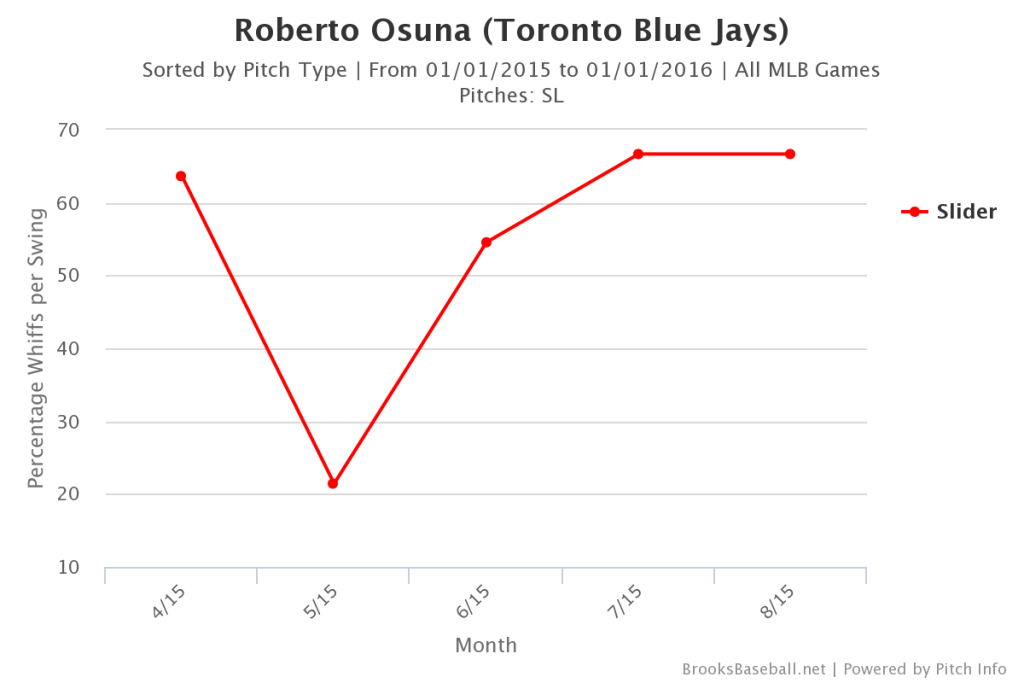 And because he began the season as a starter in the minor leagues, he's SP-eligible in many formats! In leagues with limited RP slots, he offers the chance to generate saves from a roster spot usually reserved for a starter.
There's no excuse here, people. He has no challengers in the Toronto bullpen, and the Blue Jays ought to generate as many save chances as anybody down the stretch.
If Osuna is unowned in your league, go get him now.
I wouldn't trade/drop him for: Brad Boxberger, Hector Rondon, Luke Gregerson