In the Week 5 edition of fantasy baseball 3×3, we're cutting Jordan Zimmermann some slack, straight up cutting Marlon Byrd, and changing the outlook for Jeff Locke.
There are plenty of waiver wire columns out there that provide an exhaustive list of the most added players in fantasy leagues. This isn't one of them. Here, we'll run down a few of the most interesting players for fantasy owners, with perspective on who deserves a your attention, who deserves your patience, and who deserves to go straight to bed without dessert.
Any questions, thoughts, suggestions? Hit me in the comments or on Twitter.
3 TO CATCH
Players to be picked up; available in most standard leagues
Jeff Locke | Pittsburgh Pirates | SP
In the past, Jeff Locke has been a bit of a whipping boy in this space, but there's no benefit to holding grudges in player evaluation, and I'm feeling particularly magnanimous after writing all of those nice things about Edinson Volquez last week, so let's take a fresh look at ole' Mr. Locke.
Through four starts in 2015, his line is strikingly un-Lockeian. After out-pitching his FIP by half a run in back-to-back seasons, Locke's 4.76 ERA this year nearly doubles his 2.49 FIP. For the first time in his fantasy-relevant career, his BABIP and strand rates are no longer suspiciously favorable. However, let's also not ignore that for the first time in his fantasy-relevant career, he's pairing an above-average strikeout rate (20.4%) with an above-average walk rate (7.1%).
Locke has engineered these improvements on the back of better breaking stuff and a slightly different mix of pitches. He's getting hitters to chase his curveball and changeup significantly more often and has increased the whiff rate on his curve to an excellent 41.7%, per Brooks Baseball. His whiff rate hasn't budged much on the changeup, but it has has been much more appetizing to opposing hitters this year than in past seasons, despite the fact that Locke is throwing outside the strike zone significantly more often. It's likely due to the improved vertical drop he's getting on the pitch, which allows Locke to start it up in the zone before burying it with late movement.
His sinker has been the same effective pitch it's been in past seasons, once again generating a groundball rate better than 50%. But Locke is slightly changing up the way he uses it, tossing it more often late in counts against righties, which has undoubtedly helped to curtail his previously problematic walk rate.
The improved K/BB rate hasn't made a dent in his run prevention yet, but based on what we've seen in the past, I think we'll see the improvements trickle down to his ERA very soon. The Pirates' aggressive defensive philosophies have been a big part of why Locke has been able to consistently manage a better-than-expected BABIP in recent seasons; it's only a matter of time before he feels those some impacts again. Unfortunately, the best defensive play Locke's seen behind him this season wasn't made by somebody on the Pirates' 25-man roster.
In deeper leagues, Locke is worth a speculative add.
To pick him up, I'd drop: Nathan Eovaldi, Matt Garza, Jimmy Nelson
Ike Davis | Oakland A's | 1B
Ike Davis looks like a really different hitter this season. He's making a ton more contact, striking out significantly less, hitting more balls on the ground, and struggling to hit for the home run power that defined the earlier stages of his career. At first, it feels a little like an overadjustment, but after a deeper review it's one that I'm completely ok with this early in the season.
Davis' power potential has been scuttled in the past by an inability to make contact; he's spent the last few weeks proving that he is indeed capable of making consistent contact against major league pitching. That's a huge hurdle for him to clear, but the question from there is whether he can regain the power he flashed back in 2012, when he slugged 32 homers for the New York Mets. He has only one home run this season, but his spray chart shows some encouraging signs.

Source: FanGraphs
Davis is driving the ball to left-center, which is a great sign for his power. During his 2012 season, he routinely launched 400-footers to that area of the park, per ESPN's Home Run Tracker. It hasn't yielded many hits yet, but Davis isn't solely to blame for that…
As he continues to round into form, I think Davis could challenge the production he put up back in 2010. He won't reach the 600 plate appearances he logged that year, but something like 15 homers with a .260/.340/.430 stat line is not out of reach. That upside makes him a worthwhile lottery ticket in deeper leagues.
To pick him up, I'd drop: Kennys Vargas, Ryan Howard, Mike Napoli
Jose Ramirez | Cleveland Indians | SS
Jose Ramirez isn't just the guy who happens to be standing in Francisco Lindor's way. I mean, he might ultimately be that in the minds of the Cleveland Indians, but for fantasy owners in 2015, there's a good deal of short term value. It's easy to think that Ramirez' struggles will open the door for an early season call-up for Lindor (much like we saw in Chicago, when Tommy La Stella/Arismendy Alcantara's struggles brough Addison Russell up ahead of schedule), but the Indians have committed to not accelerating Lindor's timetable, and it's not like Lindor is laying waste to Triple-A. His .241/.330/.337 slash line is fine, but even for a defense-first prospect, it doesn't seem like enough for Cleveland to confidently slot him into a major league batting order. Lindor certainly outstrips Ramirez on defensive skill alone, but that's no knock on Ramirez, who's profiled as an excellent defender at multiple infield positions in his short time as a big leaguer.
Over the remainder of the season, FanGraphs Depth Charts projects Ramirez to steal 19 bases; only four shortstops are projected to steal more. All four of those are projected for at least 50 more plate appearances than Ramirez, who's pegged for only 396 PAs the rest of the way. Without a midsummer call-up for Lindor, Ramirez could get a good deal closer to 450 plate appearances, which would likely put him right at the top in terms of shortstop stolen base production.
This is of course all contingent on Ramirez hitting well enough to stay in the lineup, but I think he's shown that he can do that. He's struggled through some BABIP issues that have held back his batting average, but his plate discipline looks great, as do his batted ball rates. He's aggressive on pitches in the zone, doesn't chase too much outside the zone, and makes a ton of contact, mostly on the ground. It's exactly the right approach for a hitter with his skill set.
There are improvements across the board here, they just haven't translated to his fantasy numbers quite yet.
To pick him up, I'd drop: Danny Santana, Odubel Herrera, Andrelton Simmons
3 TO CUT
Players to be traded or dropped, depending on the depth of your league
Marlon Byrd | Cincinnati Reds | OF
It's looking like Marlon Byrd's remarkable late-career power surge is coming to an end, continuing a decline that began (somewhat in the shadows) last season. The fact that he was able to slug one more homer in 2014 (25) than 2014 (24) masked the weakness of his overall power production, he hit fewer doubles and triples that season, despite hitting significantly more fly balls. Ten of his 25 bombs in 2014 were "Just Enough" or "Lucky" after only eight of 24 qualified for those designations in 2013, per ESPN's Home Run Tracker. It's a small shift, but one that backs up the idea that as he enters his late thirties, Byrd's physical tools are waning. All told, his ISO has dropped by 50 points this season after sinking 40 points last year.
As his power dries up, Byrd is coming to the plate with a more vigorous approach. This season, his swinging strike rate has reached a career high, as have his chase rate and overall swing rate. He's been consistently aggressive during his power renaissance, but so far this season, it looks like he's really starting to press. And as he attacks more and more pitches, he's not finding nearly as many that he can drive.
His pattern had been to hold his own against fastballs and breaking balls, then punish offspeed mistakes. Byrd has actually been ok this season against hard and breaking stuff, but hasn't been able to lean on an ability to turn around offspeed pitches. His whiff rate against changeups is through the roof and he's been completely punchless when he does make contact; Byrd is still looking for his first hit against an offspeed pitch this season.
He just doesn't have the physical ability to consistently generate power anymore. He's still in a favorable ballpark and will likely bounce back a bit, but he's not going to get to the 22 homers that ZiPS is projecting for the rest of the season. Sell now if you can.
I'd trade/drop him for: Andre Ethier, Oswaldo Arcia, Steve Pearce
After bursting onto the scene with one of the most deceptive deliveries in recent memory, then crashing and burning spectacularly after the novelty wore off, Josh Collmenter is back, this time with one of the more deceptive stat lines I've ever seen.

So, let me get this straight… He's not walking anybody, not striking anybody out, but somehow not allowing much hard contact?
His stuff is apparently just good enough to miss the sweet spot of the bat, but not quite good enough to miss the bat entirely. Putting up those kinds of numbers, you'd expect Collmenter to be featuring an arsenal of slippery pitches, but that doesn't seem to be the case.
He doesn't get hitters to chase, nor does he get them to miss. In fact, his swinging strike rate has never been worse. His groundball rate is up, but it's still not to the point where you'd call it a big strength. Every one of his plate discipline stats is below average, except for his ability to reliably throw strike one.
And that's really all he's done well; Collmenter deserves a ton of credit for challenging hitters in the strike zone, but you'd expect those hitters to do more damage, given their ability to make consistent contact with his pitches.
This is where Collmenter's been incredibly lucky. Though he's allowed a great deal of contact on pitches in the heart of the strike zone, opposing hitters have hit for very little power on those pitches. Getting hitters out in the middle of the strike zone isn't a skill that mediocre pitchers possess; even the greatest in the game pay the price when their pitches catch too much of the plate.
Just to prove how lucky he's been, let's compare Collmenter to baseball's reigning master of smoke and mirrors, Johnny Cueto:

Cueto's frost-edged zone profile feels almost impossible, but you can apply some kind of logical explanation to the way he coaxes weak contact on the fringes of the strike zone. Collmenter's, by comparison, makes absolutely no sense. Very soon, he's going to start getting punished on those pitches in the heart of the zone. Drop him before that happens.
I'd trade/drop him for: Tim Lincecum, C.C. Sabathia, Chase Anderson
I've kept giving Brett Lawrie the benefit of the doubt because of what he was in 2011, thinking that eventually, there's a chance he'll regain that form. I'm not going to say that season was a mirage, Lawrie earned every bit of that incredible stat line; what I will say is that this season's version of Brett Lawrie is so from the hitter he was back then that I'm no longer giving him that benefit of the doubt.
In 2011, Lawrie feasted on fastballs. He struggled with offspeed pitches, as rookies often do, but he made up for any underperformance there by absolutely obliterating hard stuff. Check out his performance against each pitch type from Brooks Baseball:

It's not an ideal profile, but as long as Lawrie gets fastballs to hit, he's fine. Unfortunately for Lawrie, pitchers have stopped throwing him fastballs. After seeing at least 53% fastballs in each of his first four big league seasons, pitchers are throwing the heater only 38% of the time against him this season, per FanGraphs. Unsurprisingly, his 2015 Brooks Baseball page isn't quite so impressive:

He's continuing to hit well against fastballs, but it's not the overwhelming dominance he showed as a rookie and with the percentage of fastballs he sees decreasing, it's not enough to compensate for his continued helplessness against offspeed stuff and his lagging power production against breaking balls. Until he shows some ability to adjust to the way pitchers are attacking him, I'm out on this version of Lawrie.
I'd trade/drop him for: Trevor Plouffe, Chase Headley, Nick Castellanos
3 TO KEEP
Players to hold or trade for; owned in most standard leagues
Jordan Zimmermann | Washington Nationals | SP
There are some worrisome signs in Jordan Zimmermann's early season production. He's striking out fewer batters and missing significantly fewer bats overall. His strikeout rate sits at a career-worst 15.4% and his 6.7% swinging strike rate is his lowest since 2010, when he was knocked around for a 4.94 ERA in only 31 innings. His K%-BB% has dropped by nearly half from last season. He's also suffered through an unfavorable BABIP and strand rate, along with a significant dip in groundball rate.
Oh, and his average fastball velocity is down from almost 94 mph to just a hair over 92 mph, per FanGraphs.
And with all this, I'm really not that worried. The velocity drop is undeniable, but I think it's just a matter of Zimmermann working himself into form early in the season. His first couple of starts were well below the norm, but he's bounced back lately, notably averaging 94.0 mph on his heater in his last start against Atlanta, per Brooks Baseball.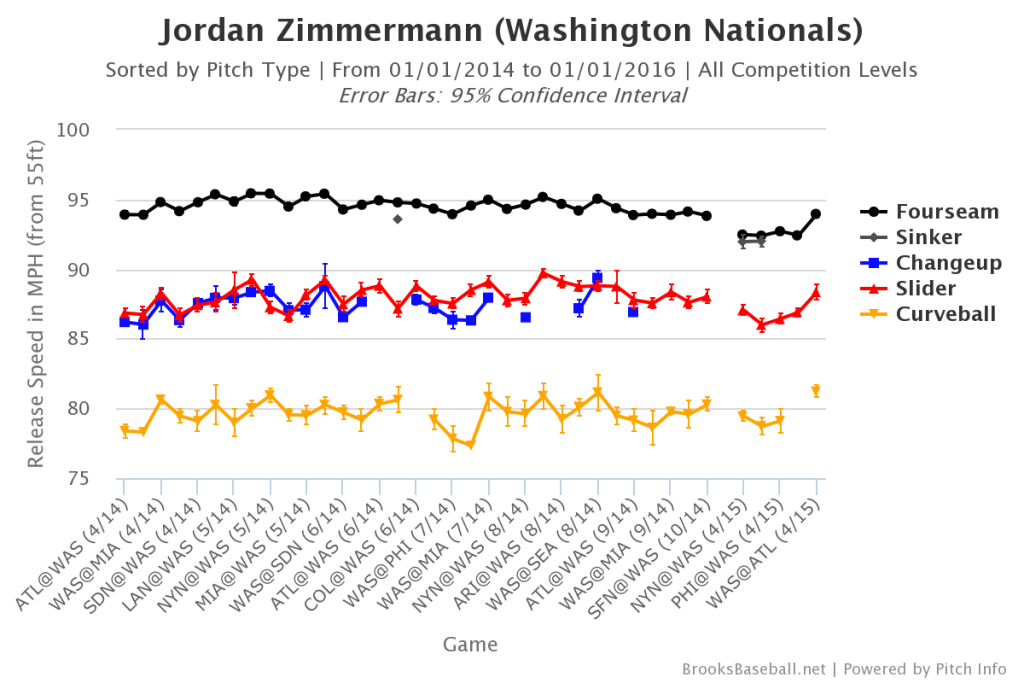 I'd typically be concerned about a pitcher allowing so much more contact (and so much less contact on the ground) than he has in the past, but Zimmermann has shown an amazing acumen for creating weak contact. He led baseball in pop-up (IFFB) rate last season and is poised to do so again, ranking eighth among starters in IFFB% heading into Sunday's action. It's a valuable skill, especially for a pitcher struggling to find swings-and-misses. The ability to generate a pop-up when he needs it gives Zimmermann another outlet to pitch out of jams without allowing too much damage.
The decline in strikeouts likely has something to do with a slider that hasn't been as effective this season. However, the movement he's getting on it isn't significantly different from what we've seen from him in past years, so I expect he'll eventually regain his feel for this pitch and ratchet up his whiffs once again. Once those return, he'll be the Top 25 starter he was projected to be before the season.
I wouldn't trade/drop him for: Julio Teheran, Alex Wood, Andrew Cashner
As we noted before, Elvis Andrus is still the projected leader in ROS stolen bases among shortstops, according to FanGraphs Depth Charts. That speed, along with his batting average, is what you drafted him for, and despite a slow start, neither looks like it's going anywhere.
I think we're in the midst of an adjustment period with Andrus. Pitchers are challenging him more, evidenced by his highest Zone% since 2010, per FanGraphs. Andrus has responded by swinging more often and making more contact. That contact hasn't always been solid, but I'm confident that he'll dial back his aggressiveness just a bit as the year goes on and elevate his average by picking out pitches he can drive.
That average has been poor in the early going, dragged down by a fluky .250 BABIP and one exceptionally quirky split. Andrus' fly ball rate has spiked slightly this season, which isn't a good thing for a slap-style hitter, but even so, he hasn't hit an incredible volume of fly balls. You'd expect it to maybe take a tiny bite out of his batting average, but so far, it's attacked his BABIP like a Great White circling Seal Island. Andrus has ended 24 plate appearances with a fly ball this season. One of those fly balls left the yard, the other 23 were caught.
BABIP bouncebacks are never a sure thing, but I don't expect Andrus to maintain a .000 BABIP on fly balls for the balance of the season. His overall BABIP has been remarkably consistent over the years; he's never posted a BABIP lower than .305 at any level, majors or minors.
Don't bail out just yet.
I wouldn't trade/drop him for: Alexei Ramirez, Adeiny Hechavarria, Marcus Semien
If you've got Evan Gattis, you probably invested a good deal to get him on draft day. And up until the last few days of this past week, you were probably starting to really question that investment. It's totally fair to do so; it's not easy to roster a guy who's coming off a hot streak and still needs binoculars to see the Mendoza Line.
I won't suggest that fantasy owners hang on to a player just because they paid a lot to get him, and I don't think that's the case with Gattis. Staying the course with him isn't a matter of protecting an investment, it's about understanding exactly what kind of player you drafted in the first place. With the possible exception of his teammates Chris Carter and George Springer, Gattis might be the only player in MLB who's just as capable of hammering four home runs in a weekend (as he did this past weekend) as he is of earning back-to-back Golden Sombreros (as he did back on April 8th and 9th).
Owning a player whose game log belongs in an amusement park can be stressful, but he's such a valuable fantasy commodity because the net result of all of those ups and downs is a player that is still projected to lead all catchers in ROS home runs by a rather sizeable margin, per FanGraphs' Depth Charts projections. They might not be on schedule, but the home runs will be there.
Even he knows it's just a matter of time, judging from his expression after he hit his first homer as an Astro, which I can only describe as the least enthusiastic bat flip and home run trot I've ever seen.
Chin up, Evan, you'll have quite a few more of those this year.
I wouldn't trade/drop him for: Yadier Molina, Derek Norris, Wilson Ramos