In the Week 6 edition of fantasy baseball 3×3, we're giving Alex Guerrero regular playing time, staying patient with Carlos Martinez, and waving a sad goodbye to Yasmani Grandal.
There are plenty of waiver wire columns out there that provide an exhaustive list of the most added players in fantasy leagues. This isn't one of them. Here, we'll run down a few of the most interesting players for fantasy owners, with perspective on who deserves your attention, who deserves your patience, and who deserves to go straight to bed without dessert.
Any questions, thoughts? Hit me in the comments or on Twitter.
3 TO CATCH
Players to be picked up; available in most standard leagues
Alex Guerrero | Los Angeles Dodgers | 3B/OF
Carving out playing time in the Dodgers outfield means reaching a pretty high bar of production, but after posting a .333/.380/.800 (!!!) slash line through his first 50 plate appearances, I can't imagine what Alex Guerrero left to do. And after spending April using Guerrero mostly as a pinch hitter, I think Don Mattingly is starting to agree; Guerrero has been a starter in his last five appearances for LA.
By just about any measure, a Guerrero swing has done as much damage as any cut in the game. Are you a fan of batted ball distance? He's third in the league in that, outpacing homer-happy teammates Joc Pederson and Adrian Gonzalez, per Baseball Heat Maps. Or do you prefer hard contact rate? Guerrero ranks in the top 20 in baseball, per FanGraphs. And, for the saber-traditionalist, his .500 ISO led the league entering Sunday's games.
The scary part is, this might actually be somewhat sustainable. The fact that his batted ball distance, hard contact rate, and ISO are all outstanding shows that his extra-base hit production hasn't been a fluke. This helps too: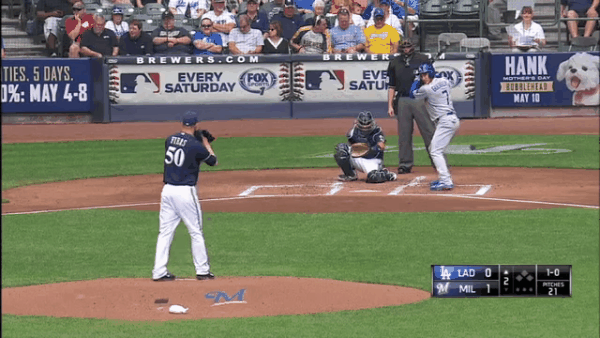 But even more than that, it's his plate discipline and plate coverage that gives me the warm fuzzies. His chase rate is a manageable 33.%, which will help to keep his strikeout rate under control, and you just don't see many power hitters who can maintain a 91% contact rate.
Guerrero's performance over these first five weeks has proven that he's got the talent to excel in the major leagues, but in that loaded Dodger outfield, the biggest boon to his fantasy value has been the injuries to his teammates. Carl Crawford has a torn oblique and Yasiel Puig has re-aggravated his hamstring. Puig will eventually regain his place in right field, but even then, if the only thing standing in Guerrero's way is the ability to earn playing time ahead of the likes of Scott Van Slyke, Andre Ethier, Justin Turner, and Juan Uribe, I'll bet on Guerrero finding his way to 300-plus PAs over the rest of the season.
To pick him up, I'd drop: Shin-Soo Choo, Curtis Granderson, Yasmany Tomas
Rubby de la Rosa | Arizona Diamondbacks | SP
Under cover of crappy luck, Rubby de La Rosa is finally turning all of that potential into production. His 4.38 ERA isn't particularly impressive, but the fact that his K%-BB% ranks among the best in baseball certainly is. He doesn't show up in the same way on the ERA-FIP leaderboards because his crappy luck hasn't manifested itself as an astronomical BABIP, but rather as a ridiculously unfavorable home run rate, both in frequency and in timing.
The frequency will decline a bit, but it won't completely go away. It's been an issue throughout de la Rosa's career and certainly won't be diminished by Chase Field's favorable dimensions and dry, permissive air. It's not ideal, but a pitcher who can rack up strikeouts and limit walks, as de la Rosa's done this season, can put himself in position to allow mostly solo shots. Theoretically.
That hasn't been the case for de la Rosa this season. Somehow, he's allowed an equal number of homers with men on base as he has with the bases empty, despite the fact that he's pitched twice as many innings with nobody on. And it's not a matter of de la Rosa not being able to handle the pressure; his strikeout rate is 24% with the bases empty, 26% with men on base, and 31% with men in scoring position. He does allow more fly balls with men on, but also more soft contact and more pop ups. There's no pattern I can find that indicates a proclivity to surrender homers twice as often with men on base. It's just plain bad luck.
I feel like de la Rosa has enough of a reputation to eliminate the need for me to justify his strikeout production, but just because it's amazing, let's appreciate his incredibly 78.8% Z-Contact rate, per FanGraphs. Only Danny Salazar has been better this season. It's built on de la Rosa's remarkable fourseamer, which he features nearly 60% of the time, and inexplicably generates more whiffs in the zone than it does outside.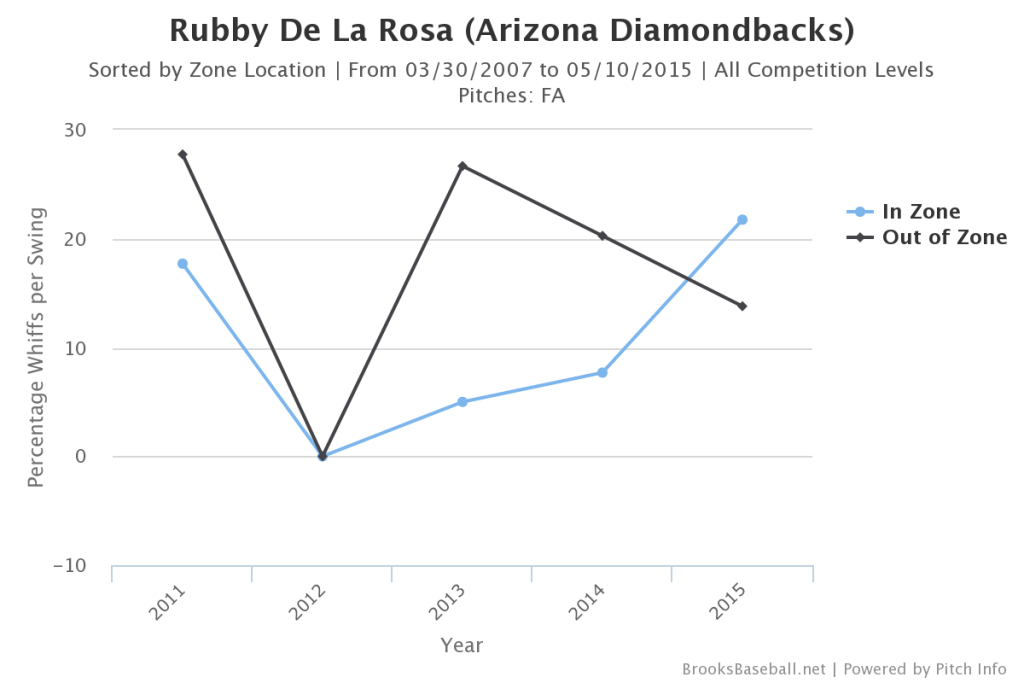 Counting only de la Rosa's heaters in the strike zone, his 21.8% whiff/swing rate on fourseamers would rank 12th overall among starters, fractions of a percentage point better than Clayton Kershaw's overall fastball performance, according to Baseball Prospectus.
To pick him up, I'd drop: Matt Garza, Wily Peralta, C.J. Wilson
While Nelson Cruz has been hammering his way into the headlines in Seattle, another Mariner has been sneaking up the power leaderboards; Logan Morrison has socked four homers since the start of May, tying Cruz for the team lead.
After languishing in mediocrity since his breakout season in 2011, Morrison once again looks like a player worthy of consideration in mixed leagues. He certainly looked like his old self when he hammered this walk-off blast in Seattle last week.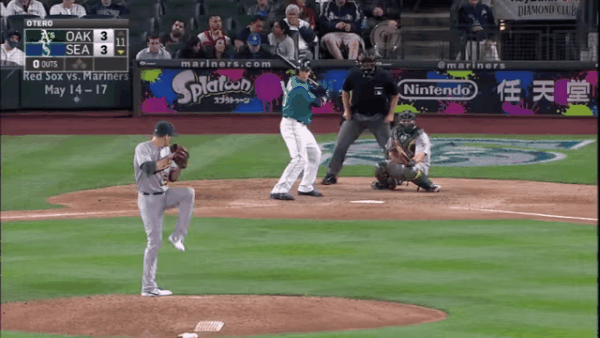 Back in 2011, Morrison was a developing power prospect. He hit 23 bombs that season, averaging about 294 feet per fly ball with a 35% flyball rate and an 18% HR/FB rate.
Now, Morrison is a post-breakout power producer. He's projected to finish the year with 20 bombs, averaging about 294 feet per fly ball with a 28% flyball rate and 14% HR/FB rate so far.
The similarities between years are something between predictive and coincidental, but either way, they serve to illustrate both the fact that Morrison is capable of this level of production and that his underlying metrics support his current home run production. Time will tell whether he can escape the injuries that have derailed him in the past, but as long as he's healthy, he's a great addition to any squad in need of home runs.
To pick him up, I'd drop: Ryan Howard, Kennys Vargas, Billy Butler
3 TO CUT
Players to be traded or dropped, depending on the depth of your league
Yasmani Grandal | Los Angeles Dodgers | C
Yasmani Grandal is a very good player who's made a good deal of developmental progress this season, but even so, now is a great time to move him.
Grandal has always been a patient hitter, now he's pushing that approach to its limit. His swing rate and swinging strike rate are both career lows; his contact rate sits at a career high, per FanGraphs. Only five qualified hitters swing less often. By waiting for pitches he can drive, he's elevated his ISO to .227, which ranks third among everyday catchers. Unfortunately, elevation has a lot do with why that won't translate to huge gains in fantasy value.
The patience to wait for the perfect pitch and the skill to make contact with those pitches is great, but for fantasy, all we really care about is how often that contact drops in for a hit and/or how many of those hits reach the outfield bleachers.
Grandal is hitting .307 right now, but "slow-footed catcher with a groundball rate over 50%" isn't exactly the profile of a future batting title winner, let alone a player who can maintain the .345 BABIP Grandal's posted so far. FanGraphs Depth Charts has him pegged for a .250 average the rest of the way; I might take the under on that. And that'd be fine if Grandal hit a bundle of homers, but I don't think we can expect that either.
This is usually the part of the article where I'd check his batted ball distance on Baseball Heat Maps, but he hasn't hit enough flies to qualify for the list; Grandal's flyball rate ranks among the bottom 20% of the league. Among everyday catchers, only Wilson Ramos hits fewer balls in the air. Grandal's gotten to his total of four homers this season by riding a freakishly high HR/FB rate. His 26.7% HR/FB rate ranks among the best in baseball and nearly doubles his career average. Though Grandal has blasted three homers in his last five games, there's a reason Depth Charts still projects eight catchers to outhomer him the rest of the way.
I really do like Grandal, but his true talent isn't close to what he's been lately. If you can convince another owner to bet on Grandal keeping up this pace with an Ichiro-esque BABIP and Bondsian HR/FB rate, make the deal.
I'd trade/drop him for: Wilson Ramos, Brian McCann, Evan Gattis
Over the long term, Avisail Garcia is projectable. He's huge, yet agile, athletic, and surprisingly fast. At his size, you expect that he'll eventually hit for power, even though he's never really done it. In 2013, he set his career high for home runs across levels. He hit 14. Similarly, he's lauded for his deceptive speed, but he's been thrown out on three of his four stolen base attempts this season and has only eight swipes for his big league career. This is why "projectable" is a very dangerous word for players in redraft leagues.
So color me skeptical when FanGraphs Depth Charts projects Garcia to pop 15 homers the rest of the season, despite the fact that he barely hits one out of five balls in the air and his career .132 ISO belongs in the company of Melvin Upton, Desmond Jennings, and Alejandro De Aza, rather than the elite class of outfield power hitters. In fact, only one outfielder last season managed to hit at least 15 homers with an ISO below .150; that only happened because Jacoby Ellsbury took full advantage of Yankee Stadium's short left field porch. U.S. Cellular Field is a band box, but you can't quirk your way to 15 homers there.
If he's not going to hit for power, you'll have to rely on batting average production, which, admittedly, he's delivered in spades lately, riding a .455 BABIP over the last two weeks to a .341 average on the season. Garcia has a reputation as a savant when it comes to putting the ball in play, but his relatively poor overall contact rates mean he often has to survive by hitting with two strikes. In those situations, my man swings at everything…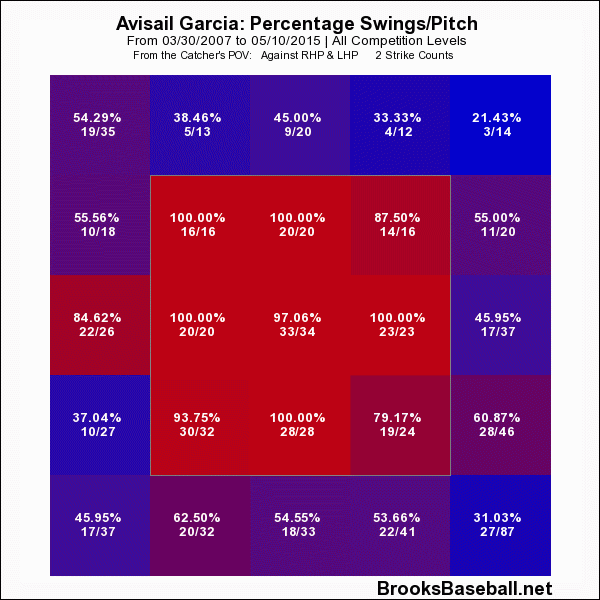 It's not impossible to survive like that, but it's awful tough to thrive.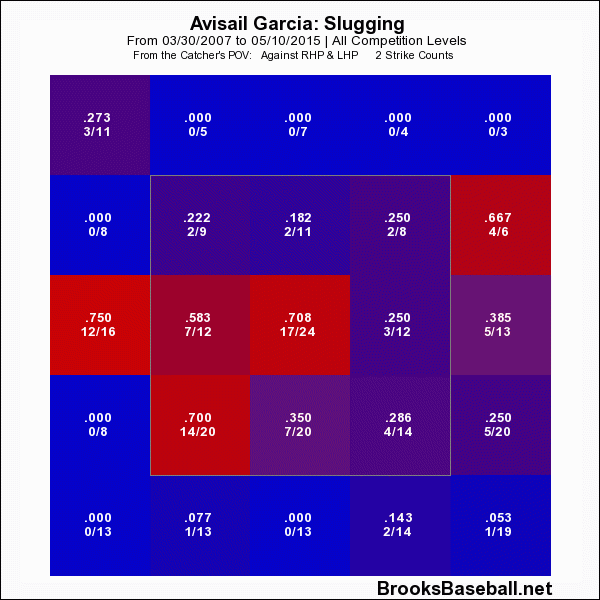 Without a Sandoval-ian ability to hammer the ball from anywhere, Garcia relies on medium and soft contact turning into hits; he can only succeed when he maintains a BABIP better than .350. Again, it's not impossible; his BABIPs were consistently high in the minor leagues, but BABIP is a fickle beast. If the entirety of a player's production is tied to BABIP success, I'd almost always rather roll the dice with somebody else.
I'd trade/drop him for: Steven Souza, Anthony Gose, Leonys Martin
Taijuan Walker has been frighteningly unlucky this season, suffering through a .386 BABIP and 58.3% strand rate, but I can't let him completely off the hook. He's certainly better than his 8.13 ERA, but I'm not sure he's even as good as his 5.30 FIP.
Walker's control has been awful, as it was last year in his short stint in the big leagues. If he'd thrown enough innings to qualify, his 10.3% walk rate would rank 13th-worst in baseball, per FanGraphs.
That wouldn't be so bad if he could compensate by repeating the gaudy strikeout numbers he posted in the minors, but both his 19.9% strikeout rate and 9.1% swinging strike rate are below the MLB average. His K/9 looks great at 8.78, but it's inflated by the fact that he faces more batters per inning than the average pitcher, due to his poor walk rate. His K%-BB%, a better estimator of a pitcher's ability to balance missing bats and hitting the strike zone, is only 9.6%, which would rank him 72nd among qualified starters.
Walker certainly earned his reputation as a top prospect, but as a major leaguer in 2015, I'm just not sure there's a whole lot to like. With less damaging sources of strikeouts all over the waiver wire, there's no reason for Walker to be owned in 43% of Yahoo! leagues.
I'd trade/drop him for: Travis Wood, Jeff Locke, Jimmy Nelson
3 TO KEEP
Players to hold or trade for; owned in most standard leagues
Carlos Martinez | St. Louis Cardinals | SP
As a Carlos Martinez owner in every one of my mixed leagues, I know it's not easy to have him on a roster right now. Coming off back-to-back outings in which he was kicked around for seven runs in fewer than six innings, it's easy to pull the trigger on a drop.
Don't. He's going to be fine. His start against the Cubs was just a bad day. Martinez got crushed and deserved everything he got. He unraveled, but that'll happen when you're 23 and pitching in a rivalry game in the midst of a tightening division race.
The start against Pittsburgh really wasn't that bad, just infected with bad luck. He suffered through a .462 BABIP, despite the fact that he didn't allow any more hard contact than he had in his earlier, more successful outings. He did struggle with his control in that start, but that's likely a symptom of a young player overdoing it in response to a long-ish run of bad fortune.
As long as his stuff was on par with what he'd shown in his first four starts, I just can't get all that worried.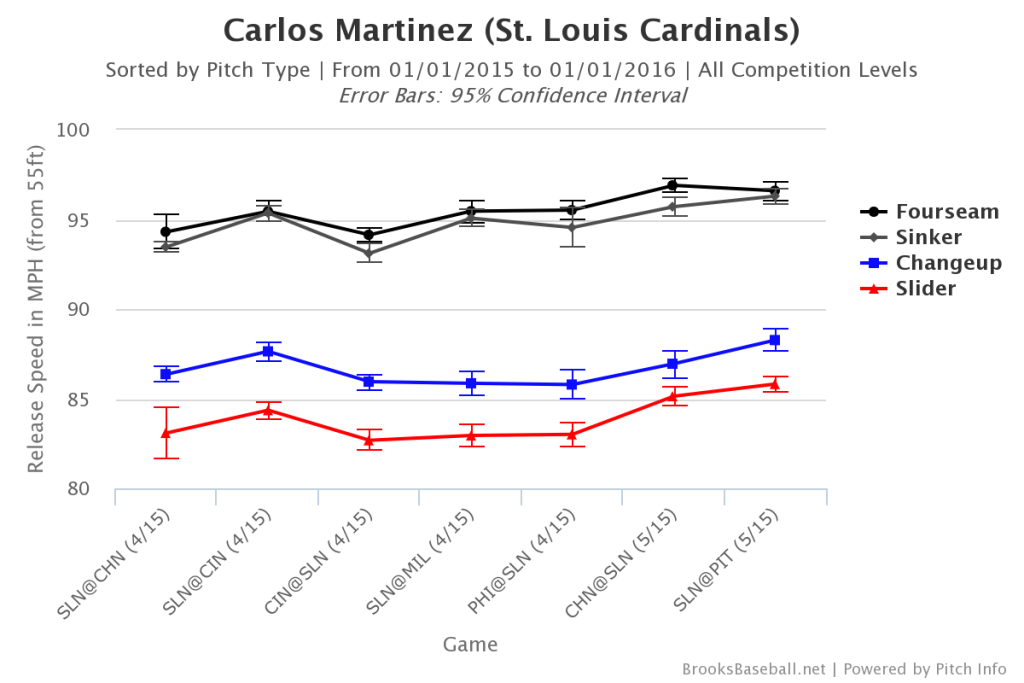 Yep.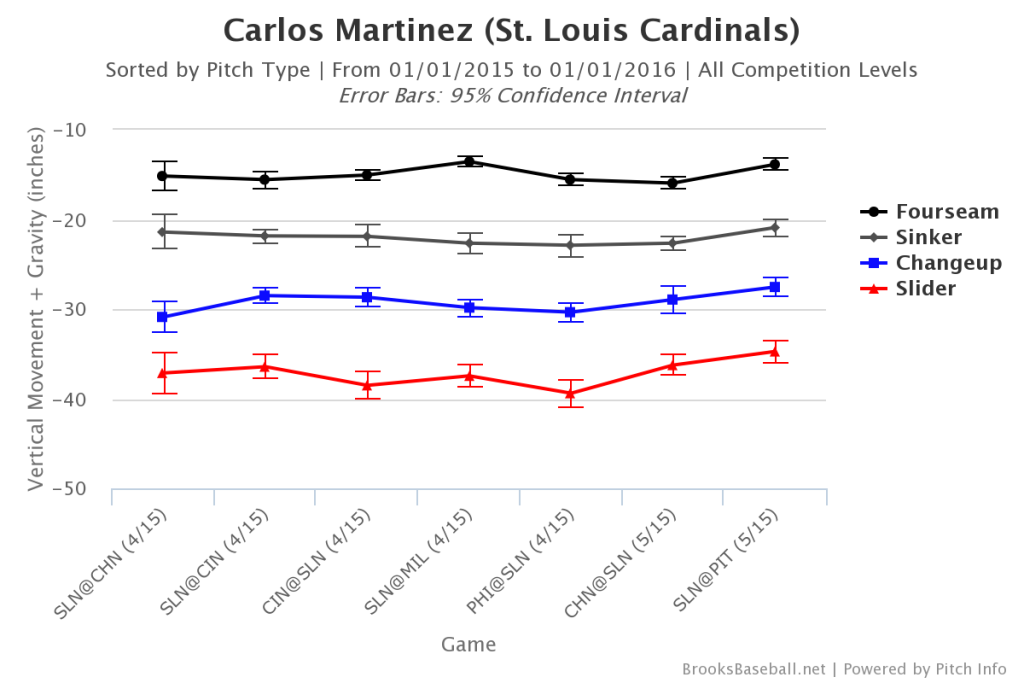 Yep.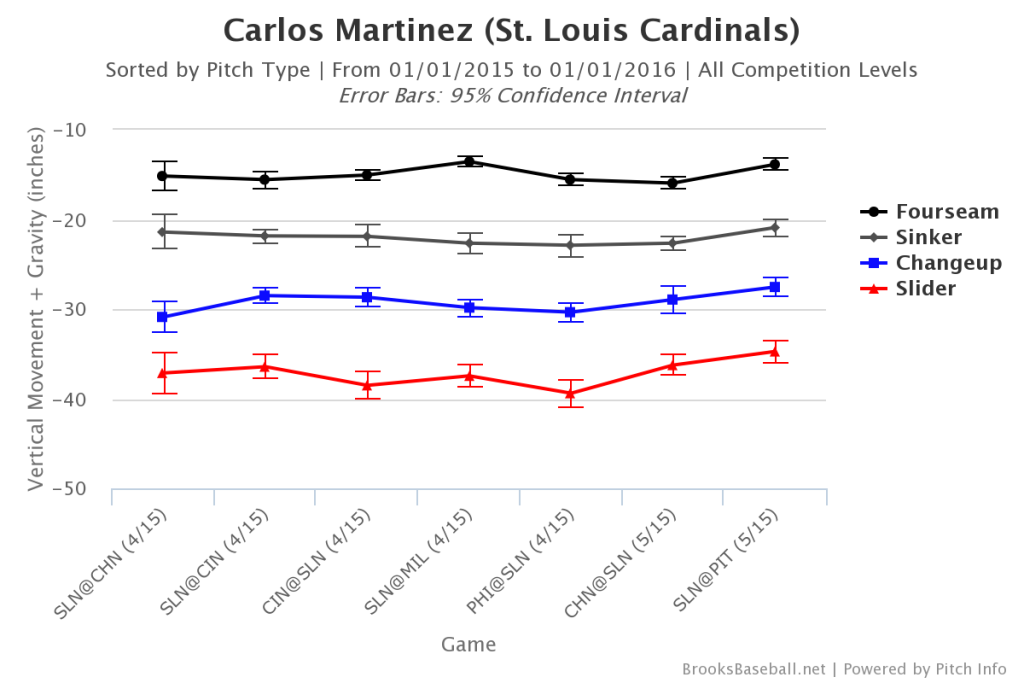 Yep.
I'm all set.
I wouldn't trade/drop him for: Phil Hughes, Shelby Miller, Alfredo Simon
After a 2014 in which just about everything bounced in Josh Harrison's favor, he just can't catch a break in 2015. Despite the fact that his plate discipline looks fine, his batted ball profile doesn't feature any major red flags, and he's spraying the ball almost perfectly equally to all fields, the erstwhile All-Star is sitting on a .173/.209/.282 slash line through 28 games.
But this is what can happen to a hitter who doesn't have a ton of power and doesn't take a lot of walks. When his BABIP goes, everything else goes with it. Harrison's scored only 12 runs in 113 plate appearances and has yet to swipe a base. He has two hits in the last two weeks.
And he's probably going to be fine the rest of the way. This stretch will certainly put a damper on his 2015 totals, but for the rest of the season, he's likely to end up right in the neighborhood that FanGraphs Depth Charts is projecting: .270/.306/.418 with nine more homers and 12 more steals.
That's still a solid player. It's a far cry from the 2014 version of Harrison, but we all should have known that coming in…
I wouldn't trade/drop him for: Pedro Alvarez, Brett Lawrie, Luis Valbuena
It appears the BABIP dragons have come home to roost on Trevor Bauer's roof. After allowing only eight hits over 20 innings in his first three starts, he's been tagged for at least seven hits and at least one homer in each of his last three outings. Worse, he's failed to strike out more than five batters in any one of those starts.
But this is part of what you get when you roster Bauer. He's still only 24 years old, still figuring things out. There will be ups and downs, but much like Martinez, what really matters is that the raw components that he relies on for success are still there. We've discussed Bauer's unique pattern in this space before, and he's still executing that plan this season.
His fastball still maxes out over 95 mph and still reliably misses bats up in the zone, per Brooks Baseball.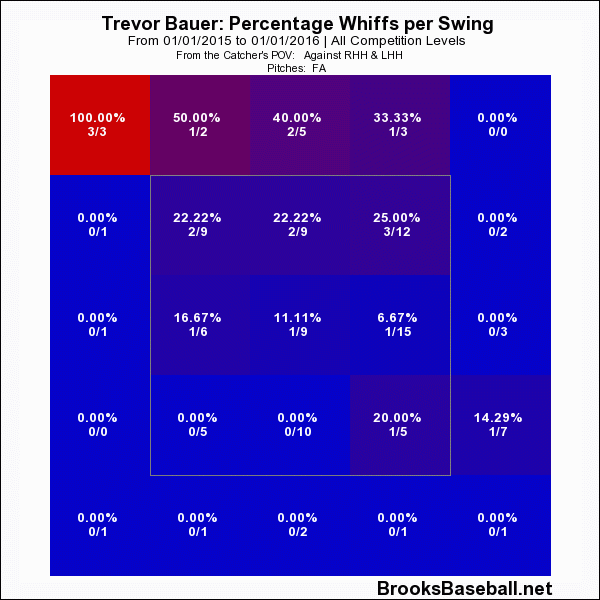 His offspeed stuff (mostly sliders and changeups) still reliably misses bats down in the zone, again, per Brooks Baseball.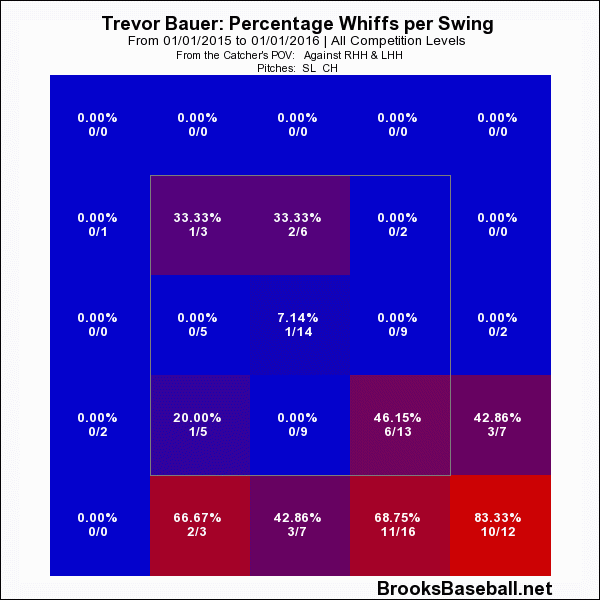 Overall, he's missing more bats than he ever has before and throwing strike one as often as he ever has as an Indian. The tools are improving, even though his recent results haven't showed it. I'm not ready to bail out yet.
I wouldn't trade/drop him for: A.J. Burnett, Edinson Volquez, Alex Wood