In the newest edition of fantasy baseball 3×3, we're celebrating the breakouts of James Paxton and Leonys Martin, and finally being honest about Michael Pineda.
Thoughts, questions, whatever… you can always find me on Twitter.
I DON'T HAVE ANYTHING INTERESTING TO PUT HERE, SO LET'S ALL ADMIRE WILY PERALTA BAT FLIPPING LIKE HE'S BEEN THERE BEFORE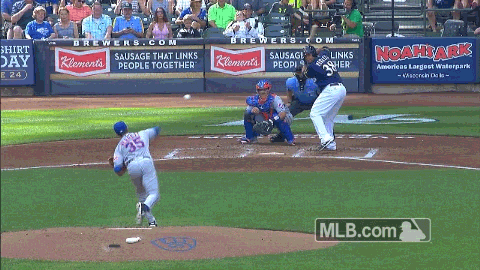 You do you, Wily.
3 TO CATCH
Players to be picked up; available in most standard leagues
James Paxton | Seattle Mariners | SP
The story of his latest start was lost in tales of a dramatic Texas comeback, but check out what James Paxton did to the Ranger's ninth-inning hero: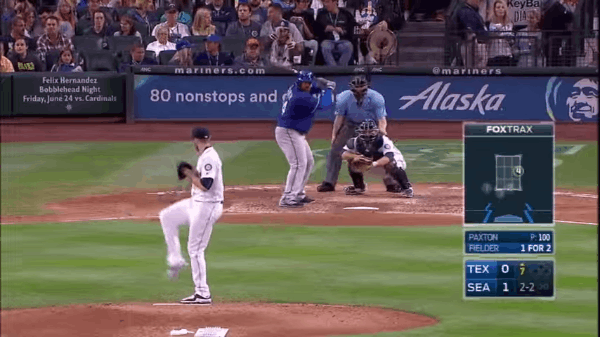 I sympathize, Prince. That's some Randy Johnson shit. I mean, kind of. Obviously, it's unfair to compare Paxton to the greatest pitcher in the history of his franchise, but there is one critical similarity: the ¾ arm slot.
Eno Sarris expertly chronicled the changes to Paxton's mechanics at FanGraphs; I encourage you to read that whole piece, but the net is that Paxton has dropped to a more natural arm slot and found a few miles-per-hour as a result. Now, he's spitting fire with the consistent accuracy of a flower-powered Mario brother.
The increased velocity has unsurprisingly made his fastball harder to catch up with, but it's had an even more outsized impact on his changeup, which was already an excellent pitch.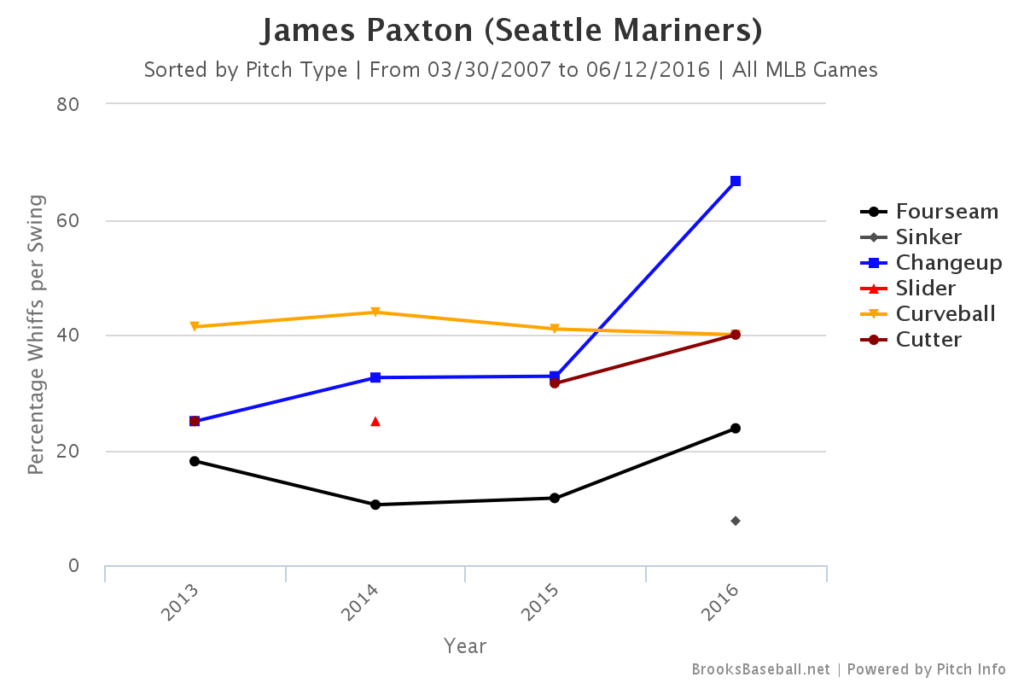 Paxton's switch to premium gas not only cuts down on hitters' reaction times, but also creates a bigger velocity gap between his heater and change, per Brooks Baseball. Combine that with even sharper movement on his offspeed stuff and is no surprise that hitters are coming up empty on nearly two-thirds of their swings against it.
We only have a tiny sample of the new Paxton, but there's nothing fluky about the way he's dominating. He is the top priority pickup in all formats.
To pick him up, I'd drop: Tyler Chatwood, Scott Kazmir, Joe Ross
Leonys Martin | Seattle Mariners | OF
Through 47 games, Leonys Martin already surpassed his career high in home runs while nearly doubling his career ISO. His stolen base totals are down a touch, but he's still on about a 30-steal pace over a full season's worth of at bats. If he's actually able to maintain this pace, he's a 20/20 candidate who's at least in the conversation to be a top-30 outfielder.
Martin has always been an aggressive hitter, but he's been more focused this season, swinging more often in the zone and less often out of it. His contact rates have actually dropped, which signals the sort of all-or-nothing approach that would translate to such a huge increase in power. His groundball rate is down and his flyball rate is soaring, which once again indicates a power hungry approach.
This isn't just a couple of wall scrapers (though admittedly, Martin's 380-foot average home run distance leaves a bit to be desired) throwing off a stat line; Martin is clearly trying to elevate the ball more.
Check out his final home run from last season:
And now his walk-off from a couple weeks ago:
There's a clear difference in the two swings; each conveniently resembling a former Mariners outfielder. Up through last season, Martin emulated the slashing swing of Ichiro. This season, he's channeling Ken Griffey, Jr.'s uppercut and getting the same sort of results.
He's probably playing over his head, but a spot at the end of your bench of the back end of your outfield is worth the risk. Because there is real evolution here.
To pick him up, I'd drop: Kevin Pillar, Ben Revere, Curtis Granderson
Sean Manaea | Oakland Athletics | SP
It appears I may have been a bit hasty in my initial recommendation on Sean Manaea; through eight major league starts, he sports a 6.20 ERA and 4.24 FIP. It's not a great look for me, but as ever, I'm stubborn about my faith in young talented pitchers. Big fastballs solve a lot of problems, and Manaea's fastball has been significantly more effective over his last few starts, without much change in velocity or movement.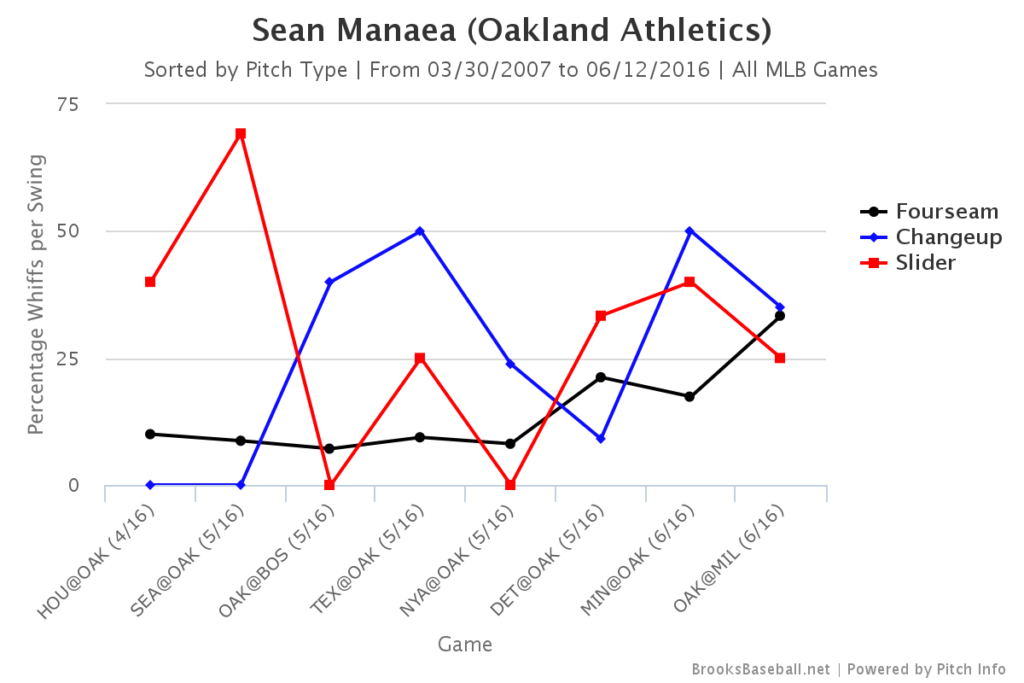 It's possible that's just a symptom of facing a couple of bad offenses, but looking at his release points, I'd guess it's because Manaea somehow got himself a ticket to an advance screening of Now You See Me 2.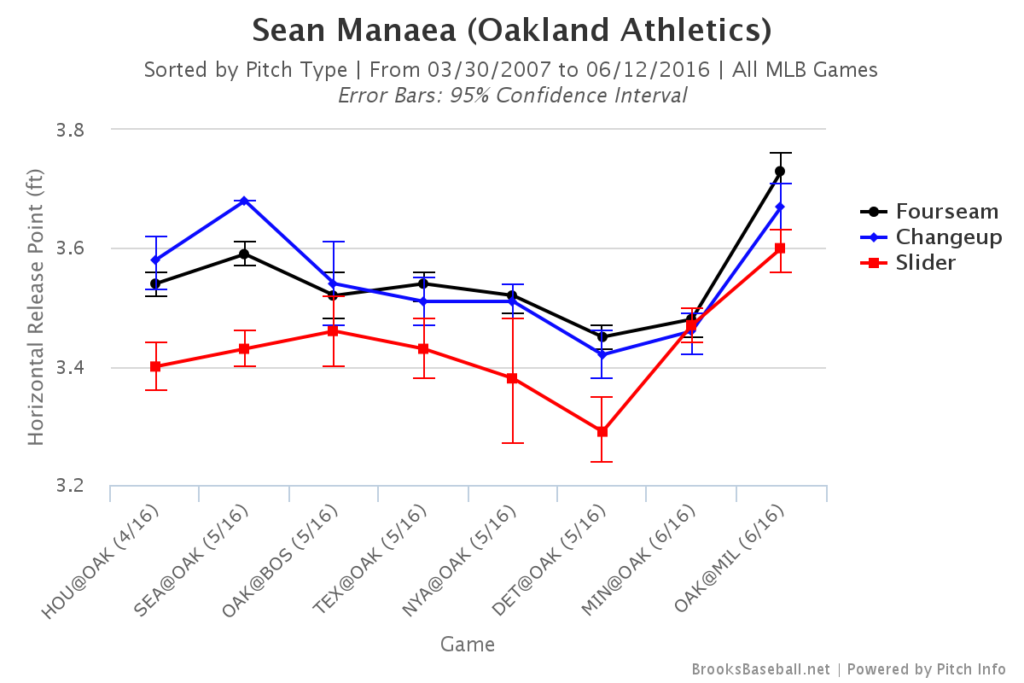 Since mid-May, he's been much better at throwing both the heater and change out of the same keyhole. Both pitches feature almost identical arm-side fade, which makes it really tough for hitters to decipher what's coming if they can't read it out of Manaea's hand. If he can keep this going, I'd expect a sharp rise in his strikeout rate.
It's still a bit early for him in shallow mixed leagues, but in AL-only of 14-team formats, Manaea's a great speculative add.
To pick him up, I'd drop: Dan Straily, Martin Perez, Hector Santiago
3 TO CUT
Players to be traded or dropped, depending on the depth of your league
Michael Pineda | New York Yankees | SP
In theory, Michael Pineda is great. He throws a shifty cutter that sits comfortably in the mid-90s, features an electric slider (yes, that was a line dance pun), and combines the two with excellent command. Those ingredients feel like they'd add up to a front-line starter.
But there's a faulty assumption built in there. Pineda doesn't function like a typical cutter-heavy right-hander.
Let's take Josh Tomlin as a comparison. He's excelled this season by tempting righties with cutters that dart away from the outside corner. When they're on target, those cutters are deadly.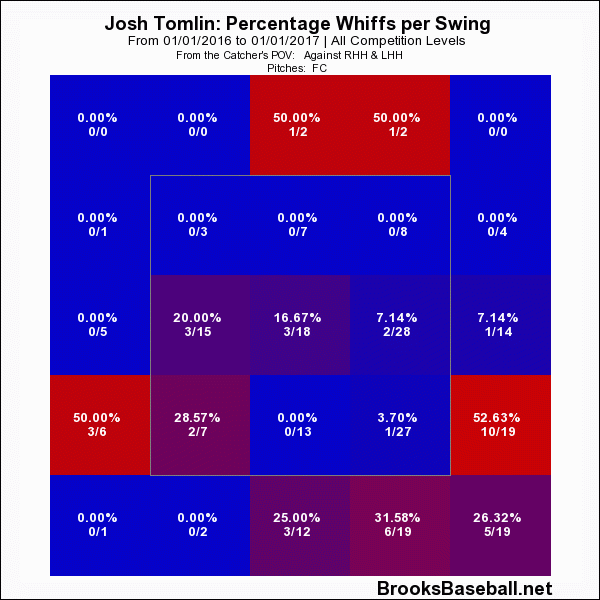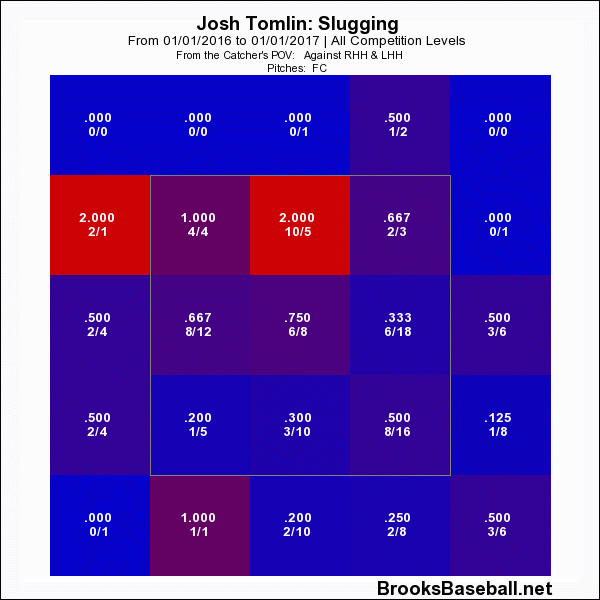 But when Tomlin misses with the cutter, hitters make him pay.
Pineda takes the mound with generally the same approach against righties. He tries to pound the lower reaches of the zone with cutters. The difference for him is, they only seem to work when he misses.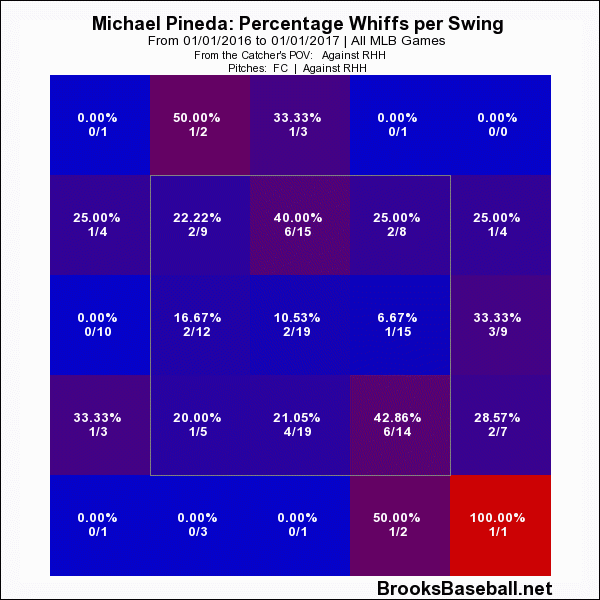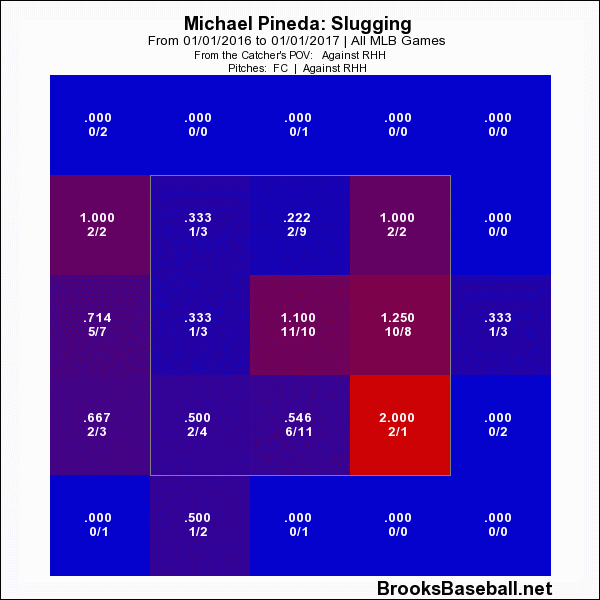 And this isn't new. Pineda has generated these backward results throughout his entire career.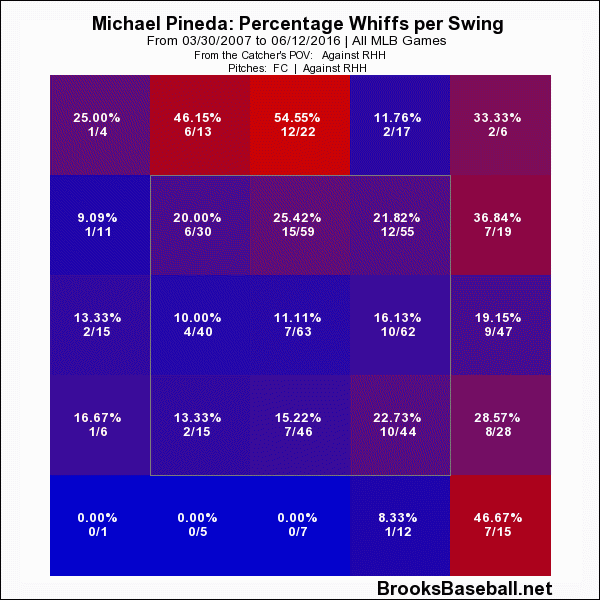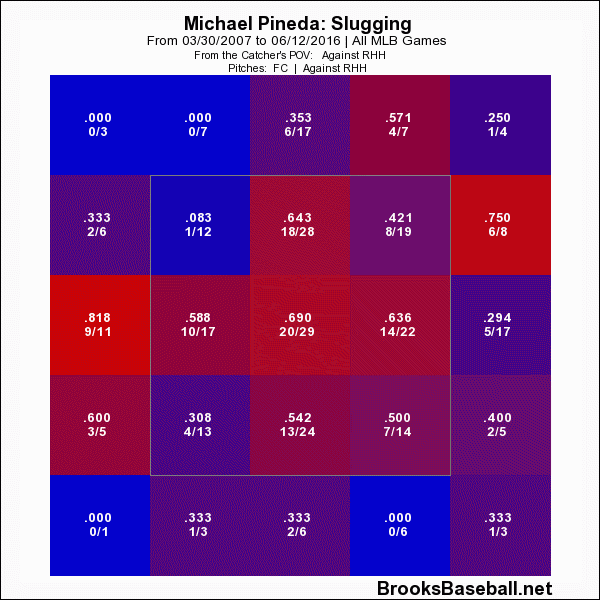 When Pineda executes his pitches, he gets pounded. That's not the type of pitcher I want deciding my fantasy fates.
I'd trade/drop him for: Jon Gray, Julio Urias, Zach Davies
Normally, I love owning closers on bad teams. People tend to overestimate the impact of overall team record on save chances, which makes Tony Cingrani types an excellent value.
Well, those types. Not actually Tony Cingrani. He's terrible.
In a vacuum, I'd still be willing to take whoever the Reds closer is, but if I'm not absolutely desperate for saves, I'm trading or cutting Cingrani. Roles aside, he's just a bad pitcher.
Somehow, he's hitting the strike zone with more than half of his pitches, but walking almost 14% of the batters he faces. He has a track record of racking up strikeouts, but despite the uptick in velocity that comes with throwing just one inning, his fastball is generating whiffs at a career-worst rate.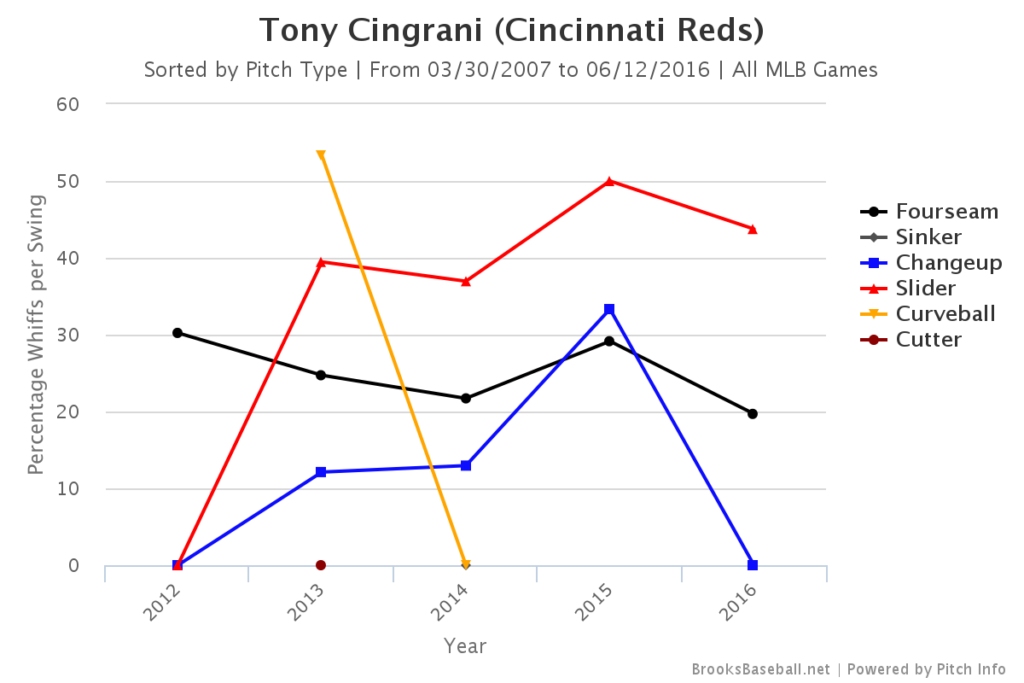 That spike in slider effectiveness would be awesome… if Cingrani was willing to throw it more than 17% of the time.
The only thing keeping Cingrani in the closer role is the lack of other options, but with Raisel Iglesias and Michael Lorenzen on the way back, that could change very soon.
I'd trade/drop him for: Will Smith, Hector Neris, Brandon Kintzler
The reasons to be concerned about Anibal Sanchez are obvious (lost velocity, more walks, more home runs), but this isn't the time to bench him and see what happens. Sanchez is either hurt, or has lost it completely.
He's been losing fastball velocity over the past few years and while this season's drop is more severe, it's not hugely concerning on its own. What is hugely concerning though, is the nearly three mile-per-hour drop in velocity on his slider, bundled with the fact that PITCHf/x can't seem to decide whether he's throwing a slider or a cutter. That trend started last year, but this season, the velocity and movement profiles of the slider and cutter have diverged even further. with the slider looking more and more like a high school curveball and the cutter looking more and more like a batting practice heater.
The results back it up; hitters have slugged .558 against the slider and .714 against the cutter.
A pitcher with a bad fastball can't also have bad breaking pitches. There's no reason to own Sanchez in any format.
I'd trade/drop him for: Matt Wisler, Matt Moore, Jerad Eikhoff
3 TO KEEP
Players to hold or trade for; owned in most standard leagues
If Addison Russell wasn't only 22-years old, I might be concerned about this prolonged slump. I might be concerned that he can't seem to take a walk when he can't seem to buy a base hit, but that sort of thing seems normal for a young player who's still figuring things out (and happens to be doing it on a team off to one of the best starts in big league history). He's pressing, but he's still hitting the ball hard.
Russell has been poor at the plate lately, but it hasn't materially affected his playing time, probably because he's really the only player on the Cubs who can credibly defend at shortstop. If the Cubs were really concerned about Russell, we'd have seen Javier Baez at short by now. If the Cubs were really concerned about Russell, they wouldn't have traded Arismendy Alcantara for a backup outfielder.
Russell is going to keep playing. And as long as that's the case, the best thing for his fantasy owners to do it just wait out the storm. He'll be fine.
I wouldn't trade/drop him for: Eugenio Suarez, Jean Segura, Starlin Castro
Nick Castellanos' splits show a pretty clear negative trend from month-to-month this season, but that's not really the case. Really, it was a stretch from about May 12 to June 4, when Castellanos really struggled. A look at his game-by-game pitch mix shows why: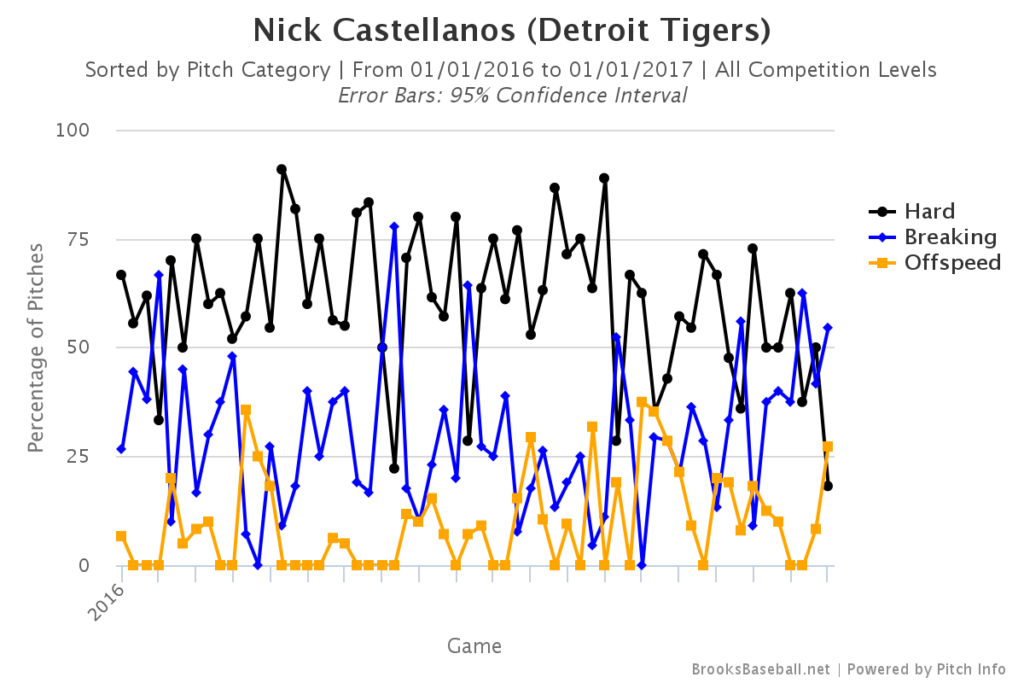 Around mid-May, pitchers started attacking Castellanos with more offspeed stuff and it's easy to see why. Per Brooks Baseball, Castellanos has a career .281 slugging percentage against changeups, his worst against any pitch type (minimum 400 pitches seen). Mostly, it's just weird that it took pitchers this long to try such an offspeed-heavy approach. During that stretch, he hit just .241/.268/.443.
But starting around the beginning of June, Castellanos was finally able to stay on those offspeed offerings (a date with R.A. DIckey may have helped). More than that, he was able to drive them.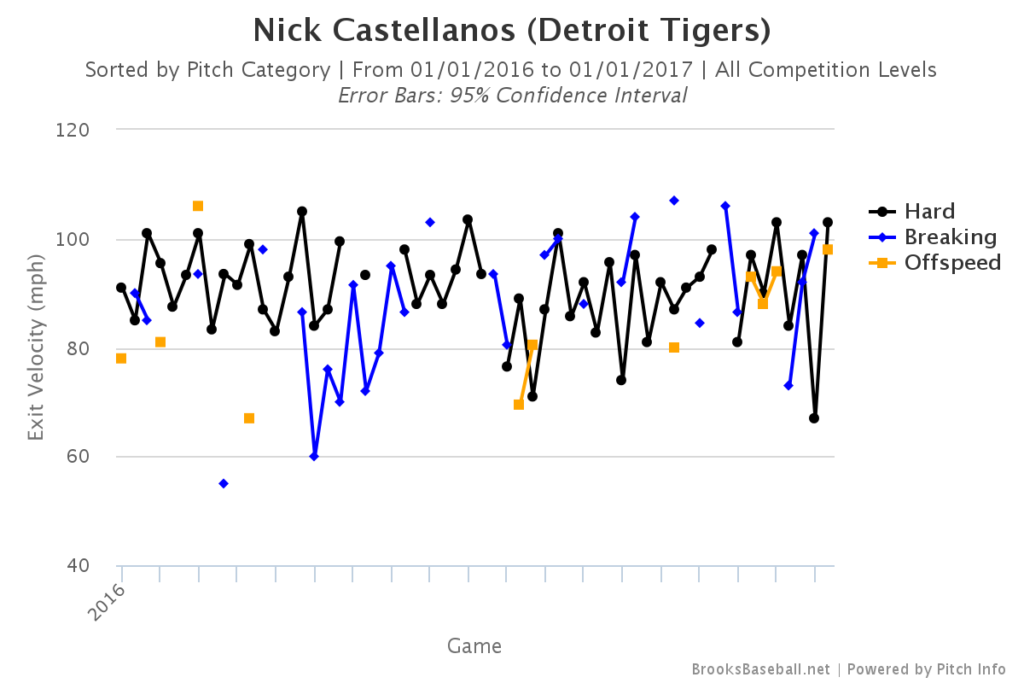 He hasn't totally bounced back from the slump, but this stretch of success against slow stuff is a big step forward.
I wouldn't trade/drop him for: Danny Valencia, Jake Lamb, Maikel Franco
Adam Jones | Baltimore Orioles | OF
Heading into this season, Adam Jones was about as reliable as a fantasy asset could be. He'd socked at least 25 homers in every season since 2011 with a generally outstanding batting average. But last year, his speed dried up completely, he hit just 27 homers, and his batting average dropped below .270 for the first time since his rookie year.
Jones has always played the game with a Red Bull style of maxed out athleticism and aggressiveness. Was 2016 the beginning of his sugar crash?
Author's note: I don't believe that narrative at all, I'm just writing it here so you can easily copy and paste it into trade offer emails.
In short, no.
Jones is swinging just as aggressively as last season, but chasing fewer pitches outside the zone. This leads to more hard contact, which you'd think would lead to more power and more hits. So it makes sense that he's leading the league in average exit velocity, per Statcast. How that ends up translating to a BABIP 50 points below his previous career worst, I can't say.
Jones is hitting fewer line drives that usual, per FanGraphs, but not enough to explain that huge drop in batted ball luck. If anything, more fly balls should mean more home runs, especially when Jones' infield fly rate is below two percent and his average home run distance and velocity are both higher than they were in 2013, when he popped a career best 33 home runs.
As the weather heats up, Jones will as well. He's a fantastic trade target.
Other author's note: I wrote this before Jones hit two homers on Sunday.
I wouldn't trade/drop him for: Matt Kemp, Jay Bruce, Kole Calhoun