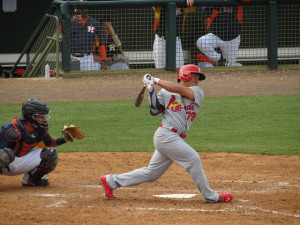 Over the next 45 days the staff here at The Fix will profile and predict the fantasy fates of prospects that could – should, in some cases – be closely monitored on the waiver wire or even in the draft room.
Kolten Wong should be one of the few second base prospects who can have a legitimate impact at the major league level this year. However, it remains to be seen whether or not he can positively impact your fantasy squad. Let's take a look at his minor league numbers to see if he could be your potential keystone of the future.


BACKGROUND
Kolten Wong was a first-round draft pick in 2011 from the University of Hawaii where he compiled a .359/.451/.564 combined mark over 3 seasons, stealing 53 bases, drawing 103 walks, and striking out 63 times in the course of 178 games.
He followed up his college career in Quad Cities (A) with a stout .335/.401/.510 slash, hitting five homers and stealing nine bags and posting a 24/21 strikeout-to-walk ratio. His strong performance earned him the following praise from Thomas Belmont of Prospect Instinct:
He'll be a solid defender at 2B and has more than enough arm to handle the position. He projects as a .300+ hitter and should develop 10-15 HR power. While he isn't fast, he is a good base runner and could steal 20 annually. 
His stay in double-A Springfield was not quite as friendly, but he still posted a decent .289/.351/.408 line, showing significantly less power than before (.119 ISO compared to .175), but continuing to flash some speed with mixed results (only a 65% success rate overall). At the same time his GB% increased from 40% in A ball to nearly 48% in AA, and his stellar plate discipline slipped as the walks went down while the strikeout rate increased.
However, last year Wong once again displayed some of the skills that had scouts labeling him as an overall top five 2B prospect. His ISO rate spiked back up to .163, his walk rate increased to nearly 9%, while keeping the strikeouts in check (13%), and he had his most successful year on the base paths, swiping 20 bags while only getting caught once. In total, his stay in Memphis resulted in a .303/.369/.466 mark with ten home runs and a 60/41 K-BB ratio. Unfortunately, the ground balls continued to creep up in AAA (over 49%), which was followed by his brief cup of coffee with the big club last year (GB% of 61%).
FANTASY IMPACT
Wong is a 5-9, 185 lb. left-handed hitter with good baseball instincts and the arm and athletic ability to hold down the keystone for a long time at the major league level. Josh Sickles notes the following about Wong's swing:
He has a simple, short, compact swing that shoots line drives to all fields. Most of his power comes against right-handed pitchers; he doesn't have as much pop against lefties, but still maintains a good batting average against them at least.
His overall approach, that of someone who walks a fair bit and doesn't strike out a lot, bodes well for his future success in the bigs. In fact, this type of profile tends to mitigate bust-rate potential of many prospects according to Chris St. John. According to this same piece, Wong has similar bust% rate as fellow hot-prospect Gregory Polanco. However, the question remains how much will he be able to contribute to your fantasy team in 2014 and beyond?
From a power perspective it would be foolish to think that Wong could hit more than 10 home runs per season. Busch Stadium has an overall park factor of 94 against lefties for hitting home runs and is not much better at allowing extra base hits. This will cap his already stunted power ceiling at probably 6-8 home runs. All that to say, you're not drafting Wong for his power potential.
This leads us to consider Wong's stolen base potential. This is a difficult question to answer as his speed is probably just a shade above average, but his success rate in stealing bases before AAA was well below average. However, if he did indeed learn some new techniques and has refined his approach during his stop in Memphis (95% success rate), then he could potentially get you double-digit steals (possibly maxing out at 13-15 this year).
His approach is refined enough to where he could potentially hit for decent average and not kill you in OBP either, and as our own Brett Talley has noted, he hasn't shown a penchant for platoon splits thus far in his career either, so he should be able to hold down the fort on a full-time basis ,which will lead to a full slate of at bats.
The analysis wouldn't be complete without mentioning a couple of intangibles. First, from a glass-half-empty perspective, the Mark Ellis signing looms large over this entire infield situation. It's obvious that the Cards did not feel completely comfortable handing over the position to Wong without garnering some veteran insurance. If Wong stumbles out of the gate, look for Ellis to begin eating into his ABs. This could certainly limit Wong's value in the short term. However, on the other side of the coin, Wong has found himself in the perfect organization for developing young infielders, as David Freese, Allen Craig, Matt Carpenter, and Matt Adams have all paid huge dividends the past few seasons. There is reason to believe that the Cards will continue to max out Wong's potential, even if it presently appears somewhat limited.
PROJECTIONS
| | AB | R | HR | RBI | SB | AVG | OBP | SLG | OPS | BB | K |
| --- | --- | --- | --- | --- | --- | --- | --- | --- | --- | --- | --- |
| Composite | 412 | 45 | 6 | 37 | 14 | 0.252 | 0.302 | 0.342 | 0.644 | 27 | 67 |
| RotoChamp | 400 | 40 | 5 | 33 | 14 | 0.250 | 0.289 | 0.305 | 0.594 | 22 | 75 |
| Steamer | 429 | 49 | 7 | 47 | 15 | 0.269 | 0.322 | 0.387 | 0.709 | 31 | 59 |
| CAIRO | 422 | 48 | 6 | 34 | 14 | 0.238 | 0.292 | 0.337 | 0.629 | 29 | 70 |
As you can see, the projections leave a lot to be desired. Obviously in NL-only leagues there is some value here, but outside of some steals he doesn't retain a lot of mixed-league value. Although, if Wong did what Steamer projects, there are worse options at second base this year.
When all is said and done, however, there are too many question marks and little upside for me to recommend investing heavily in Wong on draft day this year. Hitting near the bottom of the lineup I envision a .260/.320/.370 line with 7 HR and 13 SB, with maybe 100 combined runs and RBI. There's nothing wrong with those numbers if you play with a MI position, but I don't think that will cut it as your starting second baseman—even if 2B is an offensively-challenged position. If Ellis wasn't hanging around I'd be slightly more optimistic, but both in the short and long-term, Wong looks like the classic case of a guy that will be more valuable in real life than in fantasy.