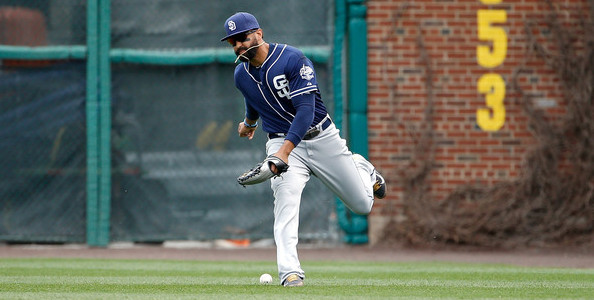 Welcome to the TheFantasyFix.com's nightly fantasy baseball recap, where you'll find updates on bullpen usage, lineup construction, injuries, and transactions. Whether you play season-long or daily fantasy, expect to see the best coverage from ever team, every night, all season long.
Patriot's Day started with the Orioles in Boston to take on the Sox. Justin Masterson, who struggled his last outing, was dominant in his start— going five innings allowing one run on three hits. Wei-Yin Chen was solid in his start, but struggled with his control—allowing five walks in 4 1/3 innings. He finished the day giving up five runs, but all of them unearned as Baltimore committed three errors on the afternoon. Both pitchers will face each other again on Saturday when the two teams meet in Baltimore.
The rest of the night saw some great matchups; including the Cubs in Pittsburgh to take on the Pirates and C.C Sabathia looking to get back on track in Detroit against Alfredo Simon and the Tigers. The Cubs picked up their 7th win of the season behind a strong game from Jorge Soler (4-5, 2R) and rookie sensation Kris Bryant ((3-4, 3 RBI, R). The Yankees fell to the Tigers 2-1 despite a strong game from future Hall of Famer Sabathia—who pitched eight innings giving up two runs on seven hits and striking out five. Other winners on the day include Cincinnati (over Milwaukee), Chicago White Sox (over Cleveland), and Kanas City (over Minnesota). Other teams in action to conclude the night are San Diego in Colorado, Oakland in LA (angels) and Houston in Seattle.
 IF YOU ONLY READ ONE THING…
If you stacked the San Diego Padres tonight, you're rolling in money. The Padres came out blazing from the start of the game—scoring nine runs in the first two innings. Leading the way for the Padres was Matt Kemp, who at this moment, is 3-4 with four RBI and three runs. Other notable players include Wil Myers (2-5, RBI, 3R), Derek Norris (3-5, RBI, 3R) and Yonder Alonso (1-3, 3 RBI). It was a night to forget for Jorge De La Rosa—who lasted just two innings, giving up nine runs (seven earned) on nine hits while striking out three. It was also a disappointing night for many of the Rockies' starters, including Nolan Arenado who was a last minute scratch due to a wrist injury.

JUST AS WE EXPECTED…
Kris Bryant has taken the baseball world by storm. Everyone around the twitter universe is talking about the 23-year-old, and so far he's looked very good. The 6ft5 third baseman was clutch—hitting a double in the top of the seventh that gave the Cubs the lead. Bryant finished the night 3-4 and now sports a very impressive .429 batting average through four games with four RBI. The Cubs will see Francisco Liriano tomorrow night where the Las Vegas, NE native will look to continue his strong play.
The Kanas City Royals continue to dominate the league—picking up their 10th win of the season beating the Twins 7-1. Once again, the middle of the order was strong, as both Kendrys Morales and Salvador Perez finished the night with two hits each. Edinson Volquez was very good tonight—pitching seven innings of one run ball while striking out five. Volquez now drops his ERA to 1.99 on the season and will look to continue his strong play Saturday against the White Sox.
BUT WE DIDN'T SEE THIS COMING…
Despite taking the loss, C.C Sabathia pitched his best game of the season. The lefty has struggle so far this season, and despite his 5.68 ERA coming into tonight, he was able to control his pitches and get batters out. If you went with Miguel Cabrera tonight for MLB DFS purposes, well you got burned. The first baseman finished the night 0-3 and scored as many points DFS points as I did tonight (zero). Miggy will look to get back on track tomorrow as the Yankees send Nathan Eovaldi to the hill.
I was big on Matt Shoemaker tonight, and that exploded in my face. The 28-year-old lasted only three innings giving up five runs on seven hits and striking out just two hitters. The big blow came from Stephen Vogt who blasted a three-run HR in the top of the third. DFS players who went with Shoemaker tonight saw him score a terrible -5.25 FP, and kill any chances of cashing in.
 THE REST OF THE DETAILS
SAVE CHANCES
 LINEUP MOVES
Nolan Arenado was a last-minute scratch because of a wrist injury. Rafael Ynoa was his replacement.
 INJURIES
Lastly, the Cubs are calling up Addison Russell, according to Jon Heyman:
cubs now calling up addison russell to the majors. http://t.co/HJ0kD3hzIZ

— Jon Heyman (@JonHeymanCBS) April 21, 2015
Seems as if Russell will be slated to play the keystone sack (second base) upon his arrival with his parent club. It's likely that Russell will be a better real player than a fake baseball asset, but should be considered in all 12-team formats depending on team need.