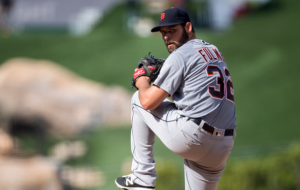 Contrary to 2015's historic MLB rookie class, it appears the majority of this year's crop of fresh faces will take a bit longer to fully bloom in the show; particularly this group of young starting pitchers. The Pirates's Jameson Taillon and Rays' Blake Snell were sent back down to Triple-A after just one start with the big-league club, righthander Jose Berrios surrendered 17 earned runs in just 15 innings during his brief stint in the Twins' starting rotation, and Dodgers' phenom Julio Urias will take a 6.94 ERA into his fourth Major League start tonight against the San Francisco Giants.
The one pitching prospect that seems to be impervious to this year's universal rookie struggles is Detroit Tigers' righty Michael Fulmer. The 23 year-old that was acquired in last year's Yoenis Cespedes deal with the Mets did take a few lumps right out of the gate in 2016; however, he really settled in during his fifth big-league start when he struck out 11 Tampa Bay Rays in seven innings of one-run ball. Fulmer had not given up a run in his three starts following that dominating outing against Tampa, and took a 22 ⅓ scoreless innings streak into the Bronx this Sunday afternoon. Despite not having his best stuff on the mound today, Fulmer extended his streak to 28 ⅓ by throwing six shutout innings against the Yankees and striking out three in the process. He surrendered just two hits all afternoon, and was able to work his way around three walks unscathed. Fulmer's ERA has dropped a full four runs from 6.52 to 2.52 since the start of this scoreless streak, and he improved to 7-1 on the year with today's 4-1 win over New York.
Miguel Cabrera collected his 2,400 career hit on the offensive side of the ball for the Tigers, and Ian Kinsler launched a two-run homer in the seventh inning for his 13th already this season. Kinsler is having a nice resurgence at the plate this year, putting up first-half numbers comparable to those super-seasons when he was a 30/30 second baseman back with the Texas Rangers. The 33 year-old veteran has already surpassed his home run total from a year ago and has an OPS over .800 for the first time since 2011. What is most impressive about Kinsler's recent power surge is that he hasn't really changed his approach at the plate to achieve it. His plate discipline is nearly identical to what is was last season, and he's not selling out for power by trying to pull the ball more either. Kinsler is just simply making hard contact more frequently than he ever has in his Tigers' career and is hitting 12.9% of his fly balls out of the ballpark.
IF YOU ONLY READ ONE THING…
The Toronto Blue Jays have quietly played their way back into the American League East race, and have won a surprising 16 of their last 23 games. The Jays sent their young righthander Aaron Sanchez to the bump today to try and take three of four at home against the division leading Baltimore Orioles. Sanchez is coming off a stellar outing in which took a one-hit shutout into the ninth inning against Detroit while striking out twelve Tigers along the way. The 23 year-old has really had a breakout season thus far in 2016 and seems to be establishing himself as the true ace of the Toronto pitching staff with a sub-three ERA and FIP entering play today.
Although he did earn his sixth win of the year in today's slugfest, Sanchez did see those numbers balloon up a bit by surrendering six runs on 10 hits with four home runs against the potent Orioles offense; and yet, he still fared much better than his counterpart in this game, Ubaldo Jimenez. Jimenez surrendered five runs in the bottom half of the first and only retired one batter in what proved to be the shortest start of his career before he was lifted for reliever, Vance Worley. After the rough outing, Jimenez now owns the highest ERA in all of baseball and falls to a 3-7 on the season. The O's nearly erased a 7-1 deficit and got Jimenez off the hook by pulling within one run thanks to their five team home runs, but ultimately could not muster enough offense to survive Russell Martin's deciding three-run shot in the sixth inning. With today's 10-9 win, the Blue Jays now have a 4-3 advantage in their season series against Baltimore and will play the O's 12 more times this year. The Orioles and Red Sox share first place in the AL East as of today with the Blue Jays in the mix just two games back.
JUST AS WE EXPECTED…
If I was a betting man, there seemed to be no greater sure-thing this Sunday than the Chicago Cubs' matchup against the Atlanta Braves. Absurd moneyline aside, the smart play would have  been to bet the house on the Cubbies, as baseball's best team sent Jon Lester to the mound in their rubber match against the worst offensive ball club in the game. Lester was 3-0 with 0.77 ERA and 26 strikeout in his last three starts, and has posted the lowest walk-rate with the highest LOB% of his big league career. The lethal lefthander tossed another gem today, as expected, and lowered his ERA to 1.89 on the year by shutting down the Braves for seven innings. Lester struck out seven and surrendered just one unearned run in today's masterful outing, and even added an RBI at the dish as well. He survived an uncharacteristic four errors from his defense and has now given up just two earned runs over his last 30 ⅓ innings. Lester is is off to one of the best starts to his storied major league career, and trails only Clayton Kershaw, Madison Bumgarner, and teammate Jake Arrieta in ERA for the 2016 season.
WHAT WE DIDN'T EXPECT…
After his ugly dust up with Manny Machado this past week, Yordano Ventura delivered his strongest pitching performance of the 2016 season this Sunday against the White Sox. Ventura, whose nine-game suspension for intentionally throwing 99-MPH fastballs at Machado is still pending, seemed hyper focused in today's outing against Chicago and came through with 10 strikeouts over seven innings of work with just one earned run. Ventura's body language was horrible against the O's this past week, and his frustration is what caused the confluence of events leading to that benches clearing brawl; however, Ventura seemed like a completely different pitcher today, keeping his composure the whole way even after giving up a no-doubt bomb to Jose Abreu. Ventura appeared to be on thin ice recently, both with his teammates and with his status in the Royals'  starting rotation; but today's performance is a really solid representation of the hard-throwing righty's full potential. It remains to be seen if Ventura can keep his spot in KC's starting staff, but today's outing should buy him a few more times around in the rotation.
Salvador Perez added an insurance homer in the ninth inning to sure-up the 3-1 win which helped Kansas City take two of three from Chicago. The defending champion Royals had lost eight straight before back-to-back wins at US Cellular Field, and were able to leap-frog the White Sox in the standings who have been struggling to stay afloat after leading all of baseball in wins through the first month of the season.
SAVE CHANCES
Francisco Rodriguez (19)
Wade Davis (17)
Jeremy Jeffress (18)
Jason Grilli (3)
Sam Dyson (10)
Boone Logan (1)