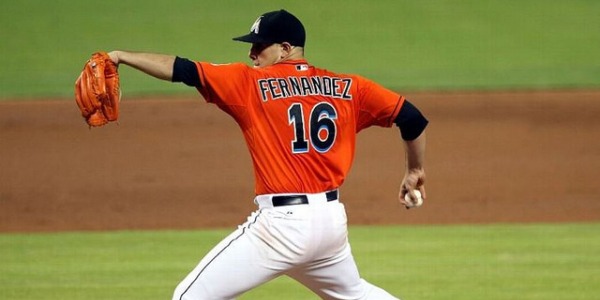 The Chicago Cubs have been the consensus favorites to win the 2016 World Series since the start of spring training, but major league baseball's best team have hit a bit of a rough patch in the last week. The club most often compared to the '98 Yankees have been struggling as of late, and were faced with the seemingly impossible and daunting task of taking on Jose Fernandez at home this Sunday. Fernandez entered the day with a remarkable 23-1 career record at Marlins Park with an ERA of just 1.48. The Miami ace is also in the midst of a dominating season with a 2.05 FIP, 2.36 ERA, and 12.83 K/9. Fernandez continued to pad those season stats today and helped his club take three-of-four from the Cubbies by surrendering just four hits and one earned run over the course of seven strong innings while striking out 13 along the way.
Although their run differential is still tops in all of baseball by a longshot, Chicago has lost six of their last seven with today's 6-1 defeat, and now share the league lead in wins with the Rangers and Giants at 48. The Cubs still lead their division by nine and half games, and will look to get back on track as they head into Cincinnati for a three-game series with the Reds.
IF YOU ONLY READ ONE THING…
Another talented team that hasn't performed up to their abilities in recent weeks is the Boston Red Sox. The Sox has dropped six of their last 10 heading into their rubber match with the Texas Rangers Sunday, and sent shaky starter Clay Buchholz to the mound to try and steal a series win in Arlington. Today's start was Buchholz's second time around since being reinstated into the Red Sox starting rotation, and the righty would have to take on one of baseball's best teams on the road.
After throwing surprisingly well in his 3-1 loss last time out, Buchholz looked more like the guy Red Sox fans have grown to dread seeing on the bump as he walked five and gave up four earned runs in 5 ⅓ innings. The Rangers banged out 10 hits on the afternoon and got ahead early with three first inning runs. Each of the first six batters in the Texas lineup got hits in today's 6-2 win, including Prince Fielder who homered for the seventh time this year. It is no secret that Fielder is having the worst season of his career, but the slugger extended his current hit-streak to eight games with today's long ball, and is hitting .254 this month after spending much of the year hovering around the Mendoza line.
JUST AS WE EXPECTED…
White Sox number one, Chris Sale notched his MLB-best 13th win of the season today by tossing an eight-inning gem at home against the Toronto Blue Jays. Chicago's south-siders had won 12 of Sale's previous 15 starts, and were put in another position to get a W with the lefty's stellar performance this afternoon. Sale struck out seven in today's start, and surrendered just two earned runs on a pair of solo homers by Troy Tulowitzki and Junior Lake in garbage time. His strikeouts are slightly down from 11.82 per nine to 8.74 this season, but he's been able to limit damage and stay successful with his 0.99 WHIP.
Toronto is 5-5 in their last 10 games after losing 5-2 today, and are clinging onto the third spot in the American League East standings. The club is one game under .500 since losing Jose Bautista to turf toe, and will need to find additional offense elsewhere if they hope to keep pace in the division with the Orioles and Red Sox. The club will hope to get that production out of Tulowitzki, who has looked more like vintage Tulo since returning to the Jay's lineup. The All-star shortstop is slashing .318/.375/.682 in his six games since coming off the DL and has homered three times.
WHAT WE DIDN'T EXPECT…
The hottest team in baseball right now has got the be the Cleveland Indians, who won their ninth straight game by homering four times in the fifth inning in their 9-3 victory over the Detroit Tigers. Mike Napoli, Lonnie Chisenhall, Juan Uribe, and Tyler Naquin all went deep in that monstrous six-run fifth, and the Tribe tagged righthander Justin Verlander for eight total on the afternoon. Today's outing was most definitely Verlander's worst of the year, but the veteran starting pitcher has been largely effective, and has had a somewhat return-to-form in 2016. Velander has posted a K/9 of 9.18 on the year, which is better than the mark he set in his MVP/Cy Young season of 2011. His ERA and FIP are a little inflated at the moment, but today was the first outing since May 3rd in which Verlander failed to have a quality start.
The Tiger's three runs this afternoon all came via the longball as Mike Aviles launched his first homer of the season, and Victor Martinez hit numbers 13 and 14. V-Mart continues to be one of the very best switch hitters in the game, and has posted a slashline of .316/.363/.508 at the age of 37.
SAVE CHANCES
Tony Cingrani (9)
Arodys Vizcaino (10)
David Robertson (20)
Shawn Kelly (3)