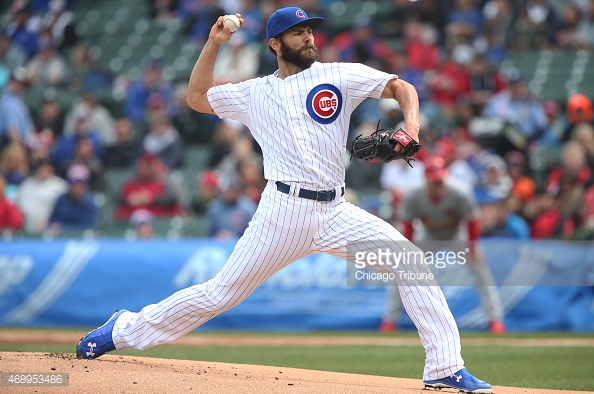 Christopher Morais
Welcome to The Fantasy Fix's nightly fantasy baseball recap, where you'll find updates on bullpen usage, lineup construction, injuries, and transactions. Whether you play season-long or daily fantasy, expect to see the best coverage from every team, every night, all season long.
Another busy Saturday night that saw all 30 teams in action. With so many teams still in the hunt to make the playoffs, every game is an important one. The Jays continue their quest to stay atop the A.L East, while the Nationals try to get back on track and make a late season push.
IF YOU ONLY READ ONE THING…
 After pitching a no-hitter in his last outing, Jake Arrieta was back on the mound today looking to pick up right where he left off. The Cubs starter was once again lights out, giving up four hits and striking out seven in eight innings of work. He lowered his ERA to 2.03 and now has 197 strikeouts in 191 innings. The 29-year-old moves to 18-6 on the year and looks to be ready to lead the Cubs into the playoffs.
JUST AS WE EXPECTED…
Felix Hernandez hasn't been as consistent over his last six starts, giving up a ton of runs and hits, but tonight fantasy owners were reminded of how good "King Felix" can be when he's on his game. The southpaw pitched eight innings, giving up three runs on six hits while striking out nine. Apart from a shaky third inning, Hernandez was dominant and in control of the game. Seattle came out strong to start the game, scoring three runs in first inning and adding two more in the third. A's starter Jesse Chavez would last just two-plus innings, giving up five runs on six hits while striking out two. With Seattle 7.5 games back in the A.L Wild Card, their hopes of making the playoffs are pretty much over, but they refuse to go down without a fight and will need their ace to pitch more games like he did today.
Another day, another Blue Jays win. Toronto continues to be one of the greatest stories in baseball this year. David Price took to the mound this afternoon and lead the Jays to their 77th win of the season, picking up his 14th win of the year in the process. The lefty pitched seven innings of one run ball and struck out eight in the win. The 30-year-old has been excellent since coming over from Detroit at the trade deadline and will be counted on to help Toronto secure the top spot in the A.L East. Price will make his next start Thursday when the Jays travel to New York to face the Yankees in a crucial four game series.
The Rockies may be out of playoff contention, but Nolan Arenado doesn't seem to care. The third baseman hit another homerun today, his sixth in as many games, setting a new team record. Arenado now has 36 homeruns on the season to go along with 105 RBIs. The 24-year-old is an elite player already and will continue to get better as he gets older. Playing at Coors Field obviously helps, but we make be looking at the next player to hit 50 homers in a season.
BUT WE DIDN'T SEE THIS COMING…
Mets starter Bartolo Colon hasn't been as dominant in the second half of the season, but the 42-year-old looked 24 tonight after his complete game shutout against the Miami Marlins. Colon gave up nine hits and struck out just two, but eight of the nine hits were singles and the Marlins were unable to cash in on any of their chances, finishing 0-for-5 with runners in scoring position. The Mets supplied Colon will all the run support he would need in the first two innings, scoring four runs in the first and three more in the second. Catcher Travis D'Arnaud and shortstop Wilmer Flores hit back-to-back homeruns in the first inning, with D'Arnaud's homer being a three-run shot, while Juan Lagares crushed a two-run shot in the second inning. New York has been a different team since the all-star break and look ready to make the playoffs for the first time since 2006.
THE REST OF THE DETAILS
SAVE CHANCES
Brad Boxberger (34)
Francisco Rodriguez (34)
Hector Rondon (26)
Kevin Jepsen (11)
Kenley Jansen (29)
Shawn Tolleson (29)
 LINEUP MOVES
Chicago White Sox claim Mike Olt off waiver from Chicago Cubs
INJURIES
Aaron Hill—day-to-day—(hamstring)
Cameron Maybin—day-to-day—(eye)
Matt Wieters—day-to-day—(wrist)
Hanley Ramirez-15-day DL—(shoulder)
Pablo Sandoval—15-day DL—(back)
Kyle Schwarber—day-to-day—(ribs)
Jose Iglesias—day-to-day—(finger)
Mike Moustakas—day-to-day—(hamstring)
Matt Shoemaker—day-to-day—(forearm)
Adeiny Hechavarria—day-to-day—(hamstring)
Daniel Murphy—day-to-day—(quad)
Michael Cuddyer—day-to-day—(wrist)
Jacoby Ellsbury—day-to-day—(illness)
Sam Fuld—day-to-day—(back)
Domonic Brown—day-to-day—(concussion)
Yonder Alonso—day-to-day—(back)
Nori Aoki—day-to-day—(concussion)
Franklin Gutierrez—day-to-day—(groin)
Mark Reynolds—day-to-day—(wrist)
Evan Longoria—day-to-day—(forearm)
Michael Taylor—day-to-day—(knee)