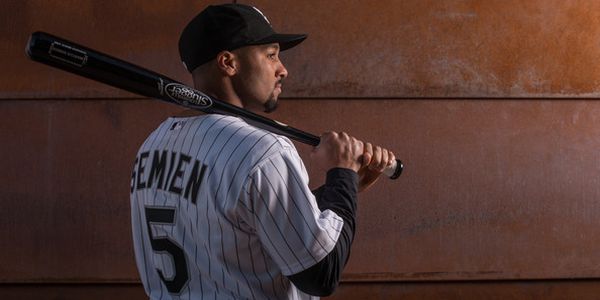 Last year there was not one player I was making sure I had on my fantasy teams more than Matt Carpenter. Thankfully most of my leagues are keeper or dynasty leagues so I have Carpenter not only for last year's magnificent season but at a super low price going forward. Most anyone who drafted Carpenter on their own or took my advice to draft him were extremely happy with getting his performance at his respective value. He is not the absolute best fantasy player out there, as his home run and steals totals are nothing to write home about, but mutli-position eligibility and great rate stats with unbelievable run totals late in the draft were key to many a league winning teams.
Entering draft day everyone has sleepers on their mind, and my goal is to search for more Matt Carpenter types that I can not only enjoy this season but also next season in my long term leagues. To me, one guy I know I will be targeting in such leagues is Marcus Semien. I already own him in a dynasty league, and I think he will end up being much more valuable this time next year than he currently is.
Semien will have difficulty finding playing time at the outset of the season. The White Sox have Matt Davidson, Alexei Ramirez, and Gordon Beckham penciled in across the infield spots Semien would be able to play. In my honest opinion, Semien is the best player of the four. Both Davidson and Ramirez are as good or better than Semien either on offense or defense, but as an overall player I believe Semien to be the best of the three. He is hands down better than Beckham, but Beckham's leadership role will likely keep him in the lineup for one last shot at becoming a legitimate regular.
Eventually, Semien will find his playing time, the only question is how soon will it be to make drafting him worthwhile? You have to have patience and a spot on your roster to keep Semien on it until he gets the fulltime gig at one of the aforementioned positions. He goes into the season with third base eligibility, and I expect him to gain eligibility at all three positions as the season continues, which is of course valuable in and of itself.
So going back to Semien the player and why I am so confident in him, it comes down to three things. He is patient at the plate, he can hit home runs, and he can steal bases. He is really what we want Josh Rutledge to be, aside from Rutledge's free swinging tendencies and lower quality defense than the man in front of him. Semien in a full time role could absolutely slug 15 home runs and steal 15 bases while contributing in on base percentage leagues. If he is the player I expect him to be, he would hit in the upper portion of the lineup as he did last season in the minors.
In his first and only run at double-A, he walked 84 times in 105 games with just 66 strikeouts. It is hard to exemplify how crucial those types of numbers are from a leadoff guy in his first try in the upper minors. Along with the plate discipline, he hit 15 home runs and stole 20 bags in 25 opportunities. He was well in control of the league and has shown he can have success in the upper minors. The next step is showing he can do that in the majors.
According to ZiPS projection system, it thinks he can sustain close to league average success right out of the gate. ZiPS has Semien hitting 15 home runs with 15 steals in 629 plate appearances, along with a .243/.323/.388 line. Of course, that line is not the best, but he does not kill you there either as long as he contributes in the two most crucial categories – homers and steals.
I am actually more bullish on his rate stats, just as I was for Carpenter last season, than ZiPS. He hit .290/.420/.483 in double-A last season, and if he is able to translate his plate discipline into the majors he should hit for a higher average then the .243 projection. Maybe he won't be a .290 hitter as he was last season, but something like .270 is certainly plausible.
Drafting Semien takes some patience and hope, and if he were as big of a slam dunk as we all would hope he would not be the sleeper I am making him out to be. If there is one sleeper who has the ability to push themselves into playing time and contribute more-or-less across the board immediately as a rookie, I am betting on Semien. If you have the willingness to shoot for a wildcard later in the draft, Semien is certainly worth the look.