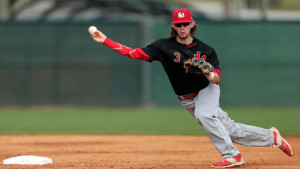 While the collegiate ranks offer only a handful of solid prospects, teams willing to gamble on youth have more to choose from.
Brendan Rodgers – SS – Lake Mary HS (Florida)
The consensus top high school bat, Rodgers lays legitimate claim to being the best overall prospect in the 2015 draft class. An excellent all-around athlete, Rodgers combines plus power, speed, and arm strength with well-above-average hitting and fielding ability. Rodgers is a young man without significant weaknesses.
While he lacks the crazy, elite tools of a potential franchise cornerstone, Rodgers stacks up well with recent high school draftees. Over the past five years, only Bryce Harper, Manny Machado, Carlos Correa, and Byron Buxton were clearly better prep prospects. Rodgers looks every bit like a future first-division starter and possible All-Star. Shortstops who can hit .280 with 20+ home runs and steals are incredibly rare; Rodgers has that kind of upside and is a reasonable bet to reach it.
Kyle Tucker – OF – Plant HS (Florida)
Generally thought of as the best pure hitter in the high school class, Tucker will be drafted inside the top ten thanks to a picturesque left-handed swing. The 6-foot-4, 175 pound Tucker has yet to fill out his lanky frame. He's all knees and elbows when he runs, but Tucker currently possesses solid, or slightly better, speed and should be fine defensively in a corner outfield spot.
Tucker reminds me a bit of John Olerud, in that he's somehow both graceful and awkward at the same time.
There's enough loft and physical strength to project 25+ home runs down the road, and his swing is so smooth that it's easy to see Tucker hitting for average as well. In a perfect world he gives a team Adrian Gonzalez-style production, without being tied to first base.
Daz Cameron – OF – Eagles Landing HS (Georgia)
Cameron had some early buzz (over a year ago) as a potential top overall selection, but has stalled a bit as a prospect and failed to meet incredibly lofty expectations. That doesn't mean Cameron is a worthless prospect, just more of a mid-first round talent.
Cameron's an above-average athlete, but not a burner. Impressive bat speed gives Cameron some offensive upside. However his timing mechanism may need to be reworked in the pros, as he's often off balance at the plate. I see Cameron as a guy with solid, but not elite level tools who's still somewhat raw at the plate. Best case scenario he's the next Desmond Jennings; more likely, a second division starter.
Garrett Whitley – OF – Niskayuna HS (New York)
If the long sought after Daz Cameron has fallen slightly short of expectations and shown underwhelming tools, Garrett Whitley is the opposite.
A cold-weather pop-up guy, Whitley has one of the highest upsides of any hitter in the entire draft. Borderline plus-plus speed gives Whitley easy range in center and could make him a major stolen base threat at the next level.
Physical strength and bat speed give Whitely legitimate power upside. His swing needs some refinement, there's some length which may cause contact issues, but Whitley's upside is as a 20/40 guy with strong defense. Northeastern players usually have some untapped potential, since weather prevents seeing as much game action as their southern and western brethren. There's a non-zero chance Garrett Whitley never sniffs the majors, but there's also a non-zero chance he develops into the single best player in the draft.
Trenton Clark – OF – Richland HS (TX)
If a team thinks Trenton Clark can stay in center-field he's arguably a better prospect than Daz Cameron. Cameron's a touch better athlete and half-a-step faster but Clark is a more refined hitter.
A smooth stroke and above-average bat speed should lead Clark to hit for average and decent enough power. He'll lose some real world value if he has to shift to left-field defensively but Clark could be an above-average hitter no matter what he does with the glove.
Tyler Stephenson – C – Kennesaw Mountain HS (Georgia)
Rumors persist that Stephenson is in play for the number one overall pick, potentially on a discounted deal. If Stephenson doesn't go first, he would likely slide to the early teens, a spot more fitting his talent level.
Stephenson is a big, strong kid whose game revolves around power. He's got as much raw pop as any prep hitter and a cannon for a right arm. At 6-foot-4, 210 pounds Stephenson may outgrow catching, but teams are more comfortable with large catchers these days and Stephenson does everything defensively you'd want from a potential backstop.
Offensively, Stephenson sells out for power. He'll unleash a prodigious blast one minute then a whiff quietly for the rest of the game. The significant swing-and-miss component of his swing will likely always be there and high school catchers have an especially poor track record but a strong defender at a key position with 30 home run power is a tempting package for any team willing to stomach substantial risk.
Chris Betts – C – Wilson HS (California)
Betts is a better pure hitter than Stephenson but lacks the Georgia native's loud tools and huge upside. What Betts does have in his favor is one of the more advanced bats in the class and enough defensive ability to project to stay at catcher.
If Betts can't catch long-term he's physically tied to first-base, where his bat would be light for the position, but as a catcher Betts could be a well-above-average hitter. Betts has chance to hit for average and above-average power but even in the best case scenario he's close to just a league-average starter.
Cornelius Randolph – SS – Griffin HS (Georgia)
A high school shortstop who doesn't have the range to stay there, Randolph could turn into either an offensive-minded second-baseman or a quality third-baseman. Where ever he winds up, the bat should play. Randolph hits the ball hard as consistently as anyone in the class.
He's not a great athlete, has been a little banged up this spring, and could be a bit of a tweener, but few players boast similar offensive upside. Above-average power could see Randolph turn into a .290 hitter with 20 home runs and a load of doubles, if everything breaks right.
Jahmai Jones – OF – Wesleyan HS (Georgia)
Lastly, a bit of a pet cat. While everyone else on this list is virtually guaranteed to go in the first round, Jones is more likely a sandwich or second round draftee. But, if you're looking for an under-the-radar guy who could pop up as a quality big leaguer in a few years, you could do a lot worse than Jones.
He's played all over the diamond but is easily a good enough athlete to patrol center-field and has enough arm strength if a team wanted to move Jones back to the infield. Besides his athleticism, what I like best about Jones is his combination of above-average pure hitting ability, sneaky strength, and age. Jones was born in August 1997, making him one of the youngest players in the draft. Seventeen year-olds tend to outperform their 18-year-old draft counterparts by significant margins. Jones' age may point to underrated potential.