Scouting The 2013 MLB Draft: Oklahoma's Jonathan Gray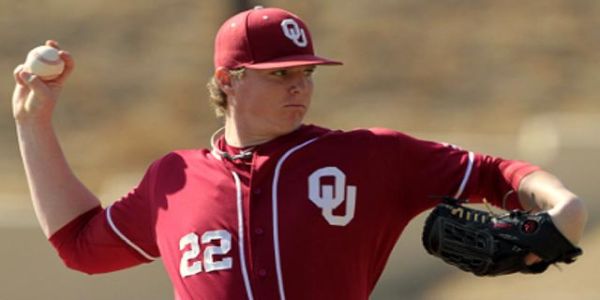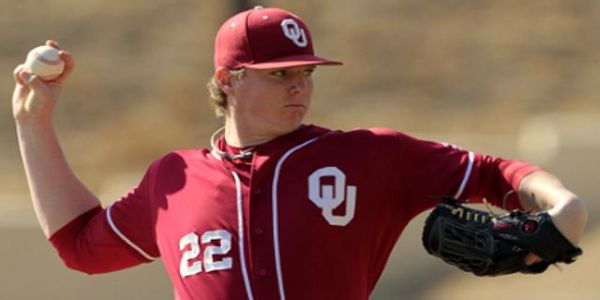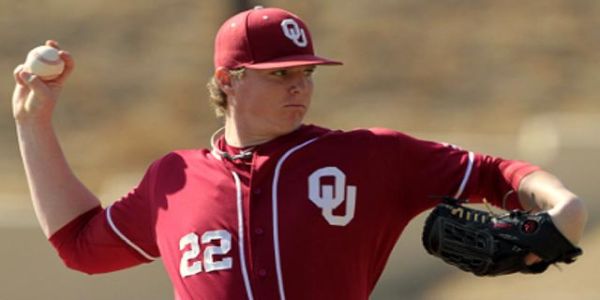 Sometimes scouting is exceedingly difficult. The footwork necessary to successfully turn a double-play, a batter being able to cover the outside pitch without opening up a hole inside, the softness of a catcher's hands aiding him in framing pitches; these skills can best be seen by experienced and dedicated scouts. Some players, however, don't necessitate the kind of scout savvy that only exists in Clint Eastwood's mind.
Oklahoma RHP Jonathan Gray is the second kind of player.
While a pitcher like Mark Appel may occasionally touch 97-98 MPH and that peak velocity will get reported as something sustainable, Jonathan Gray throws really hard all the time. His fastball sits 97-100 MPH. Sits! 97-100!! Exclamation points!!!
Gray's arm strength is truly special. That strength adds RPMs to his breaking ball giving Gray a devastating slider/curve hybrid to compliment his elite fastball. A decent change-up occasionally works its way into Gray's repertoire but the fastball/breaker has been enough to flummox collegiate hitters.
The only real knocks on Gray are that he hasn't developed a third pitch all that well and scouts would like to see how he works out of the stretch and with men on-base a little more. The biggest knocks on Gray stem from the fact that he's been too good. Gray has hardly been challenged at all this spring. That's the bad.
Few things are as exciting as the visceral pleasure of someone throwing a baseball really, really hard. For the same reason the 100 meter finals draw much larger audiences than power walking, watching someone go all out in an athletic endeavor is innately appealing. Seeing anyone do something as well and fast and hard as humanly possible is impressive. In that sense Jonathan Gray is the most impressive pitcher in college baseball. His ability to generate force and apply it to a baseball is special and rare and very valuable.
Gray's elite stuff has translated into amazing production. He has struck out 104 batters in just 89.2 innings this spring. Gray has walked a scant 16 hitters all season and only allowed 51 hits in his first 12 sterling Sooner starts.
He's a big, strong young man from a small town in central Oklahoma. At 6-foot-4 and every bit of his listed 239 Gray is a burly, corn-fed, country kid straight out of central casting. A little better athlete than he's sometimes given credit for, Gray has the physical build scouts refer to when they tag someone as a "potential workhorse". While the actual likelihood of Gray suffering an arm injury is fairly high, that stems from the incredibly high baseline rate of injuries for pitchers of elite velocity. When generating that much force, there's more energy around to potentially find its way into the arm. Nothing about Gray's mechanics jump out as elevating his injury risk.
A bad run of luck with the magical arm injury fairy is about the only thing standing between Gray and MLB stardom. Players with his arm and production don't fail very often. Command of a 100 mile per hour fastball tends to translate to success.
Gray's game is all about power. Despite sneaking up draft boards this spring Gray's rise to prospect prominence has actually been a steady one. Drafted twice before, Gray threw in the low-90s out of high school and worked his way up to the middle-90s after spending time at Eastern Oklahoma State Junior College. Jonathan Gray didn't come out of nowhere; he just keeps working and keeps getting better.
I like Gray more than current Pittsburgh Pirate farmhand and number one overall pick in 2011 out of UCLA, Gerrit Cole. Mark Appel is a really good pitching prospect and will likely have a fine major league career, but Jonathan Gray has a chance to be a true, dominating ace. At this point Gray is one of the three to five best collegiate pitching prospects of the last decade, with only David Price and Stephen Strasburg firmly above him in my mind.
Gray has the potential to be a top five overall pitcher and league leader in strikeouts.
The future doesn't always work out as it should or even how we think it ought to. Maybe Jonathan Gray never comes close to such lofty praise. All one can do is make the best decision based on the information available at the time. Given his stuff, production and history of improvement Gray is the kind of prospect you have to really question taking anyone else over.