Scouting The 2013 MLB Draft: Stanford's Mark Appel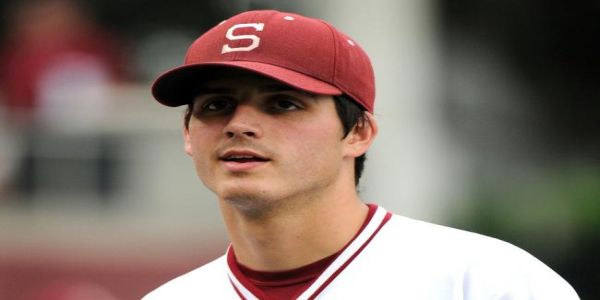 Mark Appel is finally pitching like the star he's been made out to be.
The Stanford right-hander entered the 2012 draft as the number one prospect on media draft boards and in his own mind or, at least, the mind of his agent, the Baseball Antichrist Scott Boras. Appel's slide to the Pittsburgh Pirates and the eighth overall selection shocked many. Theories emerged as to why a prospect as elite as Appel could drop in the draft. Money was the general consensus yet the real reason was likely talent. In 2012 Mark Appel was a very good pitching prospect, but not the elite, top-of-the-draft, franchise type talent he was made out to be.
For all the guff Appel endured off the field last summer, this spring's performance on the field has made up for it. After striking out 9.5 batters per nine innings as a junior, Appel has upped that number to 10.7.
Appel has gone from a solid swing-and-miss guy as a junior, for an elite draft prospect, to a terrific one. Gaining over a strikeout an inning isn't a guarantee of MLB success, but the failure to do so is pretty much a death-nail in a player's big league dreams. Daniel Moskos, Greg Reynolds and Jeremy Sowers were all taken in the top 10 as college pitchers who failed to strike out a batter an inning and all three were among the biggest busts in recent draft history. (Side note: there may be more guys who fit the bill drafted earlier but college stats are really hard to come by before 2001-ish.) In fact, only Paul Maholm has drafted in the top 10 overall as a college pitcher who struck out under a batter an inning in college and has gone onto any sort of quality big league career – Maholm struck out 101 opponents in 107.2 innings for Mississippi State his junior year before being taken eighth overall by the Pirates in 2003.
If Paul Maholm is your upside, Appel better be glad he's gone from good to great production this spring, Maholm's strong start to this season notwithstanding. The real question is: has Appel's increased production been caused by an increase in core skill?
Appel's stuff is sharp. His fastball sits 92-95 MPH and is thrown with a down-hill plane. Appel's go-to secondary offering is a plus change-up and he mixes in an average slider as well. His breaking ball is currently his third best pitch, a low-80's slider with late 1-7 break, but has the potential to be above-average. Appel's control is strong (14 BBs in 78.2 IP). He's a big, strapping, athletic guy who can throw three quality pitches for strikes and comes from a big-time program. There's a lot to like about Appel's future.
Although, everything in the previous paragraph could have pertained to Appel last season as well. The main difference in Appel's production is his age. Simply put, Appel is a senior and seniors tend to be the best players. Appel (who turns 22 years-old in July) spends his days dominating 18, 19 and 20-year-olds. Those few years may not seem like a lot, and of course some of his opponents are Appel's age or older, but the late-teens and early 20's represent a steep ascent on the aging curve. Just because Appel is closer to his peak doesn't make the peak itself any higher.
Mark Appel is in the mix for the Houston Astros, owners of the first selection in June's draft. Drafting Appel would represent a major talent acquisition. The Cardinal righty would waltz into the Astros' farm system and immediately be the best pitcher in the entire organization. He's a relatively safe pick; almost no scenario exists where Appel stays healthy and does not turn into at least a quality major league starter in relatively short order.
However, Appel's brilliant spring and the media hype around him should not obscure the fact that he's basically the same exact pitcher who major league teams thought was only the eight best prospect in a mediocre draft last year. There's a reasonable chance Appel turns into a quality number two starter, a staff ace in Houston by a country mile, but much above that seems unlikely.
Appel has two plus pitches, a quality third offering and above-average control. He lacks a dominating put-away pitch or the elite command of a true ace. While his stats have improved this spring the numbers have not correlated with a rise in overall stuff.
Appel may develop into a top 50 overall pitcher; a potential 200 inning guy with 175-ish strikeouts and an above-average ERA and WHIP at his peak. But anyone expecting Appel to be in the class of David Price or Stephen Strasburg, recent number one overall picks, may be left wanting.