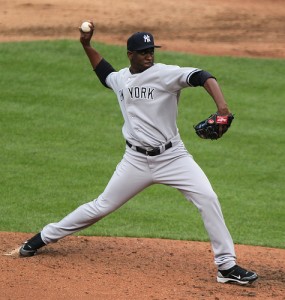 The Washington Nationals' signing of Rafael Soriano proves they mean business for 2013.  As many fantasy owners out there remember from 2012, the Nationals started their season with Drew Storen set to be their closer until he was sidelined and required surgery to remove bone fragments from his throwing elbow.  The Nationals' wound up giving the ball to Tyler Clippard, who some 2011 fantasy owners likely had on their rosters for his incredible 10.6 strikeouts/9 innings as a set-up man to Storen.  Now enter Rafael Soriano, who just signed for a huge $28 million over two seasons with an option for a third.  The contract alone silenced all speculation as to whether he will be the closer or not.  Soriano is the Nationals' closer for 2013.
This signing can and will impact Nationals' and potentially other teams' players fantasy impact in several ways.  Let's take a look at how Soriano should transition from the AL East back to his old stomping grounds, the NL East, as well as players whose 2013 fantasy trajectory will likely be altered from the singing including Drew Storen, Tyler Clippard, Stephen Strasburg, and yes even closers from other teams.
The first thing I look at when a player changes teams is how they will adjust to their new team and environment.  I assess not only the statistical aspect, but also how the player has handled moves to other teams in the past and any potential effects it had on their play.  Rafael Soriano replaced arguably the greatest closer in the history of baseball in the biggest market in the sport without any problems. This immediately eliminates any concern for his transition to come take Clippard/Storen's job.
With the change of environment concerns out of the way we can take a look at his numbers.  Soriano is no stranger to the NL East.  He played for Braves for three seasons from 2007 to 2009, being the closer in 09.  Here are his numbers as closer in 2009:
| | | | | |
| --- | --- | --- | --- | --- |
| ERA | WHIP | SVs | SO | SO/9 IP |
| 2.97 | 1.06 | 27 | 102 | 12.1 |
You may say that is a small sample being that it was only one year, so let's take a look at Soriano's career numbers against the NL East by team (excluding the Nationals)
| | | | | | | | |
| --- | --- | --- | --- | --- | --- | --- | --- |
| TEAM | IP | Wins | Losses | SO | ERA | WHIP | SO/9 IP |
| vs. Mets | 22.2 | 1 | 1 | 21 | 2.78 | 1.15 | 8.3 |
| vs. Marlins | 23.2 | 0 | 2 | 30 | 2.28 | .85 | 11.4 |
| vs. Phillies | 15.1 | 1 | 1 | 15 | 3.52 | .98 | 8.8 |
| vs. Braves | 2 | 0 | 0 | 2 | 0.00 | .50 | 9 |
Taking in all of the factors regarding Soriano and his transition back to the NL East to close games for the Nationals, all signs point to him having no problem adjusting to his new team/environment from a pressure level (replacing Rivera in NY), and from a statistical standpoint as shown in the stats.  Add to the fact that he is one of the most reliable relief pitchers in terms of health and you have the total package.  I am not a believer in drafting closers early, but if you are going to, Rafael Soriano will be as good a pick as you can make.
How will this affect other players?
I do not want to leave you guys will just that, because as with any signing, other players are inevitably affected.  Here is a quick breakdown of what players whose fantasy value can very well be affected by Soriano's signing.
–          Tyler Clippard/Drew Storen – Both players have shown that they can successfully close out games for the Nationals with good numbers.  They will now both be relegated to set up man positions in the 7th and 8th innings.  Their fantasy values can be significantly boosted at any given point later in the year in the unlikely scenario that Soriano loses his spot, or the more likely one that one of them is traded to close for another team.  For example, the Nationals made more than one trade with the Oakland A's in the past year, the first being the trade to acquire Kurt Suzuki and the second being the A's involvement in the Morse trade to Seattle.  With that said, it's clear the A's and Nationals have a healthy relationship and good trade rapport.  Being that the A's had a revolving door of closers last year (Fuentes, Balfour, Cook), they may very well be shopping for a closer later in the year and why not trade with a familiar trade partner? If you have the roster spot to spare, stashing Clippard and Storen is a good idea, as they'll give your pitching matchups good numbers in the meantime.
–          Stephen Strasburg – although I don't see this as a big impact on the Nationals' ace, he may see more 6 inning outings now that they have three big time relief pitchers to close out their games which could impact your week to week matchups.  I don't put as much weight on this though.
–          Oakland relievers/all relievers – As the "ying" to the Clippard/Storen "yang", any Oakland closer/reliever owned is suspect to losing their job if the A's do trade for a player like Storen/Clippard. As 2012 proved, Oakland closers are never permanent, and being that throughout baseball 21 out of the 30 closers going in to 2012 lost their jobs, not many are safe.
Twitter – @JohnnyCrashMLB