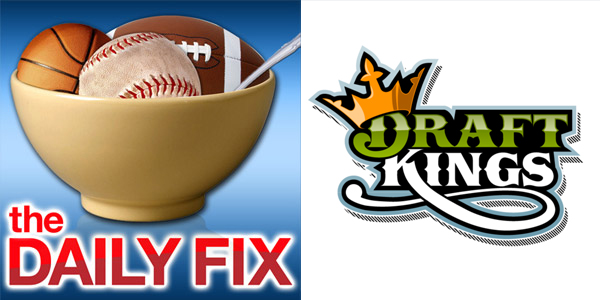 I'm back with Week 5 DraftKings recommendations for Tight Ends and Kickers. But, first a note about DraftKings. New depositors will get a free ticket into a Millionaire Grand Final qualifier.  So you can get a free game with any deposit you make.  What are you waiting for?
News and Notes
DraftKings Tight End Recommendations
If you've never played on DraftKings before, you can get a deposit bonus by signing up. And there are different options to pick from at DraftKings for any skill level.
Did you know that you can qualify for a million dollar top prize starting with just a $2 investment? It's all right here at the DraftKings Millionaire Grand Final. Wait. Did I already mention that?
Finally, a gentle reminder on the scoring for Tight Ends – this is a PPR site so remember that when selecting players.
10 Receiving Yards = +1PT (+0.1PT per yard is awarded)
Reception = +1PT
Receiving TD = +6PTs
100+ Yard Receiving Game = +3PTs
Fumble Lost = -1PT
2 Point Conversion (Pass, Run, or Catch) = +2PTs
The full DraftKings scoring system is here.
Tight Ends can also be used in the flex position at DraftKings. However, with the entire world of RBs and WRs at your disposal, it would be unlikely you'd have to head to the TEs to pick up a flex play. Jimmy Graham is always in play as a flex option.
Let's take a look at a couple of options at each price point. I'll mention Football Outsiders a lot – the passes per game and yards per game stats I use are from Football Outsiders. Here is the link to Football Outsiders' 2012 stats. FO has updated their stats for 2013 and you can find them here.
The Jeffersons
I may have to create another tier for Jimmy Graham all by himself. He's averaging 29.6 points per game – nearly 10 points more than the second highest scoring TE. At this point, Graham is matchup proof. If you can afford him, he's probably worth it. However, there may be better options at other positions, so let's look beyond Graham.
Jimmy Graham | Saints | $8,400 – Chicago has given up 16 points per game to TEs in the DraftKings game which is 20th. They've faced the Bengals, Vikings, Steelers and Lions. Not exactly the Murderer's Row of TEs. Graham is an elite talent who is far above any other TE in the game. You'll still get a positive return even at this price.
Jason Witten | Cowboys | $6,300 – Witten's Cowboys head face off against the Broncos' offensive juggernaut. The Broncos have been extremely friendly to TEs so far this year giving up 10.5 passes per game, 85.9 yards per game and 15.1 points per game in DraftKings. It's unlikely this is a close game and the Cowboys could have to throw a great deal to keep up with the Broncos.
All in the Family
Greg Olsen | Panthers | $5,000 – Olsen comes off a bye with rest of his Panthers teammates and faces a Cardinals defense that seemingly lost every LB on their squad last week. The Cardinals have been the second friendliest to TEs so far this season giving up 22.4 points per game.
Jared Cook | Rams | $4,300 – Cook exploded in Week 1 for 35.1 points, but has been below 10 points for each of the last three weeks. Now, he gets a solid matchup against a Jags team that might struggle with Alabama if they had to face them. The Jags give up 16.1 points per game to TEs.
Good Times
Charles Clay | Dolphins | $4,000 – DraftKings hasn't  caught up to the stud that is Charles Clay. Clay is the sixth highest scoring TE, yet he's priced near the bottom of all TEs. He's gets a favorable matchup against a relatively young Ravens' LB corps. The Ravens are giving up 14.8 points per game while allowing nearly 80 yards per game.
Jermaine Gresham | Bengals | $3,800 – The Bengals faceoff against the Patriots who are middle of the road in defending the TE, but give up nearly 11 passes per game to TEs so the opportunities will likely be there for Gresham if he can capitalize. He's a longshot, but in those deeper games you need to have players that others don't consider.
DraftKings Kicker Recommendations
Your weekly update on this guy is that he's still not on a roster. Sadly.
A reminder of the DraftKings scoring is below.
There are distance-based bonuses for kickers and no penalties for misses so you can take on risk without penalty.
Extra Point = +1PT
Field Goal 0-39 Yards = +3 PTs
Field Goal 40-49 Yards = +4PTs
Field Goal 50+ Yards = +5PTs
A noticeable change in the salary spread this week as the top options are back up to $4,000 and the bottom of the barrel is still at $3,000. A few hundred dollars may not sound like a lot, but every bit counts when assembling your roster. Again, I can't suggest paying too much for a kicker so we'll look at the options further down the line.
Nick Folk | Jets | $3,000 – Folk is averaging a solid 8.8 points per game at DraftKings, but he's priced at the bottom of all kickers for the week. He goes to a dome this week and faces a Falcons team that has been relatively friendly to kickers this season (12 or more points allowed in three of four games this season – averaging 11 points per game given up). He's my pick this week.
Garrett Hartley | Saints | $3,500 – If you want to spend a bit more money, Hartley's matchup is good and he has a high powered offense behind him.  He faces the Bears who have given up double digit points to kickers in each of the last three weeks.