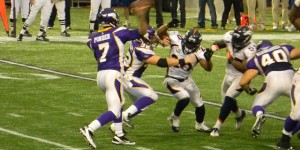 Welcome to the fourteenth entry of The Fix's Fantasy Football Injury Report.  Each week I (@Rich_Migs) will cover several key fantasy football related injuries.  The idea is not to cover every football injury, but instead cover the notable ones that have direct fantasy implications.  As the season continues, the report will address the most recent injuries and their fantasy football related consequences.
I will try to avoid repeating names too often from week to week unless there is news to report.  We are entering Week 11 and if you would like to see the injury list for Week 13, please click here.   You can see all my injury reports (and my other work) by following my archive here. 
For the most part, we avoided devastating fantasy injuries in week fourteen.  A good thing for owners since many of them begin their playoffs.  Phew.
Week Fourteen:
Player

Injury

Status/Update

Stock Risers/Fallers

Christian Ponder (QB)

Concussion

Questionable for Week 14:

Another week, another bunch of concussions.  It is officially wait and see mode with Ponder.

Matt Cassel (QB). Josh Freeman (QB).  Whichever one starts, the only interested parties will be for those in deep leagues and two-QB leagues.  Cassel seems to be the favorite to start after taking over for Ponder last week.

Brandon Weeden (QB)

Concussion

Questionable for Week 14:

This is a theme, but more wait and see.  Tests must be run before we learn anything new.

Josh Gordon (WR).  There is a chance the Browns will be using third string QB, Alex Tanney because Jason Campbell is also working his way back from a concussion.  At some point, hideous quarterback play has to start affecting Gordon's production…Right?

Jordan Reed (TE)

Concussion

Questionable for Week 14:

Reed should be fine for week 14, but he did suffer a setback with some headaches before Sunday's matchup vs. the Giants.

Robert Griffin III (QB).  It's easy to assume RG3 will be worse with a missing weapon, and perhaps in the reality of football, this hurts Washington, but fantasy owners shouldn't care about that.  The uptick in rushing attempts is what matters, and with a lack of weapons, it looks as if Washington is running more read-options.   He rushed for 88 yards vs. the Giants on 12 attempts.  A season high.

Delanie Walker (TE)

Concussion

Questionable  for Week 14:

Another concussion.  Time will tell if Walker plays in week 14.

Kendall Wright (WR).  Nate Washington (WR).  Wright has been putting up solid production this season, and could take advantage of some extra targets if Walker remains out.  Washington could also see a small boost.


Other Injury Related News: