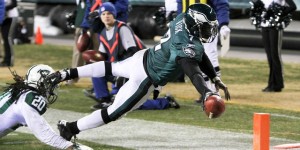 Welcome to the ninth entry of The Fix's Fantasy Football Injury Report.  Each week I (@Rich_Migs) will cover several key fantasy football related injuries.  The idea is not to cover every football injury, but instead cover the notable ones that have direct fantasy implications.  As the season continues, the report will address the most recent injuries and their fantasy football related consequences.
I will try to avoid repeating names too often from week to week unless there is news to report.  We are entering Week 9 and if you would like to see the injury list for Week 8, please click here.   You can see all my injury reports (and my other work) by following my archive here. 
We have some bumps and bruises this week, so let's get right to it.

Week Nine:
Player

Injury

Status/Update

Stock Risers/Fallers

Michael Vick  (QB)

Hamstring

Doubtful for Week 9:

Vick reinjured his hammy against the Giants this week and will be doubtful vs. the Raiders this week.

DeSean Jackson (WR). Things were going a lot smoothly when Vick was healthy.  Things will only be getting more difficult if Nick Foles (QB) continues to perform poorly.  Foles is expected to start this week.

Brandon Gibson  (WR)

Knee

Out for Season:

Gibson tore his patellar tendon and will be having season ending surgery.

Mike Wallace (WR). Charles Clay (TE).  Gibson was being pretty productive for the Dolphins, so look for those targets to be spread out among the rest of the offense.  Mike Wallace may finally get an increase in targets.  After a few slow weeks, Clay will also be receiving a needed bump in targets.  You can do a lot worse than Clay at TE.

DeMarco Murray  (RB)

Sprained MCL

Probable for Week 9:

Jerry Jones stated that Murray could have played in Week 8, so it would be surprising to see the running back miss another week.

Joseph Randle (RB).  Randle will head back to second fiddle once Murray returns.  However, he may have showed enough to get a handful of carries/targets in the future.  As long as Murray is healthy, Randle won't be too useful to fantasy owners.

Sidney Rice (WR)

Torn ACL

Out for Season:

Rice tore his ACL and also received a concussion.  He is done for the season.

Percy Harvin (WR). Golden Tate (WR). Russell Wilson (QB).  Tate will get a lot of targets this week if Harvin isn't back.  When Harvin does come back, he could quickly jump into the WR1 radar.  Until Harvin comes back, Wilson will have to rely on having less receiving help.

C.J. Spiller (WR)

Ankle

Questionable for Week 9:

Spiller missed the Saints game and is in danger of missing his upcoming matchup with Kansas City.  As a Spiller owner firmly in the playoff picture, I wouldn't mind resting the dynamic, but currently limited running back vs. a great defense.

Fred Jackson (RB).  Jackson gets the chance to go up against the Chiefs all by himself if Spiller misses another week.  Not the most fun thing to do in the world, but he should see enough touches to be a Flex play.
Other Injury Related News:
Julius Thomas

(TE)

had a MRI on his ankle that came back negative and tweeted that he did not have an ankle sprain.  Watch if he practices, but he should play.

Nick Foles

(QB)

is cleared to practice this week and play in Week 9.

Robert Griffin III

(QB)

may have had an issue with his knee on Sunday, but he appears fine and expected to play to play in Week 9.

Stevie Johnson

(WR)

has a hip flexor but is expected to play through it.

Zac Stacy

(RB)

injured his Sunday and will have it checked out this week.  If it is a sprain, he could be in jeopardy of facing the Titans on Sunday.

Andre Brown

(RB)

claims he will be ready for Week 10.  If he is for some reason out there on your waiver wire, go and pick him up.

Santonio Holmes

(WR)

is still expected to be out with a hamstring injury.

Percy Harvin

(WR)

had his hip flexor flair up this week.  It is always worthy to note when any health issue comes up for the oft-injured receiver.