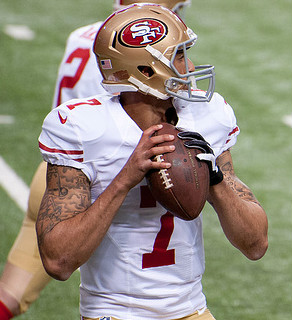 Fantasy Football regular seasons are winding down and the final game of week 12 on Monday Night Football between the San Francisco 49ers and Washington Redskins may be the deciding factor as to whether or not your team makes the playoffs, stays alive in the hunt, or is put out to pasture.  The cocktail of questionable leadership, inconsistency, and injuries have marred the Redskins season. The defending NFC champion 49ers should beat them decisively. Unfortunately from a football perspective I don't think this will be a fun one to watch, but from a fantasy perspective, here is the breakdown by position!
QUARTERBACK: Colin Kaepernick was the Cinderella story (thank you Bill Murray) of 2012, replacing Alex Smith and leading the 49ers to the Super Bowl.  He came into 2013 with a lot of buzz around his potential in a full season.  He was ranked inside the top 10 for fantasy quarterbacks but hasn't met those expectations.  Kaepernick has only thrown for 1,800 yards with 11 touchdowns and 7 interceptions.  He fits in San Francisco which has an elite defense and strong running game but from a fantasy standpoint he is nestling around top 20 and is no longer a reliable starting fantasy quarterback.
Robert Griffin III had a similar projection.  He returned quicker than expected from knee surgery and was slated to be a top 10 fantasy quarterback.  It is now Murphy's Law in Washington, where if anything can go wrong, it will.  A whirlwind combination of injuries (Hankerson, Reed), inconsistency, and the rumors of Griffin losing the locker room make him a suspect play this week.  That's not even taking into consideration the fact they are facing an elite 49ers defense which has only given up 11 passing touchdowns on the season.
RUNNNING BACKS: With 7 rushing touchdowns Frank Gore is always a threat to find the end zone.  He is a must start against the Redskins defense which is tied for giving up the most rushing touchdowns in the NFL.  He isn't going to help you in PPR (only 12 receptions on the season) but he gets all the points he needs running the rock.
Alfred Morris is a running machine.  He is third in the NFL in rushing yards and averages over five yards per carry.  The only thing that doesn't make him a top five points earner is that he only has five touchdowns.  He also has zero value in PPR with only three receptions on the season.  Second back Roy Helu has four touchdowns to Morris' five, but those came in bunches, and he has no place in any starting lineup.
WIDE RECEIVERS/TiGHT END: With Michael Crabtree not back yet, your receivers for San Fran are Anquan Boldin and tight end Vernon Davis.  Take note that the Redskins defense has given up the 7th most fantasy points to receivers, and 10th most to tight ends.  Boldin is a FLEX position start, having only scored three touchdowns this year, but put Davis in as your starting tight end.  Crabtree should be back next week, and eased back into action so if you are hurting for receivers and want to stash him for a playoff run, now is the time to do that.
Washington's options are incredibly limited which is why Pierre Garcon is a must start this week.  He is Griffin's only viable target left, seriously.  Leonard Hankerson is out with an ACL/LCL injury and tight end Jordan Reed who is trying to come back from a concussion isn't likely to play either. Garcon will probably see double coverage because of this but he will make his catches and should reach his projections.
DEFENSE: San Francisco is one of the best defenses in the league and is a must start against the Redskins Monday night.  The opposite can be said for the Redskins defense which is a definite no play.  As I mentioned earlier, Washington has given up the most rushing touchdowns in the NFL, and are in the top 10 in fantasy points allowed to tight ends and receivers.
THE BOTTOM LINE: I don't like either quarterback this week.  Gore (RB), Morris (RB), Davis (TE), Garcon (WR) can all be started, with Boldin (WR) as a FLEX option.  If Jordan Reed (TE) bounces back and can play he is a must start too.
San Francisco's punishing defense will stop the inconsistent Redskins offense. I anticipate Frank Gore and the San Francisco running game doing serious damage to the weak Redskins rushing defense.  San Francisco, being on the road, will aim to control time of possession, and do so by killing the clock with the run.  I don't anticipate a high scoring game because of this, but in the end, it's the NFC champs that are on top.  The Redskins might want to consider changing their name after all, and not for political correctness, because they are that bad.