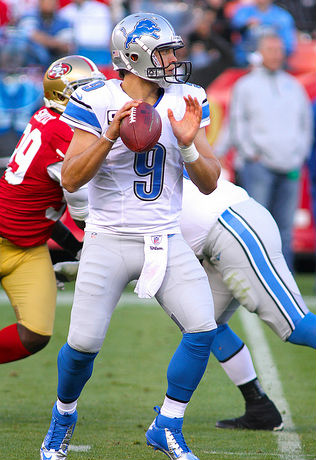 It's Fantasy Playoffs! It's Monday Night Football! The reigning Super Bowl winning Baltimore Ravens make their way to Detroit to take on the Lions. Now most of you are probably in the midst of week 2 of your league's playoffs. Calvin Johnson owners will reap the benefits of their first round pick. He will have one of the biggest performances of the season this week. Ravens safety Matt Elam made the mistake of insulting Megatron by referring to him as "old". The last thing the best receiver in football needs is added motivation. The Lions are going to win this game, and the combination of Stafford and Johnson is primed to pummel the Ravens secondary in the process. Dennis Pitta will be the stand out fantasy performer for Baltimore, so if you need a tight end, go see if he's still out there. Let's check out all of the fantasy players for this matchup by position.
QUARTERBACK: I like both quarterbacks this week. I think Matthew Stafford is going to go off at home against a middle of the pack Ravens passing defense. After Ravens' safety Matt Elam's comments about Megatron, you can put it in ink, Stafford is hitting the big man between the numbers often this week. Joe Flacco is having a Super Bowl hangover season. He is throwing as many picks as touchdowns and doesn't look like the highest paid quarterback in the game (even though he is). However, I was impressed with his comeback in the heavyweight boxing match in the snow against Minnesota on Sunday. He eventually won after two minutes of back and forth scoring that resembled an early 90s football video game (you know the one I'm talking about, you can Download from Gamulator to see for yourself). I think this may have triggered some positive momentum for Flacco, and he will have a much easier time passing the ball inside the climate controlled dome of Ford Field.
RUNNING BACKS: The Lions' defense allows the 6th least rushing yards per game in the NFL. Add that to the fact that Ray Rice has had a lackluster season and I am advising you to stay away from Ray this week. I don't like it. Frankly, I'm done with Ray Rice this season. If you win your fantasy playoffs it will be in spite of owning Ray Rice. Somebody had to say it.
The Lions have question marks in their running game. Reggie Bush is not practicing and although he has the extra day to get ready, I am not reading or hearing anything positive in regards to him playing Monday Night. If he is shut down, his replacement will be Joique Bell who earned a lot of respect after his gutty performance in the terrible snowy conditions in Philadelphia last week. He proved his worth catching the ball as well, taking in four receptions for 58 yards. If you're a Bush owner, hopefully you're also a Bell owner so that you're ready either way. But this must be monitored. Unfortunately, a decision may not be made on this until Monday, in which you may need to play other running backs on Sunday to be safe. Keep your ears to the ground, and by that I mean check twitter a lot.
WIDE RECEIVERS/TIGHT END: One word, three syllables: MEGATRON! Calvin Johnson is the best in the business and he now has added motivation. The cardinal rule for football is to never give your opponent a reason to step up their game against you. As I mentioned earlier, Elam broke that rule by calling out Johnson for being brittle and old. I think Johnson is going to have a monster game this week. I don't think it's going to be as epic has his performance against Dallas, but I am thinking at least 150 yards and several shots in the end zone.
The only Ravens receiver you can start is Torrey Smith. Smith will play as a fantasy WR-2 this week against a weak Lions secondary, but he is incredibly inconsistent and you should not expect him to help you advance to the next round in your league's playoffs.
As far as the tight ends go, Dennis Pitta is a must add/start. He is only owned in 35% of Yahoo! Leagues. If you're a Gronk or Jordan Reed owner, hopefully you have grabbed this guy by now. The combination of Flacco's comfort level with him, a terrible Lions pass defense, and much better field conditions than last week is all the confidence I need to know that Pitta is primed for a big game. Do it now, and thank me later.
DEFENSE: Neither defense is start-worthy in your matchup this week. Stafford and Megatron will light up the Ravens, and Flacco's momentum from last week has him set up to carve up the Lions secondary. There are much better defense options for your matchup out there. For example, I'd look at Buffalo this week in Jacksonville.
THE BOTTOM LINE: If you need a tight end, hop into your league now and see if Pitta is still available then come back.
Ok good. This has the makings of an offensively dominant game. Ultimately, the Lions are not letting Baltimore march into their home and take this game from them. Stafford and Johnson are going to do serious damage that the Ravens won't be able to keep up with in the end. Good luck in your playoffs!