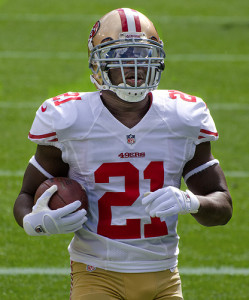 Fantasy Football finals have arrived.  Doesn't it seem like the season just started? Monday Night Football this week will be the deciding factor in who takes home the trophy and who falls short.  There are a lot of fantasy players involved in this matchup between the Atlanta Falcons and defending NFC Champion San Francisco 49ers.  On paper we have two teams on opposite ends of the spectrum.  The Falcons season didn't pan out the way most of us anticipated, mostly due to injuries.  Their four wins leave them playing meaningless football, unless you buy into the "pride" thing this late in a season.  The 49ers on the other hand are still playing for a first round bye if the Seahawks somehow lose their remaining games and the Niners win out.  Of course Seattle's outcome will already be determined before this game is played, but even with that said, if the Cardinals win, the Niners need to win to remain a game ahead of them.  Long story short, the Niners are going to show up to play, so don't worry about your San Fran players fantasy potential, they'll be there, and against a defeated Falcons team, they should deliver for you.  Let's take a look at the break down by positions.
QUARTERBACK: Colin Kaepernick can be started as a comfortable QB-1 this week against Atlanta at home.  Although San Fran has had a shaky and inconsistent passing attack this season, the Falcons shouldn't pose as much of a threat.  The reemergence of Michael Crabtree will help as well.  Add to the fact that Kaepernick can snag you rushing yards and touchdowns of all varieties, I like him this week in your fantasy finals.  Matt Ryan on the other hand has found himself on a lot of benches this year mainly because of a week Falcons offensive line and injuries to his main receivers early.  Ryan rode the pine this year in lieu of guys like Nick Foles.  This doesn't mean Ryan is a fantasy memory next season, because I still think when he has all of the right tools around him he is a top 5 quarterback, but not this year, and not this week.
RUNNING BACKS: Frank Gore is a must start Monday Night.  Ignore the talk about him being limited in practice.  He will play Sunday, and he will put up the points.  Not only is he facing a dismal Falcons rushing defense, but he is at home and may very well find himself in a situation where he is taking the rock more often than usual for the purpose of keeping the game clock ticking.  I think Gore will have a big game Monday Night and may be the key to take your fantasy team to trophy town.  Atlanta's Steven Jackson has a tough task ahead of him. He had a good fantasy week last week, but that was against a pretty pathetic Redskins defense.  His offensive line will be bludgeoned by the physical Niners defense and he'll have a difficult time finding holes to run through.  He can be placed in your FLEX if you don't have a clear cut better option, but that's about it.
WIDE RECEIVERS/TIGHT END: Long story short, I love both tight ends, and I am skeptical of all receivers.  As far as the receivers go, you can take your chances on Boldin (WR-3), and Crabtree (WR-2) but the San Francisco passing game has been shaky this year, and clearly their biggest weakness.  Atlanta receivers don't give me any confidence at all considering they weren't able to do much against Washington's Pop Warner defense last week.  Does anyone really expect that to improve against the 49ers? I don't think so. 
I do however think both tight ends are must starts.  Vernon Davis had a great fantasy week last week, that would have been even better if not for Kaepernick missing him for an easy second quarter touchdown.  He should have no problem being a target this week, and is a secure fantasy TE-1 Monday.  Tony Gonzalez needs to be started for two reasons.  First off, he is Matt Ryan's best target.  The Falcon's offensive line gives him little to no time to consistently hit deep receivers, so the tight end is a great target for that reason.  Secondly, Gonzalez is bringing a hall of fame career to an end in two weeks and there is no doubt he wants to go out with proud performances.  I think Gonzalez will deliver one more time for your squad before he rides off into the sunset.  
DEFENSE: The 49ers require no explanation.  They are a top 5 defense and should not have any problems at home against a banged up Atlanta offense that couldn't do much against a terrible Redskins defense.  Atlanta's is on the other end of the spectrum, as their defense is not a fantasy option against San Francisco on the road.
THE BOTTOM LINE: The bottom line is you are starting your Niners including their defense, starting Tony Gonzalez as a TE-1, and throwing  Steven Jackson in your FLEX if you don't have clear cut better options, while shying away from the rest of your Falcons if possible.  The Niners are playing this game to win due to several possible playoff scenarios, and the Falcons are playing for nothing.  Add to the fact that the Niners are home, this one should not be a pretty game for Atlanta.  I see the Niners taking control of this game early, which means Frank Gore could be cleaning up if Harbaugh elects to kill the clock with a big lead in the second half.  Atlanta should come back strong in 2014 when healthy again, and I still think Matt Ryan is a top 5 quarterback when he has a strong offensive line and healthy targets, but it wasn't to be this year.  The Niners still have the bitter taste of a Super Bowl defeat fresh in their minds, and they're not going to forget it now as the temperatures drop and playoffs are around the corner.  Good luck in your matchups!
This was my final Monday Night Football piece of the year as fantasy playoffs are coming to an end.  Please follow me @JohnnyCrashMLB for your baseball articles and offseason tweets.  I look forward to bantering back and forth with you all baseball season.  Thanks!