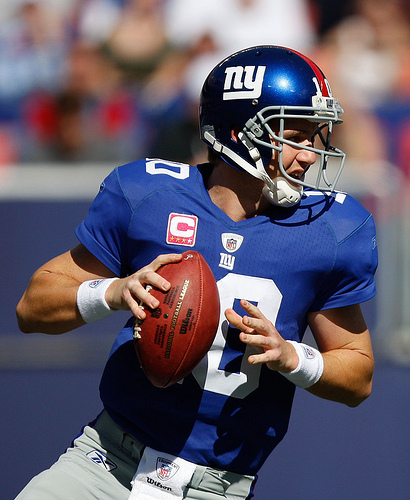 Monday Night football week 7 is here as the Minnesota Vikings invade Met Life Stadium to take on the New York Giants! The Giants are looking for their first win and I think they'll finally get it Monday Night at home. Adrian Peterson aside, I think Manning will simply out-play new Vikings quarterback Josh Freeman, leading New York to victory.  Let's take a look at the fantasy breakdown by position!
QUARTERBACKS: Eli Manning, although having a very rough season, can be started this week.  According to Yahoo!, the Vikings give up the third most fantasy points to the quarterback position.  However, the Vikings are even worse giving up fantasy points to running backs, which could hurt Eli in touchdown points if they hand the rock to Jacobs to punch it in. If Manning can get into a rhythm with Cruuuuuuz, Nicks, and Randle, he will rack up the yards and fantasy points for you. Josh Freeman isn't a fantasy option this week, plain and simple.  I'd just as soon start Morgan Freeman at quarterback this week, and he has a bad hand.  Coming in to a new system on a team that's biggest strength is its running back leaves a lot to be desired from Josh Freeman, he's a simple no-go.
RUNNING BACKS: Adrian Peterson, the top running back coming into the season had a rough game last week against a tough Carolina defense, but the Giants defense can't hold a candle to the Panthers in that department.  The Giants defensive line has yet to show up this year, and they give up 123 rushing yards per game, which is 26th in the NFL.  The only thing that will hurt Peterson Monday is if the Giants dominate time of possession.  He'll get his points though.
Brandon Jacobs is doubtful for tonight's game after a hamstring setback this weekend.  His back ups aren't worth a start so as far as the Giants running game goes, there is nothing to see here for your fantasy team.  This does boost value for Eli Manning and his receivers though.
WIDE RECEIVERS/TiGHT ENDS: The Giants receivers always have the potential for beast weeks in fantasy points.  Victor Cruz leads the charge and should be doing the salsa (I like-a-do da cha-cha) at least once for your fantasy squad.  Hakeem Nicks is still looking for his first touchdown of the season, and to squash trade talk rumors, look for Eli to target him in the endzone this week.  Finally, Rueben Randle, the feast or famine of the bunch.  Randle has had some solid fantasy weeks, however out of Manning's 15 picks, Randle was the target for 6 of them, often running wrong routes.  Eli could start shying away from Randle, especially if Nicks returns to form, which I anticipate happening. Brandon Myers has been simply awful, and should not be anywhere near your roster as a tight end.
For the Vikings you have two options here.  There's Greg Jennings at wide receiver, and tight end Kyle Rudolph.  These are your only two potential fantasy choices here, and I am not impressed with either of them.  Jennings, although the top target in Minnesota, is really only a bench wide-receiver this season.  Kyle Rudolph had a huge game in Carolina last week, but he has been a disappointment as well.  The Giants defense has been sub-par, but being that the Vikings are going with a new quarterback, I would shy away from starting any Vikings receiver/tight end this week.  If you don't have better options, start studying for your fantasy basketball draft.
DEFENSE: You shouldn't be looking at either defense for your matchup this week. You can make the argument for going with Minnesota's D acknowledging the fact that the Giants have been turning the ball over a lot, but I anticipate a much better game from their offense this week.  There are plenty of other options available to start in your defense slot this week than these two.
THE BOTTOM LINE: The Giants are tired of the goose egg sitting under the W in the standings, and I think they'll take out their frustrations in a big way against the Vikings at home.  Peterson will get his points, but he will be stifled by the Giants control of the clock.  Eli should hit Cruz and Nicks with relative ease, and look for Jacobs to punch at least one through the goal line.  I have the Giants finally popping their win cherry for 2013 with a two score win, with something like 24-14.