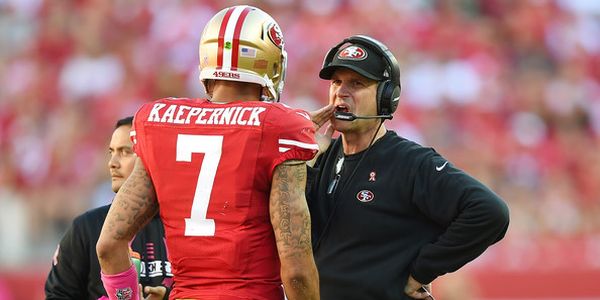 Monday October 13, 2014
San Francisco 49ers @ St. Louis Rams
We have an NFC West battle on Monday Night Football this week. We're expecting both teams to pick it up on the defensive side of the ball. The Rams defense is better than they've played so far, and the 49ers will continue to get players back and get better. There are not a ton of great fantasy weapons on either team, however, there are some valuable low-end position plays and flex plays on both sides of the ball. That's the kind of player that can win or lose you a game on Monday night.
San Francisco 49ers: Key Players
QB Colin Kaepernick
Kaepernick is not the fantasy star we all expected him to be after leading the 49ers to the Super Bowl. The duel-threat QB has a ton of value on the ground, but through the air he's just an average QB. We are still waiting for Kaep to put it all together. His mediocre weapons do not help his cause.
Verdict: Start Kaepernik. He is very borderline. We advise you to start him in 12-team leagues. In 10-team leagues there may be better options.
RB Frank Gore
After a somewhat slow start, Gore has come on very strong the past two seasons. The former Miami Hurricane appears to be ageless. After being injury plagued for the early part of his career, he has since become an iron man. This week he faces a Rams team that has not been good against opposing RBs.
Verdict: Start Gore. He has been red-hot, and it's hard to imagine you have enough depth to bench him.
WR Michael Crabtree
The matchup is good, the player is mediocre. He is just hard to trust. Whether it's an injury, QB issue or matchup issue, it just always seems to be something with Crabtree. Every year is supposed to be his breakout year and every year he's very average.
Verdict: Start Crabtree. Put him in your lineup as a WR3 but temper expectations. He has a lingering foot injury and tends to underwhelm.
WR Anquan Boldin
While Boldin is clearly on the decline, he still has some PPR value. He's on pace for 80 receptions and more than 950 yards. He is still worth a bench stash; he could come on strong. He is the most reliable target on the 49ers.
Verdict: Sit Boldin. He can be used as a desperation flex play or WR3. In most leagues he should be on the bench. At least until he starts producing more.
TE Vernon Davis
Davis is expected to overcome his bad back and give it a go on Monday night. The Rams have been pretty good against TEs this season and Davis has been noticeably hindered by his health woes.
Verdict: Start Davis. If he plays, he has too much talent to sit on your bench unless you have a very good backup. But temper expectations.
St. Louis Rams: Key Players
QB Austin Davis
Davis is playing very well lately and is climbing the rankings. He is still not there yet. We will give him this week and next week against the Seahawks to show us something before we are willing to trust him.
Verdict: Sit Davis. Leave him on your bench but monitor his production. If he continues to play well, he could be a fantasy asset in the future.
RB Zac Stacy
Stacy is expected to play this week, however, he could be limited with a calf strain. He could lose touches and the 49ers have been excellent against RBs. They are third best in the league at slowing down opposing fantasy RBs.
Verdict: Sit Stacy. If you can sit Stacy, then sit him. We understand a lot of people may have to put him in their lineup due to bye weeks and injuries. He's not a terrible start but there are a lot of red flags.
WR Brian Quick
Quick has been excellent this season. He has put up solid fantasy production each and every week. If you drafted him or picked him up off your waiver wire, you have been rewarded. Quick may be one of the biggest surprises of the season.
Verdict: Start Quick. He has been very good. He doesn't have the name, but he does have the numbers.
WR Stedman Bailey
Bailey is still working his way back in to the offense. The fact still remains, he is the best WR on the Rams. He is going to breakout sooner-than-later. This kid has a ton of talent, he just has to stay on the field.
Verdict: Sit Bailey. You are most likely sitting Bailey this week. We do like him as a sleeper though. He is a very risky play with a lot of upside.
TE Jared Cook
Cook has been seeing the targets to give him fantasy value in PPR leagues. Still, he is yet to catch a TD and doesn't put up huge yardage numbers. He is a low-end fantasy player, worthy of a spot on your bench.
Verdict: Sit Cook. He is not a terrible start if you're desperate. There are a lot of good TEs in the league and you will most likely have a better option.
Predictions
Final Score
San Francisco: 24
St. Louis: 20
Best Play
49ers: Frank Gore
Rams: Brian Quick
Sleeper
Stedman Bailey