This past week in the National Hockey League saw two serious goaltender injuries surface. The first was Edmonton Oilers goaltender Ilya Bryzgalov, who left Sunday's game against the Dallas Stars after suffering a concussion late in the game. Bryzgalov, who signed with the Oilers on a one-year deal, in an attempt to resurrect his career, has looked very impressive for Edmonton this year. The signing was a move I criticized heavily, but in hindsight, seems to have paid off (obviously not including this unfortunate and untimely injury). Devan Dubnyk will return as goaltender, and maybe now, will be properly and fairly blamed if Edmonton goes back to allowing a ton of goals per game.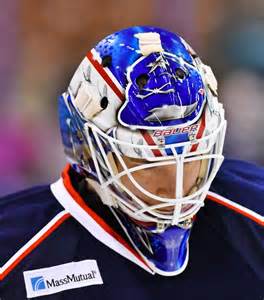 Reigning Vezina Trophy winner Sergei Bobrovsky was injured in their (the Columbus Blue Jackets) 1-0 snooze-fest victory over the Tampa Bay Lightning on Tuesday night. The 25-year-old net-minder has regressed back to what we expected to see from Bobrovsky over a full season; in fact if you combine his 2012-2013 and 2013-2014 numbers, he still has an amazing line. The Russian has combined stats of 2.18 goals-against average and a .923 save percentage in these two seasons. That is still very impressive considering his career line. It happens in baseball and it happens in hockey. It's very rare for players to come out of no-where with an astounding stretch of games, without suffering from some regression. Curtis McElhinney will now become the primary goaltender while Bobrovsky is out for what is expected to be 4-to-5 weeks. The 30-year-old net-minder from London, Ontario carries a 2.34 goals-against average and a .925 save percentage into his new gig. McElhinney is a career backup who bounced around with the Calgary Flames, Anaheim Ducks, Ottawa Senators, and Phoenix Coyotes. The former sixth round pick has only started in 77 career games, and holds a career goals-against average of 3.01.

Rising:
Josh Harding– Minnesota Wild: With one-third of the season now in the books, it's time to start believing into what Harding is doing. The 29-year-old net-minder from Regina, Saskatchewan has been simply sensational — to say that he is having a career year is the understatement of the season. Harding, who suffers from Multiple Sclerosis, has seized the number one job in Minnesota from Niklas Backstrom. He's for real.
Ben Scrivens– Los Angeles Kings: Scrivens, like Harding, is riding a hot streak for the ages. The 27-year-old net-minder from Spruce Grove, Alberta is having a full-fledged breakout campaign right before our eyes. Scrivens, who went undrafted, is 47 games into his NHL career thanks to a late start. Jonathan Quick continues to nurse groin/hamstring injuries that are looking more and more scary for the hopeful Team USA starting goaltender. Scrivens is for real folks.
Jonas Gustavsson– Detroit Red Wings: "In Gus We Trust" is beginning to resonate around Mo-Town, as the 29-year-old native of Danderyd, Sweden is playing with incredible confidence between the pipes. Gustavsson, who sports a career goals-against average of 2.91 and a save percentage of .909, is putting up staggering short-term numbers through seven games. The Swede is going to regress, but for right now, with Jimmy Howard playing like absolute crap, he'll get his chances to ride out his hot streak till the end. Until he slows down, he's a must-own handcuff for Jimmy Howard owners.
Falling:
Corey Crawford– Chicago Blackhawks: Look, the Chicago Blackhawks are sporting the best record in hockey but it's not because of what "Crow" is doing. Hawks fans will cling to the 2012-2013 regular season and playoff success that Crawford experienced (1.94 GAA, .926 save percentage  in 30 regular season games and 1.84 GAA with a .932 save percentage in the playoffs) but guess what. It's 2013-2014. It's time to start looking at what he's been doing this season. The 28-year-old net-minder has a .925 save percentage during even strength situations, a mark good for 15th in the NHL among goalies whom have started more than 10 games. Not exactly elite. While Crawford has regressed down from elite status in even strength situations, it gets incredibly worse when the Blackhawks trot out their horrendous penalty-kill. The native of Montreal, Quebec owns the third worst mark in penalty-kill save percentage. Of the 41 goalies that have started more than 10 games, Crawford's mark of .784 is better than just Craig Anderson of the Ottawa Senators and Kevin Poulin of the New York Islanders. Here's the problem for those defending Crawford saying "It's not his fault". There's no evidence at this point that suggests that the Hawks are anywhere close to turning around their penalty-killing efficiency. Finally, Crawford has, count-em, 11 games in which he has allowed three goals or more. Of all the frequent starting goaltenders, only Jimmy Howard has more such games (12).