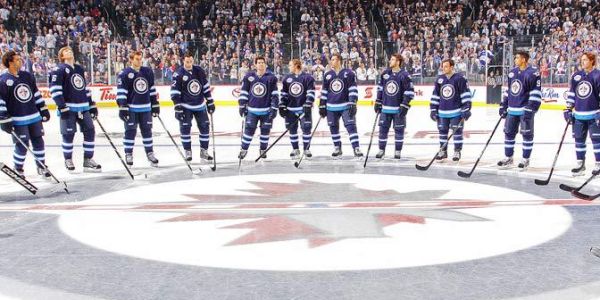 This post covers the eight game slate of NHL contest on DraftKings starting at 7:00 p.m. EST.
Below I've got a discussion of the best matchups and potential stacks of the day followed by cash game rankings. At the bottom of the post I've embedded my research chart for the day. Here is just a snippet of the chart I'll use to explain what you're looking at.

First the colors. Blue is amazeballs, green is great, yellow is good, orange is bad, red is awful and deep red is no effing way.
The first column that isn't self-explanatory is the fifth one, the one that is titled 'z' to the right of salary. That is how far above or below average the player's salary is compared to all other players at his position in action today. Then we have 'OPPz' which is how far above or below average the player's matchup is. Quality of matchup is determined with a mix of Corsi against and save percentage of the team the player will be facing. 'Pts/Gm' is a projection derived from numberfire.com's rest-of-season projections. The 'z' next to the projection is how far above or below average the projection is compared to all other players at the position in action today. 'zTOTAL' is the player's projection z-score combined with his matchup z-score. And then 'zDIFF' is zTOTAL minus the player's salary z-score. The zDIFF column is really what we're looking at.
Make sure to check Twitter for any injury news and line changes, and check Daily Faceoff for starting goalies.
Stack Options
The best matchups today belong to Columbus against Arizona and Dallas against Minnesota (who played last night). The Coyotes and Wild aren't nearly as good of a matchup as Edmonton is, but they are separated a bit from the pack as the second and third best matchups.
For Columbus, I really like second line center Brandon Dubinsky ($4,300, C). The Blue Jackets aren't a very good possession team, which means I won't be leaning too heavily on them in GPPs despite them having the best matchup. But since rejoining the team in early December, Dubinsky has been one of their few positive possession players. He has yet to score in nine games, but he's about a ten-goal per year type scorer, so he'll find the net sooner or later. The problem is that there are really no good options with which to stack him. As a result, he's just a solid cash game play. And again, because Columbus is a bad possession team, I'm not huge on a big stack here anyway. First line center Ryan Johansen ($5,900, C) is tied for the team lead in points, so he's also a nice cash game play, and you could do a mini stack with Johansen and Scott Hartnell ($5,100, W) who joins Johansen on the first line and top PP unit. I could also see using James Wisniewski ($3,900, D) with Johansen/Hartnell as he plays on the top PP unit as well.
As for Dallas, they've been a much better possession team than Columbus over the last month and a half, but that hasn't been hard to do. The Stars have been slightly above average in terms of possession, but not so much so that I'm going to lean too heavily on a Dallas stack in a GPP. Their studs Tyler Seguin and Jamie Benn don't have good value grades at all today, not that they usually do given their typically high price tags. But as a pair their value grade is basically average, so I'm looking down the depth chart for Stars to use.
I saw the Stars in person on New Year's Eve, and two things stood out. The first was that their gritty third line of Cody Eakin ($4,000, C), Antoine Roussel ($3,400, W) and Ryan Garbutt ($4,200, W) was their best line. Stacking the whole line feels like more of a GPP play, but an Eakin/Roussel mini-stack works for cash games. The other thing that stood out was the size and talent of callup Brett Ritchie ($2,500, W). He scored on his first shot in the NHL. Given how much Dallas has rotated different guys through the top six, it wouldn't surprise me at all if Ritchie got a look up there as long as he's in the lineup again tonight. Keep an eye on the lines in morning skate (@MikeHeika will have you covered). If Ritchie is in the top six, I love him for the minimum price.
If you're looking for a team that could score five or more goals tonight and could be a great team to stack in a GPP, look no further than the Winnipeg Jets. Their matchup with Toronto tonight is a complete possession mismatch. Over the last month and a half Tornto is last in Corsi against and the Jets trail only the Kings in Corsi for percentage. I fully expect the shot differential in this one to be substantial. When you throw in the fact that Toronto played last night and traveled (albeit not far from Minnesota to Winnipeg), the mismatch potential is exaggerated. I honestly don't know what Toronto's usage pattern is with their goalies, but Jonathan Bernier played last night. If James Reimer starts the second half of the back-to-back, the matchup gets even better for the Jets.
Choosing between Winnipeg's top two lines is tough, and, to be honest, I think they're both great plays and will likely have exposure to both. But if you must choose, which one should you go with? The first line of Bryan Little ($5,400, C), Blake Wheeler ($6,900, W) and Andrew Ladd ($5,800, W) seems like the obvious choice given that those three forwards lead the team in scoring and are the only Winnipeg forwards with more than 20 points. But I can also make a case for the second line of Mark Scheifele ($4,000, C), Mathieu Perreault ($4,500, C) and Michael Frolik ($4,300, W). With the lower price tags, they all grade out as better values than the guys on the first line. They also don't see much less time on the power play than the first line does. Both lines are very good in terms of possession and virtually indistinguishable in that respect. And neither line sees a significantly higher percentage of offensive zone starts. If I could only use one, I'd go with the upside of the top line. But like I said, I'll have exposure to both.
Another line I like, although not nearly as much as either Winnipeg line, is the second line of the San Jose Sharks. Wingers Patrick Marleau ($5,100, W) and Tommy Wingels ($4,100, W) grade out as great values today against the Blues (who also played last night). And their stud center Logan Couture ($7,000, C) also has a solid value grade despite his high price tag. Couture and Marleau play together on the top PP unit as well, so that's the pair if you don't want to stack the whole line. But I'm tempted to use all three. I also like Brent Burns ($5,600, D) who also plays on the top PP unit, so I may throw those four together in a GPP.
And then finally there's a Rangers mini-stack I like for cash games against Buffalo. The Sabres have been much better in terms of possession recently, but they're still an above average matchup. Derick Brassard ($4,700, C) and Mats Zuccarello ($4,700, W) grade out as nice values and play on the first line with Rick Nash ($8,500, W). Because of Nash that first line gets a lot of offensive zone starts. Nash is pricey, but if you can work him in, go for it.
Price-Adjusted Cash Game Rankings
Center
1. Jason Spezza – $4,900 – Dallas Stars 2. Brandon Dubinsky – $4,300 – Columbus Blue Jackets 3. Bryan Little – $5,400 – Winnipeg Jets 4. Cody Eakin – $4,000 – Dallas Stars 5. Mark Scheifele – $4,000 – Winnipeg Jets 6. Ryan Johansen – $5,900 – Columbus Blue Jackets 7. Logan Couture – $7,000 – San Jose Sharks
Winger
1. Patrick Marleau – $5,100 – San Jose Sharks 2. Scott Hartnell – $5,100 – Columbus Blue Jackets 3. Antoine Roussel – $3,400 – Dallas Stars 4. Michael Frolik – $4,300 – Winnipeg Jets 5. Tommy Wingels – $4,100 – San Jose Sharks 6. Blake Wheeler – $6,900 – Winnipeg Jets 7. Mats Zuccarello – $4,700 – New York Rangers 8. Andrew Ladd – $5,800 – Winnipeg Jets 9. Brett Ritchie – $2,500 – Dallas Stars
Defense
1. Brent Burns – $5,600 – San Jose Sharks 2. James Wisniewski – $3,900 – Columbus Blue Jackets 3. Jared Spurgeon – $4,100 – Minnesota Wild 4. John Klingberg – $2,900 – Dallas Stars 5. Kevin Shattenkirk – $5,000 – St. Louis Blues 6. Grant Clitsome – $2,500 –  Winnipeg Jets
Goalie
Goalies with an asterisk next to their name are second on their team's depth chart, so don't count on them playing. Any players in bold have been confirmed as the starter for the day. And players with a line through their name will not be starting tonight. Make sure you always check Daily Faceoff for starting goalie updates in case I am unable to update the list throughout the day.
1.
Steve Mason – $7,000 – Philadelphia Flyers
2. Brian Elliott – $7,800 – St. Louis Blues 3. 
Dustin Tokarski* – $7,000 – Montreal Canadiens
4.
Cory Schneider – $7,200 – New Jersey Devils
5.
Sergei Bobrovsky – $8,700 – Columbus Blue Jackets
Research Chart
You can download the research chart from this Google Sheet page here.