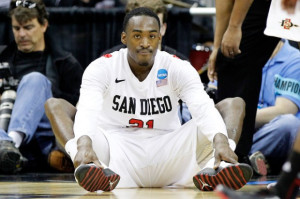 Midwest: #6 Memphis
Critics of the Tigers have not hesitated to blast a less than stellar conference schedule at every opportunity. And while I don't disagree with the poor product that the C-USA puts out, projecting NCAA Tournament performance based solely on affiliation and strength of schedule is unwise. Instead, I will choose to evaluate Memphis based on the talent they put forth on the court. After all, talent wins games in March. The Tigers boast depth, size, dynamite point guard play in Joe Jackson and a saturation of athletes. They rank 4th in the country in assists, 4th in blocks, 18th in steals and 38th in rebound margin. Head coach Josh Pastner and crew haven't advanced a round in two years. It's time to halt that streak. Neither Middle Tennessee State nor St. Mary's CA scare me in the round of 64. Michigan State will be an obvious chore in the round of 32, but the Spartans have execution flaws. Ignore Memphis at your own risk, as they are highly capable of stringing together multiple wins. Player to watch: Adonis Thomas – Thomas was viewed as a potential lottery pick prior to ankle surgery last season. He's a 6'7 240 wing with inside/outside versatility and tremendous athleticism. Mismatch nightmare.
West: #9 Wichita State
This is more a word of caution against riding Pittsburgh than it is an endorsement of the Shockers. With that said, they are not a team you should be leery of backing, having a road victory over VCU and neutral court triumph over Iowa on their resume. Wichita State wins with defense and rebounding. They rank 7th in the nation in rebound margin (+8.4) and 43rd in scoring defense allowing less than 61 points per game. Their weakness lies in that they are devoid of a playmaker to create easy offense when sets break down. Power forward Carl Hall is an interior force on both ends, but outside of him they have a roster dominated by perimeter role players. In theory, a second round matchup with Pittsburgh is less than ideal from a physical standpoint. However, the Panthers simply don't make shots. Crashing the glass is their most efficient offense, and the Shockers have the potential elixir with fundamental box outs. #1 seed Gonzaga will be a solid favorite over Wichita in the round of 32, but this won't be the Shockers first rodeo and the pressure will be squarely on the top gun. Player to watch: Cleanthony Early –Wichita State's leading scorer managed only 15 points in three games during the Missouri Valley Conference Tournament.  They need the Junior College transfer to produce alongside Hall if they are to survive a round.
South: #7 San Diego State
The combination of being overseeded and finishing their conference campaign in mediocre (at best) fashion hasn't earned the Aztecs many fans outside of San Diego.  Steve Fisher's team excels at turning games into a dogfight and making the opposition fight tooth and nail for every basket. They are undersized but have great length and strong frames, holding opponents to 60.7 points per game on 38.8% shooting. Unfortunately, the chaos they create defensively often seeps into their quality of possession on the offensive end. Ugly games often result in ugly, questionable shot attempts. The Aztecs have difficulty spacing the floor in the half-court without a true point guard. Xavier Thames, who is their PG for classification purposes, averages just 2.2 assists per game. Additionally, it's an offensive/defensive give and take with SDSU, as their best defensive lineup has severe offensive limitations. They've shown their mettle with a road win at UCLA and one-point neutral court defeat to then #6 ranked Arizona. Oklahoma is a tough matchup in the round of 64, but the Sooners haven't seen this brand of defensive tenacity in the Big 12. The Aztecs have a myriad of lengthy bodies to throw at Otto Porter in the round of 32 should that meeting come about. Player to watch: Winston Shepard — Shepard ranked #54 in the ESPN top 100 recruits in 2012. A 6'8 point-forward, he's displayed both flashes of brilliance and horrid play his freshman year. What better time to find consistency then March?
East: #14 Davidson
The Davidson Wildcats could be featured on those "basketball fundamental" infomercials. Coached by the legend Bob McKillop, they don't do a whole lot to shoot themselves in the foot. They're the top free throw shooting team in the nation at 80%, 17th in turnovers committed at 10.9 per game and 42nd in field goal percentage at 46.3%. Not surprisingly, the Wildcats are an experienced bunch with three seniors and two juniors in the starting lineup. Their top two scorers are forwards Jake Cohen and De'Mon Brooks, with crisp ball handlers and pure shooters filling out the backcourt. Davidson is battle tested with road defeats at New Mexico (5) and Gonzaga (14), and a neutral court loss against Duke (17). Looking for a barometer of just how legitimate Davidson is? They are a 3.5 point underdog as a #14 seed against a Big East team that shared the regular season title. While Marquette will certainly disrupt Davidson's machine-like efficiency, the Golden Eagles lack a go-to-guy and don't value possessions. Player to watch: Nik Cochran – The senior point guard is the epitome of a team-first athlete. He attempts only 5.2 shots per game, shooting 48% from the field and from three. Most importantly, Cochran closes games at the free throw line, converting 94% on 130 opportunities.
For all your NCAA Tournament needs @AdamGaneles