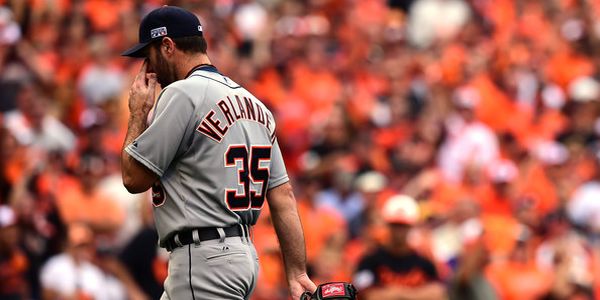 Welcome to the TheFantasyFix.com's nightly fantasy baseball recap, where you'll find updates on bullpen usage, lineup construction, injuries, and transactions. No matter the format, we have everything you need to know to help you win your league.
After some temperamental weather on Earth Day yesterday that included snowfall in both Detroit and Pittsburgh, the forecast was a bit clearer for a full schedule of games this Thursday. Eight total games were underway before the 5 o'clock hour with four games to follow in the nightcap. The Brewers got 7 strong innings out of pitcher Kyle Lohse, striking out 4 while giving up 3 hits and walking only 1. The only blemish on Lohse's line today was a 5th inning, 2-run homer from Reds' outfielder Marlon Byrd, but Milwaukee was able to persevere and score a run in the bottom of the seventh to get Lohse his first win of the young season. Marlins' pitcher David Phelps also picked up win number 1 on the year as Miami blew out the Phillies 9-1. Philadelphia collected 8 hits, but with only 3 coming off of Phelps who shut them out for the first 7 innings of the game.
IF YOU ONLY READ ONE THING…
The New York Mets are out to the best start in Major League Baseball and remain unbeaten at home for the year. Today's win over the Braves marks 11 straight for New York who are a stellar 13-3 through the first 16 games of the season. The last time the Mets were 13-3 was in 1986 when they won the World Series. Behind another quality start from Bartolo Colon, the Mets scored 6 runs on 6 hits and never trailed in the game. Atlanta has had no real answer for Lucas Duda all series, choosing to walk him three times today; however, they were burned by second baseman Daniel Murphy. Murph' drove in 4 on the day including a 3-run double in the first to give the Mets the lead. New York has one of the highest team OBPs in the league, drawing 8 walks today to go along with their 6 hits. Curtis Granderson also picked up a hit this afternoon, and although he is hitting just .200 on the year, he has improved his approach at the plate immensely posting an OBP of .375 early on.
JUST AS WE EXPECTED…
The St. Louis Cardinals and Washington Nationals played another close game Thursday in what is becoming one of the best rivalries in the sport. Since their dramatic postseason series in 2012, the Red Birds have owned the Nats in the regular season, winning the majority of their meetings. Today's game was no exception. St. Louis jumped out to an early lead after a wild pitch by Max Scherzer in the top of the first inning. The Cardinals' Michael Wacha out dueled Scherzer for 7 innings before handing the ball off to the bullpen. The Nationals were able to even the game in the sixth inning, but Matt Adams put the Cards back on top with an RBI single before Scherzer departed. The loss drops Max to 1-2 on the year, but with Denard Span and Jayson Werth back in the lineup, and Anthony Rendon soon to follow, fantasy owners shouldn't expect Scherzer to be saddled with too many losses after throwing a quality game like today.
WHAT WE DIDN'T EXPECT…
After last night's offensive onslaught that included an hour long, 10-total-run first inning, and a 13-4 Yankees win over Tiger's ace David Price, New York's Masahiro Tanaka and Detroit's Anibal Sanchez were locked in a pitcher's duel for most of the afternoon. Both starters gave up just 1 earned run in 6 ⅓ innings of work. Tanaka gave up just 3 hits with 6 strikeouts, and Sanchez struck out 8 while only giving up 1 hit, but hurt his chances at a win with 4 walks. The Yankees were able to pull out another victory over a dangerous Tigers' ball club thanks to a Sanchez balk in the top of the 6th to bring home Jacoby Ellsbury, and an RBI groundout from catcher Brian McCann in the 8th inning. Yankees' bullpen horse Dellin Betances left the game with the win after striking out 2 in 1 ⅓ innings of hitless ball to pick up win number 3 on the year, despite not having his best stuff out of the gate. Newly acquired Andrew Miller also struck out 2 without giving up any hits to notch his 6th save of the season.
SAVE CHANCES
-Mark Melancon (3)
-Andrew Miller (6)
-Jeurys Familia (8)
-Francisco Rodriguez (2)
-John Axford (2)
-Trevor Rosenthal (6)
-Huston Street (5)
-Miguel Castro (4)
LINEUP MOVES
None.
INJURIES
Detroit righty Joe Nathan has been diagnosed with multiple tears in the UCL of his pitching elbow and will undergo season-ending Tommy John surgery. Nathan felt a pop after retiring the first two batters in his Triple-A rehab outing and had to be lifted from the game. He was gearing up to return from the 15-day disabled list with an elbow flexor strain and could have been added to the Tiger's bullpen as early as Friday. Nathan has had his problems with the closer's role since dawning the Tigers uniform a couple years back, but losing the veteran arm out of the bullpen is still a blow to Detroit's chances of maintaining ground with their fellow American League Central hot-starters, the Kansas City Royals. Nathan, who was entering his age 40 season, will have a longer timetable for his return than the average Tommy John recovery process, and will miss not only the remainder of this season, but likely part of 2016 as well. Nathan plans to do all he can to return to baseball; however, if Joe decides to call it a career, he will retire as an all-time great closer and finish 7th on the all-time saves lists with 377.
RUMORS & TRANSACTIONS
The Rockies have sent catcher Wilin Rosario down to Triple-A affiliate, the Colorado Springs Sky Sox. Rasario had been the starting backstop for the Rockies since his rookie year when he hit 28 home runs and posted an OPS of .843, but found himself behind Nick Hundley and Michael McKenry on the team's depth chart entering the 2015 season. Rosario had a tough 2014 campaign and found himself in a platoon against lefthanded pitching early on this season. The platoon, however, was not with Hundley or McKenry, but with first baseman Justin Morneau as the organization viewed Wilin more as a first baseman that occasionally caught as opposed to the other way around. Rasario was 5-14 in his limited time this season and could possibly be used as a trade chip later on in the year if he continues to hit if and when he is recalled to the majors.